Nezu Museum
根津美術館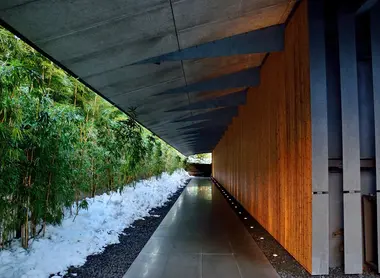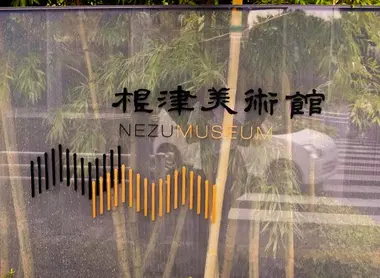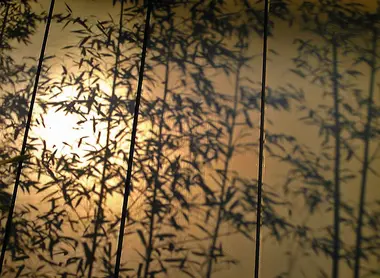 Another world
A few minutes from Omotesando, the street showcasing international brands which has become a shopping mecca, you can find the private Nezu Museum, focusing on a more intimate and sensitive relationship with space.
A bamboo screen, a driveway lined with pebbles, and a wall with warm colors invites us into another world, away from the nearby bustle and ostentatious signs. After three and a half years of closure, the museum, a true urban oasis, was revamped and reopened in October 2009. The architect Kengo Kuma has created a natural wonder of a building with glass walls supporting an impressive tiled roof. 
The attention paid to the environment characterizes the work of the architect, who was chosen to develop the MacDonald Warehouse in Paris and design the Victoria and Albert Museum in Dundee, Scotland. Like the Japanese master gardeners, he incorporates elements in distance, a technique called "Borrowed Scenery", based on the principle of not opposing the outside with the inside.
Impressive sculptures
Visitors come as much to contemplate the beauty of the garden as to discover the works of art that have been collected by Nezu Kaichiro (1860-1940), an entrepreneur who made ​​his fortune by investing in railroads. His son established a foundation, and in 1941 opened the family home to the public. It was destroyed in "the terrifying incendiary bombings by the American Superfortresses" as Robert Guillain wrote in his book I saw Tokyo Burning. Fortunately, the collections were transferred out of the capital. 
Among the seven thousand works acquired are towering Buddhist sculptures, ancient coins from China (including ancestral bronzes) and from Japan, painted scrolls, calligraphy, kimono fabrics, utensils for tea ceremonies and in particular some beautiful Korean ceramics and Japanese raku style bowls (pottery with a translucent glaze) are exhibited. It's a haven of peace not to be missed.
---
Address, timetable & access
All the themes of the city