JAL Sky Museum
JAL Factory Tour Sky Museum JAL工場見学~SKY Museum 東京
by Johannes Schonherr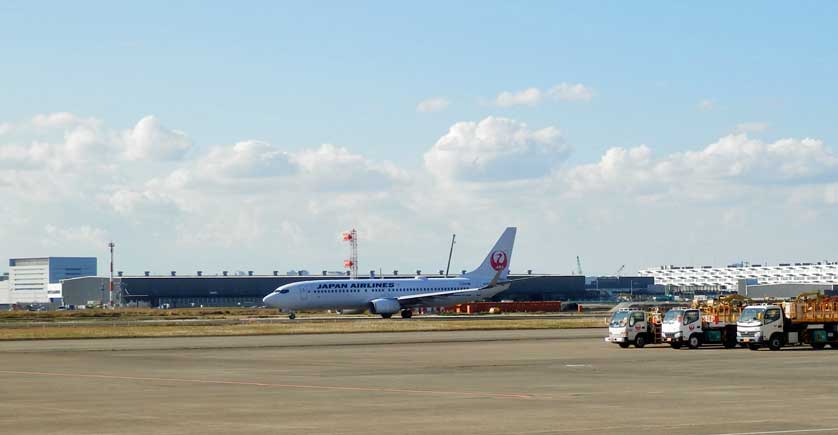 JAL airplane on view outside Hangar 2, JAL Factory Tour Sky Museum, Tokyo
The Bureau of Transportation of the Tokyo Metropolitan Government and travel site TripAdvisor Japan jointly conducted a survey to determine the 100 most popular travel spots in Tokyo.
About 8600 registered TripAdvisor users participated in the survey which called particularly for recommendations by Tokyo residents, regular commuters to the city and others with a deep knowledge of Tokyo. A little more than 80% of the participants were Japanese.
The resulting list, dubbed Tokyo 100 Campaign and released by the Tokyo Metropolitan Government in June 2017, contains quite a few surprises.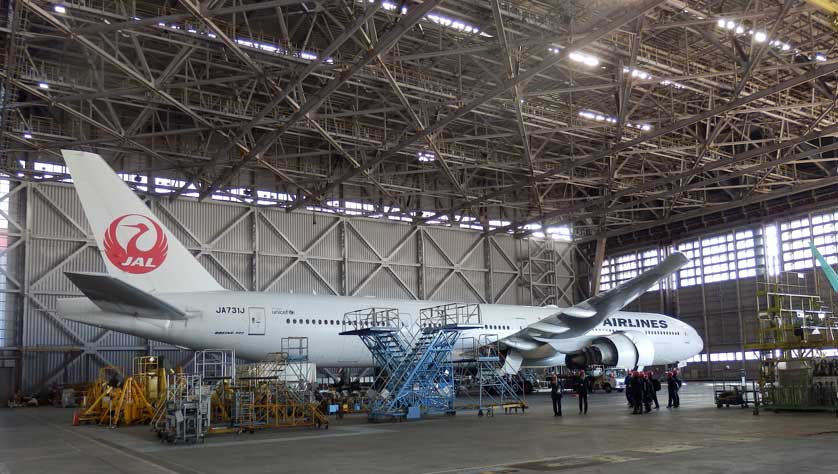 Maintenance of a Boing 777 on view at the JAL Factory Tour Sky Museum, Tokyo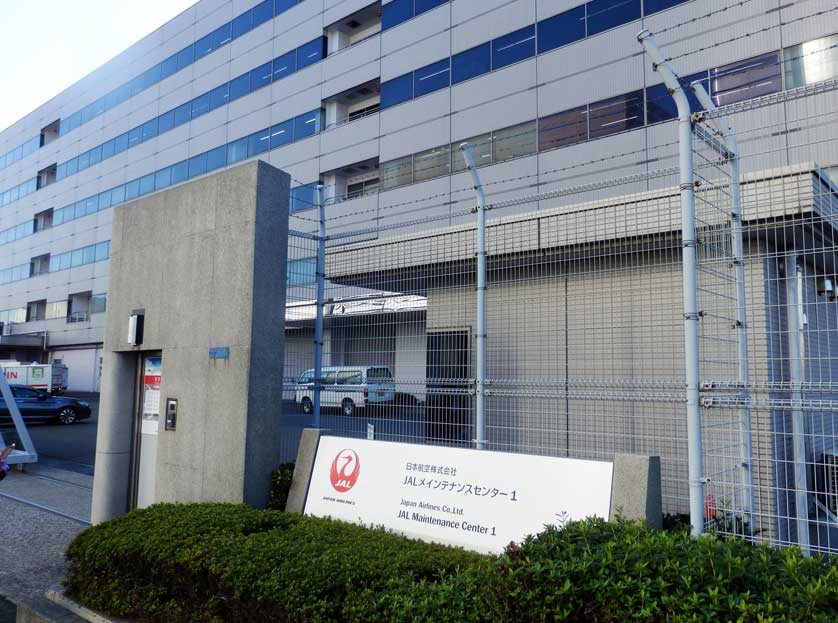 Entrance to the JAL Sky Museum, Haneda Airport, Tokyo
One of the biggest of them is the ranking of the Tokyo Sky Tree, which made it only to position 86 on the list, way below the Museum of Yebisu Beer (rank 60) and Inokashira Park near Kichijoji Station in Mitaka, famous for it its abundance of cherry blossoms in the sakura season (ranked 33).
In fact, museums and parks make up the majority of the list. Places or institutions regularly visited by locals on their family weekend outings.
By clicking on the link, you can find the complete list Tokyo 100 Campaign attraction list.
The top 5 entries in the list are Meiji Shrine (5), Tokyo Racecourse (Horse Racing) in Fuchu (4), Shinjuku Gyoen Park (3), Tokyo Tower (2) - and in the top spot, the JAL Factory Tour Sky Museum.
This final result may have led to some head-scratching at the tourism promotion offices. The JAL what? Ahead of Tokyo Tower?
TripAdvisor ratings and reviews can at times veer far off the mainstream but giving the JAL Factory Tour Sky Museum top rank of all of Tokyo tourist attractions?
Time for a visit to the facility.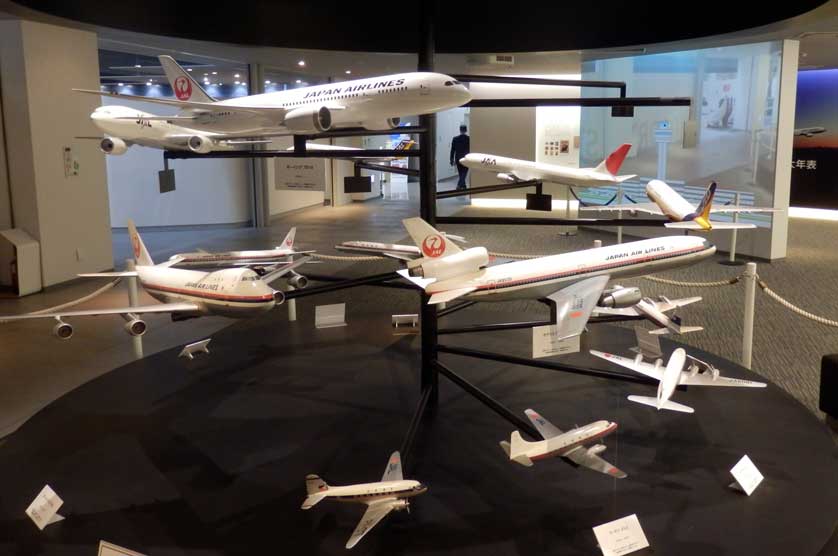 Model planes at the JAL Sky Museum, Haneda Airport, Tokyo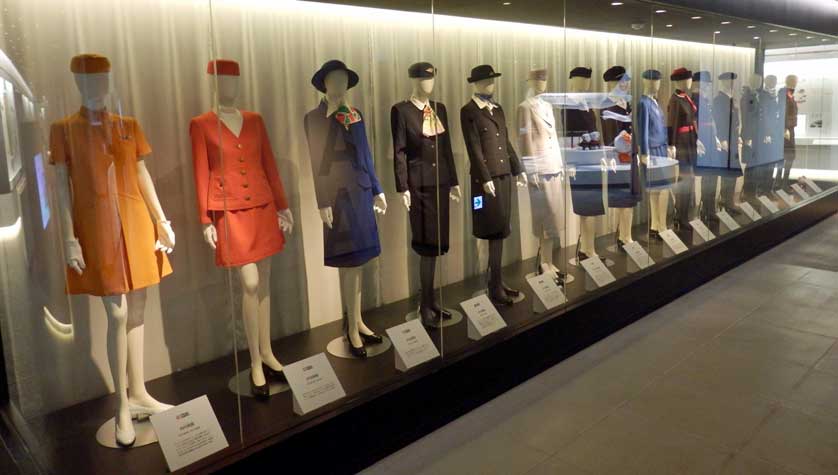 Historic stewardess uniforms, JAL Sky Museum, Haneda Airport, Tokyo
Booking a Tour of the JAL Sky Museum
Googling the JAL Factory Tour Sky Museum is easy - you quickly arrive at a Japanese-language only website from where you can book a tour of the top ranking attraction.
Bookings are essential - you cannot visit the museum just by showing up at the door. In fact, it is not only a museum you are going to visit but as the name of the facility, somewhat awkwardly translated into English as JAL Factory Tour Sky Museum, indicates, it is a factory tour.
The tour is of the actual airplane maintenance center of Japanese Airlines (JAL) right at Haneda Airport. You will see airplanes undergoing their regular checks, their maintenance and repair.
Usually, this kind of place is considered highly sensitive and airlines tend to be very secretive about it. Not so JAL - they make it a tourist attraction.
Bookings for the tour can be made 6 months in advance. Positions fill up quickly, especially if you want to visit with family or friends. For a single person, it's rather easy to get a vacant slot within a few days.
The whole internet booking process has to be done in Japanese. Contact us if you would like GoodsFromJapan to do it for you for a small fee of 5000 yen.
We need
-The full names of all participants (*note: any children must be over 6 years of age)
-Date of Birth (day/month/year)
-the address and telephone number of your hotel/accommodation
-the time and day you wish to visit (there are tours at 10 am, 11.30 am, 1 pm, 2.30 pm and 4 pm)
-it's best to book the tours about 3 weeks in advance
At the actual tour, however, nobody expects you to understand the instructions which are given in Japanese only. You might miss out on some background information provided in the language but there is much to see and the basic rules you need to follow are made clear and understandable to anyone, no matter their language capabilities.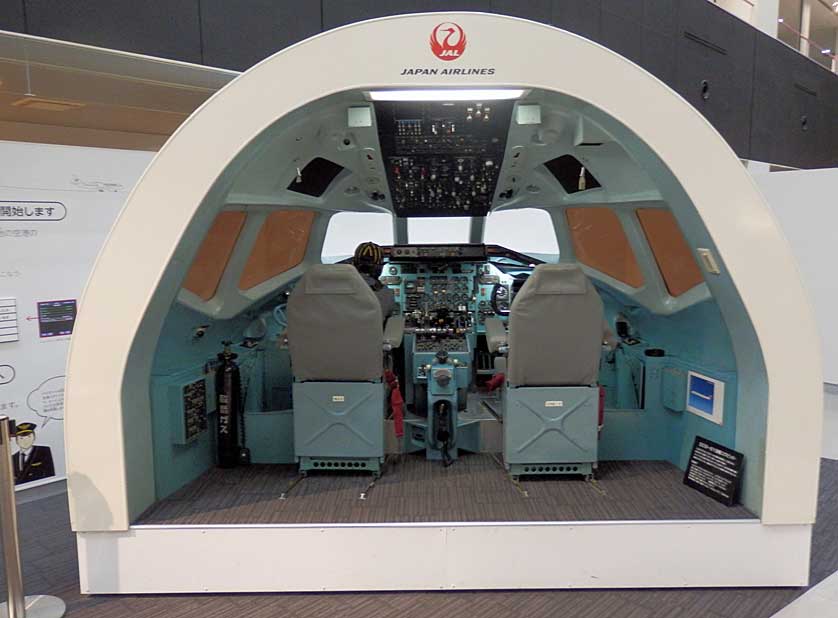 This cockpit of a 1981 DC-9 aircraft can be entered by visitors, JAL Sky Museum, Tokyo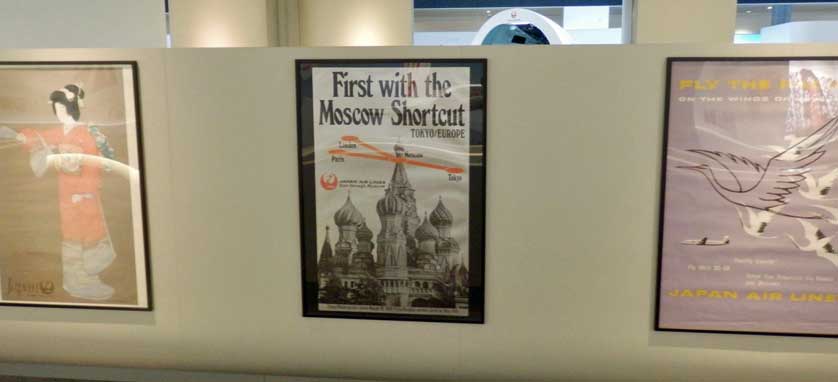 Historic JAL posters, JAL Sky Museum, Tokyo
Introduction to the Tour
The JAL Sky Museum is located inside the JAL Maintenance Center 1. To get to the Maintenance Center just turn right after exiting Shin Seibijo Station on the Tokyo Monorail connecting Hamamatsucho and Haneda Airport. The station name translates as New Maintenance Facility and it is located right inside Haneda Airport, between the International and Domestic Terminals.
Uniformed flight attendants will greet you at the door of the building. You need to tell the person at the registration desk your name (it needs to be on the tour guest list) and confirm it by showing some form of I.D. such as a passport or a driver's license.
You will then be handed a color-coded strap with your admission ticket attached to it. Admission is free but you need to wear the strap around your neck at all times within the facility.
An urgent advice by JAL is also that you should show up half an hour before your tour starts. Doing so will give you more time for exploring the JAL Sky Museum.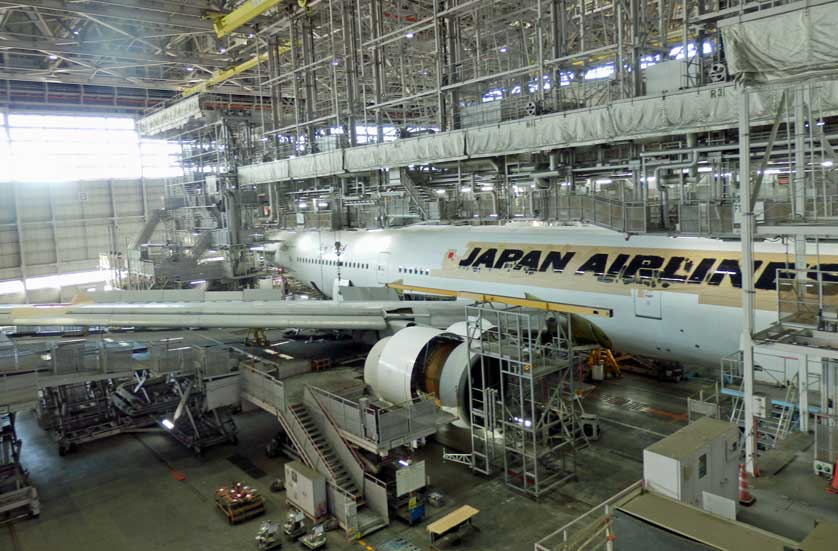 Boeing 777 undergoing maintenance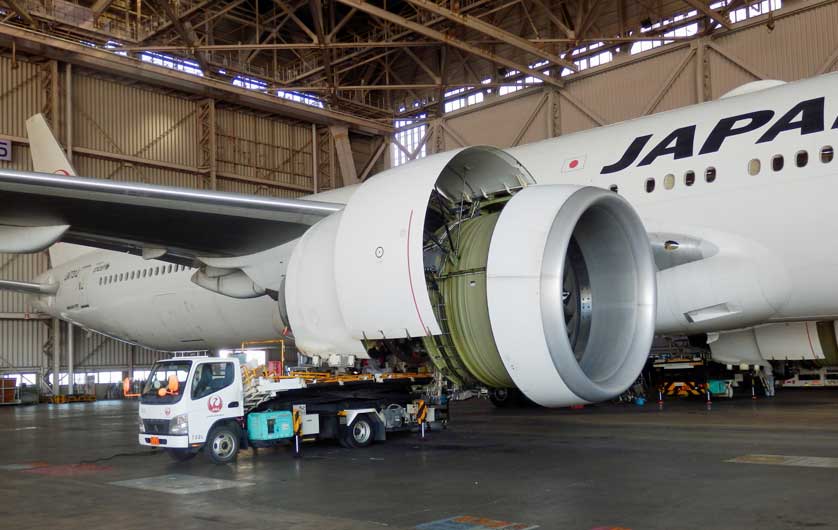 Engine of a Boeing 777 under maintenance
JAL Sky Museum
The JAL Sky Museum displays a wide range of information and artifacts related to the history of the airline. They include an impressive collection of mannequins dressed in JAL stewardess uniforms ranging from the early 1970's to the present.
There are replicas of two cockpits of large airliners which you can enter to sit in the pilot's seat, there are various interactive displays where you can try how you would fare flying an aircraft or as an airport worker directing the arrival of planes.
A secluded room is dedicated to the international travels of the Tenno, the Emperor of Japan. The Emperor flies with JAL on special airliners and the section documents the state visits of both Emperor Showa (post-war) and Emperor Heisei.
The Lecture
At the time spelled out in your tour reservation, the actual tour starts with a 30 minute Japanese-language lecture. Videos about JAL and Haneda Airport will be shown. There you learn that in 2018, Japan had a total of 97 airports and that Haneda Airport was, in terms of passenger numbers, the 4th busiest on the planet. After Atlanta (U.S.), Beijing (China) and Dubai (United Arab Emirates), in that order. 80% of Haneda passengers fly to or arrive from domestic destinations.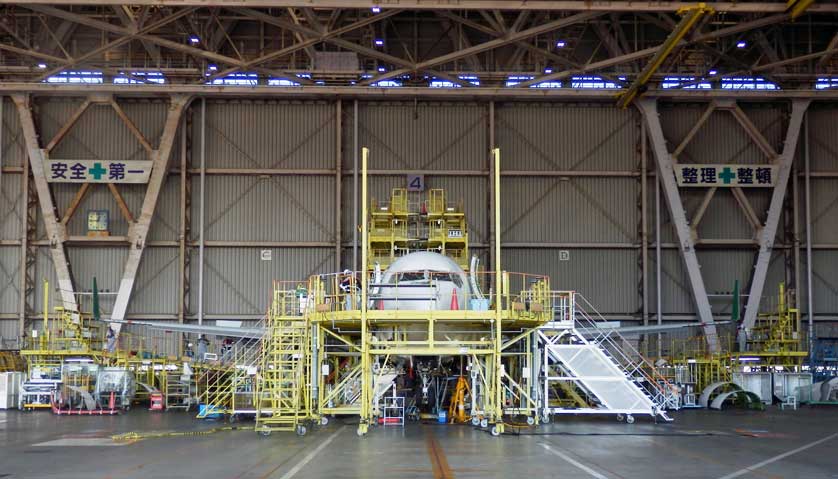 Airplane undergoing maintenance at Hangar 2
Break Time
After the lecture, you get a 20 minute break to visit the museum again and to check out the gift shop where you can buy a large variety of scale models of JAL aircraft. Just behind the gift shop is a small convenience store in case you need to buy a bottle of tea or a chocolate bar to keep you going.
The tour will not return to the gift shop later on. If you want to buy a souvenir, do it now.
Maintenance Facilities Tour
After the break, the tour to the maintenance facilities begins. The assembly of visitors will be split into small groups, each led by a guide in flight attendant uniform.
You enter the first hangar. From a viewing platform, you can see airplanes in various states of inspection. In the case of my visit, these were two JAL Boeing 777's.
You then proceed through an elevated concourse into the next hangar building. There, you are equipped with a safety helmet and descend the steps down to the ground floor.
You cannot walk about freely, you have always to be close to your group. But the guide leading the group will make sure you get to all the most interesting spots / to be able to take the best photos you can.
What and how many airplanes are on display depends on the maintenance schedule of the facility. At times, there might also be a domestic or foreign government airliner on view.
There might also be times with no airplane at the facility at all. You never know. The maintenance schedule is not made public.
Another impressive facet of the second hangar is its view outside. You look right onto one of Haneda Airport's landing strips. Every few minutes a plane touches down, descending before a backdrop of factories with smoky chimneys.
You get 40 minutes to take the views in and to shoot your photos. Your guide will continuously explain various features of the hangar and the airplanes in Japanese. Interesting stuff but nobody forces you to listen if you want to stray a few steps off - not too far, though.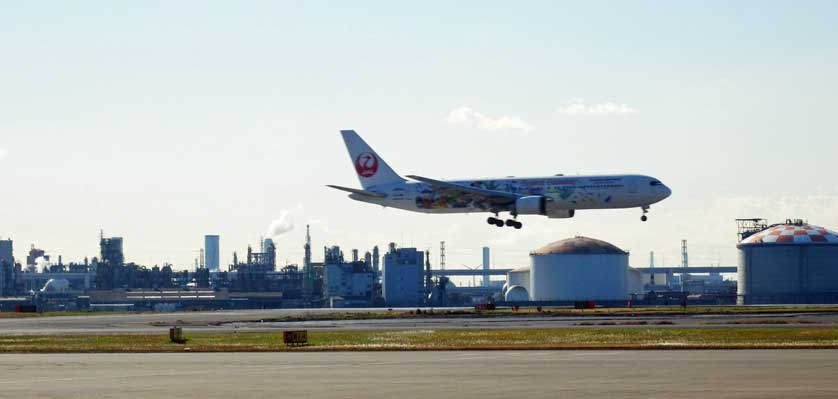 View from Hangar 2 to one of the Haneda Airport landing strips
Photo Rules
With a few exceptions, you are allowed to take any photo you want. The exceptions being mainly the Imperial Exhibition Room in the Sky Museum and any government aircraft in case one of those is parked in one of the hangars. You might be able to see Airforce One there if you are especially lucky but you can't snap a pic of it.
However, if you want to publish photos you took in the hangars, you are requested to first send the pictures in for approval to the JAL Sky Museum. "Publishing" includes posting photos on facebook or other social media.
All hangar pictures accompanying this text have been approved by JAL. It took less than a day to get the approval. The approval request and confirmation were handled in English.
Access
The only way to book a visit to the JAL Factory Tour Sky Museum is via the internet. Bookings start 6 months in advance.
Go to www.jal.co.jp/kengaku to book the tour. The site is only in Japanese.
Admission is free.
Access: Go to Hamamatsucho Station on the Yamanote Line, change there to a Tokyo Monorail train. Get off at Shin Seibijo Station. The station has only one exit. After walking out of the station exit tunnel, turn right. The first building to the right is the JAL Maintenance Center 1 - the site housing the JAL Sky Museum.
Shin Seibijo Station is only one stop from Haneda International and Haneda Domestic Terminal, respectively.
If you plan to combine a visit to the JAL Factory Tour Sky Museum with your arrival or departure at Haneda Airport, make sure to book the tour early.
Opening times: The first tour starts at 10 am, the last tour at 4 pm. There are 5 tours per day. Make sure to arrive 30 minutes before your scheduled tour start in order to experience the JAL Sky Museum.
Tours are held daily throughout the year. Closed during the New Year Holidays.
Address: Tokyo, Ota-ku, Haneda Airport 3-5-1
Tel: 03 5460 3755
JAL Factory Tour Sky Museum website: www.jal.co.jp/kengaku (in Japanese)
Other Japan Museums
ANA Maintenance Facilities Haneda Airport
Gifu-Kakamigahara Air & Space Museum
Tokorozawa Aviation Museum
Kanoya Air Base Museum
Kasukabe Underground Flood Protection Tank
Tokyo Water Science Museum
Tokyo Waterworks Historical Museum
Toto Toilet Museum
Book Hotel Accommodation in Japan Near Haneda Airport
JAL Factory Tour Sky Museum (JAL Sky Museum) at Haneda Airport is the most popular travel spot in Tokyo ahead of Meiji Shrine, Tokyo Tower and Tokyo Skytree.
All the themes of the city