5 Tokyo meals for 1,000 yen or less in the Michelin Guide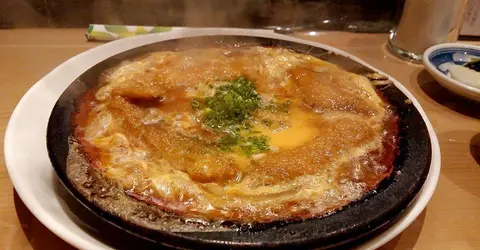 Who said gourmet has to be expensive?
With 234 restaurants listed in the Michelin Guide, Tokyo is one of the most renowned cities in the world in terms of gastronomy. Yet dining out may not be as expensive as you think. Far from it, since the Japanese capital is full of restaurants for smaller budgets. Because the Michelin Guide also rewards small eateries, here are 5 establishments that have been Michelin starred or classified "Bib Gourmand" (an award for restaurants offering "exceptionally good food at moderate prices") where enjoying traditional flavors won't cost you more than 1,000 yen.
The oyakodon lunch set at Toritsune Shizendo (1000 yen) - Bib Gourmand
Costing just 1,000 yen on the menu at Toritsune Shizendo, the oyakodon lunch set is an anomaly at this restaurant, where the average bill is usually more than 10,000 yen per head.
Taking the traditional recipe of oyakodon, a bowl of rice topped with chicken and egg, this dish is perfectly in line with the aim of the establishment to offer quality products. And for good reason, this inexpensive oyakodon is made with the choicest of chicken.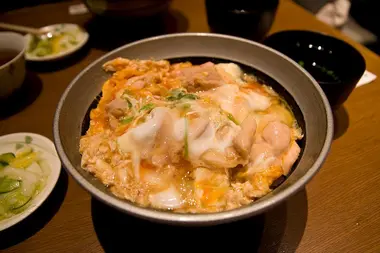 Address : 5 Chome-5-2 Sotokanda, Chiyoda, 101-0021 Tokyo
Opening hours: open daily from 11.30 to 13.30, and from 17.30 to 22.30
Access: a few minutes walk from Okachimachi Station (Yamanote Line, Keihin-tohoku Line)
The barachirashi at Meguro Sushi Taichi (1000 yen) - Bib Gourmand
Specializing in barachirashi, rice topped with raw fish and vegetables, Meguro Sushi Taichi is a very selective sushi restaurant: only 12 barachirashi are served daily, and it's necessary to go there 3 days in advance to reserve a place!
What happens to the unlucky customers who miss out? Don't worry, they'll still have something to eat. They simply have to choose from on one of the other dishes on the menu, starting at 3,250 yen.
Too bad, when you know that the barachirashi here is classified ''Bib Gourmand'', and is three times cheaper...
Address : 2 Chome-11-5 Nakacho, Meguro, 153-0065 Tokyo
Opening hours : from 17:30 to 23:00 on weekdays, and from 17:30 to 21:00 on Saturdays (closed on Sundays)
Access : a 15-minute walk from Yutenji Station (Tokyu-Toyoko line)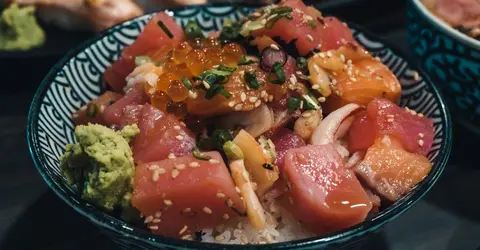 The tonkatsu lunch set at Tonkatsu Hasegawa (1000 yen) - Bib Gourmand
New to the Michelin Guide, Tonkatsu Hasegawa specializes, as its name suggests, in tonkatsu, cutlets of breaded and deep-fried pork, which the Japanese love.
What made this establishment so famous? Their top quality pork comes straight from the Yamagata region! A choice and delicious product that earned the restaurants its first "Bib Gourmand" in 2018 for its lunch set costing just 1000 yen.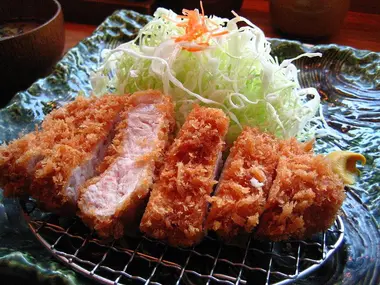 Address : 3 Chome-24-1 Ryogoku, Sumida, 130-0026 Tokyo
Opening hours : daily from 11.30 to 14.30, and from 17:00 to 22:00
Access : close to Ryogoku station (Oedo line)
The soba at Tsuta (800 Yen) - one Michelin Star
The soba at Tsuta has such a reputation that it's necessary to queue at 8 o'clock in the morning to have any hope of eating there at noon!
And for good reason - the kitchens of the restaurant are managed by star chef Onishi Yuki, a soba master who was raised in a family of traditional noodles makers, yet doesn't hesitate to play with more Western flavors, such as black truffle, to sublimate what the Japanese kitchen offers best.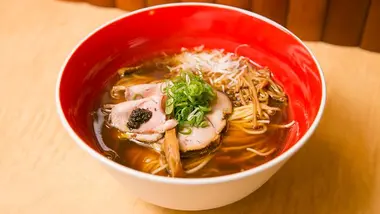 Address : 1 Chome-14-1 Sugamo, Toshima City, Tokyo 170-0002
Opening hours : from 11:00 to 15:00, then from 17:00 to 20:00 (closed on Wednesdays)
Access : in front of Sugamo Station (Yamanote Line, Mita Line)
The lunch sets at Shinjuku Kappo Nakajima (800 yen) - one Michelin star
With lunch sets including rice, miso soup and tea for less than 800 yen, you wouldn't think that this small traditional restaurant was Michelin star material.
However, the kaiseki meals (traditional Japanese meals consisting of a multitude of small dishes) offered here are popular throughout Tokyo. The restaurant is especially known for its sardine dishes, a house specialty that is served as sashimi as well as grilled or marinated.
Address : 3-chome-32-5 Shinjuku, 160-0022 Tokyo
Opening hours: from 11.30 to 14:00 and from 17:30 to 21:30 (closed on Sundays)
Access : a few minutes walk from Shinjuku Station (Yamanote, Shinjuku, Oedo, Odakyu, Chuo lines)
All the themes of the city