Shinjuku's Golden Gai District
新宿ゴールデン街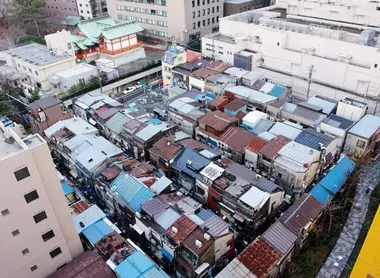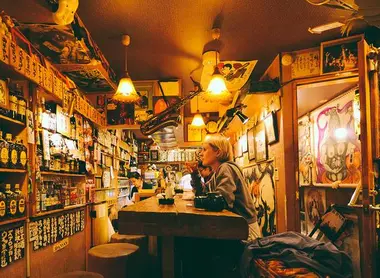 The night district of Tokyo in Shinjuku
Six narrow and crowded alleys, sometimes linked by even narrower passages, some two hundred tiny and outdated stalls, a bit decrepit: welcome to Golden Gai. Discover this small district of Shinjuku where bars and small izakaya mingle, to explore after dark ...
The Golden Gai, a timeless micro-district
Attached warm district Kabukicho , Golden Gay is a few districts of the remains of the old Tokyo of the twentieth century, before the fast growing economy of the 60 country. The Golden Gai is therefore a small corner with eclectic constructions close together, long frequented only by regulars. Originally, this area was (poorly) known to be a privileged place for the black market and prostitution, before 1958.
The district, made up of six alleys , is made up of small buildings on one floor, the ground floor housing a small bar, and the floor an apartment, often that of the owner of the shop. The bars are therefore tiny, measuring less than 20 m2, and offering a very limited number of places: 10 large maximum, often more between 4 and 6, organized around the owner's counter.
Popular in appearance, the Golden Gai is not that popular for its customers. Behind the old-fashioned illuminated signs, the faded walls, in the smoke and the relaxed atmosphere, a rather affluent and sometimes even famous clientele sits at the old riquiqui counters, to drink and chat with each other, sharing the tastes of the bosses who have made their bars the reflection of their artistic inclinations: cinema, jazz, rock and others. The places are particularly frequented by Tokyo artists , musicians, writers, directors ... and many others.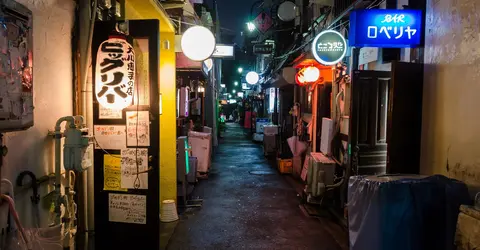 Golden Gai, bars for insiders?
Indeed, the bars being tiny , they have rather kept a clientele of regulars , and rarely accept newcomers, or only if they are introduced by a regular client. But do not despair, some establishments are happy to welcome foreigners and display it outside. While strolling through these alleys of Tokyod'antan, look for the signs "Foreigners Welcome" . Be careful though, the majority of bosses won't speak English, or just a few words. If you speak Japanese, things will be much easier.
Finally, be aware that the vast majority of bars charge an entrance fee (" cover charge" , very common in Japan) which varies from 500 yen (around 4 €) for the cheapest, to 4000 yen (around 33 €) for the most expensive, the average price being 1000 yen (about 8 € 30). With one or two drinks and a few snacks, the bill can quickly rise.
Even if you choose not to linger in a bar, the walk in these small crowded streets is worth the detour, to immerse yourself in a unique and typical atmosphere , far away from the modern skyscrapers of Shibuya and Ginza .
The best bars at Golden Gai
Here are some places in Golden Gai where it's easy to have a drink and a bite to eat for non-Japanese speaking foreigners.
Deathmatch in Hell
Like other bars in the neighborhood, the "Deathmatch in Hell" has a very strong theme: here, it's metal music and horror cinema , and it shows in the decor. Of course, you have to appreciate the boss's musical choices! All drinks are 666 yen (no coincidence!), And the bartender speaks English . In addition, no cover charge is required.
Address: Golden Gai 3-Ban Gai, 1-1-8 Kabukicho, Shinjuku, Tokyo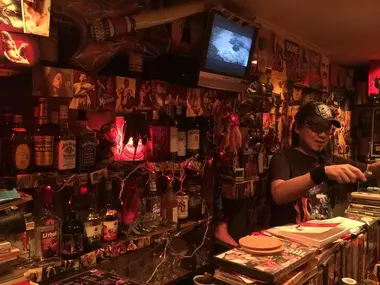 Albatross
The Albatross has the undeniable advantage of being larger, because it is installed on two levels. The premises are decorated in a style that oscillates between Baroque and Victorian : chandeliers, gilded frames, purple velvet, slick bartenders in three-piece suits, jazzy background music , as well as a balcony allowing customers upstairs to contemplate the view. Menu in English and cover charge of 500 yen (4 €).
Address: Golden Gai 5-Ban-Gai, 1-1-7 Kabukicho, Shinjuku, Tokyo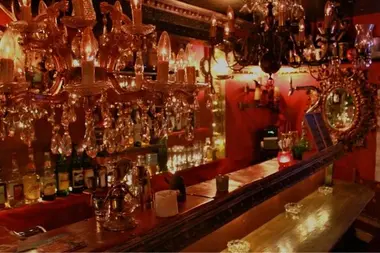 Ace's
A small classic bar but very welcoming , arguably the easiest solution if you feel intimidated by the other storefronts of Golden Gai. The owner, who studied in the United States, speaks good English and is delighted to welcome tourists and discuss, over a drink (no cover charge ), between the four walls covered with posters. Relaxed atmosphere guaranteed.
Address: 1 Chome-1-9 Kabukicho, Shinjuku, Tokyo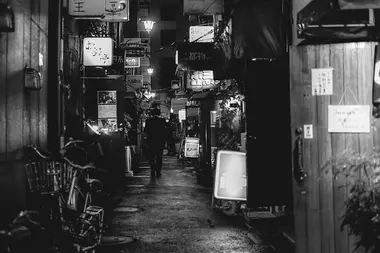 ---
Address, timetable & access
Address

Timetable

East exit of Shinjuku station. From there walk about 5 minutes towards Kabukicho, the Golden Gai is next door.

Access

From 8 p.m. to 10 p.m., depending on the establishment.
All the themes of the city