New Kabuki Theater
銀座新歌舞伎座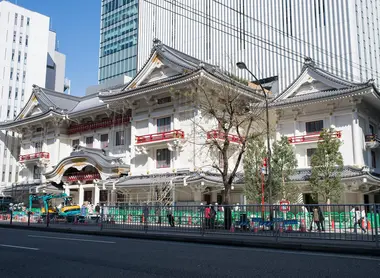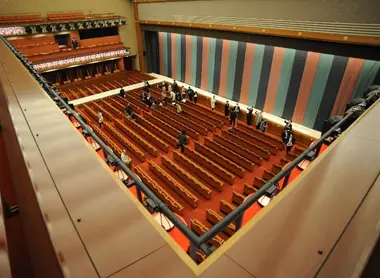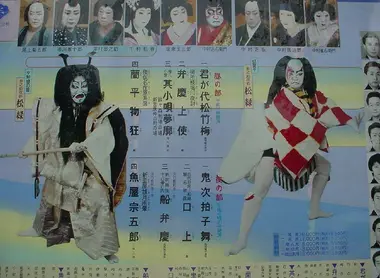 Curtain <br>
On April 2nd, 2013, three years of silence were broken by the echoes of Japanese traditional drums. The Kabuki-za of Ginza returned to life in its new architectural clothing signed Kengo Kuma.
Before the doors of the new kabuki theater, the difference with the old building is not striking. Certainly everything has a more modern appearance, but you can find the same curved roofs, the small sanctuary, colors and aesthetic organization.
Glass and tradition
Let's take a step back. A few steps back, look in the air ... there is a huge glass tower. The difference is in its floors devoted to corporate offices. Theater mixes with the economy. The aesthetics of the classic design meets the dynamic lines of glass,which reflect the bustle of the neighborhood.
The interior of the building is also at a crossroads: the auditorium is a modern interpretation of classic symbols of Japanese decoration, while the stage area is organized in the purest kabuki tradition. The building also has a relaxation area dedicated to exhibitions, stores and even a rooftop garden!
Opening with fanfare
The event moved all of Tokyo. Dressed in their finest kimonos, some spectators rushed for the Fauchon éclairs, designed especially for the occasion in the colors of the new establishment, before heading to the premiere, which began at eleven in the morning.
Some places were sold that morning for a mere 2 000 yen so that everyone could have a chance to take part in this historic moment. Once the two thousand seat theater was filled, the lights were dimmed and kabuki plays could once again ring out in Ginza.
Get tickets for an authentic Kabuki theater performance in Tokyo with Voyagin ! 
Visitez Tokyo en empruntant le Sky Hop Bus Tokyo !
---
Address, timetable & access
All the themes of the city