Mountain hikes near Tokyo
東京から日帰りでハイキング
Des excursions natures d'une journée dans les hauteurs de Tokyo
Non loin de la capitale, il y a quelques belles randonnées à faire pour une journée à l'écart des foules de touristes et des néons de Tokyo. Gravir le mont Takao est est la plus célèbre, mais il y en a bien d'autres… Découvrez la sélection de Vivre le Japon pour prendre une bouffée d'air frais à deux pas de Tokyo.
Mount Takao (Tokyo)
Let's start with the easiest to access! In 45 minutes by train from Tokyo, leaving from Shinjuku station by the Chuo line or the Keio line, 2.5 million people go there each year, making it the number one hike in the world!
There are six routes to access the panorama, which has an altitude of 599.3 meters. The most popular trail, route 1, takes 1 hour and 40 minutes to reach the top passed the famous Takaosan O Yakuin temple.
Mount Takao is sacred and is the center of Shugendo, an ancestral spiritual tradition of Japan, where the relationship between man and Nature is paramount.
It is also the place of the legend of Tengu, the long-nosed demons! You will find statutes bearing his effigy as soon as you get off the train on the platform of JR Takao station.
There are many sights to see depending on the route, hiking trail n°4 you will travel over a suspension bridge and the route n°6 where you will walk past the Biwa Waterfall.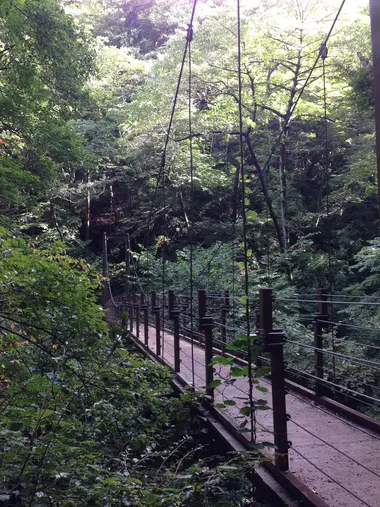 There is the funicular and chairlift option for those who do not want to get blisters on their feet.
After the hike, we recommend a good onsen in Gokuraku-yu, right next to Keio Takaosanguchi station, where you can also try their delicious specialty soba noodles. 
From 15 June to 15 October, you can also take a break and relax at the Beer Garden on a terrace located 488 meters on Mount Takao itself. It is located just after the funicular and offers buffet and unlimited drinks from 1 p.m to 9 p.m, the "Mt Takao Beer Mount".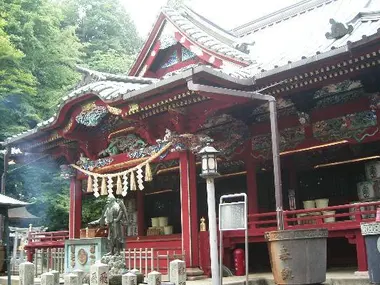 Mount Nokogiri (Chiba)
Eighty minutes by train from central Tokyo, to get there, you have to get off at JR Hamakanaya station, then take a cable car that will take you to the top of 329 meters of Mount Nokogiri.
Here you will see a breathtaking 360° view of Tokyo Bay and even Mount Fuji on a clear day.
Then you will begin your walk through the forest, between the amazing cliffs cut down for construction purposes. There are many stairs that you will need to climb during this walk, giving you good calve muscles, but the 1,553 statues of Buddha that dot the course will provide you with the courage to keep going until you arrive at the huge carved Buddha that measures 31 meters.
You'll even find a 30-meter-tall goddess carved into the cliff half-way into the journey.
The Nihon-dera temple, founded in the year 725, will also offer you a spiritual break. Between grandiose religion, abundant nature and solitary walk, you will come back conqueror, but exhausted, from Nokogiriyama.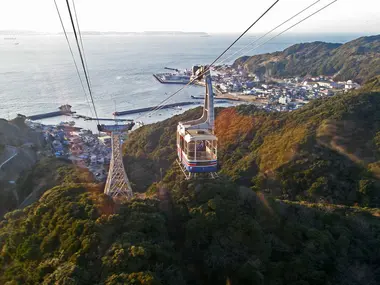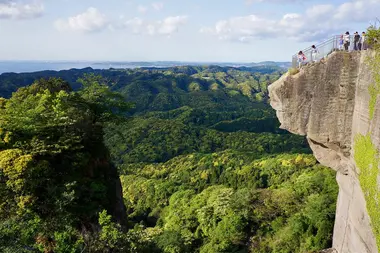 Mount Kintoki (Kanagawa)
A direct bus from BASTA Shinjuku bus station (1 hour 54 minutes journey) will take you to the foot of Mount Kintoki, get off at the Kintoki Tozanguchi stop.
Here you are in Fuji Hakone Izu National Park, ready to attempt the ascent of the highest mountain in the Hakone caldera, Kintoki rises to 1212 meters above sea level.
There are nine different routes, but the Yagurazawa route is the most popular. The 2.3km trail can be completed in 80 minutes. And the view offered over the entire Mount Fuji is worth all your sacrifice!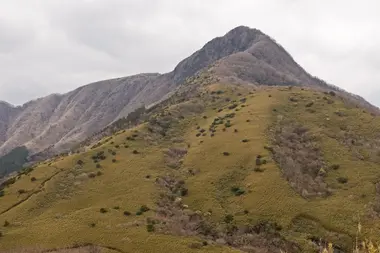 Suruga Bay and Mount Akashi can be enjoyed, as well as Lake Ashi in the heart of the caldera.
Another route allows you to see Owakudani and its volcanic fumaroles. On your return, we recommend relaxing in the onsens of Hakone. A perfect way to relax after a long walk. 
Mount Iwadono (Yamanashi)
Accessible from JR Shinjuku station, you will have to take the train for 1 hour 30 minutes to the town of Otsuki then walk 20 minutes to reach Mount Iwadono and its 634 meters in altitude, exactly the height of the Tokyo Sky Tree!
From Otsuki station, it will take you an hour's walk to the top, on a well-marked path but with many stairs.
This place has a rich and deep history, like the Entsu-ji shrine founded by the Tendai school in 806, which has become a place of practice of Shugendo.
You can also see the ruins of the Iwadonoyama Castle, built in the sixteenth century by the Odayama clan as an impregnable fortress on the mountain. Three hundred cherry trees have been planted there, making it a very beautiful place in the springtime during Hanami.
It is also possible to see Mount Fuji!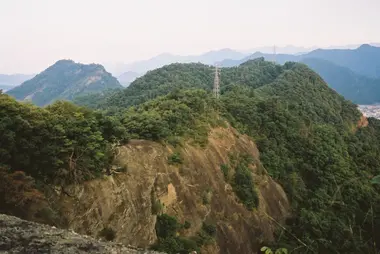 On top of Mount Iwadono you can enjoy the view and then you turn around, and then you proceed to Mount Tenjin and Chigo Otoshi, a cliff of 150 meters made famous by a battle in the sixteenth century. On this road, the clan women had to flee the enemy, but in order not to be spotted, they threw their crying babies into the void.
The path is still difficult to access today, narrow, where you have to hold on to a chain to climb safely, but without enemies chasing you.
All the themes of the city