Tokyo Sky Tree
Tokyo Sky Tree: read a guide to the new 634m-tall Tokyo Sky Tree in the Sumida area of Tokyo.
Tower Power: Tokyo's Sky Tree elevates locals and visitors
Daniel Allen
There's nothing like a shiny new landmark to make urban residents feel happy and proud, especially if it soars to a whopping 634 meters. This month excited Tokyo residents eagerly await the debut of the city's new Sky Tree (東京スカイツリー), which will start admitting the crowds from May 22. Topping out in 2011, the elegant, needle-like edifice is currently the world's second tallest structure, not to mention its tallest tower and the tallest structure in Japan.
Sky Tree Design
The Sky Tree was inspired by traditional Japanese architecture, featuring numerous sori (concave curves) and mukuri (convex curves). Triangular in cross-section at the base, the tower becomes progressively more circular as it rises - this helps to reduce shadows and allows the tower to withstand very strong wind. This tower is a great example of those who want to use steel frame buildings more routinely."
The exterior lattice is officially decked out in "Sky Tree White", based on a traditional bluish white Japanese color called aijiro.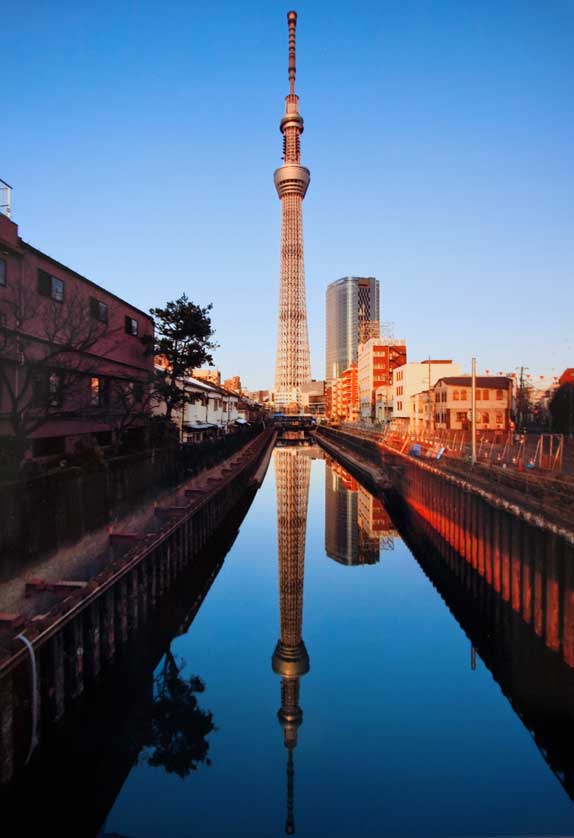 The Tokyo Sky Tree is Japan's tallest structure at 634 meters
Sky Tree Facilities
Visitors to the Sky Tree will be whisked up to observation decks at 350 and 450 meters, and the structure will also house numerous shops and restaurants, an aquarium and theater in the Sky Tree East Building and the Solamachi shopping complex. Sky Tree merchandise is already proving a big hit; it's hoped that the building will play a major role in stimulating the surrounding Sumida area in terms of gentrification and new business.
At the base of the Sky Tree tower there will be a new "town with a tower" that connects two nearby train stations and stretches for nearly four hectares.
The Sky Tree was developed by Tobu Railway in partnership with Japanese TV companies to provide improved communications facilities than those afforded at the 333m-tall Tokyo Tower for digital TV services in Japan, which came in to effect in July 2011, and one-segment broadcasting (one-seg) TV services for mobile phones.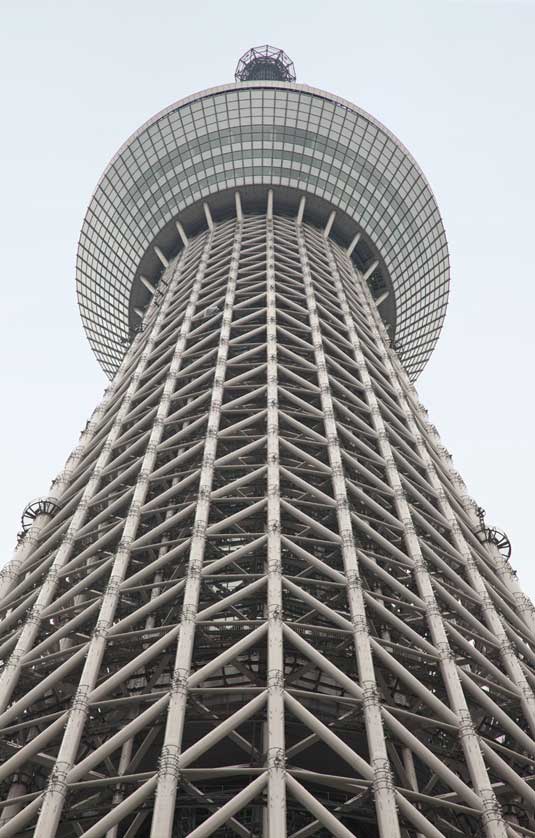 The steel frame of the 634m-tall Tokyo Sky Tree
Sky Tree Safety
And those worried about earthquakes and other acts of God needn't worry. "The recent earthquake in Tohoku actually showed that tall buildings there are already extremely safe," says Jan Klerks of the Council on Tall Buildings and Urban Habitat. "The Tokyo Sky Tree showed no structural damage at all because it had been designed to withstand the effects of such a natural disaster." Vertigo is the only excuse for not stopping by.
The Tokyo Sky Tree seen from the Sumida River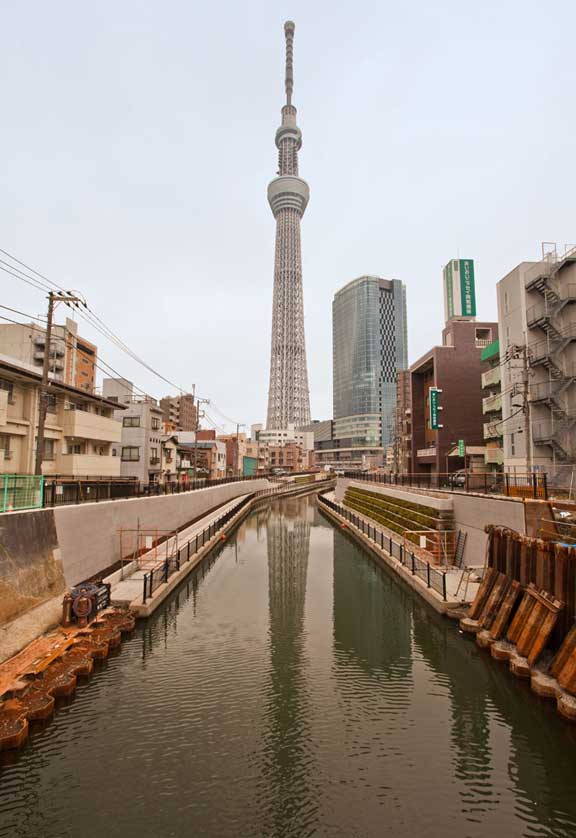 The Tokyo Sky Tree will provide improved TV and mobile phone communications
Access - Getting to the Sky Tree
The nearest stations to Sky Tree are Tokyo Sky Tree Station Station (formerly Narihirabashi Station) on the Tobu Skytree Line (formerly Tobu Isesaki Line), which runs from Asakusa Station to Isesaki Station in Gunma Prefecture and Oshiage Station on the Hanzomon Subway Line, Asakusa Subway Line and the Keisei Oshiage Line connecting Oshiage Station in Sumida ward with Aoto Station in Katsushika in the far east of the city. Tokyo Sky Tree is located across the Sumida River from the Asakusa district of Tokyo. From Tokyo Station ride the Marunouchi Line to Otemachi and change for the Hanzomon Line for Oshiage Station. Journey time is around 16 minutes.
There are buses to Tokyo Sky Tree from Tokyo Station (30 minutes), Ueno Station (30 minutes), Haneda Airport (1 hour) and Tokyo Disneyland (45 minutes).
Day tickets for the observation decks went on sale from July 11, 2012. Google map of Tokyo Sky Tree
Read more on Tokyo Skytree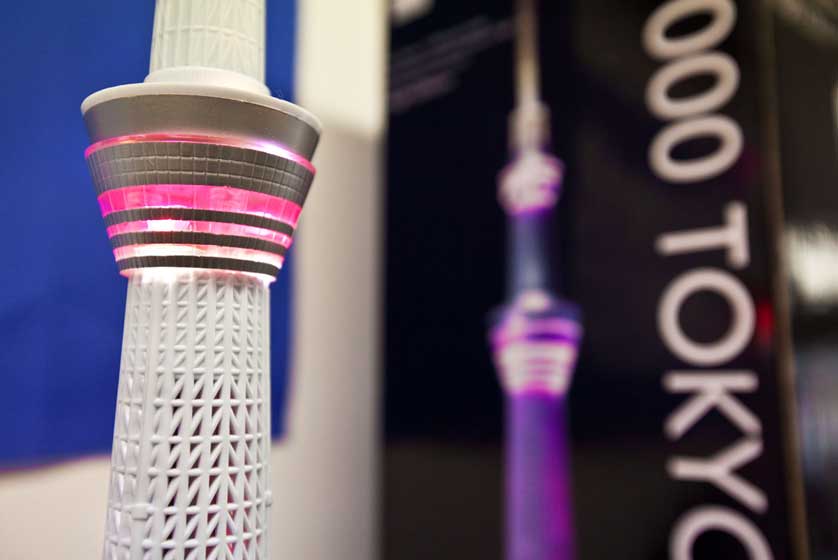 Tokyo Sky Tree souvenirs are already a big hit with visitors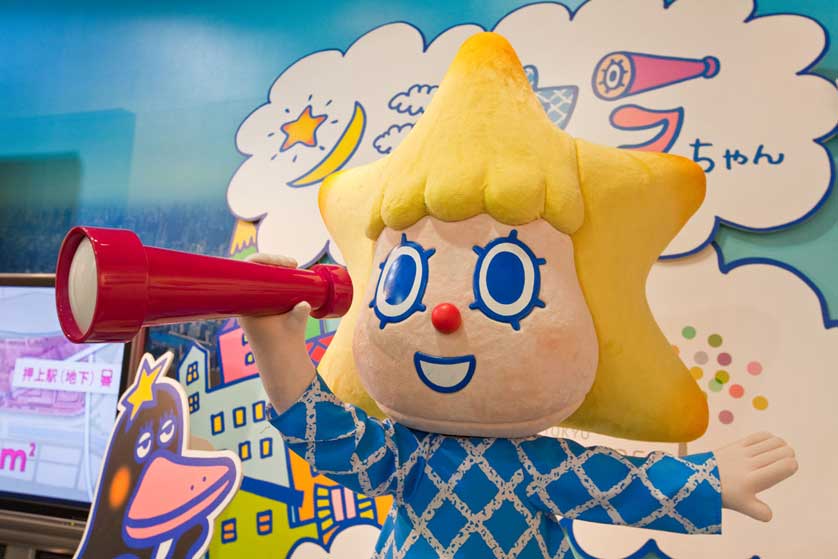 Tokyo Sky Tree souvenirs
Sky Tree Video
Book Hotel Accommodation in Tokyo
All the themes of the city