Mimatsu Restaurant
美松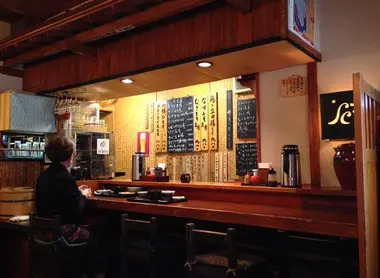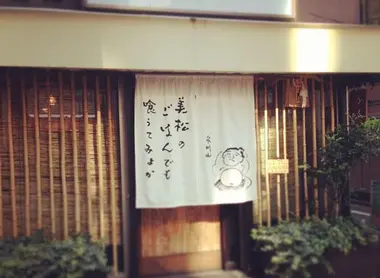 Home cooking in Ikebukuro
Restaurant chains have invaded Ikebukuro... But a store with a friendly, country village appearance still holds out against the invaders. Welcome to Mimatsu!
You push the noren curtain aside and then slide the wooden door of this tiny restaurant (that's easily missed), to find a room that can barely accommodate fifteen clients, at a squeeze. This restaurant is always full.
The lady of the restaurant often greets customers with a smile and the words: "Does it bother you to share a table with someone else?" This is another Mimatsu specialty: the ai-seki (sitting at the same table as someone else). Which isn't in itself an inconvenience when you know the discretion of the Japanese, and in any case the food at Mimatsu will make you forget everything else...
Katei ryori
At Mimatsu, they serve teishoku, full set meals including soup, rice, tsukemono (pickled vegetables) and a main course of meat or fish. Hearty menus, fresh vegetables in abundance, and that nostalgic taste that gives the impression that a Japanese mom has prepared it all: this is why this small unassuming restaurant has so much success in the neighborhood! Mimatsu is an example of katei ryori, everyday family cooking.
The decor is authentic and also has the strange power to bring calm the midst of the bustle of Ikebukuro. You'll come out with a full stomach, particularly pleased with the healthy nature of this cuisine. In short, ready to face the afternoon or evening ahead.
If you can't read the menu (carved on wooden boards on the wall), just ask the cook, who speaks English.
---
Address, timetable & access
All the themes of the city