Tokyo Shopping
Tokyo shopping: read a guide to shopping in Tokyo, where to shop and what to buy in Akihabara, Ginza, Shibuya, Shinjuku and elsewhere.
Tokyo Area Guide: Tokyo Shopping 東京 買い物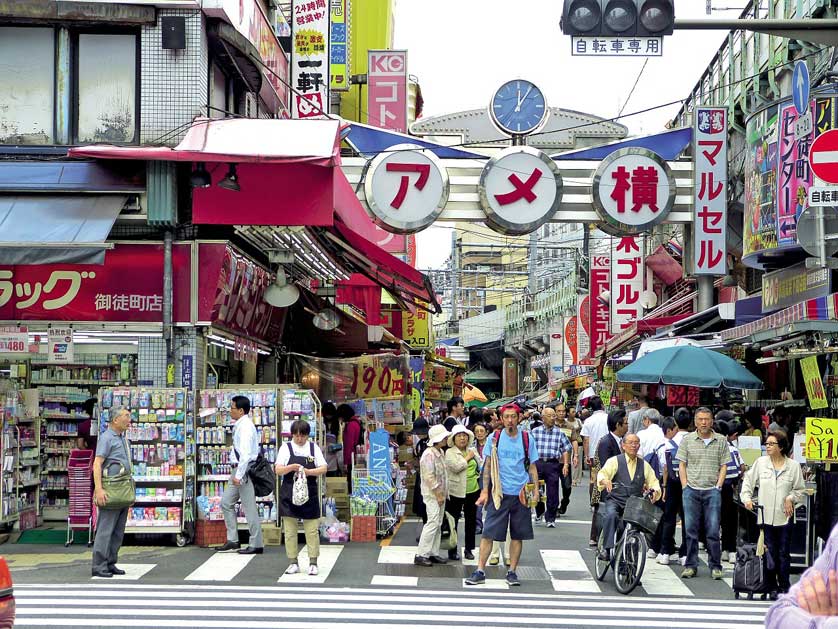 Ameyayokocho market, Tokyo
Tokyo is one of the great shopping cities of the world offering both cutting-edge consumer goods, designer fashions, anime and manga alongside more traditional Japanese arts and crafts.
Each of Tokyo's distinct areas has its own special characteristics and atmosphere which equally applies to what you can buy there.
Enjoy our guide to Tokyo shopping.
Akihabara
Akihabara or "Akiba" needs little introduction as the undisputed electronics and camera capital of Japan. The few blocks around Akihabara Station are a mass of shops selling the full range of electronic and electric goods, computer games, and home appliances, from brand new audiophile, ultra high-end to second-hand bargain bin.
Keep an eye out for the many tax-free shops in the area. As well as for the cameras, computers, TVs and mobile phones, Akihabara is also a treasure trove of manga, games, toys, anime, anime DVDs and maid cafes. Akihabara attracts hordes of those fascinated by amine and manga culture: the otaku, or, nerds.
Ameyayokocho
Ameyayokocho or just "Ameyoko," is a brash, bustling, loud, busy, cheap and colorful market district in the Ueno area of Tokyo, that started out as a black market in the Occupation period after World War II.
Ameyayokocho means "candy sellers' alley" and runs south from Ueno Station, parallel to the elevated tracks of the JR Yamanote and
Keihin-Tohoku Lines south to Okachimachi Station. Now Ameyoko is a multi-cultural mix of cut-price open-air food stores, supermarkets, bars, restaurants and shops selling everything from rock-bottom anime DVDs, to cheap golf clubs and golf balls, and bargain clothes.
Asakusa
Asakusa is the epitome of Tokyo's shita-machi, the downtown area of old Tokyo or Edo during the Edo Period (1603-1867). Asakusa is famous for having one of Japan's oldest shopping streets - Nakamise - which runs up to Sensoji Temple from Kaminari Gate. Nakamise is lined with stalls selling souvenirs and traditional Japanese arts and crafts. Kappabashi-dogu-gai, (Kappabashi Homeware Street) which among a cornucopia of Japanese kitchenware also sells plastic food replicas of the same type you see outside Japanese restaurants. Miyamoto Unosuke Shoten is an historic shop that sells traditional Japanese instruments and all you would ever need for a Japanese festival: mikoshi (portable shrines), happi coats, flutes and masks. Rox Department Store at the end of Shin Nakamise has a 24 hour supermarket in the basement while the upper floors sell mainly women's and children's clothing.
Asakusabashi
Asakusabashi, especially the area around  Asakusabashi Station on the JR Sobu Line, near the Sumida River, is famous for its congregation of stores selling traditional Japanese dolls, some running into 1,000s of dollars, for the Hina Matsuri (Doll's Festival) in March as well as koinoborif (carp streamers) for Children's Day in May.
Azabu
Azabu, due to the large number of foreign embassies in the area and the plethora of business people from overseas who are based here, is home to a variety of international food stores and cafes from around the world.
Akihabara's main street, Chuo-Dori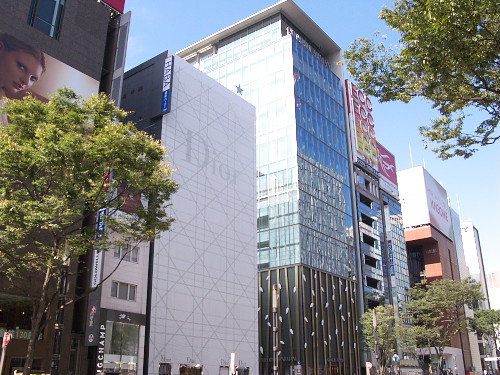 Fashion stores on Chuo-dori Avenue, Ginza, Tokyo
Ginza
Ginza has been the shopping and stomping grounds of the phenomenally wealthy since the early part of the 1900s. Ginza is Japan's iconic shopping area, and as such draws tourists, from all over Japan and Asia, who are now the main engine of its continuing success.
Read more about Ginza shopping
Harajuku
Harajuku remains Tokyo's most established center of street fashion. While other areas rival it in terms of hip, Harajuku still reigns when it comes to streetwise and cutting edge. Harajuku is flanked by Jingu Gaien/Yoyogi Park to the east and the elegant Aoyama district to the west. Only a block east of, and parallel to, Harajuku's main street is elegant, high-fashion Omotesando.
Ikebukuro
Ikebukuro is home to a number of massive department stores close to Ikebukuro Station including the Tobu department store and the ultra-modern Metropolitan Plaza Building housing the 10-floor Lumine Department Store. Ikebukuro's east side, the "Seibu exit," is dominated by the Seibu and Parco (including Loft) department stores, stretching about 450m (almost one third of a mile). Check out the endless cornucopia on the B1 and B2 floors, where almost every edible and drinkable product imaginable is there for the browsing, sampling and buying. There are plenty of restaurants to choose from, too. Parco has a Tower Records on the 5th and 6th floors. Finally, Sunshine City consists of four buildings - the most famous being the 60-storey Sunshine 60 building - forming "a city within a city" complete with an observation deck, aquarium, theater, planetarium, hotel, shopping mall and over 90 restaurants.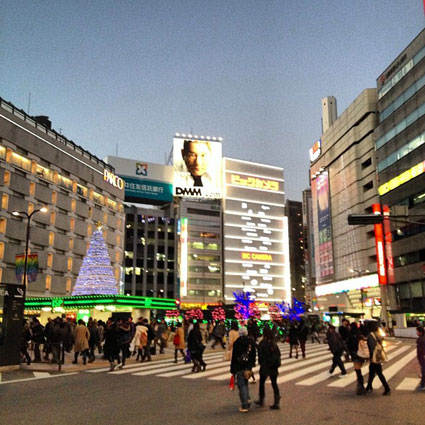 Ikebukuro Station, East Exit, Tokyo with the Parco Department Store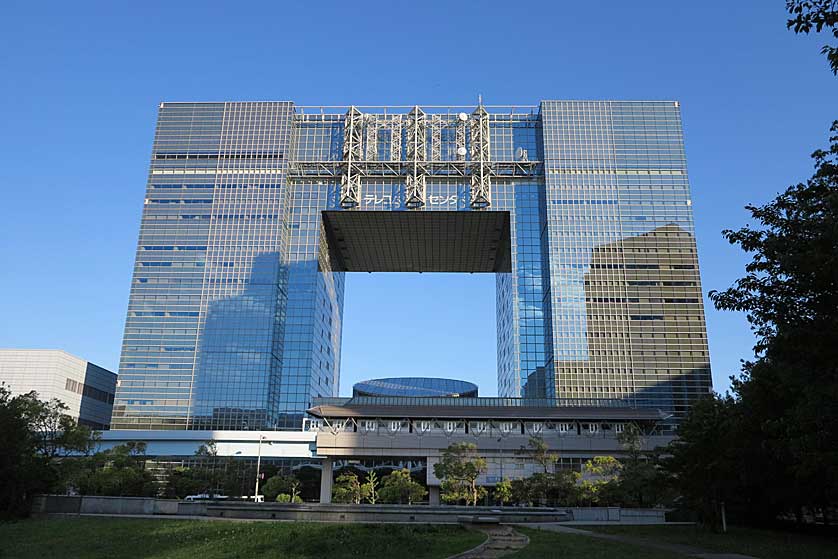 Odaiba, Tokyo
Jinbocho
Jinbocho is the place to come in Tokyo for books. Book shops for both new and second-hand books as well as publishers' offices dot the streets. The junction of Yasukuni dori and Hakusan dori has a plethora of Japanese book stores selling just about everything from rare antiquarian books to modern manga. Well established Japanese specialist book stores in Jinbocho include Isseido Shoten (Tel: 03 3292 0071), Tamura Shoten (Tel: 03 3295 0039), Kitazawa (Tel: 03 3263 0011), Tokyodo (Tel: 03 3291 5181) and Sanseido (Tel: 03 3233 3312). Walk a little east down Yasukuni-dori and check out all the sports goods shops.
Marunouchi
The Marunouchi district around Tokyo Station has been transformed into an up-market shopping and entertainment area based on the number of recent high rises in the vicinty. Stand-out shopping can be found at the Oazo Building, designer outlets on Marunouchi Naka-dori Avenue and the Shin Marunouchi Building and its slightly older sister across the road, the Marunouchi Building, for retail and dining par excellence.
Nihonbashi
Nihonbashi was the start and end point of the historic Edo period highways such as the Tokaido and Nakasendo and has a long history of specialist stores. Takashimaya Department Store has stood here since 1933 and has a noted food court with imported delicacies. The nearby Yamamotoyama store has been in business since 1690 and serves green tea and traditional sweets. Eitaro Sohonpo is another Japanese sweet shop, in Nihonbashi since 1857. Haibara is a traditional shop that sells Japanese washi paper used, for example, in shodo (Japanese calligraphy); across Eitai Dori is the modern glass-plated Coredo Nihonbashi, which opened in 2004. On the north side of the bridge is the venerable Mitsukoshi Main Store Nihonbashi, which opened in 1935. Mitsukoshi is Japan's oldest department store dating back to 1673, when it was called Echigoya, selling kimono fabric.
Odaiba
Located on reclaimed land in Tokyo Bay, Odaiba is known for its high-tech shopping. DiverCity Tokyo Plaza is a new retail and entertainment complex with an 18m-tall Gundam figure outside. The DiverCity Tokyo Plaza complex contains Bandai's Gundam Front Tokyo dedicated to all things Gundam including Gundam scale models such as a full scale Core Fighter Ver. GFT "mecha" and a 1/3000 A Baoa Qu Space Fortress. The  Panasonic Center (03 3599 2600) is dedicated to the technology of the Osaka-based electronics giant Matsushita. The center showcases cutting-edge electronics (HD TVs, Blu-Ray, DVD etc), eco-homes, product design and includes a Nintendo games center and RiSuPia: "an experience-oriented museum for visitors to experience the fun of science and mathematics."
Omotesando
The elegant Omotesando avenue in the up-market Aoyama district of Tokyo is home to a number of designer chains. Omotesando Hills is Omotesando's biggest shopping attraction, opened in 2006 by Minoru Mori, the same developer who created Roppongi Hills in the Roppongi district, with three floors underground and three above ground. Cat Street (the nickname for Kyū-Shibuya-gawa Yūhodōro, often shortened to "Yūhodō") is a famous fashion street - for cool cats - that goes all the way from Harajuku, crosses Omotesando (where the Gyre shopping center is) and continues as a pedestrianized street to Miyashita-koen intersection in Shibuya. Cat Street is a very pleasant alley to stroll along and take in what's hippest in Tokyo street fashion.
Roppongi
Roppongi has the reputation of Tokyo's prime nightlife spot, especially for foreigners, but is a formidable shopping presence by day with its two major shopping and entertainment complexes, Roppongi Hills and Tokyo Midtown.
Shibuya
Shibuya is the center of Japanese youth culture. The most popular part of Shibuya for youth culture is Center-Gai, a street directly across from the Hachiko Exit of Shibuya Station, its entrance marked by a Starbucks. Center Gai Street and the surrounding area is very explorable, full of street-style clothing shops and youth entertainment spots. The other major street, Dogenzaka, sloping up to your left on coming out of the Hachiko Exit, is lined with bars and entertainment for the more mature, but no less hip, crowd. About 300 meters north of Shibuya Station, up Meiji-dori Avenue, is where Cat Street (real name, Kyu-Shibuya-gawa Yūhodōro) starts, joining with Omotesando about 700 meters further north-east, running behind, and parallel to, Meiji-dori Avenue. Cat Street has a relatively relaxed vibe, and is lined with fashionable boutiques for the young and discerning. Read more about Shibuya shopping.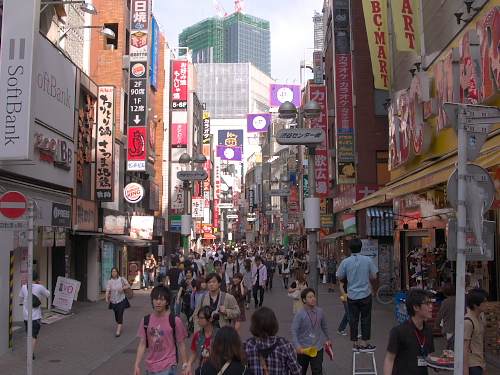 Shibuya Center-Gai Street, Tokyo
Shimokitazawa
Shimokitazawa is one of Tokyo's quirkiest youth shopping and entertainment districts, where run-down meets studied chic. This one-of-a-kind lifestyle enclave, nestled in an otherwise unremarkable traditional neighborhood is a must-visit for explorers of the cultural underground. Enjoy the many second-hand stores - both up- and down-market, the numerous cafes, restaurants, the live music houses, and, if you're into Japanese drama, the theaters. Shimokitazawa shopping.
Shinjuku
Shinjuku has several huge department stores, music stores, electronics stores and thousand of specialist shops catering to every taste imaginable. During the day, Shinjuku's massive department stores, from Shinjuku station eastwards, are a culture unto themselves. Each caters to a different class of customer, from the bargain basement Keio, to run-of-the-mill Odakyu, through to ubiquitous Marui, Takashimaya and up to the king of them all, Isetan. Basement floors are a grocery/delicatessen/confectionery cornucopia - full of free munchies (samples are put out to be eaten, not stared at: foodies, dig in - splash out!), and the service is world class at Isetan. Read more here about Shinjuku shopping, with a shop-by-shop guide to the major stores including BIC Camera, Yodobashi Camera, H&M, and Kinokuniya.
Shiodome
Shiodome close to Shimbashi Station is an entertainment, hotel and retail center built on the site of the old station and goods yard. Caretta Shiodome is an office complex/mall that encourages strolling and people-watching. The 42-story Shiodome City Center is a mix of office space, restaurants and shops including eateries with great views of Tokyo on the upper floors. Nippon Television Tower has 32 floors and was designed by British architect Richard Rogers. The building has a funky clock motif on its exterior, designed by anime movie director Hayao Miyazaki. There's an Anpanman shop in the building and a glass-fronted studio where visitors can watch NTV live broadcasts. The Panasonic Shiodome Building showcases Panasonic's domestic products for interiors including furniture and kitchen appliances.
Tokyo Sky Tree
Tokyo Sky Tree is not only the highest building in Japan, but is also home to Tokyo Solamachi, an entertainment and shopping complex with over 300 businesses including shops dedicated to Japan's popular character goods and traditional crafts and foodstuffs.
Tsukiji
As well as being the largest fish market in the world, Tsukiji is also a huge fruit and vegetable market.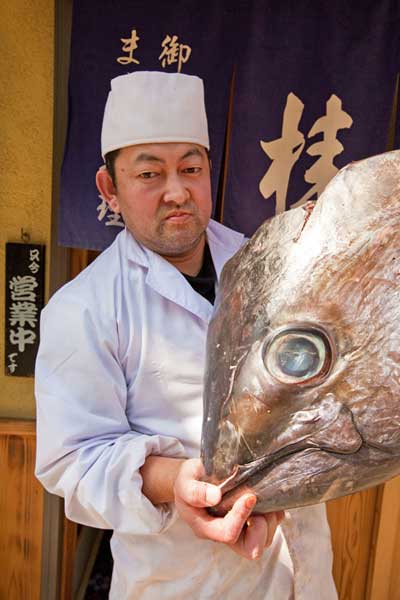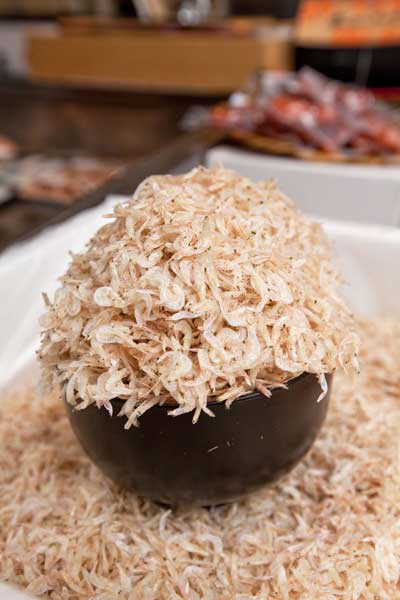 Yebisu Garden Place
Yebisu Garden Place is a "city within a city" entertainment, retail and office development.
Shops include a large Mitsukoshi department store with a large food hall in the basement and an open air market selling arts and crafts, flowers and clothing.
Book Hotel Accommodation in Tokyo
All the themes of the city