Tokyo Top 10 Temples & Shrines
Tokyo Top 10 Temples & Shrines: see a listing of the best 10 Shinto shrines and Buddhist temples to see on a visit to Tokyo, Japan.
Tokyo's Top Ten Shinto Shrines & Buddhist Temples
Japan's nativist Shintoism and the later promulgated Buddhism grew up in very close proximity, making Shinto shrines and Buddhist temples equally important parts of the Tokyo landscape.
Of the thousands of shrines (or, jinja) and temples (o-tera) in Tokyo, here is a top-ten shrine and temple selection to get the sightseeing pilgrim started.
The temples and shrines featured here are selected primarily for their own unique features, but with consideration given too to their sightseeing-rich neighborhoods, often containing other shrines and temples well worth visiting.
1. Meiji Shrine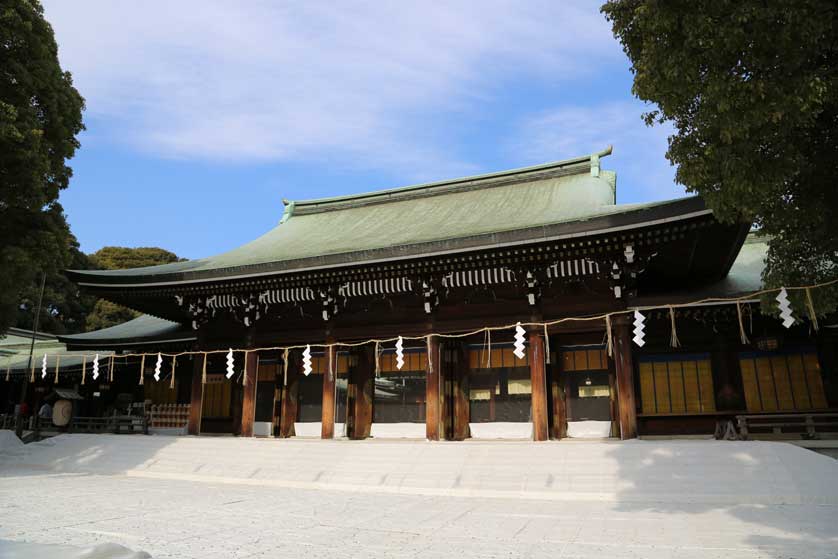 Main Hall of Meiji Shrine, Tokyo
Stately Meiji Shrine is surrounded by Yoyogi Park: a sprawling expanse of green in central west Tokyo. Meiji Jingu Shrine is dedicated to the souls of Emperor Meiji (1852-1912), Japan's first modern, constitutional monarch, and his wife, Empress Shoken (1849-1914). A museum houses historical memorabilia of the couple and their court. Meiji Shrine is a very popular place for traditional Japanese-style weddings, much of which are visible to shrine visitors. The ultra-fashionable areas of Aoyama, Omotesando, and Harajuku are a short walk away, and Shibuya and Shinjuku are just a couple of stops on the Yamanote Line. A wood of over 100,000 trees surrounds Meiji Shrine, with walkways through it to explore the multifarious and near-pristine sylvan beauty.
Read more about Meiji Shrine.
2. Sensoji Temple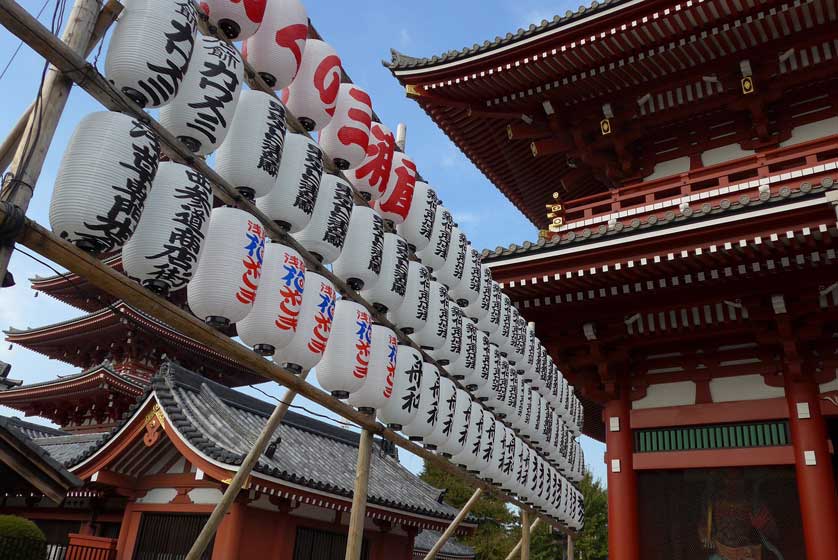 Pagoda and Main Hall of Sensoji Temple, Asakusa, Tokyo
Sensoji Temple in Tokyo's proletarian east-end area of Asakusa is one of Tokyo's oldest temples, founded in 628. Sensoji is not only one of Tokyo's grandest-looking temples, with its big, bold red gate, imposing temple buildings, and five-story pagoda - but it is also one of the most buzzing temples in the metropolis. More than just a temple, Sensoji is a neighborhood in its own right, preserving the feel of old Tokyo. A unique feature is its approximately 250 meter-long Nakamise-dori entrance route lined with hundreds of stalls selling snacks and trinkets to the thousands of visitors that throng the temple.Read more about Sensoji Temple
3. Nezu Shrine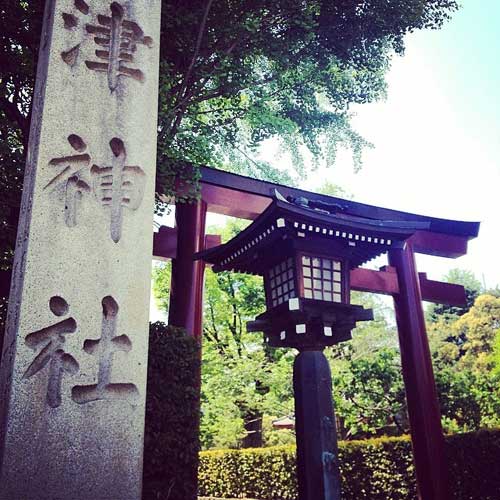 Nezu Shrine Entrance with torii gate and lantern
Nezu Shrine, a short way from Tokyo's famous Ueno Park, has its roots in almost 2,000 years of Japanese history, and is closely associated with Japan's Imperial family. Nezu Shrine is famous first and foremost for its azalea garden that is a riot of vivid spring pinks, whites and purples in April. But even when the azaleas are not in bloom, Nezu Shrine is a must-see for its elegant old buildings, kept in pristine condition with crisp, colorful traditional designs, and its simply but beautifully landscaped grounds, extra special for being on two levels. One architectural feature of note is the hundreds of torii archways that make tunnel-like paths around part of the grounds.Read more about Nezu Shrine
4. Tennoji Temple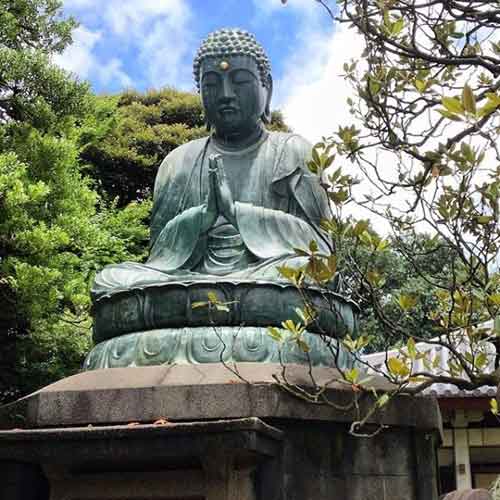 Bronze Buddha, Tennoji Temple, Yanaka, Tokyo
Tennoji Temple would top the list if it were all about location. Set amidst a huge wood-like cemetery, led up to by Sakura-dori, a long vista of cherry trees, Tennoji is the epitome of nature-blessed Buddhist tranquility. The old age of the temple (the oldest in the surrounding historical Yanaka district at over 800 years) gives it a patina of quietude, enhanced by the beautifully landscaped precincts that include lawn (uncommon in Japan), and a gate done in concrete with a modernist feel. A big bronze praying Buddha dominates the main lawn. Tennoji has an unexpected historical twist in that it used to run Tokyo's biggest public lottery, meaning that what now feels like a hermitage used to be rank and file pandemonium!
Read more about Tennoji Temple
5. Yushima Seido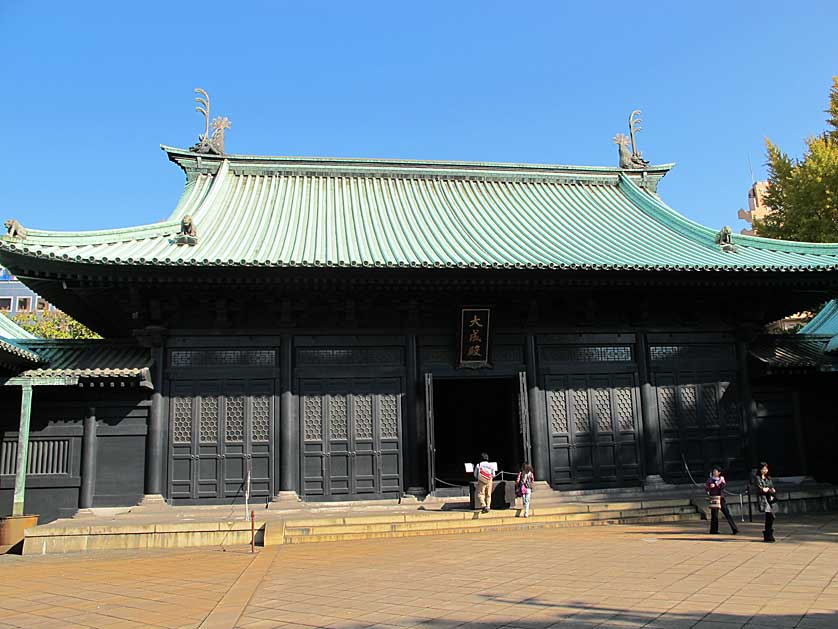 Daiseidan Main Building, Yushima Seido
Yushima Seido Temple, in its imposing propriety, speaks to the role of Chinese Confucianism in Japan. This temple was established in Ueno by tutor to the first four Shoguns, the neo-Confucian scholar Hayashi Razan (1583-1657). In the late 18th century, it became the official training institution for bureaucrats of the Shogunate upon its move to its current location in Tokyo's Bunkyo ward. Yushima Seido has an unshakable place in the development of Japan's education system, having been the site of several education-related institutions. Although reconstructed as recently as 1935, the current buildings convey the respectable grandeur of the temple's history, and have the world's biggest Confucius statue. Yushima Seido is a popular place of supplication for students. 10 minutes' walk north of Yushima Seido is Yushima Tenjin.
Read more about Yushima Seido
6. Narita-san Fukagawa Fudo-Do (Fukagawa Fudoson)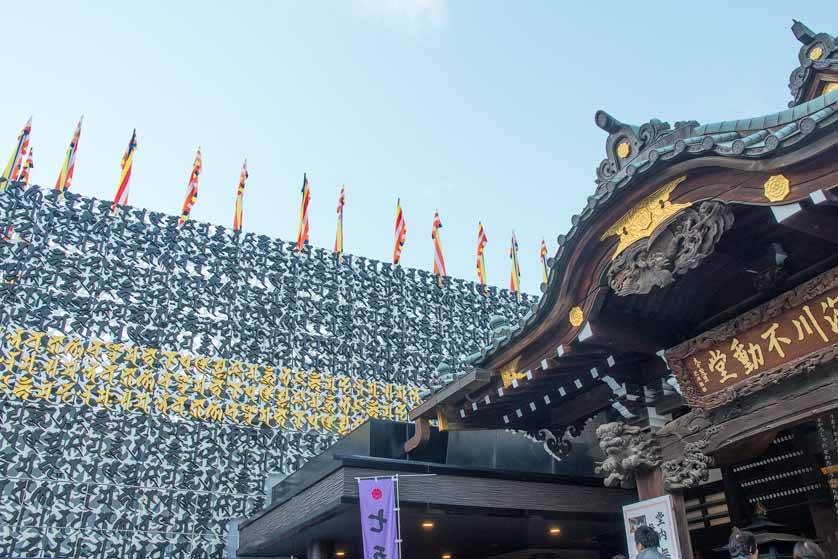 Narita-san Fukagawa Fudo-do (Fukagawa Fudoson), Tokyo
Popularly known as Fukagawa Fudoson, Narita-san Fukagawa Fudo-Do is a temple in the richly historical east Tokyo Fukagawa district. The temple's draw card is its looks: featuring the extremes of age and modernity, as well as the depth of tradition that has built up around the temple over the centuries since its inception. The old temple worship hall was relocated to here in the 1860s, and the original relocated building remains to this day - making it a very old structure for Tokyo; and the striking cubist new main hall was built in the 2010s. Fukagawa Fudoson's rituals include cedar-stick burning and drumming rituals, creating the mystical atmosphere typical of Shingon Buddhism. The luxuriously decorated interior of the Old Hall is testimony to the temple's roots in the rising wealthy class of Tokyo back at the start of the 1700s. Part of Fukagawa Fudoson's attraction is its proximity to scores of other interesting temples in the Fukagawa neighborhood, easily making for a day of fulfilling historical Tokyo sightseeing.
Read more about Fukagawa Fudoson
7. Yushima Tenmangu (Yushima Tenjin)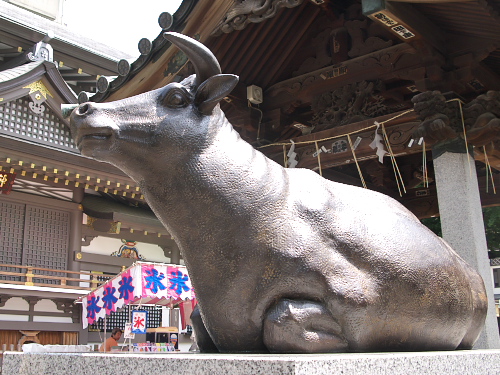 Nadeushi ("stroking cow") at Yushima Tenjin Shrine
Yushima Tenjin is a picturesque shrine perched on high ground in Bunkyo ward, Tokyo. Yushima Tenjin dates from the fifth century, when it venerated a mythical Shinto god, then in the 14th century it became associated with the classical Confucian scholar, Sugawara no Michizane (845-903). The building, made of cedar, glows rich golden-brown, and inherits the design of a late-15th-century rebuilding. The details of the architecture are pleasing, with vivid carvings of scenes from legend. The shrine's divinity being a scholar, it is visited by students seeking an otherworldly hand for exam success: apparent in the votive plaques on racks in front of the shrine. A beautiful bronze nadeushi "stroking cow" outside is believed to confer healing. 10 minutes' walk south of Yushima Tenjin is Yushima Seido.Read more about Yushima Tenjin
8. Yasukuni Shrine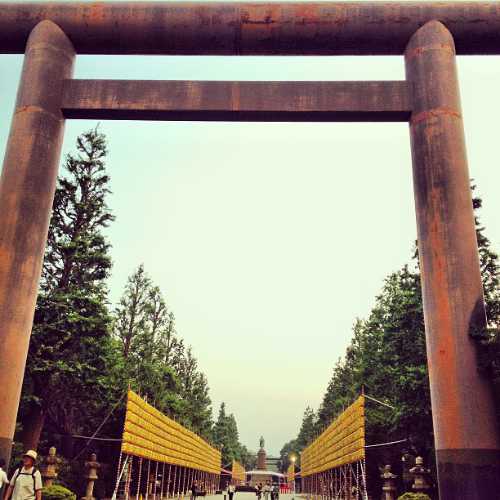 Great Torii Gate, Yasukuni Shrine,Tokyo
Yasukuni Shrine is dedicated to Japan's war dead, and as such is disproportionately political - as opposed to religious - in its significance. Its location at the top of Kudanzaka slope, on a site very close to the Imperial Palace, makes Yasukuni a commanding presence that helps define Tokyo's cityscape. Yasukuni Shrine's internal layout is also grandiose, from the towering torii gates on in through the vista up to the main shrine building. The the grounds have numerous statues and memorials here and there connected with war. Yasukuni Jinja even has its own war museum, albeit with a very nationalistic take on things. On weekends Yasukuni's grounds are a regular venue for second-hand markets. In mid-July, the shrine's summer Mitama Matsuri festival is hugely popular, drawing thousands of yukata-clad youth.Read more about Yasukuni Shrine
9. Zojoji Temple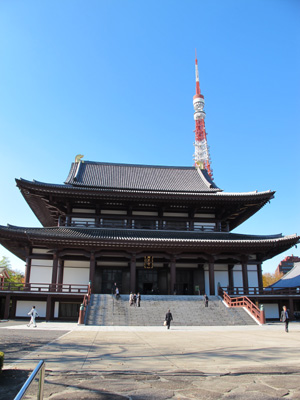 Zojoji Temple has stood at its present location in Tokyo since 1598
Zojoji Temple, in Tokyo's Minato ward, is replete with Tokyo history. Now neighbors with Tokyo Tower and Shiba Park, Zojoji used to cover the whole area, and is only a remnant of the massive complex it used to be. However, Zojoji is very much worth a visit for its long and intimate association with the Tokugawa family which seized national power at the beginning of the 17th century and wielded it from its castle (now the Imperial Palace) through to the end of the 19th century. Six of the fifteen Tokugawa Shoguns are therefore buried in Zojoji. Zojoji is also renowned for its Sangedatsu Gate, a building dating from 1622, which survived bombing during the Pacific War, making it supposedly the oldest wooden structure in Tokyo. The giant Daibonsho bell cast in 1673 is still tolled six times a day. And the tree planted there by 18th U.S. president, Ulysses S. Grant, is still growing strong.Read more about Zojoji Temple
10. Sengakuji Temple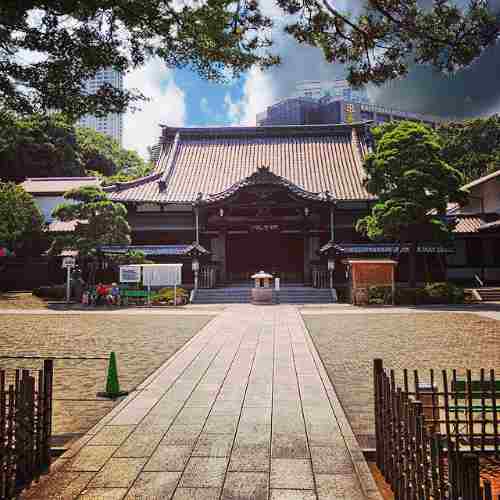 Sengakuji Temple, Tokyo
Sengakuji Temple makes it into Tokyo's top ten purely for reasons of history and legend. This small, otherwise unremarkable temple in Minato ward, with little to commend it in terms of architecture or beauty of layout, is the resting place of the 47 Samurai (or 47 Ronin). The story of the 47 Ronin is a staple of inspirational legend in Japan, institutionalized in the form of the Chushingura narrative, and was catapulted to fame in the West with the 2013 movie, 47 Ronin. Sengakuji Temple has a modern museum, the Akogishi Kinenkan, displaying fascinating realia connected with the early 18th-century incident of loyalty and revenge, as well as an older annex showcasing the actual clothing and armor worn by the brave forty-seven on their deadly mission. Their graveyard at the far end of the temple, up the steps, is inspiring in its stony simplicity.Read more about Sengakuji Temple
Map to Tokyo's Top Ten Temples and Shrines
Click on the top ten Tokyo temples and shrines for more information.
Book Hotel Accommodation in Tokyo
All the themes of the city