The Peak Bar in Tokyo
ピークバー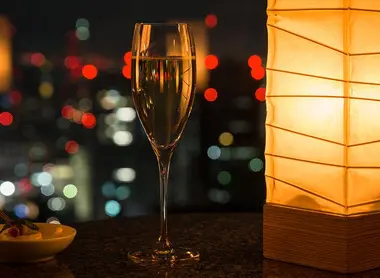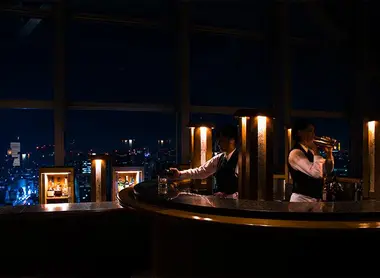 Cocktails and sunset
Looking for a chic spot to watch the sunset over Tokyo's skyscrapers, or just want to visit one of the most iconic sets from the movie Lost In Translation? Head to the Peak Bar!
In the heart of Nishi-Shinjuku , Tokyo's business district, is the most elegant spot to admire the Tokyo sunset . Located on the 41st floor of the luxury hotel Park Hyatt Tokyo , the Peak Bar offers you a breathtaking view of the skyscrapers of the Japanese capital! Open only between 5 p.m. and 11:30 p.m., it's an opportunity to admire (and photograph) the Japanese sunset in a setting that couldn't be more chic. In fact, a dress code is imposed: sneakers and joggings are prohibited, as are sleeveless t-shirts. If the entrance fee seems a bit expensive (4,800 yen excluding tax, or just over 36 euros), it's because you can eat and drink unlimited until 9 p.m.! And not just anything: more elaborate cocktails than each other, as well as a fine selection of beers and wines. The petit fours, with unlimited access too, will satisfy your stomach as well as your palate: wagyu beef, gravlax salmon, cheese platter accompanied by crackers and olives. The icing on the cake: impeccable service!
A mythical place
The most cinephiles among you will have already recognized it: it is indeed one of the sets of the film Lost in Translation. You will also be surprised by the bamboo forest that welcomes you at the entrance, which is completely invisible on the screen. Note that most of the scenes were shot at the New York Bar, higher (and more expensive), even if the Peak Bar also makes small appearances. Between the cocktails parading and the twilight invaded by urban lights, the only thing missing is Scarlett Johansson and Bill Murray to believe you are transported to Sofia Coppola's melancholic masterpiece. You can even continue your evening in the footsteps of the film by going to the karaoke-kan !
Unfortunately, the bar does not take reservations : in order to avoid the queue and make the most of the view, go there a little before the opening!
---
Address, timetable & access
Address

Phone

+81 (0)3 5323 3461

Timetable

West Exit of Shinjuku Station (JR, Keio, Tokyo Metro, Odakyu and Toei Lines), Hatsudai Station (Keio New Line) or Tochomae Station (Toei Oedo Line)

Price

4,800 yen (36€)

Access

From 5 p.m. to 11:30 p.m.
All the themes of the city