Yamanashi Prefecture
Japan's Regions: Yamanashi 山梨県
Yamanashi Prefecture is located north west of Tokyo in the Kanto region of Japan. Yamanashi Prefecture also borders Nagano, Shizuoka Prefecture, Saitama and Kanagawa prefectures.
Yamanashi is a mixed urbanized and rural prefecture which contains the iconic Mt Fuji and Fuji Five Lakes in the south of the prefecture on the border with Shizuoka.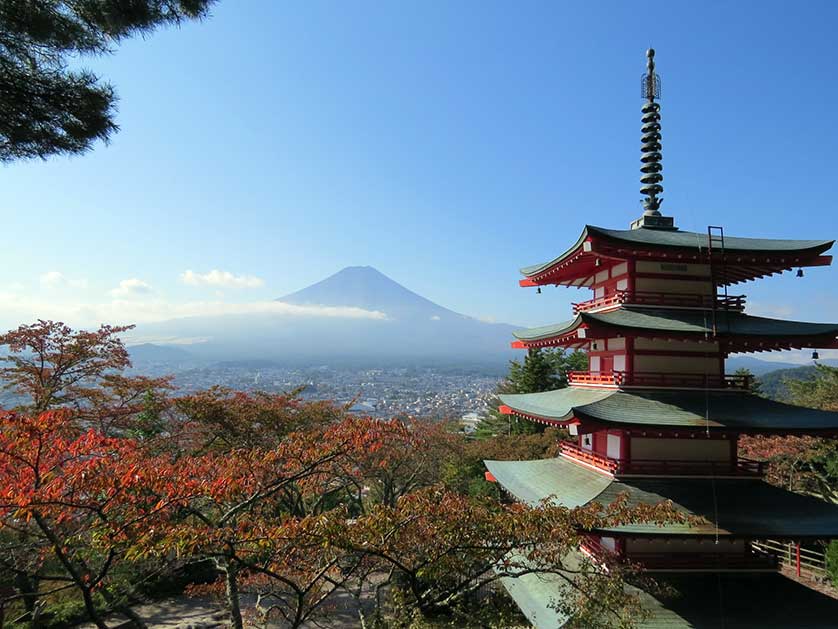 View of Mt Fuji from the pagoda in Arakurayama Sengen Park, Fujiyoshida City, Yamanashi Prefecture
Around 27% of the total area of Yamanashi Prefecture is protected land including the Chichibu Tama Kai, Fuji-Hakone-Izu and Minami Alps National Parks. As well the Minami Alps Koma Prefectural Natural Park, Yatsugatake-Chushin Kogen Quasi-National Park and Shibireko Prefectural Natural Park.
Yamanashi's main cities include the prefectural capital Kofu, with a population of just less than 200,000 inhabitants and the much smaller towns of Chuo, Fuefuki, Hokuto, Kai, Tsuru, Uenohara and Yamanashi city.
Yamanashi, especially in its highland areas, has slightly cooler weather in the summers than areas further to the south in Honshu, though temperatures usually top 30 degrees Centigrade or more in July and August.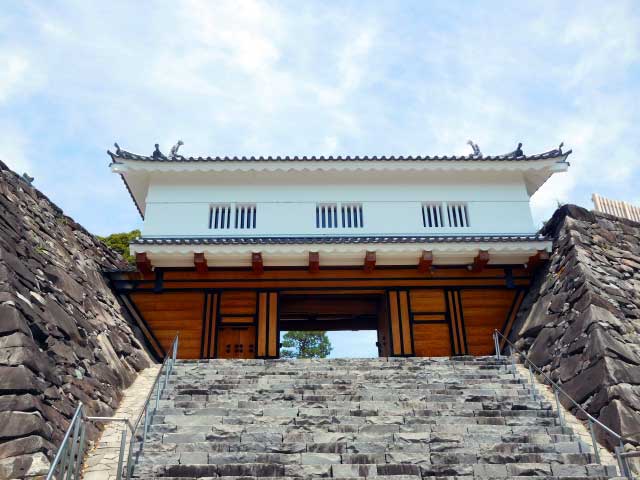 Kofu Castle Gate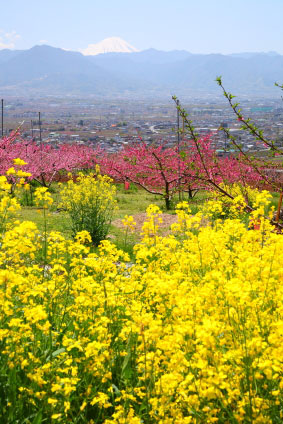 View of Mt Fuji from Yamanashi Prefecture
Yamanashi Attractions
Yamanashi Prefecture has a variety of attractions for the visitor and makes for an excellent weekend trip from the metropolis. Kofu, just 90 minutes by train from Tokyo, offers Kofu Castle and the nearby Shosenkyo Gorge, part of Chichibu Tama Kai National Park. The Senga Falls on the Arakawa River in Shosenkyo are particularly beautiful in the autumn for their fall colors. Kofu City has a reputation for good weather, being the city in Japan with the highest average sunshine hours per year.
Mount Fuji and Fuji Five Lakes attracts climbers to the former and anglers to the latter as well as onsen enthusiasts who come to sample the hot springs close to both the natural attractions. Noted onsen resorts in Yamanashi include Isawa Onsen, Shimobe Onsen, and Yamanami Onsen.
Mount Kita is Japan's second highest mountain after Fuji at 3,193m (10,476 ft) and is located in Minami Alps National Park in Yamanashi Prefecture. Mount Kita is popular with climbers and has some lovely meadows of alpine flowers in summer.
Kiyosato in Hokuto is another natural upland resort famous for its dairy cows and the Kiyosato Educational Experiment Project (KEEP) founded by the Anglican evangelist and American Football devotee, Paul Frederick Rusch (1897-1979).
Fuji-Q Highland (富士急ハイランド) an amusement park in Fujiyoshida, near the base of Mt. Fuji, famous for its giant roller coasters, the Haunted Hospital, one of the largest haunted attractions in the world and Thomas Land, dedicated to Thomas the Tank Engine, which is incredibly popular with kids in Japan.
Yamanashi Prefecture as a whole is famous for its fruit and is Japan's top producer of grapes, peaches, plums not to mention mineral water and wine.
Koshu City is the wine capital of Yamanashi Prefecture - and the whole of Japan - and its numerous vineyards, along with orchards, make it a must-stop for wine-lovers.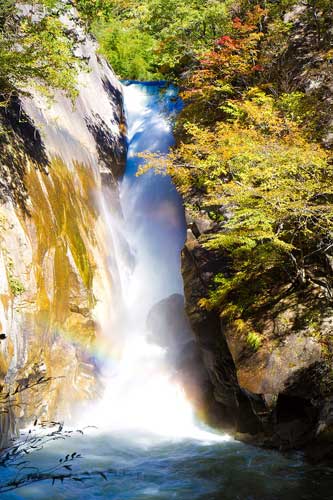 Senga Falls, Shosenkyo, Yamanashi by Jordy Meow, 2010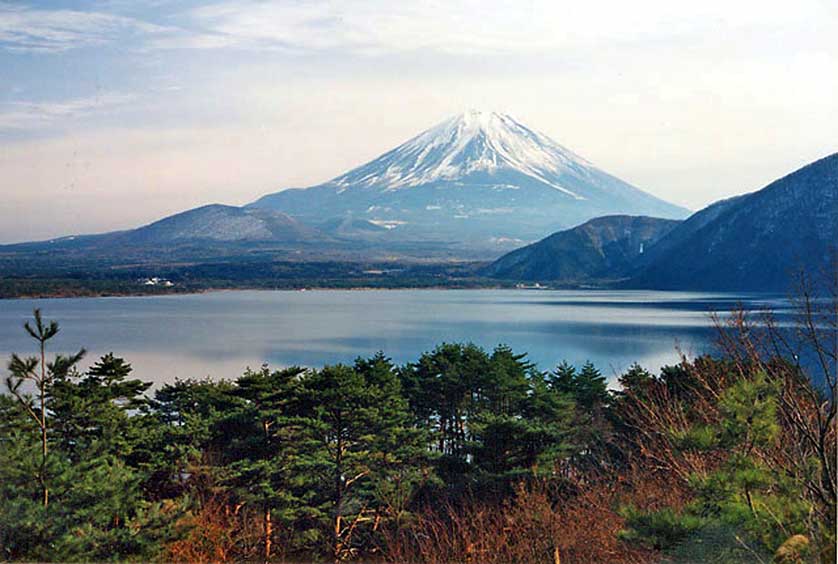 Mt Fuji & Fuji Five Lakes, Yamanashi Prefecture, Japan
Yamanashi History
Yamanashi, like many other prefectures in Japan has various sites that date back to the Jomon Period. During the Sengoku Period of warring feudal lords before Japan was unified in the later Edo Period, the big name associated with what is now Yamanashi and what was then Kai, is Takeda Shingen (1521-1573), who battled both Oda Nobunaga and Tokugawa Ieyasu and is a celebrated Japanese warrior of the age.
During Japan's westernization and industrialization during the Meiji Period (1868-1911) sericulture, silk textiles and wine production were all important enterprises. In 1903, the Chuo Line that links Tokyo and Nagoya reached Kofu.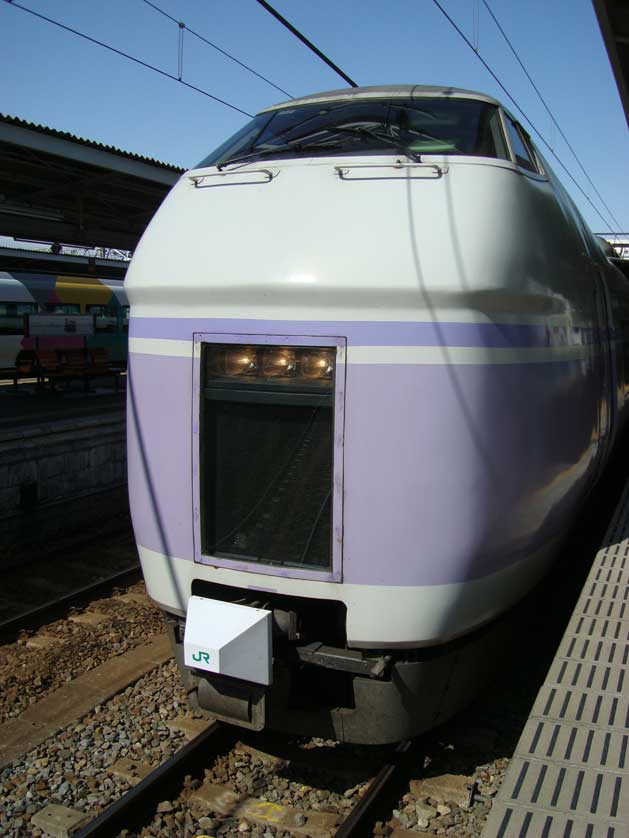 Super Azusa, Kofu Station, Japan
Access
Train
Access to Kofu from Tokyo Station or Shinjuku Station via Mitaka by the JR Chuo Line on the Super Azusa, Asusa or Kaiji Express trains to Matsumoto. Heading south, take the slower JR Minobu Line to Fuji, Shimizu and Shizuoka via Shimobe spa and Minobu.
There are highway buses to Tokyo, Kyoto, Osaka, Kawagoe and Nagoya as well as Narita and Hanada airports.
For getting around town, there is a tourist loop bus, the Kofu City Shuttle, which passes many of the Kofu's main sights. The shuttle runs between 11am-6pm. There are bus stops at the north and south exits of Kofu Station, check with the tourist office for the bus you need.
Some taxi company numbers include Meitetsu 055 241 3232, Marusan 055 224 6181 and Nansei 055 226 5434.
The Tourist Information Office is in Kofu Station.
Yamanashi Prefecture: read a guide to Yamanashi Prefecture west of Tokyo and famous for its lovely highland scenery including Mt. Fuji and Shosenkyo Gorge.
All the themes of the city