Yamanaka Onsen
山中温泉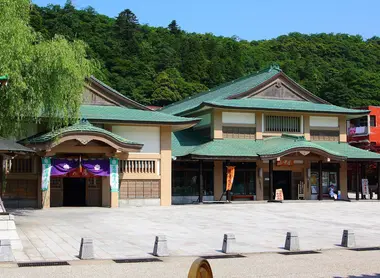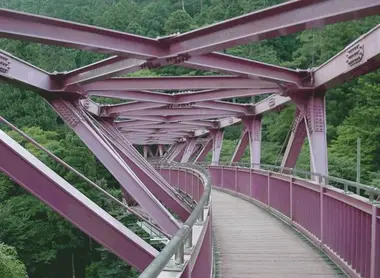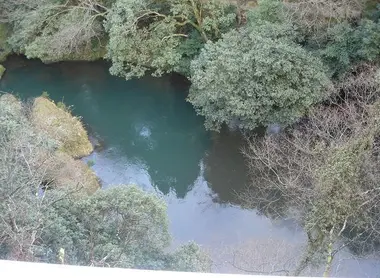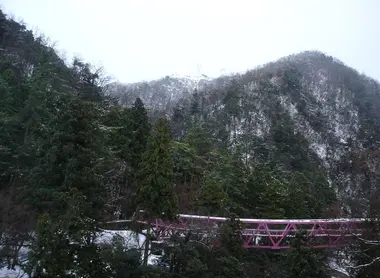 Onsen Millénaire
Nichée au creux des montagnes, dans la préfecture d'Ishikawa se cache une ville thermale plus que millénaire.
A place full of history, crafts and traditions, this is how we would summarize Yamanaka Onsen. The city is heir to an ancient culture and has managed throughout its history to develop infrastructure dedicated to relaxation and the contemplation of nature.
Throughout the year, tourists wander the streets after a well deserved rest in local hostels. These hostels offer onset with exceptional virtues.
Yamanaka Onsen
According to an ancient parchment kept in the Loji temple, Yamanaka Onsen's creation began 1300 years ago. A monk named Gyoki would during his pilgrimage in the Kaga region, meet with the Medicine Buddha. The latter told him that under his feet were hot springs with extraordinary virtues that could cure diseases.
Unfortunately, after several local wars, the springs were forgotten and only rediscovered through Nobutsuru Hasebe. Their popularity has since exploded and seen numerous celebrities who come to rest and enjoy its benefits. One of the most famous onsen, Matsuo Basho, has an impressive spa village. It is one of the top three with Kusatsu and Arima.
It is said that the spring water is beneficial to the joints and helps to quickly recover from an illness. People flock from the very early morning hours, to make sure of being fit for the day. Many places will offer baths, but it is strongly recommended to go to Kikunoyu, ancient bathhouse present since the creation of the city.
Around, nature is abundant and it is also recommended to go wandering the coast of Kakusenkei gorges, the most beautiful valley in the region, or to get away for a day of skiing at Mount Hakusan. 
The place is particularly suitable for walks in yukata and is among the best places for hanami (watching of sakura, Japanese cherry trees). Although less touristy than many other sites, but no less beautiful.
Around here
Yuge-Kaido: The craft of the region can be found at the center of the lane, especially lacquer and pottery typical of the region.
Shuttle Osanpo: A bus extremely useful as it covers the main tourist areas of the region in 40 minutes. It stops by the ryokan, nature spots to visit, as well as galleries and craft shops.
Ioji Temple: Built by Gyoki, it is dedicated to the protection of the city. Its privileged position atop a small hill provides a stunning view of Yamanaka Onsen, and has some heritage elements that bear witness to the long history of the city.
Furusato Yamanaka Festival: This typical festival in Yamanaka is punctuated by many traditional dances, such as Yamanaka Bushi. Many stalls (food, souvenirs, activities) accompany various ceremonies and numerous temples offer their blessing to visitors. The city is plunged into a trance conducted to the rhythm of taiko.
---
Address, timetable & access
All the themes of the city