Chichibu-Tama-Kai National Park
Read a guide to Chichibu-Tama-Kai National Park. Chichibu-Tama-Kai National Park is a vast national park west of Tokyo full of awesome natural beauty, and a hiking and sightseeing paradise.
Chichibu-Tama-Kai National Park overview 秩父多摩甲斐国立公園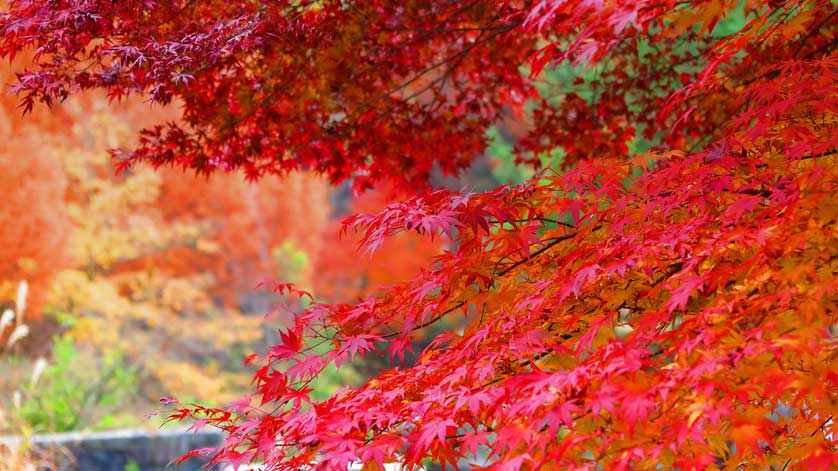 Fall leaves in the Tama region of western Tokyo
Chichibu-Tama-Kai National Park is a 1,262 square kilometer (487 square mile) national park comprising the Tama, Chichibu and Kai districts, and covering four prefectures: Tokyo, Saitama, Nagano, and Yamanashi. Chichibu-Tama-Kai National Park is mainly mountainous, covered with forest, wound through with gorges and rivers, and includes several towns as well.
Chichibu-Tama-Kai National Park stretches out west from the Tokyo metropolis starting with the Tama district that comprises Nishitama ("West Tama") and Okutama ("Inner Tama"), then going north to the Chichibu district, then further west to the Kai district in Yamanashi Prefecture.
Chichibu-Tama-Kai National Park allows easy escape from the urban conglomeration of greater Tokyo. Its many hiking trails offer the escapee not only wilderness, but the facilities to make the most of that wilderness.
Chichibu-Tama-Kai National Park mountains
Chichibu-Tama-Kai National Park is made up of non-volcanic mountains averaging about 1,000 meters in height, forming river valleys that beautifully showcase each season. Chichibu-Tama-Kai National Park has at its center the Okuchichi Sankai mountain mass, at least 18 peaks of which are over 2,000 m (6,500 feet) high.
The two best known mountains in Chichibu-Tama-Kai National Park are Mt. Mitake 929m (3,048 feet) in Okutama, and Mt. Mitsumine 1,235 m (4,052 feet) in Chichibu, famous for the ancient Shinto shrine each has at its peak. Mitsumine Shrine is famous for its wolf kami thought to provide protection from fire and theft.
Mount Buko is close to but not part of the Chichibu-Tama-Kai National Park. Mount Buko is used for mining and timber growing and thus not eligible for inclusion in a national park. But it is a hikeable mountain close to the park definitely worth exploring.
Mountains that are geographically prominent include:
-Mt. Kinpu (AKA Mt. Kinpo) at 2,599m (8,527 feet), the highest in Chichibu-Tama-Kai National Park. Mt. Kinpu is in Okutama, on the border of Yamanashi and Nagano prefectures, and has the Kanazakura Shrine at its peak.-Mt. Kobushigatake (see photo at top) at 2,475m (8,120 feet) in Okuchichibu (i.e., "Inner Chichibu") area at the junction of Nagano, Saitama, and Yamanashi prefectures.-Mt. Mizugaki, majestically craggy at 2,230m (7,316 feet), in Okuchichibu, in Hokuto City, Yamanashi prefecture.-Daibosatsurei Ridge at 2,057m (6,748 feet) in Okuchichibu, in Koshu City, Yamanashi prefecture.-Mt. Kumotori at 2,017m (6,617 feet) on the border of Okutama and Okuchichibu, at the junction of Tokyo, Saitama and Yamanashi prefectures.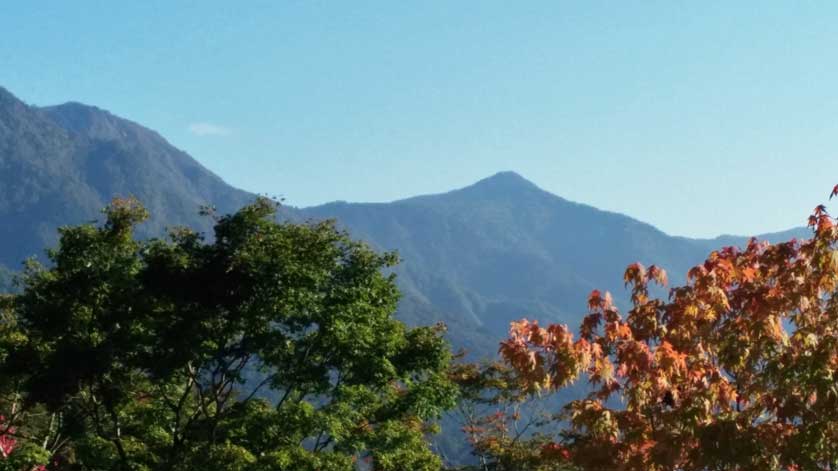 The view to Mount Kumotori

Tama
Around Ome
Ome, in the west of Tokyo, is the closest part of Chichibu-Tama-Kai National Park to the Tokyo metropolis. Ome is only an hour in total from Shinjuku Station (or an hour and a quarter from Tokyo Station) on the JR Chuo Line, changing at Tachikawa Station to the JR Ome line on the Ome-bound train.
Ome Railway Park
Ome Railway Park was founded in 1962 to celebrate 90 years of Japan Railways, and is dedicated to the history of train travel in Japan. 11 actual trains are on view, from old steam locomotives to a bullet train, the steam locomotives including the old "No. 3" that ran between Shinbashi and Yokohama on Japan's very first train line, opened in 1872. Ome Railway Park also has model railways, a "mini-steam locomotive" that gives rides, and a small exhibit hall with scale models and photographs relating to the history of train travel in Japan.10am-5pm (last entry 4.30pm) Closed Monday, except when Monday is a national holiday, when it is closed on Tuesday. Entry: 100 yen. Closed December 29 - January 2.2-155 Katsunuma, Ome City, Tokyo 198-0041, tel. 0428 22 4678Google Map
Yoshino Plum Groves
Unfortunately a disease swept through the plum trees in 2009 and they have been cut and replaced by flowers.
The Yoshino Plum Groves (Yoshino Baigo) occupy the 4km from Hinatawada station to Futamatao station on the JR Ome Line, and comprise an estimated 25,000 plum trees: a must-see in spring. The most famous, and accessible, attraction here is the Ome Municipal Plum Park, a 4.5 hectare (11 acre) plum tree park opened in 1972. Ome Municipal Plum Park has about 1,500 trees, representing over 120 different varieties of plum, in a beautiful traditional natural-style setting. While Ome Municipal Plum Park is open all year round, from February 21 to late March, that is, during the blossom season, the Ome Municipal Plum Park charges a 200 yen entrance fee. All other times, entry is free. Hours: 9am-5pm.4-527 Baigo, Ome City, Tokyo, tel. 0428-24-2481 (Mon-Fri), 0428-20-0011 (Ome Tourism Information) (Sat). 10 minutes' walk from Hinatawada station on the JR Ome lineGoogle Map
Shiofune Kannonji Temple
Shiofune Kannon Temple is a Shingon Buddhist temple dating from the Muromachi period of Japanese history. Shiofune Kannonji Temple is most famous for its flowers: vast slopes of them, and different varieties that bloom at different times of the year. Mid-April to mid-May is the azalea season (featuring the Azalea Festival), June for hydrangeas, July and August for lilies, and September & October for Japanese bush clover (hagi). Just to the west of Shiofune Kannonji Temple is Kasumi Hill, home to the Kasumi Hill Nature Park. Climb Kasumi Hill Nature Park in clear weather for a great view of Mt. Fuji.300 yen for adults (100 yen for children) during the Azalea Festival (mid-April to mid May). Other times, free. Hours: 8am-5pm. Shiofune Kannonji Temple is a 35-minute walk from the north exit of Kabe Station on the JR Ome Line. Metropolitan and Nishi Tokyo Bus Company buses leave from Kabe Station for Shiofune Kannonji Temple. Get off at Shiofune Kannon-mae bus stop.194 Shiofune, Ome City, Tokyo. Tel. 0428 20 0011 (Ome Tourism Information)Google Map
Fukiage Shobu Park
Fukiage Shobu Park is a 2-hectare (5-acre) park with 216 kinds of Japanese iris that bloom spectacularly in June. The Fukiage Shobu Festival is held at the same time.Hours: 9am-5pm (last entry 4.45pm). Closed Wednesday (except in June when open every day), and in December, January, February. 200 yen for adults during the Fukiage Shobu Festival in June. Free all other times. 15 min walk from Higashi Ome Station on the JR Ome line. Or, from Kabe Station on the JR Ome line, take a Metropolitan bus from for "Shiofune Kanjo Urajukucho" as far as "Fukiage Shobu Koen Iriguchi" bus stop.
Daisho-in Temple 大聖院宗教法人 is a Shingon Buddhist temple with beautiful rural grounds typical of temples in the area, but distinguished by having two ancient plum trees: the Seiryubai, with its dramatic, tortured trunk, and the Oyaki-no-ume, both believed to be over 450 years old.
6-1542 Baigo, Ome-shi, Tokyo.
Google Map
Atago Shrine (not to be confused with the Atago Shrine next to Tokyo Tower) was built in Japan's Middle Ages by the local daimyo, Lord Mita, as the guardian shrine of his castle. Located halfway up Mt. Atago, Atago Shrine is accessible by a long, steep flight of steps (although by no means as difficult to climb as it might seem) flanked by thousands of azaleas that bloom late April-early May. While not as famous as the azaleas of Shiofune Kannonji Temple, they are every bit as unforgettable. At the very top of 584m Mt. Atago is the inner shrine building of Atago Shrine, from which spectacular views are to be had of the Ome district. If you come prepared for a hike, from here it is about 4km west-south-west along the ridge to Mt. Hinode, and then a further 2km or so west to Mt. Mitake. 15 minutes' walk from Futamatao Station, JR Ome line. 1-105-1 Yugimachi, Ome-shi, Tokyo.
Google Map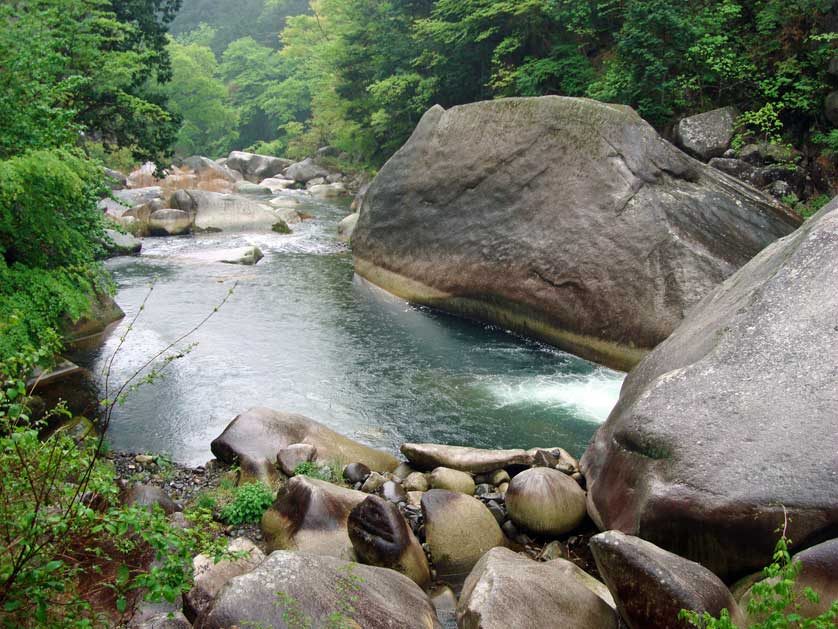 Shosenkyo Gorge
Access to Okutama
From Shinjuku Station (新宿駅) to Tachikawa Station Station (立川駅) by JR Chuo Line, then Tachikawa Station to Okutama Station by JR Ome Line. (2 hours, ¥1,080)
Valleys and Gorges
Nishizawa-keikoku (accessible from Kofu City via Route 140; take the Nishizawa-keikoku Exit at the northern end of the Hirose Dam lake), with numerous picturesque waterfalls on the Fuefuki River, most notably the Nanatsugama Five-Tiered Waterfalls.Google Map
On the next tributary north is Higashi-keikoku Gorge (the nishi , or "west," and higashi , or "east," are misleading here!) - not as famous as Nishizawa Keikoku, but also a trove of scenic beauty.
Mitake Shosenkyo in Kofu City, Yamanashi Prefecture, is at the westernmost edge of Chichibu-Tama-Kai National Park, and is only half an hour's ride from Kofu City, the capital of Yamanashi prefecture. It was officially designated a National Beauty Spot in 1953.
Mitsumine Jinja, south-east of Lake Chichibu, is one of the three most famous shrines in Chichibu, along with Chichibu Jinja and Hodosan Jinja.
Lake Okutama is surrounded by natural hot spa establishments, including the famous Nomekoiyu Onsen spa.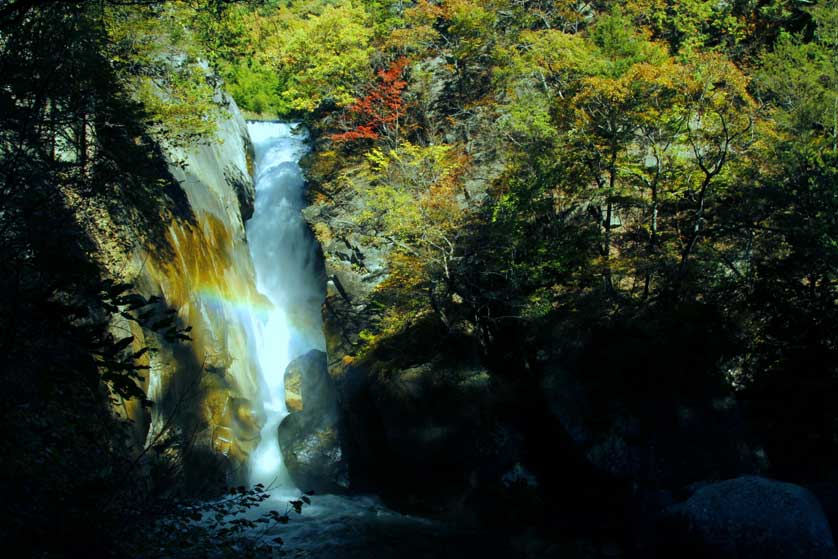 Shosenkyo Gorge, Kofu
Facilities
Chichibu-Tama-Kai National Park has several public facilities, including visitor centers:
Mitake Visitors' Center38-5 Mitakesan, Ome-shi, Tokyo 198-01759am-4.30pmTel 0428-78-9363 Fax 0428-78-9445Mitake Visitors' Center websiteGoogle Map
Okutama Visitors' Center
171-1 Hikawa, Okutama-machi, Nishitama-gun, Tokyo 198-0212
9am-4.30pm
Tel 0428-83-2037
Fax 0428-83-3478
Okutama Visitors' Center website
Google Map
Yamano Furusato Mura ("Mountain Hometown Village")
(Strictly, in Tokyo Prefectural Okutama Kohan Park. Includes camp site, craft center, restaurant.)
1740 Kawano, Okutama-cho, Nishitama-gun, Tokyo 198-0225
Tel 0428-86-2551
Fax 0428-86-2316
Yamano Furusato Mura website
Google Map
Nippara Shinrinkan (Nippara Forest House)
Okutama-machi, Nishitama-gun, Tokyo 198-0211
Tel 0428-83-3300
Nippara Shinrinkan website
Google Map
Hinohara Tomin no Mori ("Forest of Tokyo Citizens")
7146 Kazuma, Hinohara-mura, Nishitama-gun, Tokyo 190-0221
9.30am-5.30pm (closed Mon)
Tel 042-598-6006Fax 042-598-6703
Hinohara Tomin no Mori website
Google Map
Saitama Prefectural Forest Museum
447 Nakatsugawa, Chichibu-shi, Saitama-ken 369-1903
9am-5pmTel: 0494-56-0026
Fax: 0494-56-0028Saitama Prefectural Forest Museum websiteGoogle Map
Fureai-no-Mori Camping Ground
c/o Kawakami-mura Village Office
525 Oaza Omiyama, Kawakami-mura, Minami-saku-gun, Nagano-ken 384-1405
Tel 0267-97-2121Fax 0267-97-2125
Google Map
Access
Chichibu-Tama-Kai National Park's huge spread means it can be accessed from three railway stations: Chichibu, Oku-tama or Enzan stations.

Book Hotel Accommodation in Tokyo Japan
All the themes of the city