Climbing Mount Fuji
Climbing Mount Fuji. Read an account of climbing Mount Fuji with details of what to bring, what to see and how to get to Mount Fuji from Tokyo.
Climbing Mount Fuji 富士山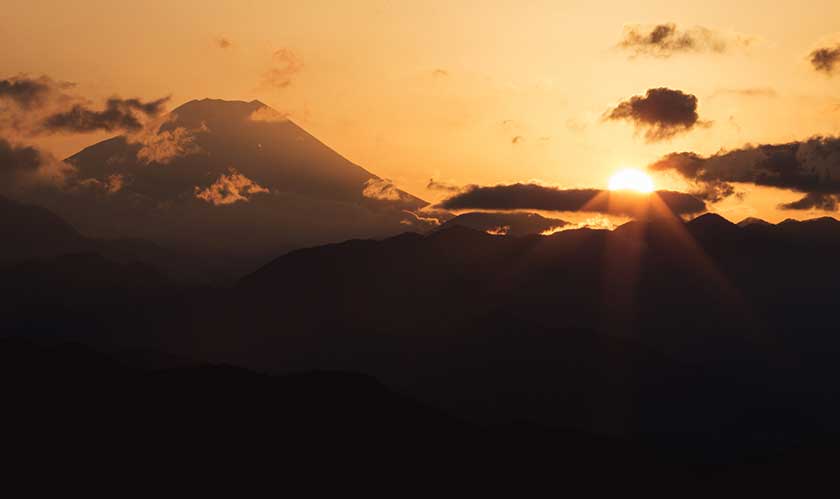 Sunset on Mount Fuji
Mount Fuji is Japan's iconic symbol - long considered sacred - and its highest mountain, at 3,776 meters (12,388 feet).
Fuji-san, as it is known in Japanese (the "san" meaning "mountain"), is an almost perfectly conical volcano that last erupted in 1707. Located between Shizuoka and Yamanashi prefectures, it is part of the Fuji-Hakone-Izu National Park
Climbing Mt. Fuji is a popular challenge, and the climbing season is from early July to early September on the Yamanashi side and from early July until early October on the Shizuoka side.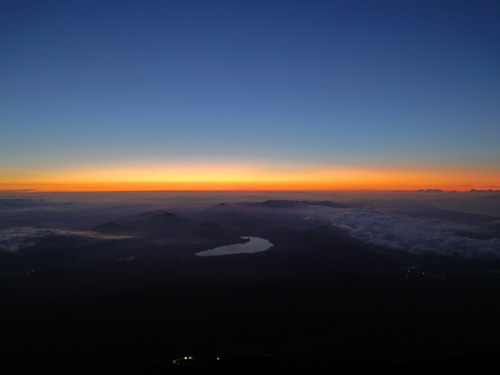 A spectacular sunrise from the summit of Mt Fuji
An abundance of tour groups makes climbing Mount Fuji an attractive proposition for the foreign tourist in Japan, and indeed foreign tourists represent a considerable proportion of those who climb the behemoth.
Where, When to Start?
Climbing Mt. Fuji with a tour group has the added advantage of travelling on a tour bus straight to the foot of the Fifth Station, where most hikers start their journey. If you travel with a private group, prepare yourself for a long walk to the Fifth Station. It's not uncommon for parked cars to snake some five kilometres down the winding roadside, making a long, uphill slog along bone-crunching asphalt necessary just to reach your starting point.
Many hikers choose to climb Mount Fuji through the night, stopping briefly at the Eighth Station to rest, before ascending to the peak to witness a majestic dawn sunrise. Climbing at night can be a difficult prospect, however, with the mountain's jutting shards and loose rocks unseen in the pitch black that engulfs this sparsely populated region at night. Leaving the Fifth Station at dawn is no less arduous, although a crisp chill gradually gives way to more pleasant conditions as the sun makes its way above the clouds.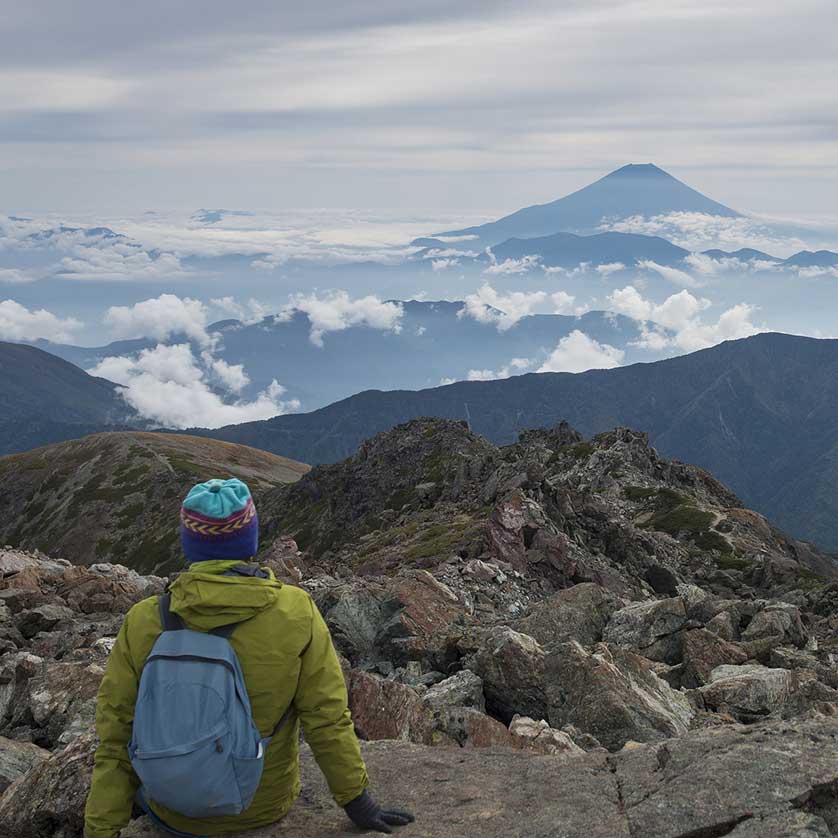 View of Mt Fuji from the summit of Mt. Warusawa
Climbing Fuji
Aside from possessing the requisite climbing gear of sturdy shoes, warm clothing and plenty of fluids, many climbers also choose to purchase a wooden staff from the Fifth Station, which can be branded at every station along the way to the summit. The staff itself comes in particularly handy in dealing with the treacherously steep slopes at the top of the mountain, although the early going is the easiest, featuring a relatively gentle incline and tight, compact soil for shoes to grip.
Gradually the climb becomes more difficult, particularly with hordes of fellow climbers mirroring your every step. With such a short official climbing season, running from July 1 to August 27, don't expect to be traversing the slopes in serene solitude. Indeed 'traffic' jams are a common problem on Mount Fuji, and long lines of hikers snaking up the hill can slow your climb considerably.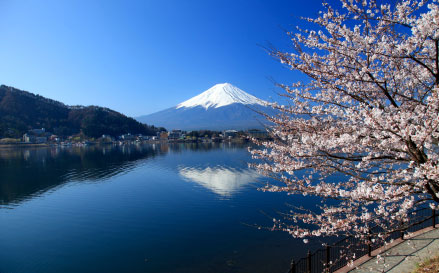 Mt Fuji - snow-capped with cherry blossom in spring
Fuji weather
The weather on Mount Fuji can also turn in an instant, and one of the more surreal sights must be witnessing dense rain clouds barreling up the mountainside from the valley below. By the time you've ascended above the clouds, however, most thoughts of the picturesque scenery have been abandoned in favour of a grim determination to reach the summit.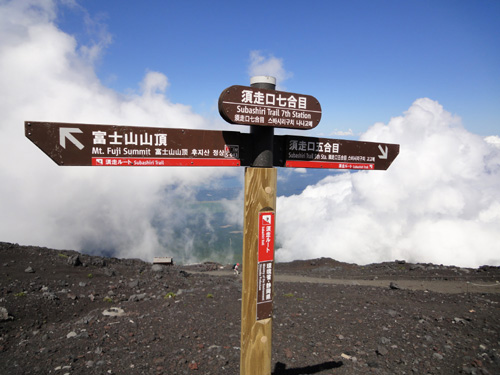 Mt Fuji is well sign-posted for the thousands of people who ascend each summer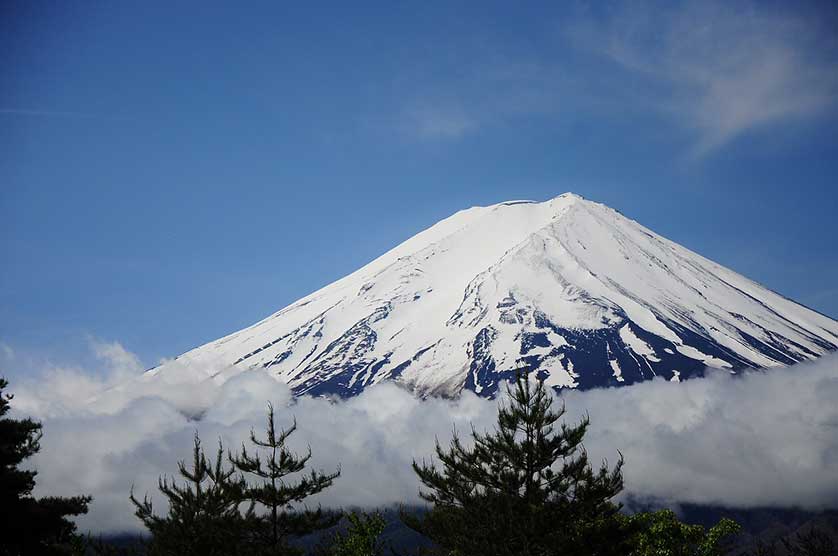 View of a snow-capped Mt Fuji
Reaching the summit
Plenty of climbers fail to reach the summit of Mount Fuji. For a first-time climber it can be a particularly hard slog, and reaching the top does not necessarily guarantee spectacular views. One climbs Mount Fuji for the journey rather than the destination. You can be guaranteed a smack in the face from a bracing wind, however, so warm clothes are essential.
Aside from the odd glacier or two, the sight of a mining quarry is about the only thing to set the pulse racing, other than the view of yet more climbers snaking their way up the trails.
Reaching the summit can take upwards of eight hours, yet the climb down is no picnic either. At least fellow climbers provide plenty of camaraderie, with cries of "Gambare" (Keep it up!) regularly ringing out over the mountainside, especially from local climbers who are proud to show off their nation's symbol to intrepid overseas visitors.
Unless there has been recent rain in the area, then the soil underfoot is loose and often crumbles, meaning that spectacular tumbles are common on the treacherous descent. However the sight of ascending climbers with a mixture of pain and determination etched into their faces is usually enough to keep up the spirits of those making the descent. So too is the sheer desire to get off a mountain that is by now starting to feel disturbingly familiar!
The rewards
Aching bones and weary limbs are about all that will greet you once you've finished your climb, although in this correspondent's case a jolly round of altitude-induced nausea livened up proceedings for my fellow mountaineers. I certainly felt foolish having climbed such a challenging peak, yet therein lies the allure.
From a distance Mount Fuji's conical shape and snow-capped ridge line provide a picture-postcard image of Japan. Yet overcoming the mighty mountain is what drives those who choose to test their mental and physical limits, and push to the utmost that most quintessential of Japanese traits- endurance.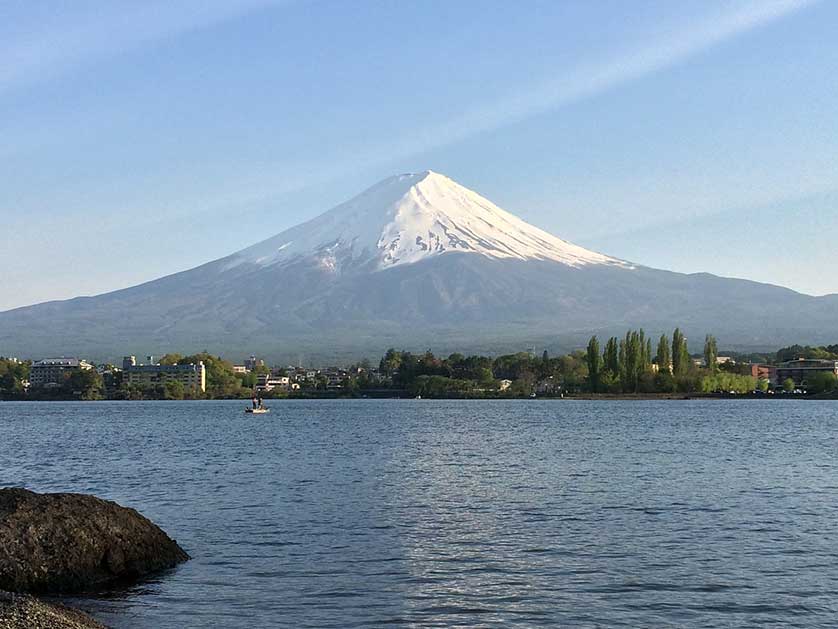 Mt Fuji - Japan's must-climb mountain, a towering icon of Japan
Access - Getting to Mt Fuji
Kawaguchi-ko and Fuji Yoshida are the main points of access for climbing Mount Fuji. From the Kanto area there are buses from Busta Shinjuku in Tokyo (around two hours depending on traffic) to Kawaguchi-ko and the 5th Station. Trains from Shinjuku take longer than the more direct bus link. If you are travelling by train, take the JR Chuo Line to Otsuki then change to the Fujikyu Line to Kawaguchi-ko, then a bus to the 5th Station. There is a direct early morning train from Shinjuku at weekends and public holidays during the summer season.
Sunset on Mount Fuji
Alternatively take an Odakyu Line train from Shinjuku Station to Gotemba (1 hour, 40 minutes) and then a bus just over an hour to Fuji Yoshida.
By car take the Chuo Expressway to Otsuki Interchange and then the southern spur of the Chuo Expressway to Kawaguchiko Interchange.
By car from the Kansai and Chubu areas, ride the Tomei Expressway from Nagoya to the Gotemba Interchange then National Highway 138 north west to Kawaguchiko.
The nearest shinkansen stop for visitors from western Japan is Shin-Fuji from where there are buses to Kawaguchiko (for Fuji Five Lakes) or take the JR Tokaido Main Line to Fuji Station then transfer to the JR Minobu Line to Fujinomiya.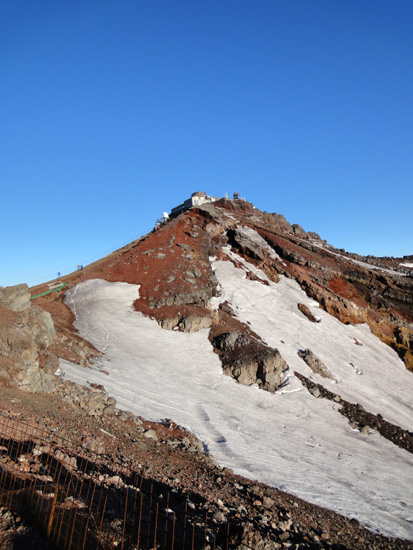 Mt Fuji - Japan's iconic mountain
Mt. Fuji Facts
Annually around 180,000 to 200,000 people climb Mount Fuji.
Up to 10,000 people scale the peak on a busy day.
Mount Fuji is 3,776 meters high.
Mount Fuji is a UNESCO World Heritage Listed Site.
The climbing season is open from early July until early September on the Yamanashi side and from early July until early October on the Shizuoka side.
The five trails are: the Yoshida Trail (Yamanashi Prefecture), Subashiri Trail, Gotemba Trail, Fujinomiya Trail (Shizuoka Prefecture) and the Ohachi-meguri Trail (the route around the crater)
8 Free NTT Docomo hotspots are available on the slopes and on the summit. Select "Welcome_to_Fujisan_Summit" SSID and enter the user ID and password as listed on a flier distributed by Shizuoka and Yamanashi Tourist Offices. Connectivity is for 72 hours from initial log-on
The official website for climbing Mt. Fuji is www.fujisan-climb.jp This has information on the rules and regulations and equipment need for climbing Mt. Fuji as well as the trails and the official opening and closing dates
Mt. Fuji Related Resources
Horse Riding Near Mt FujiEco Cafe on Mt Fuji
Mt Fuji Climbing Tour – Overnight Guided Hike from Tokyo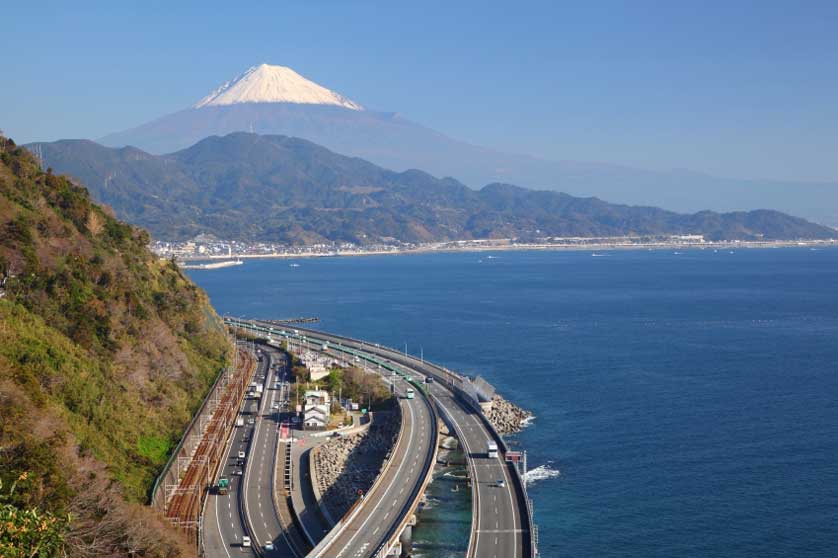 Mount Fuji and the Pacific Ocean, Shizuoka
Book Hotel Accommodation in Hakone Japan
All the themes of the city