Asanogawa Enyûkai
浅の川園遊会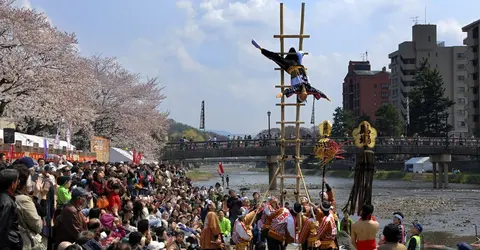 Les arts du ru
Letemps d'un week-end, la rivière Asano s'anime, et accueille acteurset danseurs. Alors que les branches croulent sous le poids des fleursde cerisiers, les hommes se mettent à flotter sur l'eau, aussi légerque l'air.
Although Kanazawa breathes art throughout the year, the city never misses an opportunity to highlight it even more. On the first weekend of April, a stage is built on the banks of the Asano River and artists of all genres come to perform. The geishas of the Higashi district delicately show their talents as dancers and musicians, extracts of Noh scenes are performed, there is traditional dancing... everyone finds their place on the improvised stage. The streets of the geisha district are filled with spectators who have come to watch the traditional dancers parading on the old cobblestones, wearing strange hats property.
A moment of relaxation time to welcome spring and pay tribute to the dance of the cherry blossoms petals.
---
Address, timetable & access
All the themes of the city