Kanazawa Station
金沢駅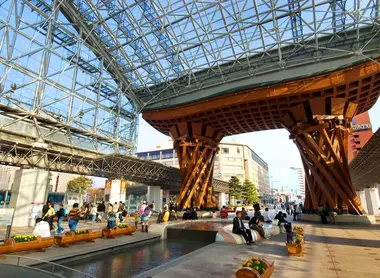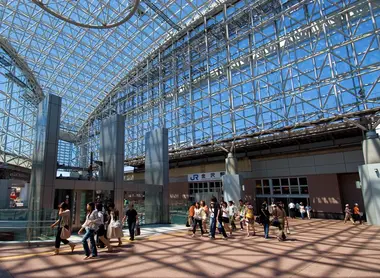 Check out the station!
A special place, this station hints at the spirit of the city. Farewells and reunions happen here every day, with passengers rushing through the crowds with their arms full, however they rarely take the time to look up and appreciate the beauty of this station's great architecture.
Kanazawa Station honors modernity. Fresh off the train, travelers discover a huge glass dome over their heads, with infinite reflections. Inside the main building a shopping center satisfies the urges of buyers with clothing, souvenirs and local products. Most of the space is powered by solar panels located on the roof, thus making this the first Japanese ecological station.
But the heart of the station is outside. A huge torii (traditional Shinto gate marking the entrance to a shrine) stands four meters in height. Far from the usual red gate made ​​of simple wooden cylinders, this monument is a feat of architectural technology. A modern design, with imposing yet graceful curves, goes along with this gigantism.
Opened in 2005, this adaptation of a traditional building also has a small square, with benches and flowerbeds of greenery to take a pleasant stroll through. Also of note is a fun fountain clock, consisting of small water jets that display the time as well as small messages welcoming you to Kanazawa!
Kanazawa is now easier to reach from Tokyo by Shinkansen, thanks to the Hokuriku branch that opened in March 2015.
---
Address, timetable & access
All the themes of the city