Kamishichiken
Kamishichiken. Kyoto's Kamishichiken is one of the five licensed geisha districts in the city. Kamishichiken is near Kitano Tenmangu Shrine.
Kyoto Area Guide: Kamishichiken 上七軒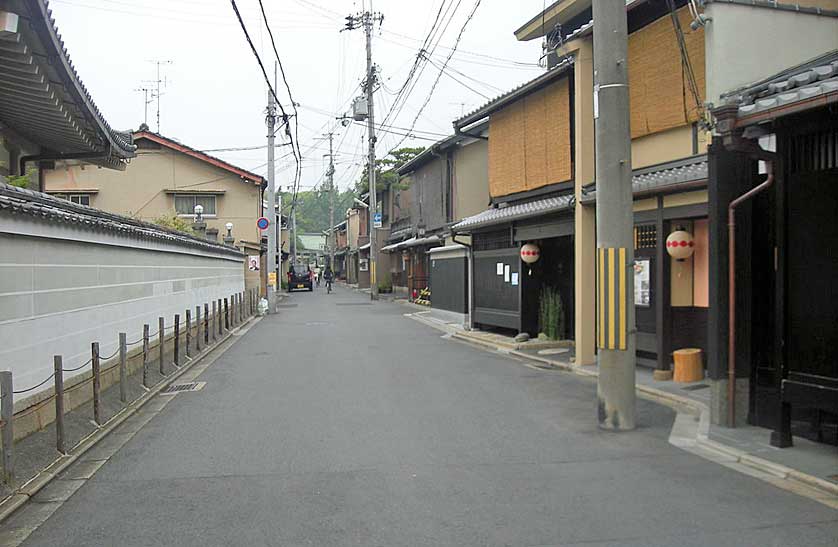 Kamishichiken is one of Kyoto's five licensed geisha districts. It is the oldest of the five, and is located in northwest Kyoto just east of Kita no Tenmangu Shrine.
Kamishichiken is the least famous of the five the others are Gion Kobu, Gion Higashi, Pontocho, and Miyagawacho mainly because it is not close to downtown or Yasaka Shrine, and because it is small.
The name Kamishichiken literally means "Seven Upper Houses," which refers to seven teahouses built from leftover materials following renovations done to Kitano Shrine during the Muromachi Period (1333 - 1573).
The several block district is near Nishijin the center of the city's weaving and textile industry just off Imadegawa Dori (street). The largest buildings in the area are the Kamishichiken Kaburenjo Theater, which is where dance performances are held, and Saihonji Temple.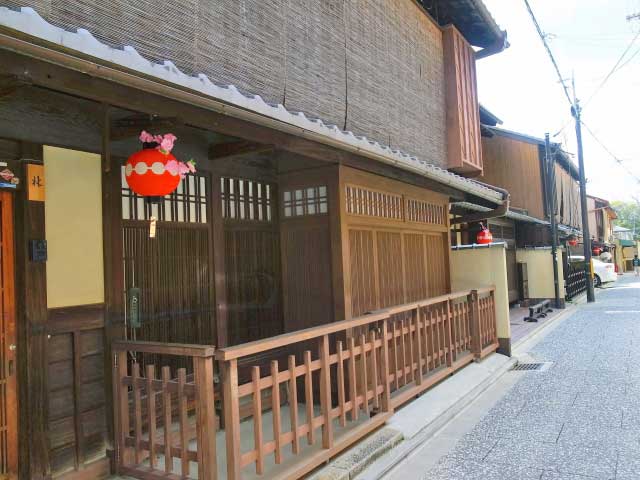 Kamishichiken district, Kyoto
Kamishichiken district, Kyoto
What remains today are many traditional wooden buildings, some of which are ochaya (teahouses) or okiya (geisha houses). There are approximately 25 maiko and geiko in Kamishichiken today; they entertain in 10 teahouses. This compares with some 50 teahouses that were in operation prior to World War II.
Annual Events
February 25
On February 25th the Baika Sai (Plum Festival) is held at Kitano Tenmangu Shrine. The district's Geisha and Maiko take part.
April
Kitano Odori (traditional geisha dance) is performed in April at the Kamishichiken Kaburenjo.
Late May
This year, the area was illuminated every night for one week. Special lighting from both within and without the buildings highlighted the beautiful lattice work and design elements.
Summer
Saihoniji Temple is used in July and August as a beer garden. You will be served a rather expensive beer by a real live Geisha or Maiko, who will spend several minutes with you.
Still, unless you are very well connected or famous, this is your only chance at face time with a maiko or geisha.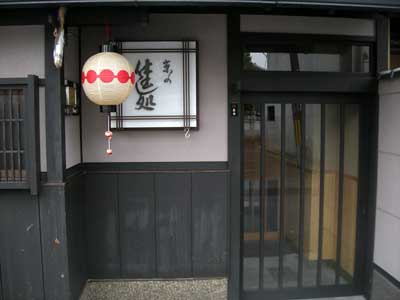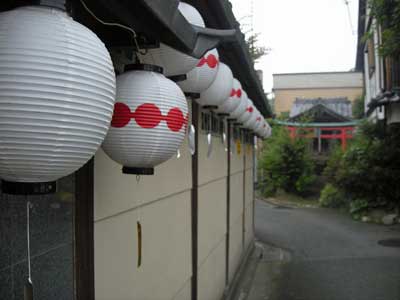 Kamishichiken Shopping
The area has several interesting shops along the main street. The signs are wooden and in Japanese. Once you enter a shop, though, it will be obvious what they are selling.
Matsuhiro Gamuro
Beautiful bags, purses, and other items made from kimono material.
Patisserie Grace Saison
Wonderful cakes and tarts.
Jugemu
Kyoto "tsukemono" - pickles.
Kyugetsu
A gallery and clothing store.
Directions
Bus #50 from Kyoto station; #59 from central Kyoto; #201 from Keihan Demachiyanagi. Get off in front of Kitano Tenmangu Shrine. It is also a short walk from the Kitano Hakubaicho terminus on the Keifuku line. From the shrine, follow the black dots to Kamishichiken.
Museums in Kyoto
For a full listing of Kyoto Museums & Art Galleries click here
Book Hotel Accommodation in Kamishichiken Kyoto Here
All the themes of the city