Omi Hachiman Guide
Omi Hachiman 近江八幡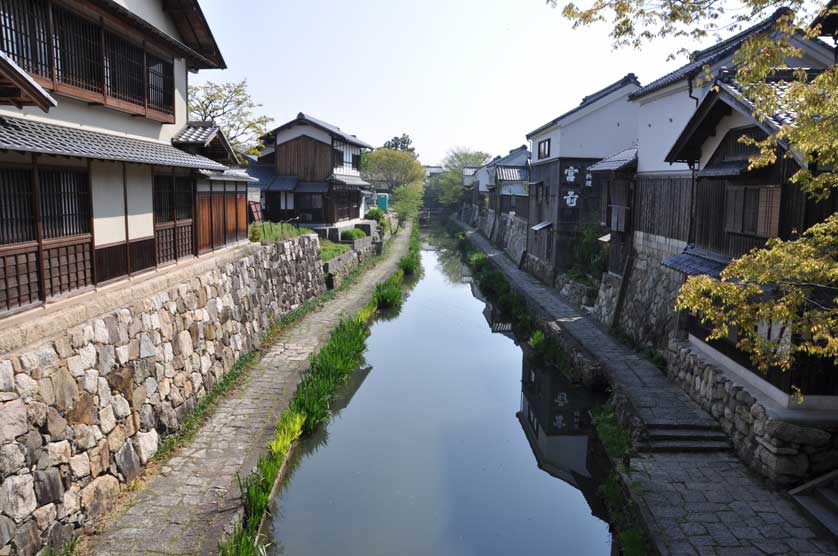 Omi Hachiman is a small castle town in Shiga Prefecture on the ancient Nakasendo highway that ran from Tokyo to Kyoto. Omi Hachiman was built in 1585, under the auspices of a nephew and retainer of warlord Toyotomi Hideyoshi, close to the eastern end of Lake Biwa, Japan's largest lake.
Omihachiman History
Prior to the invention of the train and automobile, Omi Hachiman was a hub for canal transportation, delivering goods and people to nearby Kyoto. Omi Hachiman developed into a commercial town following the construction of a castle by Toyotomi Hidetsugu (the warlord's nephew) in the 16th century.
The town was divided until the mid-nineteenth century by the Hachiman-bori Canal. North of this canal lived samurai, south the common people. Other areas were reserved, for example, for merchants, who supplied the market in nearby Kyoto.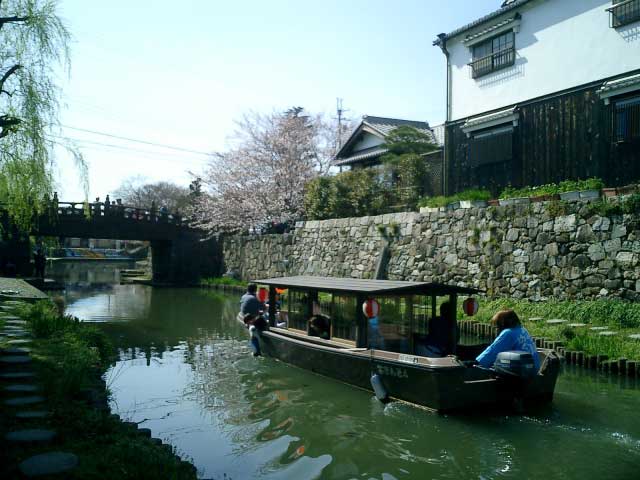 Omi Hachiman canal area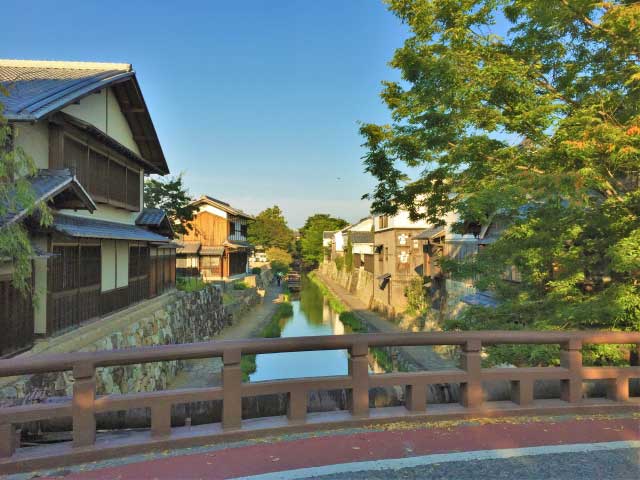 Omi Hachiman canal area
Omihachiman Attrractions
Himure Hachimangu Shrine is the biggest Shinto shrine in Omi-Hachiman, located beside the Hachiman-bori moat and with a history going back almost 2,000 years. It used to be on top of Mt. Hachiman, but was moved here in 1590 with the building of the (now disappeared) castle there. A god of war is the main deity enshrined here, and the shrine's historical warrior connections are strong. Himure Hachimangu hosts two springtime festivals: the Sagicho Matsuri in March and Hachiman Matsuri in April, which features a procession of flaming torches.
Shin-machi Dori Street is the area where the former merchants lived. Visit the late-17th century house of the merchant Nishikawa Riemon, whose family lived there for over three centuries until it was opened to the public in the 1950's and is a rare surviving example of how the rural wealthy lived in Japan. Next door is the Omihachiman City Museum (Omihachiman Shiritsu Shiryokan), a local history museum with exhibits of everyday life realia from the past.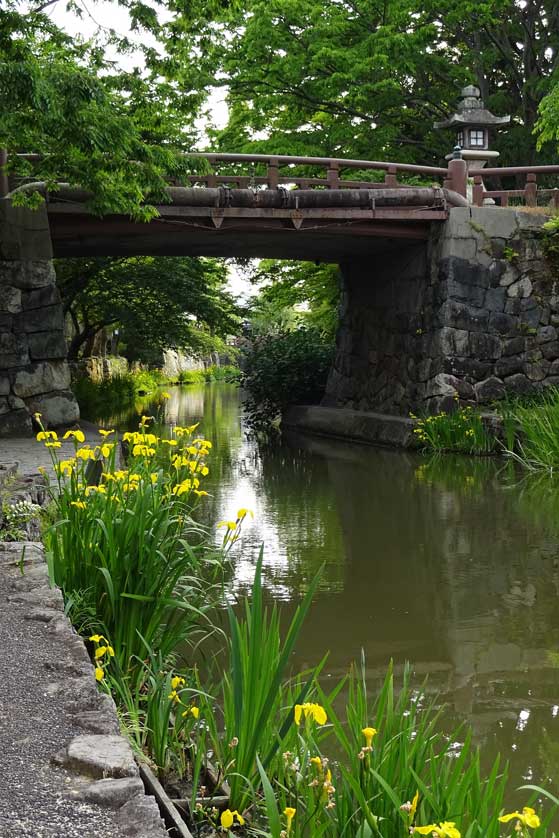 On Hachiman-bori are white-walled storehouses (kura) and 19th-century houses such as Haku-un-kan, which was designed by William Vories (1880-1964), an American missionary and architect who left a legacy of elegant homes and buildings in Kyoto and its surroundings including the original Kyoto YMCA building of 1908. The Haku-un-kan is located directly in front of the canal, which if crossed will take you to several shrines and the ropeway.
Another place of interest is the Kawara Museum, or Tile Museum, that features tiles from all parts of Japan. For a more complete list, please see below.
Today, the Omi Hachiman's old quarter near the canal is a well-preserved area that is well suited for tourism. It is also frequently used as a film location for period dramas.
Hachimanyama Ropeway
Hachimanyama Ropeway takes you up a hill, about 160 meters high, with great views at the top of Lake Biwa. Also at the top of the ropeway are various installations on the theme of "love." Hours: 9 am-4.30 pm, every 15 minutes. 880 yen return for adults, 440 yen for children.
Access: From Omi-Hachiman Station, go to the North Exit bus stop no.6 and board a bus bound for Chomeiji Temple. Get off after about 7 minutes at the Osugicho Hachimanyama Ropeway Guchi Bus Stop, and its a 5-minute walk from there.
Zuiryuji Temple, near the ropeway station at the top of Mt. Hachiman, is a Buddhist temple moved here from Kyoto in 1961 and which is built on the foundations of the former castle that occupied the mountaintop. Zuiruiji is the sole Nichiren Buddhist temple in Japan that is a monzeki temple, i.e., with priests of aristocratic descent.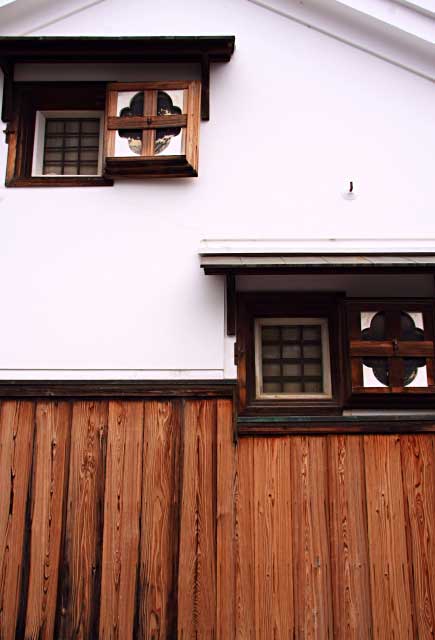 Omi Hachiman
Omihachiman Museums
Haku-un-kan
Tel: 0748-32-6181
Open: 9 am 5:00 pm
Adults: 500 yen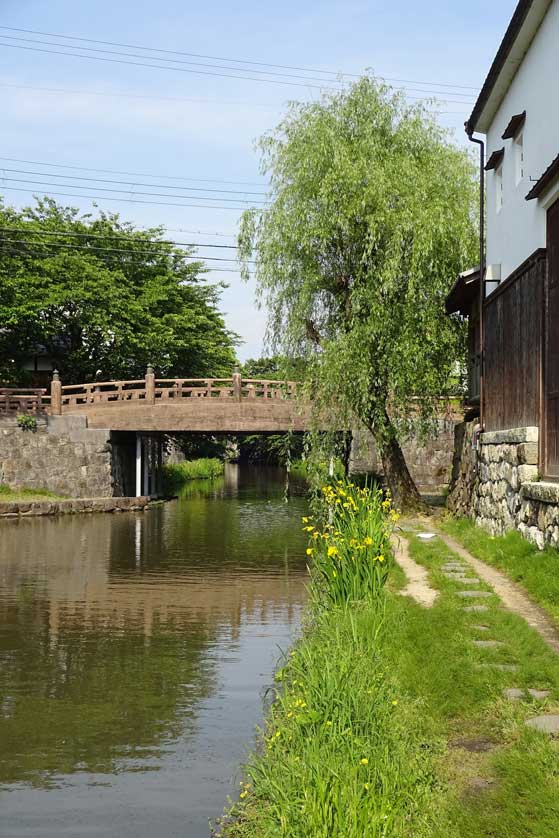 Kawara Museum
Tel: 0748-33-8567
Open: 9 am 4:30
Adults: 300 yen
William Vories Museum
Tel: 0748-32-2456
Open: 9 am 4:30 pm
Adults: Free Admission
Accommodation in Omihachiman
The following are recommended places to stay in Omihachiman.
Comfort Inn Omihachiman is a reasonably priced hotel with spacious, comfortable rooms, free Wi-Fi and parking, and a good, free breakfast spread that includes bread fresh-baked on the premises and a daily changing menu. Only 5 minutes walk from the North Exit of JR Omihachiman Station.
Machiya Inn: This traditional ryokan maintains its lovely old looks while being clean, cozy, bright, spacious and comfortable, with gracious, accommodating service. Plenty of personal use amenities. No TV or fridge in rooms, but there is a kitchen for guest use. Near to the station, convenience stores, and sightseeing spots. Real Japanese ambiance.
Hotel New Omi is very near Omi-hachiman Station, is on nicely laid out grounds, has a big beautiful lobby, and its own bar. Both Western and Japanese style rooms available, some bigger than others. Full range of in-room facilities includes an air-purifier. Free parking.
Getting to Omi Hachiman
From Kyoto Station, JR's Shin Kaisoku express train takes 33 minutes to Omi Hachiman Station. One-way fare is 650 yen.
From Tokyo, it takes 2 hours 20 minutes to Maibara Station by JR Tokaido Shinkansen Line. From there, it is 22 minutes from Maibara Station to Omi Hachiman Station by JR Tokaido Honsen Line.
From Omi Hachiman Station, you can take a bus--a 10-minute ride but with infrequent service--into the old section of town, a cab if you are in a group, or walk the two miles or so. Maps are available at the Station.
Book Hotel Accommodation in Kyoto Japan
Omi Hachiman is a small town beside Lake Biwa in Shiga Prefecture which has served as a transport hub throughout its history.
All the themes of the city