Villa Okochi Sanso
大河内山荘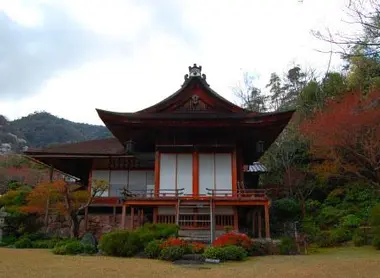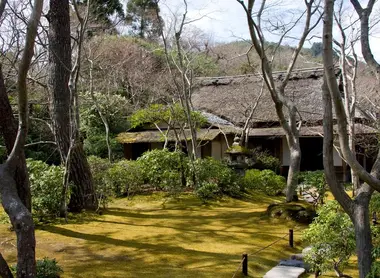 On the hillside <br>
Easily accessible but uncrowded, Villa Okochi Sanso offers beautiful views of the city and the surrounding mountains, not far from other sights of Kyoto.
In the late afternoon, when the light fades, the first lights of the villa are a reminder that it was once inhabited. Slightly hilly, at the foot of Mount Ogura and surrounded by Mount Daimonji and Mount Hiei, 30 000 m2 of land was the home of the famous actor of silent samurai films in the 1930s, Okochi Denjiro (1898-1962). Behind the bamboo forest of Arashiyama, minutes from Tenryuji, the house blends into the surrounding nature. From the main building (Daijō kaku), the area of Arashiyama and Mount Daimonji can be seen. The discovery continues with a room, a little set back, dedicated to the tea ceremony, where matcha is served - fine green tea powder - and fine pastry, included in the admission fee of one thousand yen. After the tea break, it is time for spirituality in the small Buddhist temple attached to the villa.
Crossing the Togetsukyo
Outside is immense. At the rear of the property, the gentle sound of the Hozu river accompanies your steps to contemplate the valley. The multi-facts of Zen, from the moss garden to the dry garden, blends in perfect symbiosis with the many varieties of trees and plants, carefully arranged to provide the right colors according to the seasons, which is particularly attractive in fall.
---
Address, timetable & access
All the themes of the city