Kiso Fukushima Guide
Kiso-Fukushima 木曽福島
Kiso-Fukushima is a delightful little town in Nagano Prefecture, central Honshu, on the railway line between Nagoya and Matsumoto.
Kiso-Fukushima is located on the historic Edo Period Nakasendo highway linking Kyoto and Edo (Tokyo).
Kiso-Fukushima was an important check-point on the Nakasendo and its historic sekisho, or barrier station, is one of only two on the route. Kiso-Fukushima is located about directly half-way on the Nakasendo from Edo (Tokyo) to Kyoto.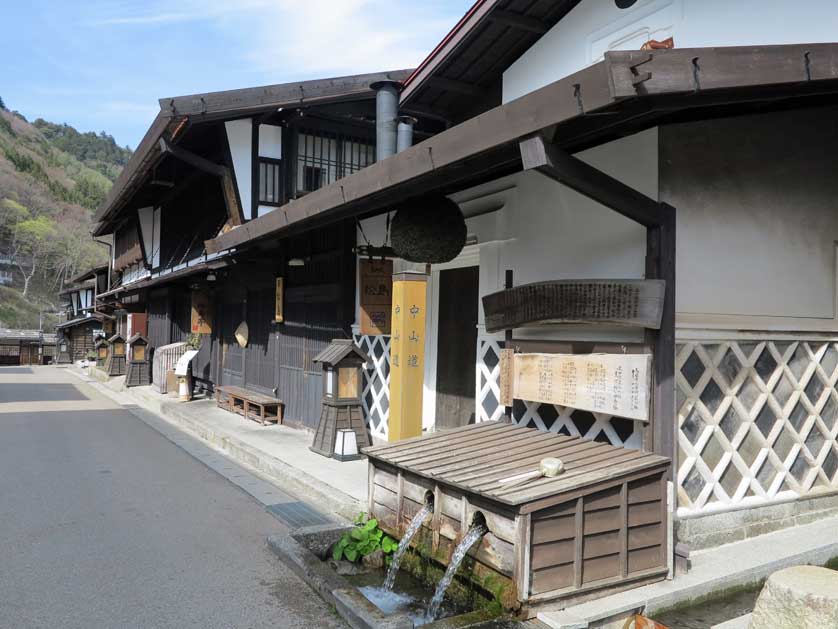 Kiso Fukushima, Nagano Prefecture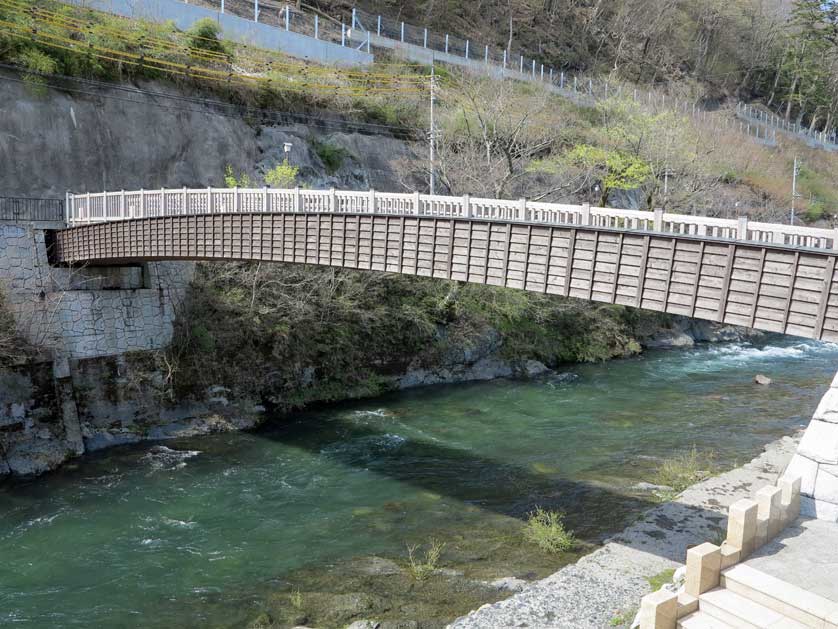 Wooden bridge, Kiso-Fukushima, Nakasendo Highway, Nagano, Japan
Kiso-Fukushima Attractions
Kiso-Fukushima is larger than many of the other post-stations on the Nakasendo but remains a quiet town with much to see and do in a relaxed manner.
Kiso-Fukushima's must-see is the Fukushima Sekisho-ato (Tel: 0264 22 4058), (Remains of the Fukushima Checkpoint) where travelers on the Nakasendo were made to wait, present their passes, and, if necessary, be searched, to travel on the highway. The Tokugawa regime was on the look-out for guns and women traveling in disguise. Daimyo (feudal lords) were forced to leave their wives and children in the capital Edo as virtual hostages under a policy called sankin-kotai, so women traveling in disguise was a sign of planning of revolt or insurrection.
The reconstructed checkpoint building (the original was demolished in 1869) is located on a hill overlooking the Kiso River and has a museum attached with original documents, weapons, handcuffs, instruments of torture, and examples of the wooden passes (katte; tegata) travelers on the Nakasendo were required to carry.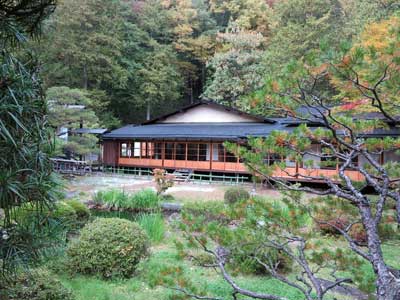 Yamamura Residence & Garden, Kiso Fukushima, Nagano Prefecture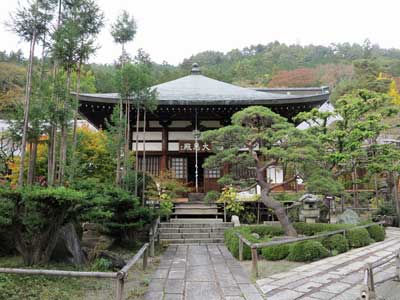 Kozenji Temple, Kiso Fukushima, Nagano Prefecture
The Yamamura Residence (Yamamura Daikan-yashiki) was the house of the local Owari clan governor who oversaw the Fukushima Sekisho barrier checkpoint. The reconstructed building has a number of Edo period relics and views over the garden. On display are original documents, ceramics, weapons and clothing.
The Kiso-Fukushima Historical Museum is a modern museum set in an ancient cypress grove with displays of artifacts from the past and an old farmhouse transported from Kida Village.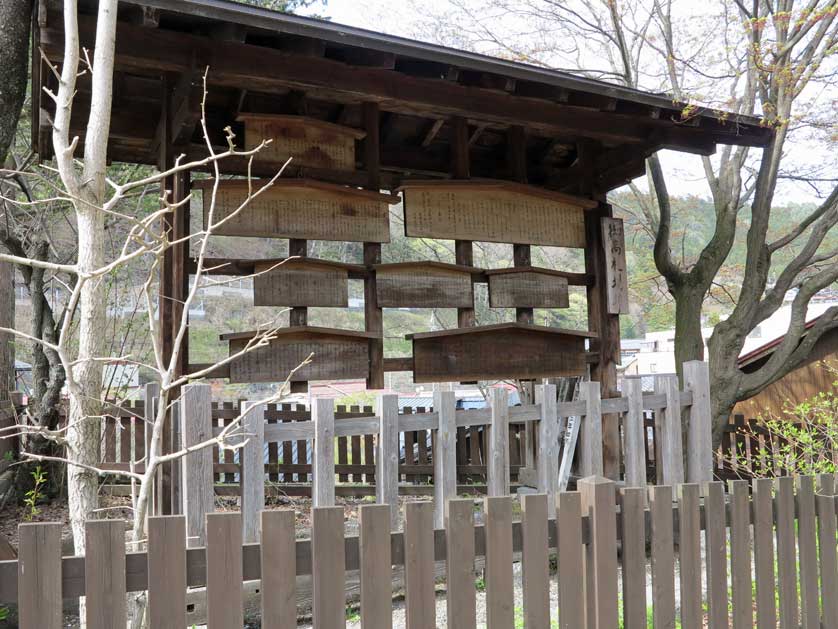 Kosatsuba notice board, Kiso Valley, Nagano Prefecture
Kiso-Fukushima ryokan inn; now disused
Across the Kiso River from the Fukushima Sekisho-ato checkpoint building is Kozenji Temple with an attractive stone garden. Kozenji Temple is particularly beautiful in fall. Entry is free, except for the stone garden, which has a 500 yen admission fee.
The pleasant Chofukuji Temple is a short walk towards the station from Kozenji.
Back in town the main area of Ue-no-dan has preserved wooden buildings from the Edo Period, with many of the buildings now converted into cafes, restaurants and arts and crafts galleries. Daitsuji Temple is located in this area with lovely views of the usually snow-capped 3,067m-high Mt. Ontake.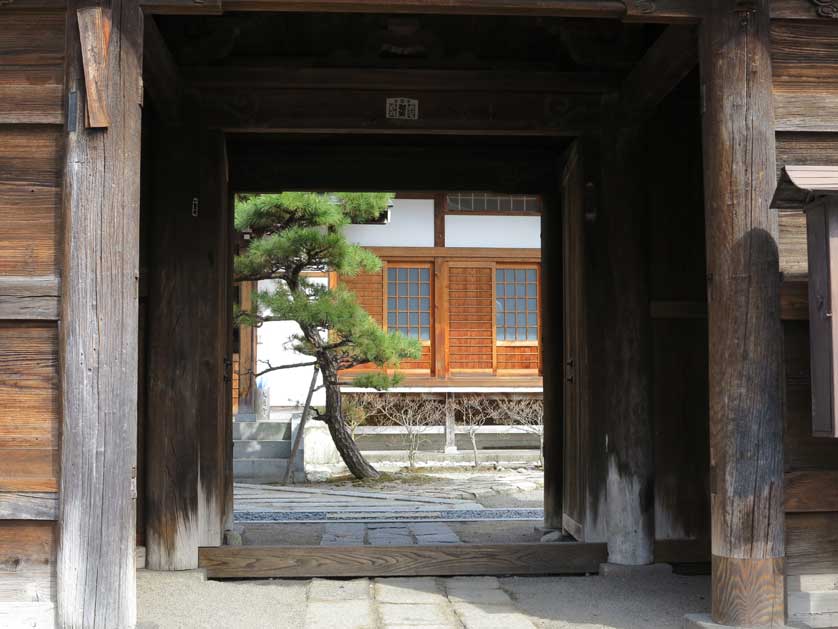 Daitsuji Temple entrance gate, Kiso-Fukushima, Nagano Prefecture
The atmospheric streets in Ue-no-dan resound to the sound of running water channeled through road-side ditches and wooden water wheels.
A short bus ride or drive out of Kiso-Fukushima and visitors can experience soba noodle making at a local educational center. Soba noodles are a specialty of the Kiso Valley area and soba restaurants abound in town and the surrounding countryside.
Other highlights of Kiso-Fukushima include a number of ashiyu or onsen foot baths. Isemachikoji Alley is a very narrow and atmospheric street leading up to Ue-no-dan with a number of seemingly-timeless izakaya.
In winter, the Kiso-Fukushima district draws skiers to the Kiso-Fukushima ski area. There are four large ski slopes not too far from Kiso-Fukushima: Yabuhara Kogen Ski-jo about 15km to the north. Altogether there are four large ski slopes a short distance from Kiso-Fukushima, the Kisofukushima Ski Area about 12km north, and, on the slopes of Mt. Ontake about 15-20km west, the Ontake 2240 Ski Area, the Mia Ski Resort, and the Ciao Ontake Snow Resort.
A short drive or bus journey along Route 361 and then turning off towards the foot of Jizo Pass is the Karasawa Waterfall (karasawa-no-taki) - a 100m high falls. There is another Karasawa Waterfall in Nagano Prefecture near Lake Sugadaira, not far from Ueda on Route 406.
If you walk over the Jizo Pass from Karasawa Waterfall and descend following the Enmusubinoki signpost you will come across the delightful Poppoya Italian restaurant with lovely views of Mt. Ontake. Alternatively take a bus from Kiso-Fukushima and get off at the Suekawa Bus stop, from where the restaurant is a short walk.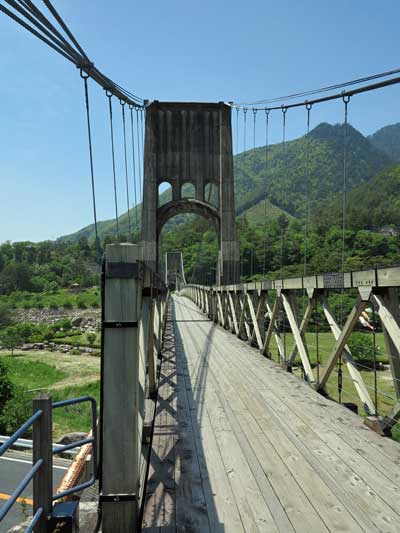 Momosuke Bridge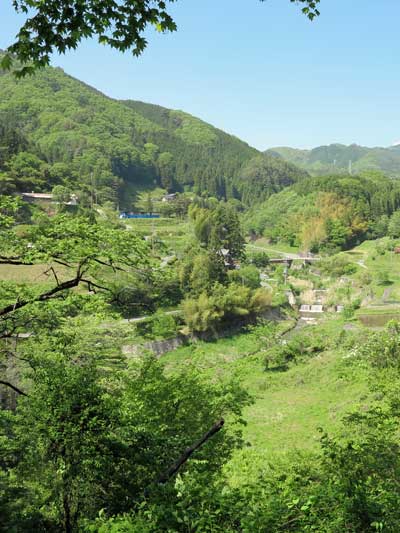 Hills above Nagiso
Hiking The Nakasendo from Nagiso to Kiso-Fukushima
Check on the state of the riverside paths from Nagiso to Kiso-Fukushima at the Tourist Office. Many walkers by-pass this section by taking a local train.
Another route on the original Nakasendo takes you down the main street in Nagiso from Nagiso Station past the 248m-long Momosuke Bridge (Momosuke-bashi), built by Momosuke Fukuzawa in 1922 to supply construction materials for his hydro-electric power stations on the Kiso River. The path turns right passing Togakuji Temple on your right and up over the forests of the Ne-no-Ue Pass. There are great views on the ascent of Mt. Ontake and the Japanese Alps. The descent is on the road to Nozokido Forest Park and down to Nojiri Station.
If you wish to hike over the Jizo Pass, take a taxi to Karasawa Waterfall and follow the road and marked footpath on the Hida Kaido to the Kaida Kogen plateau. The best way to access Karasawa Waterfall is to take a taxi from Kiso Fukushima Station - the fare will be around 3,500 yen. The nearest bus stop Watarai on Route 361 is still a fair distance away, about 4km or an hour on foot. Walk past the Nihongi-no-yu onsen (Tel: 0264 27 6150; closed Thursdays) from the bus stop.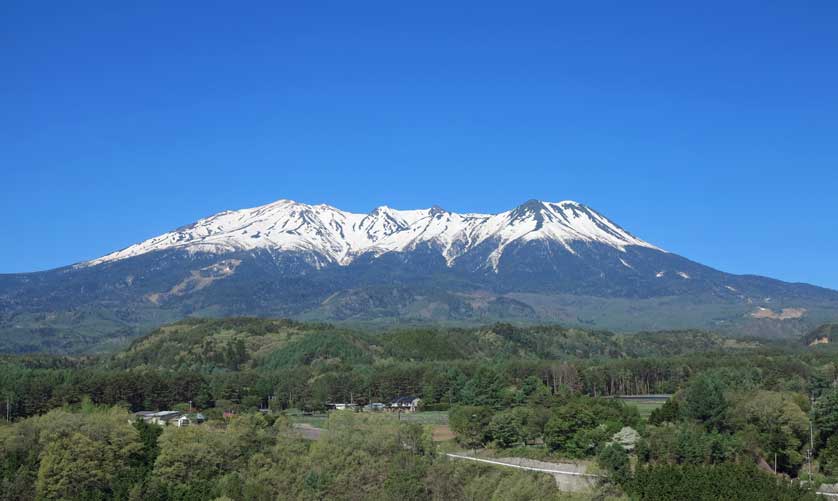 Mt Ontake in June
Mt. Ontake
Kiso Fukushima is also the base for hiking up Mt. Ontake, Japan's second highest volcano after Mt. Fuji, and about 20km west of Kiso-Fukushima. There are ten stations on the ascent and hikers often stay overnight at the 8th station to climb to the summit to see the sunrise the next day.
If you'd rather skip some of that walking, take the Ontake Ropeway (for adults, 1,400 yen one-way; 2,600 yen return) instead to an elevation of 2,150m - a short walk to the 7th station. There are numerous small shrines and statues on the way up as well as five volcanic crater lakes. Nigorigo Onsen is another popular place to either start or end a hike of Mt. Ontake.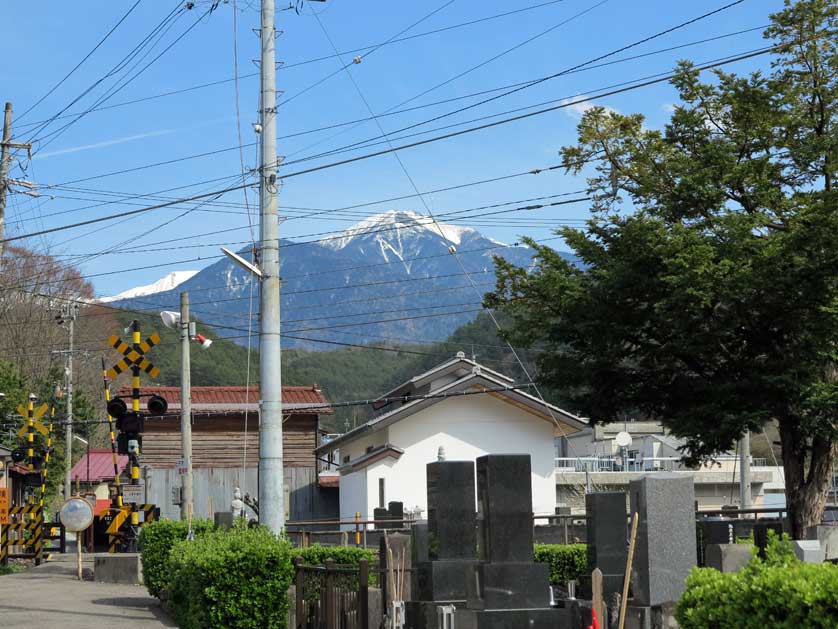 Mt Ontake from Kiso Fukushima, Nagano
Accommodation in Kiso-Fukushima
There are a good number of ryokan and minshuku in Kiso-Fukushima many with their own hot spring baths. Recommended is the Kisojino-yado Iwaya Inn (Tel: 0264 23 2015) near the Ue-no-dan area. Directly opposite the station is the sumptuous ryokan the Onyado Tsutaya.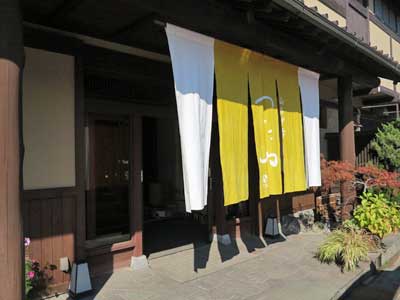 Tsutaya Ryokan opposite Kiso-Fukushima Station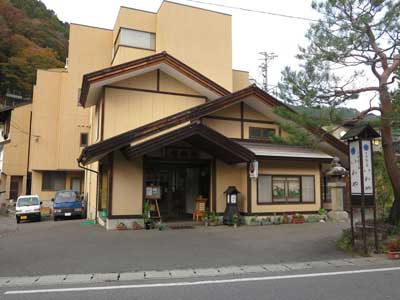 Iwaya Ryokan with rooftop onsen baths
Other ryokan include Takei Ryokan (Tel: 0264 22 2068) right on the Nakasendo close to Iwaya heading towards the station and past one of the town's foot baths. Another recommended ryokan near the river and the Yamanura Daikan Yashiki is Kiso-Mikawaya (Tel: 0264 24 3332), which offers both western and Japanese-style rooms and accommodation with or without meals.
Kiso-Fukushima manhole cover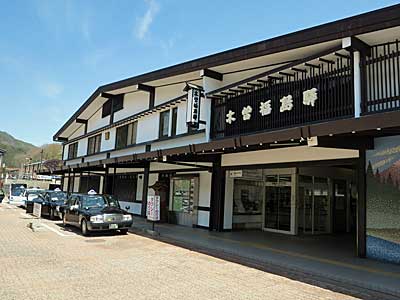 Kiso-Fukushima Station
Kiso-Fukushima Access
Air
Chubu International Airport is the most convenient international airport airport to Kiso-Fukushima. There are direct connecting trains on the Meitetsu Centrair service to Nagoya Station and Kanayama Station for JR trains on the Chuo Main Line to Nakatsugawa and then change to a local train for Kiso-Fukushima or some direct Shinano Express trains from Nagoya stop at Kiso-Fukushima. If you are traveling from Osaka take the Shinkansen to Nagoya and change.
Rail
There are Shinano Express and local trains on the JR Chuo Main Line from Nagoya via Nakatsugawa to Kiso-Fukushima taking 85 minutes for the 133km journey. Taking the JR Rapid service to Nakatsugawa and then a local train takes 2 hours, 40 minutes. From Tokyo's Shinjuku Station take a JR Azusa or Super Azusa Express on the Chuo East Line to Shiojiri Station and then change to the JR Chuo Main Line for Kiso-Fukushima.
Car/Bus
National Highway 361 passes through the outskirts of Kiso-Fukushima. There are two highway buses from Kiso-Fukushima to Shinjuku Station Nishi-guchi (West Exit) in Tokyo leaving at 7.40am and 3.40pm.
The journey to Tokyo from Kiso-Fukushima takes 4 hours and 10 minutes. Buses from Shinjuku to Kiso-Fukushima depart at 8.10am and 5.20pm.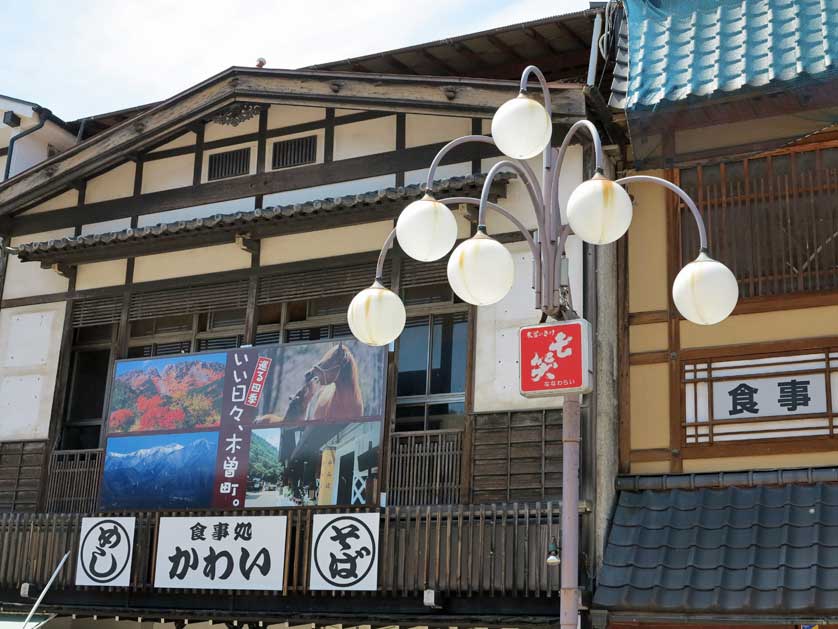 Kiso-Fukushima station area
Getting Around Kiso-Fukushima
Kiso-Fukushima is small enough to walk around or cycle, though a loop bus circulates around town. The Tourist Office is directly opposite the station for maps, brochures and bus timetables. The Tourist Office can also call a taxi for you, if none are waiting at the station.
There are fairly regular Ontake buses (about 1 an hour) from Kiso-Fukushima Station heading out to the road to Jizo Pass and Kiso-uma-no-sato.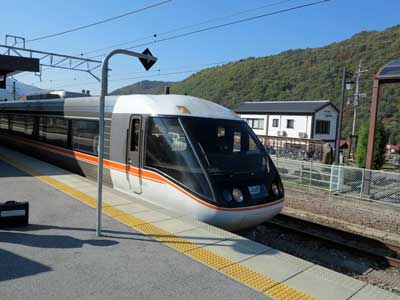 Shinano Express Train at Kiso Fukushima Station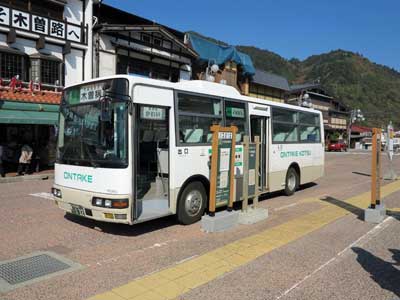 Ontake Bus at Kiso Fukushima Station
Kiso Fukushima Map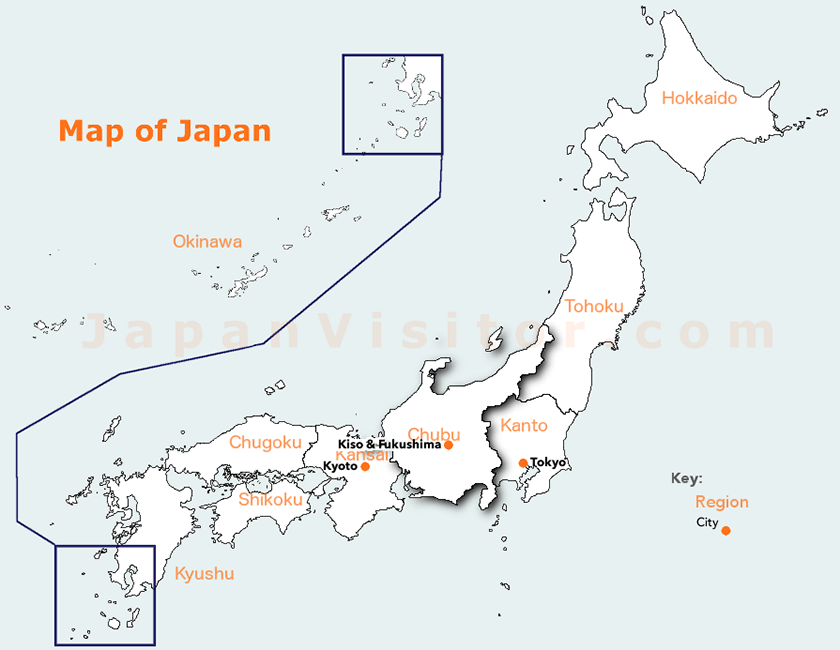 Kiso Fukushima Map
Nearby Kiso-Fukushima
A little south of Kiso-Fukushima are other post-towns on the Kiso-kaido section of the Nakasendo: Ena, Nakatsugawa, Magome & Tsumago.
A little north of Kiso-Fukushima is the equally attractive, though much smaller Narai.
Book Hotel Accommodation in Nagano Prefecture Japan
Kiso Fukushima guide: Kiso-Fukushima in Nagano prefecture is a post town on the historic Nakasendo highway noted for its barrier station and wooden buildings.
All the themes of the city