Tendo Guide Yamagata
Tendo guide Yamagata: read a travel guide to the city of Tendo, the home of shogi (Japanese chess) in Yamagata Prefecture, northern Japan close to Sendai.
Tendo Guide, Yamagata Prefecture 天童 山形県
Johannes Schonherr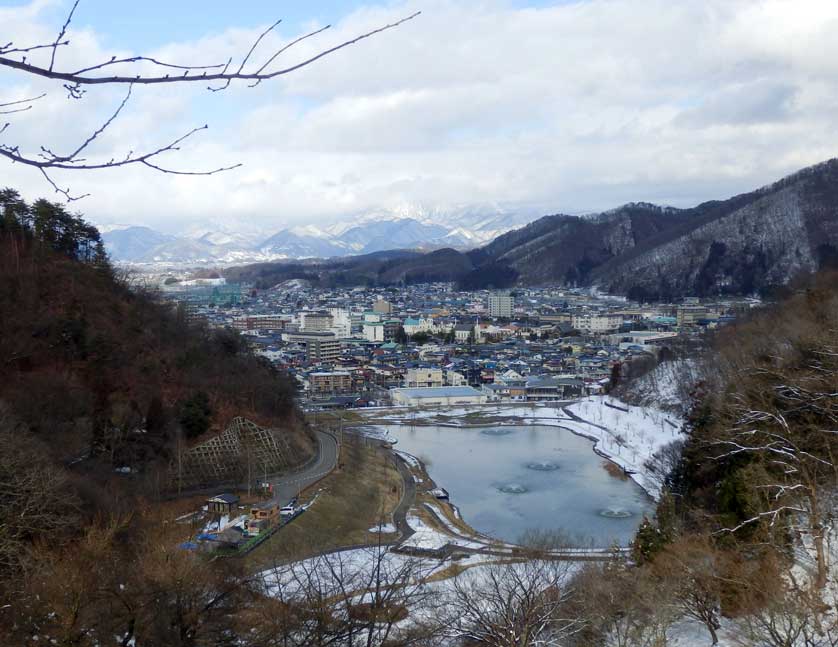 View over Tendo from Mount Maizuru
Tendo is a city of about 60,000 inhabitants located in eastern central Yamagata Prefecture, about 25 minutes by local train from Yamagata city.
By taking the Yamagata Shinkansen, some of whose trains stop at Tendo, travel time between the cities takes only 10 minutes. Tendo is most famous for its shogi (Japanese chess) and for its onsen hot spring hotels. Central Tendo can easily be explored on foot.
Tendo is situated in a bowl-like valley surrounded by mountains. JR Tendo Station is located on the western end of the inner city.
Most of central Tendo is structured in a grid-like pattern with straight streets running north - south, crossing streets running east - west. Ekimae-dori, the city's main street, runs from JR Tendo Station eastwards to Tendo Onsen on the other end of the inner city. So, the city is arranged like a chessboard, in a way, or rather a shogi board.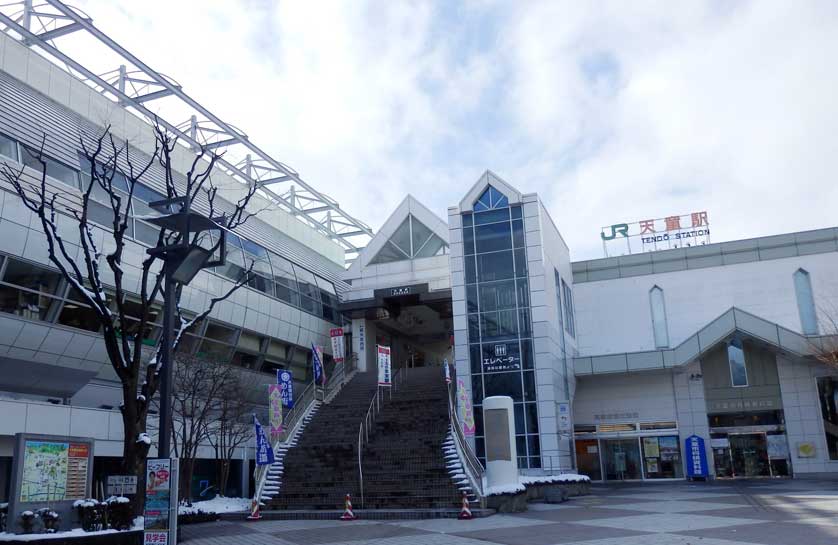 JR Tendo Station. The entrance on the right leads into the Tendo Shogi Museum

Tendo Shogi
Shogi, also known as Japanese Chess, is what Tendo is most famous for. About 90% of all Japanese shogi goma (shogi pieces) are produced in Tendo.
In April, Ningen Shogi (Human Shogi) is the most notable part of the annual Sakura (Cherry Blossom) Festival on the slopes of Mount Maizuru above Tendo. During the festival, master shogi players play the game using people dressed up in costumes portraying shogi characters as living shogi pieces.
The Tendo Shogi Museum is part of the JR Tendo Station building. The museum's exhibits detail the history of shogi across Asia, featuring plenty of historic shogi pieces and game related artifacts.
Opening times: Daily from 9 am to 6 pm (last entry at 5.30 pm), closed every third Monday in the month as well as on the New Year Holidays (December 29th - January 3rd)
Admission: Adults 320 yen, university and high school students 210 yen, middle school and elementary school students 100 yen
Tel: 023 653 1690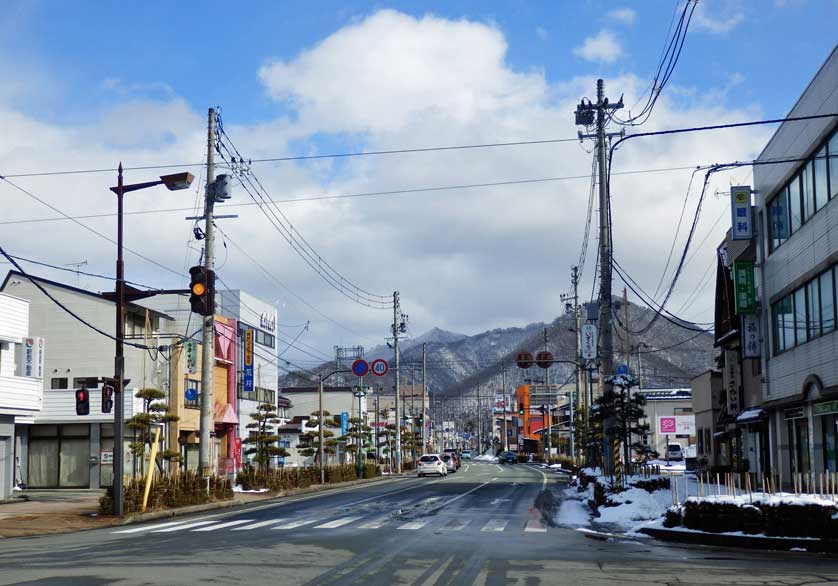 View from Tendo Station down Ekimae-dori street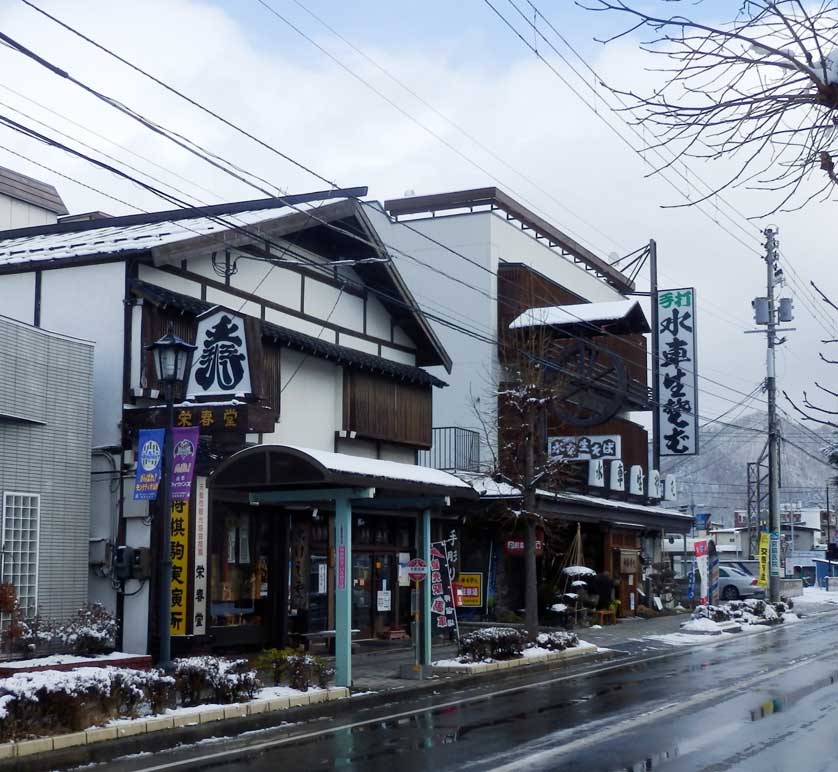 Eishundo Shogi Store (left) and Suisha Soba Restaurant on Ekimae-dori Street, Tendo
Another place central to Tendo Shogi is the Eishundo, a historic shogi piece manufacturing workshop where you can watch a master craftsman carving shogi pieces by hand. Very interesting are the exhibition rooms in the back. There, you can see historic variations of shogi games from a number of Asian countries, including China, Thailand and Nepal. At the Eishundo, you can also buy hand-made shogi boards and pieces.
To get to the Eishundo, just walk Ekimae-dori for about 10 minutes towards Tendo Onsen. You find the Eishundo on the left side of the street, right next to the Suisha (Water Wheel) soba restaurant (in operation since 1861) and across the street from the Hiroshige Museum of Art.
Shogi piece craftsman at work inside the Eishundo Shogi Store, Tendo
In general, shogi dominates the city with river bridges, hotels and various stores named after shogi pieces. Images of shogi pieces can be spotted almost everywhere. Famous shogi game situations are featured as ceramic inlets in the pavement of the inner city sidewalks.
Gift shops sell real shogi games, often hand-crafted but also cookies and a great variety of other sweets in the form of shogi pieces. Tendo has however a lot more to offer than shogi.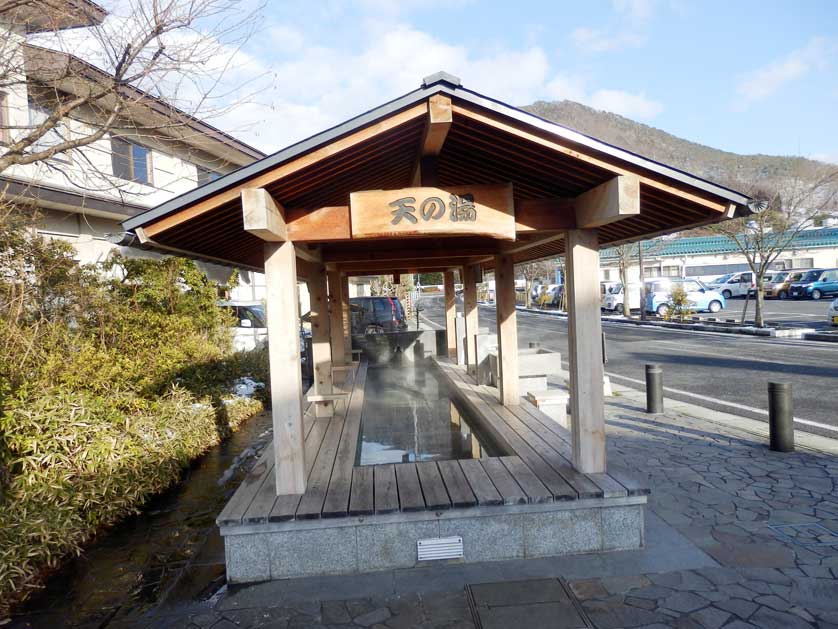 Hot spring foot bath, Tendo Onsen
Tendo Onsen
The Tendo Onsen district is located on the eastern end of Ekimae-dori Street. The district is dominated by a large amount of onsen hot spring hotels.
Hotel guests can freely use the hot spring facilities at their hotel as part of their accommodation arrangements.
Outside visitors are admitted to the hotel hot spring baths, times and admission depending on the particular hotel.
There are however no public hot spring bathing facilities available.
A free public hot spring footbath does invite visitors to have a relaxing time. There are also several hot spring water fountains where you can drink hot onsen water. It's rare in Japan that onsen water is recommended as a healthy drink - here it is.
At night, Tendo Onsen offers a few old-style izakaya bars with, at times, rather idiosyncratic owners behind the bar.
Right next to the Tendo Onsen area you find two large structures resembling European-style Christian churches. By their sheer size, they dominate the neighborhood.
These are not real churches, however. They belong to a private fantasy world created by the Angelina wedding company.
These "churches" are for private wedding ceremonies only, alongside the "Shinto Shrine" and the Roman / Greek pavilions on the site.
Hot spring water drinking fountain, Tendo Onsen
Tendo History
Though Tendo is today largely a modern city with mostly modern buildings, it is worth taking a look at Tendo's history to gain an understanding of the background of Tendo's attractions.
A castle, or rather a fortified house, housed the Tendo clan from the 1300's to the late 1500's in what was then a largely agricultural area. The clan leaders sided with the losing parties of various feudal wars a bit too often and eventually faded away.
During much of the Edo Period (1603 - 1868), today's Yamagata Prefecture was known as Dewa Province. The province was under the direct control of the Tokugawa Shogunate in Edo (today's Tokyo) until, in 1830, the Tendo Domain was awarded to the Oda Clan.
The Oda Clan consisted of descendants of Oda Nobunaga (1532 - 1582), a war lord central to the unification of Japan. The unification was finally achieved shortly after Oda Nobunaga's death by Tokugawa Ieyasu (1543 - 1616), resulting in the establishment of the Tokugawa Shogunate running Edo Period Japan (1603 - 1868).
The Oda Clan was replaced from a starvation hit area elsewhere in Dewa Province to Tendo in 1830. Tendo had not much to offer. It was a very poor domain.
The Oda clan invested heavily in the farming of safflower, a plant native to the area.
Already in the 1600's, famous haiku poet Matsuo Basho (1644 - 1694) had praised the beauty of the safflower fields in the area during his long tour through the north of Japan, resulting in his book Oku no Hosomichi (The Narrow Road to the Deep North), first published in 1689.
It was the Oda Clan that encouraged the people of Tendo to develop the cottage industry of producing shogi boards and pieces, using the abundant wood in the surrounding forests as source material.
Though the shogi game set production proved eventually very successful, initially it didn't rescue the Oda Clan from its financial troubles.
In a strange twist of fate, the retainers of the Oda Clan living in Edo (today's Tokyo) became friends with ukiyo-e wood print artist Utagawa Hiroshige (1797 - 1858), one of the most popular wood print artists at the time.
They persuaded Hiroshige to donate some of his most popular artwork to the poor people struggling in Tendo.
Hiroshige agreed and thus, Tendo's Oda Clan was able to settle various debts by offering the debtors Hiroshige prints rather than cash.

Tendo Hiroshige Museum of Art

Hiroshige Museum of Art
To commemorate that rather peculiar relationship between Tendo and Hiroshige, in 1997, the Tendo Hiroshige Museum of Art opened, located on Ekimae-dori and about a 10 minute walk from JR Tendo Station.
The museum frequently changes its exhibits. They do however always feature the work of Utagawa Hiroshige and his disciples.
On display are beautiful woodblock prints depicting the life and landscape of late Edo Period Japan.
All exhibits are labeled in English.
Opening times: April to October 9 am to 6 pm, November to March 9 am to 5 pm, closed on Tuesday (the following day if Tuesday falls on a holiday).
Admission: Adults 600 yen, university and high school students 400 yen, middle school and elementary school students 300 yen
Website in Japanese: samidare.jp/hiroshige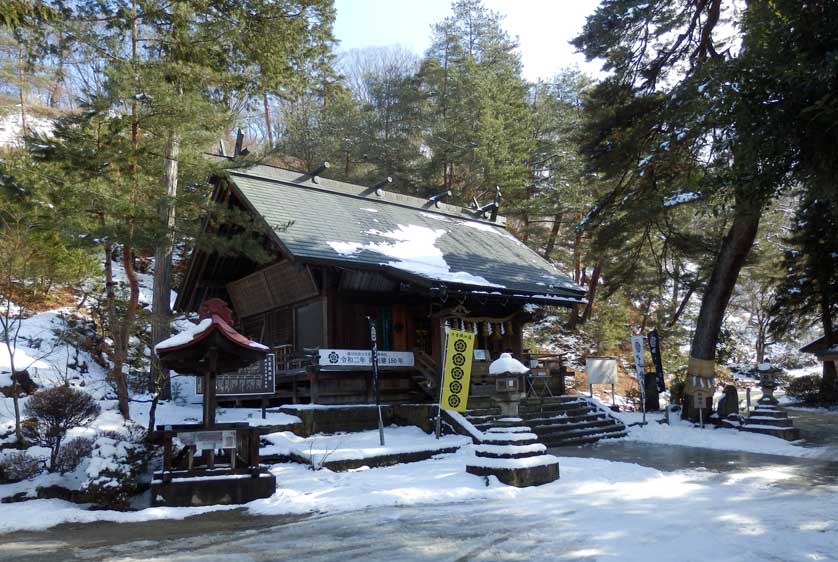 Takeisao Shrine, Tendo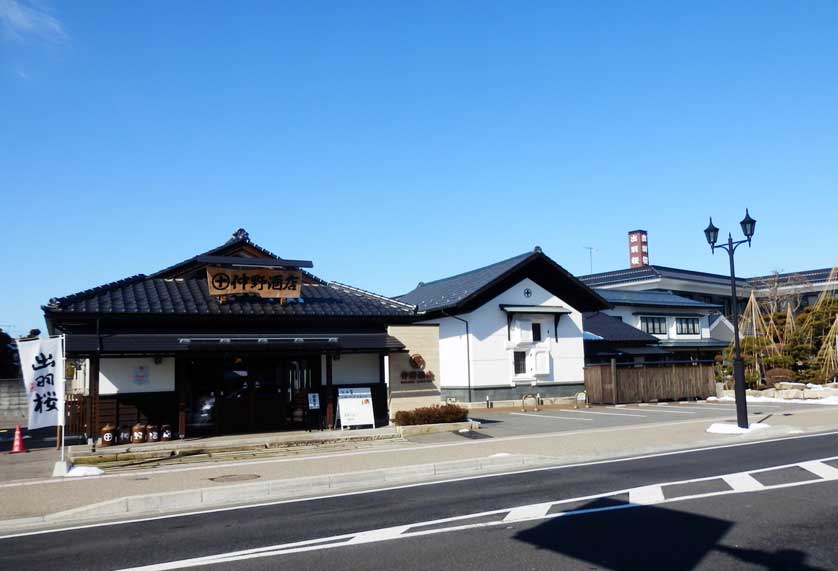 Dewa Sakura sake factory and store, Tendo

Temples, Shrines and Art
Most of Tendo's historical sites are concentrated in walking distance south of JR Tendo Station. The narrow streets along the foot of Mount Maizuru give access to plenty of ancient temples and shrines.
The most famous of these shrines is Takeisao Shrine, half-way up Mount Maizuru and dedicated to the Oda Clan. The shrine was erected in 1870 to honor the clan for their support of the Meiji Restoration in the years around 1868.
Ironically, as a result of the Meiji Restoration, those old feudal clans were dissolved.
It is a pleasant stroll walking these narrow streets, entering a temple or shrine here or there.
Today, the historic streets of Tendo are quiet and residential though their long history is palpable.
Towards the end of the stroll, where the foot of Mount Maizuru gives way to flat land, turn back to the main road.
There, you find the Dewa Sakura Sake Factory, its chimney visible from far away. The factory produces a fine sake which is available in many variations at their own shop.
Across the street from the sake factory shop, the Dewa Sakura Art Museum specializes in ancient Korean ceramics and porcelain but occasionally offers exhibitions of works by modern Japanese artists.
English-language museum website: dewazakura.co.jp/en/museum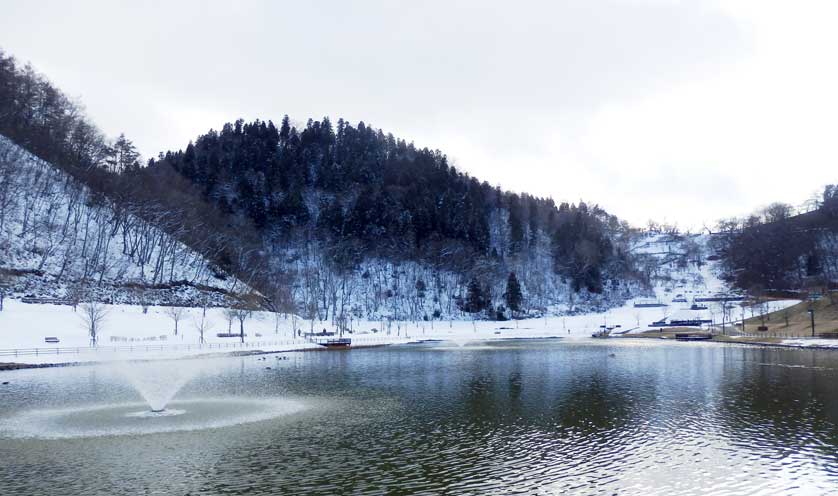 Mount Maizuru behind Lake Atago, Tendo

Mount Maizuru
Mount Maizuru is actually rather a hill with an elevation of only 242 meters. The hill and its slopes form Tendo's main public park, Tendo Koen Park.
Mount Maizuru is accessible by a road as well as many footpaths. Atago Shrine rests near the top of the hill and offers grand views all over Tendo and its environs.
Mount Maizuru is the site for the Human Shogi plays during the annual Sakura (Cherry Blossom) Festival in April, and in addition offers playgrounds and plenty of hiking paths.
At the foot of Mount Maizuru towards downtown Tendo, Lake Atago has a popular walk around its waters dotted with peculiarly shaped fountains.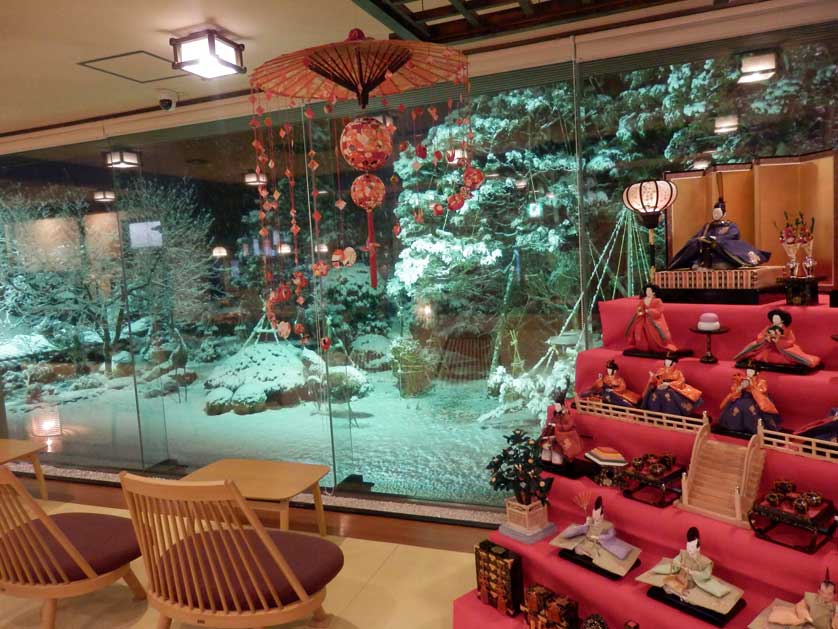 View from the lobby of the Tsuruya Hotel towards the snowed-in Japanese garden, Tendo
Tsuruya Hotel
For my stay in Tendo, I had booked into the Tsuruya Hotel on the western edge of the Tendo Onsen District.
The Tsuruya Hotel (also known as the Hohoemino Kuyufu Tsuruya Hotel) is a traditional Japanese onsen ryokan hotel with large hot spring baths.
More important, however, was the fact that the hotel is built around a traditional Japanese garden which happened to be deeply snowed in at the time of my visit.
Looking out towards the illuminated garden was gorgeous. Sheer beauty.
The hotel offers long glass fronts towards the garden. There is a section along the glass front with kotatsu tables, tables featuring built-in heated blankets to cover your legs.
Those tables are separated from each other by walls, you can pull down the curtain towards the attendant walkway and have a more or less private space there.
Though the hotel offers dinners in its own restaurant (reservation required when booking), at those tables next to the garden you can consume your own brought-in food.
I had bought ripe blue cheese, smoked duck meat, crackers and other small things at a nearby 24 hour supermarket, I bought a bottle of Tendo white wine at the hotel.
It was the perfect meal. They produce quite good wine in Tendo.
My hotel room was spacious and a sort of mix of Japanese and western styles. Tatami floor and paper sliding doors towards the balcony but western-style bed. The balcony offered a great view towards the snowed-in Japanese garden.
Breakfast was strictly Japanese. Rice and a lot of things with it including miso soup, various fish, ikura (salmon roe) and a large variety of fresh and pickled vegetables.
Bread is on offer - it is all sweet bread though and supposed to be eaten as a dessert.
English language website of the Tsuruya Hotel www.tsuruya-h.co.jp/en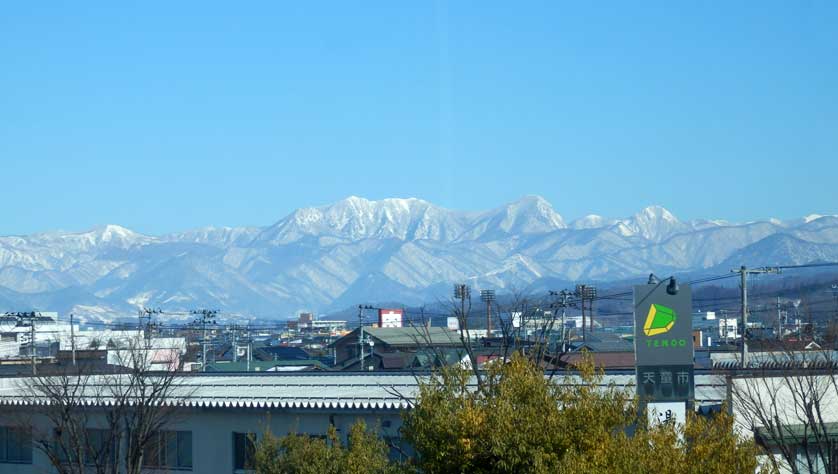 View from JR Tendo Station towards the mountains east of Tendo

Around Tendo
Yamadera Temple is most certainly worth a visit and it is not far from Tendo.
Take a local train from JR Tendo Station towards Yamagata city, get off at Unzen Chitose Station and from there take a local train towards Sendai.
The train ride itself is short and costs only 330 yen.
Unfortunately, the train connection in Unzen Chitose is rather inconvenient, requiring a wait of 20 to 40 minutes at the tiny station which has nothing else to offer than a soft drink vending machine.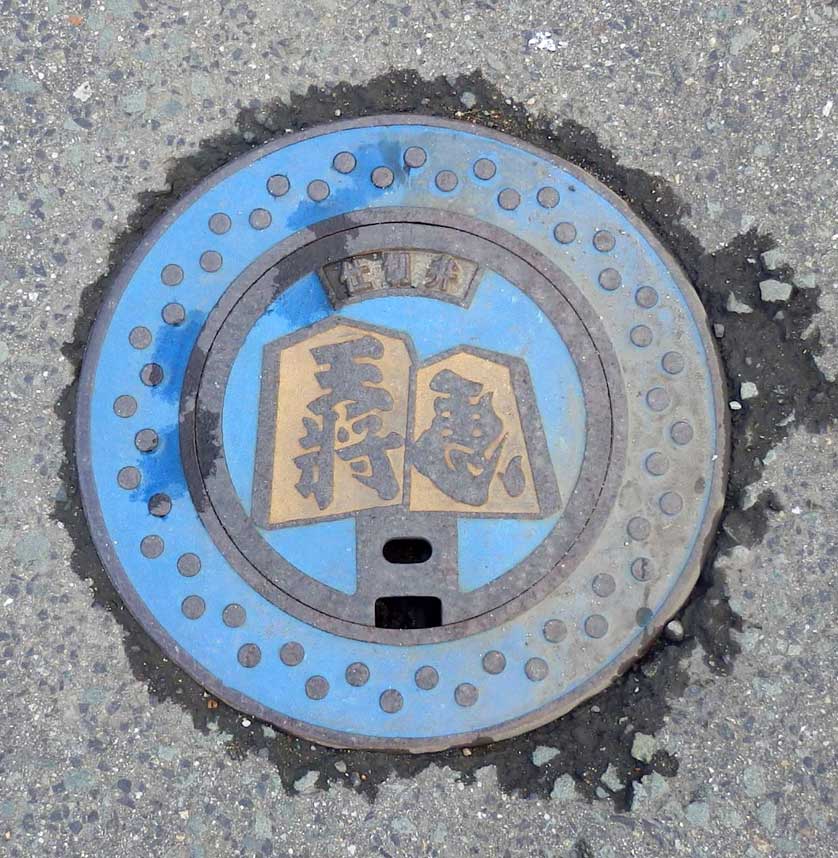 Shogi-themed manhole cover, Tendo

Access to Tendo
From Tokyo or Ueno Station, take the Yamagata Shinkansen to JR Tendo Station. Travel time 173 minutes.
All the themes of the city