Sanmachi-Suji district
三町筋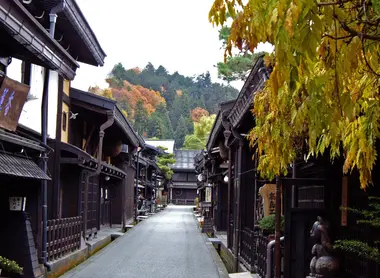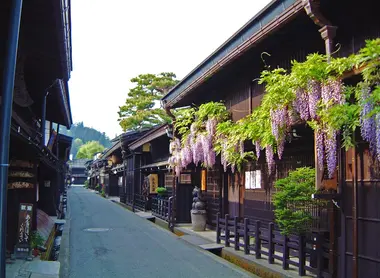 Little Kyoto
Three main streets give Takayama a timeless feel, that of quaint historic district. Go for a stroll, stop for a break, enjoy a sake, and take it all in...
Everywhere, nearby or in the background, the soothing sound of water can be heard. The red bridge that crosses the Miya-gawa River linking Sanmachi-Suji with the rest of the city is very reminiscent of Gion - Takayama is very picturesque, "bright and beautiful", with definite airs of Kyoto. The riverbanks are full of people taking a stroll, and a small village atmosphere fills the air. 
In the three main streets of Ichi-no-machi, Ni-no-machi and San-no-machi, water flows along the straight gutters. The dull gray of the alleys contrasts with the dark brown of private homes and inns, with their wooden fronts and latticed windows. Here, a door left ajar provides a glimpse of a strangely shaped cart, with doors on three levels - a yatai, one of the twenty-three floats that parade during the Takayama Matsuri, in the spring and fall. A large sphere made of cedar wood hanges above a doorway, watching over the passersby. It marks the entrance to a sake brewery, of which there are many in Takayama, such as Hirase, Hirata, and Niki, to name just a few... and the owners are always eager to let you taste their wares. Bonsai, potted plants and shrubs sit in front of homes, on porches, completing the picture.
You'll see shops and private residences, modest or grand homes, like those formerly owned by samurai, one of which houses the Hida Folk Museum, with its small courtyard and secret passages. The Takayama Local History Museum also attracts visitors with its charming gardens and collection of sculptures by the Buddhist monk Enku (1632-1695), who roamed around Takayama in the seventeenth century. Where culture, heritage and history meet, the Fujii folk art gallery, located in an old merchant's house, has a private crafts and ceramics collection.
 A district for walking and taking it all in, Sanmachi-Suji shouldn't be missed.
All the themes of the city