Tateyama Kurobe Alpine Route
Tateyama Kurobe Alpine Route 立山黒部アルペンルート
Greg Goodmacher
Some of the most breathtaking views in Japan are visible along the Tateyama Kurobe Alpine Route. These mountain and valley vistas inspire modern visitors as much as they have, for countless centuries, stirred the hearts of Japanese haiku writers and painters, who had to climb for days on steep cliff-side trails, where a slip could mean death or injury.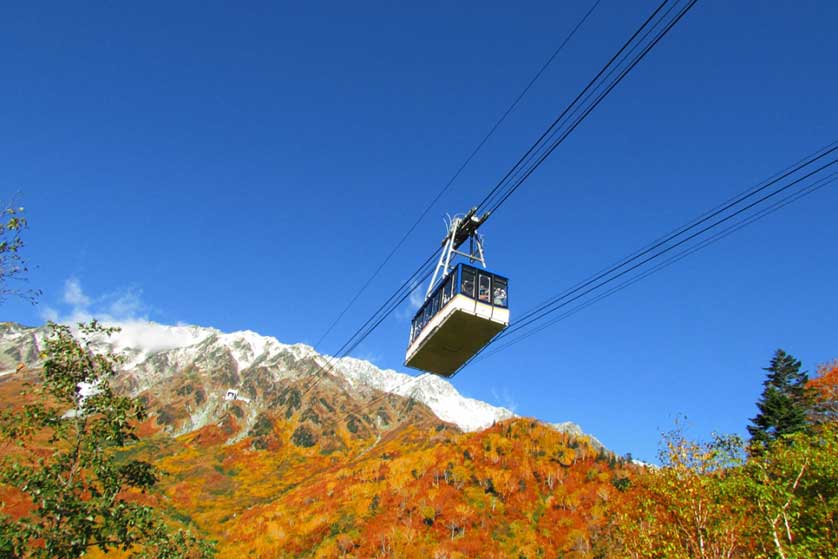 Tateyama Kurobe Alpine Route
Traversing the Tateyama Kurobe Alpine Route, you will enjoy comfortable transportation on an astonishing array of trains, electric trolleys, cable cars, hybrid buses, and gondolas, which travel through forests, ascend and descend steep valleys, squeeze through deep underground tunnels, or glide through the air. Even wheelchair users can comfortably enjoy this alpine world. But mountain climbers, back country skiers, and campers can still rough it out in the rugged, natural surroundings. Hiking trails lead into wilderness from most stations.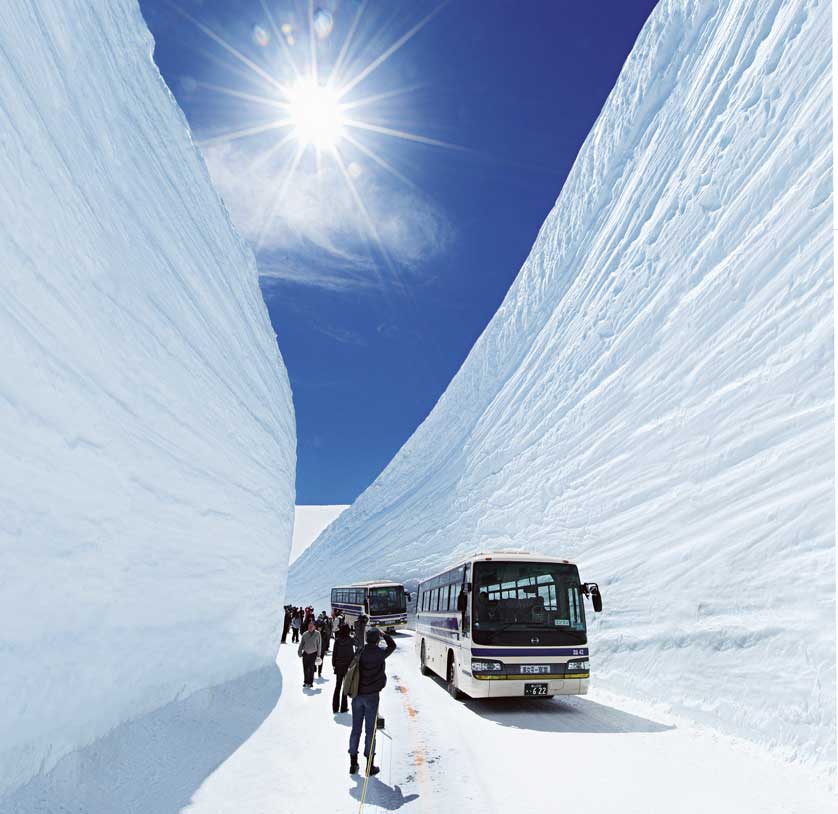 Tateyama Highland Bus Passing Snow Valley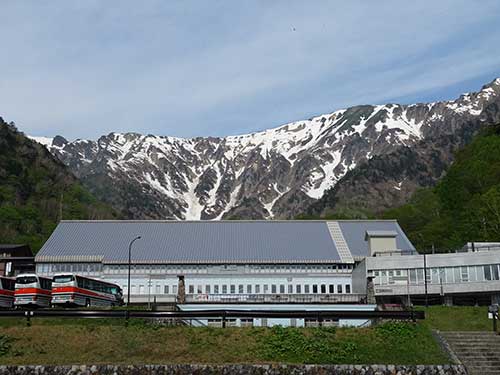 Ogizawa Station
The Tateyama Kurobe Alpine Route, over ninety-kilometers long, reaches elevations of over 2,400 meters and crosses the border of Nagano and Toyama prefectures. Some of the deepest snowfalls in Japan close this route from the end of November until the end of April, sometimes even into June.
Snowplows open up the only road between Tateyama City and Murodo Plateau, the highest stop on the route. The snow plowing creates the famous "snow valley," or Yuki-no-Otani. Walking through this snow canyon, whose walls sometimes exceed twenty-meters in height, is just one of many jaw-dropping experiences and views to be enjoyed on your amazing journey along this route.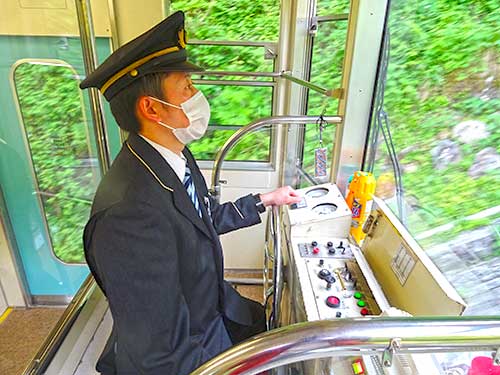 Tateyama Cable Car Conductor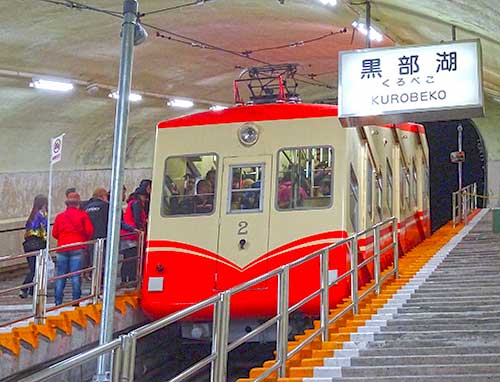 Kurobe Cable Car at Kurobeko
The Remarkable Stops along the Alpine Kurobe Route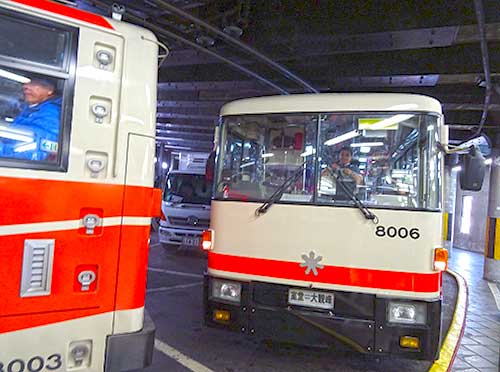 Kanden Tunnel Trolley Buses
Ogizawa Station
Ogizawa Station is the start of the route from Nagano Prefecture. If you come by bus from Matsumoto, Nagano, the spectacle of majestic peaks as you approach this remote station is an elating one. Hikers can start trekking from nearby hiking paths, but most visitors board one of the Kanden Tunnel Trolleybuses. These trolleybuses squeeze between the walls of a narrow tunnel, at a depth of over 1,000 meters below Mt. Akazawa, before arriving at Kurobe Dam.
Kurobe Dam
Kurobe Dam is Japan's tallest and largest dam. Building it was an effort of national pride after World War II. Activities at Kurobe Dam, include marveling at mountain scenery, savoring delicious water straight from springs, enjoying old photographs and other exhibits in the dam's museum, and strolling along the dam's rim. Boat tours of the lake are available after June. Staying in Japanese-style hotels, camping, and hiking are also possible. The Kurobe Cable Car, ascends to the next station, Kurobe Plateau, from Kurobeko Station. This funky, yellow cable car climbs almost 400 meters in elevation in five minutes.
Kurobe Plateau
At 1,828 meters, you can look back down into Kurobe Dam and its surroundings from Kurobe Plateau. The restaurant, like those in many of the other stations, offers local foods and sake. Picnic tables outside the station also offer amazing views to be relished. The gondola, named the Tateyama Ropeway, departs from here for Daikanbo.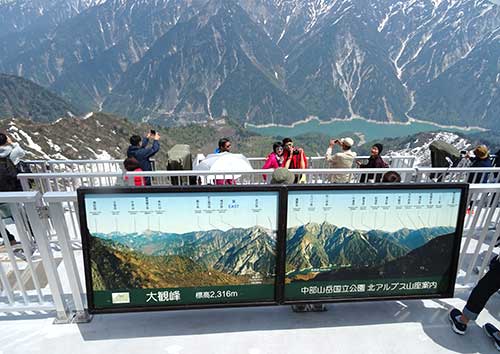 Daikanbo Station Viewing Spot
Daikanbo
The gondola to Daikanbo glides diagonally through the clouds above precipitous cliffs. A gondola attendant told me that in winter he sometimes sees bears moving across the open snow. Upon arrival at Daikanbo Station, most visitors climb the steps to the viewpoint to marvel at the nearly 360-degree views of valleys and peaks. In late May, snow still lay on the floor of the observation deck. Daikanbo is where one switches back to another electric trolley for the ten-minute horizontal journey through the tunnel that pierces Mt. Tateyama, whose peak reaches 700 meters above the tunnel.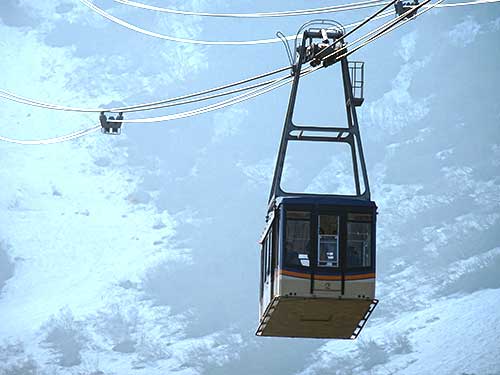 Tateyama Ropeway
Murodo Station
Murodo Plateau is where many nature lovers spend the night. The snow valley is Murodo Plateau's most famous attraction, but star gazers, bird watchers, photographers, hikers, and lovers of hot springs can all enjoy themselves here any month that the plateau is accessible. The panoramic view of gold, red, and yellow autumn foliage is especially renowned throughout Japan. Snowshoers and back country skiers should stay overnight to acclimate to the thin mountain air before climbing Mt. Tateyama and other peaks. Accommodation includes campgrounds, rustic mountain huts, and Hotel Tateyama, which calls itself "The Resort Closest to the Stars."
Tengudaira and Midagahara
From Murodo Plateau towards Tateyama, the only travel option is the Tateyama Highland Bus. In fact, to protect the natural environment, private cars are banned on this route. Tengudaira and Midagahara are two lovely plateaus that the bus travels along. Depending upon weather conditions, the bus may pass through the famous Yuki-no-Otani. If you are susceptible to motion sickness, take precautions because the road makes hairpin curves while descending 2,000 meters between Murodo and Bijodaira. A video playing on the bus points explains scenic spots that the bus passes, for instance, the largest cedar tree in Toyama Prefecture, and a location to view the tallest waterfall (350 meters) in Japan, Shomyo-daki, before arriving at Bijodaira Station.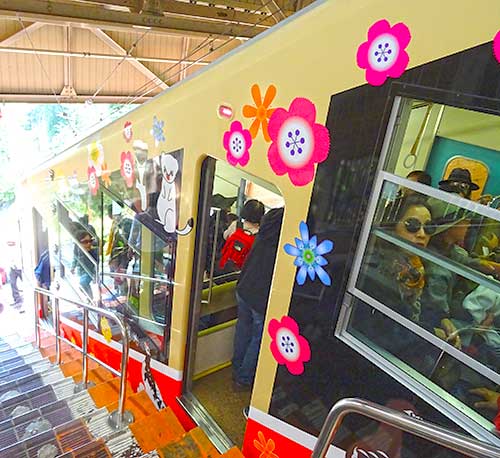 Bijodaira Station
Bijodaira
Bijodaira is a small station where most visitors switch to the Tateyama Cable Car, which can takes both passengers and heavy materials up and down slopes of almost 25 degrees. These are the most powerful cable cars in Japan. They travel both on the surface and in deep tunnels. The cable cars descend into the quaint town of Tateyama.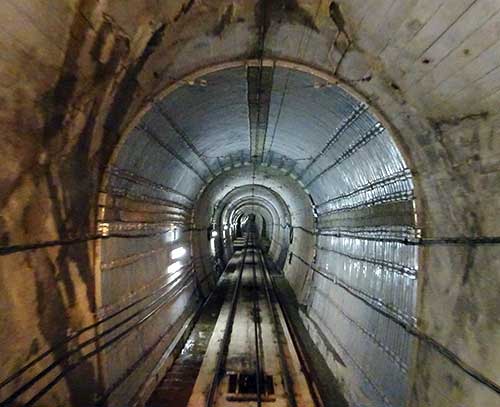 Cable Car Tunnel Under Mountain
Tateyama Station
The area around Tateyama Station is geared towards providing for hikers and travelers on the Kurobe Tateyama Route. Tateyama is a quiet town with a crystal clean river, green woods, and fresh air. Fresh water discharges from a spring right outside the station, which is a few-minutes' walk from the Tateyama Caldera Sabo Museum. Although, most exhibits are explained in Japanese, this free museum is worth a visit. Dioramas need no explanation and an English video teaches visitors about local geography, geology, history, and environmental protection activities. Tateyama Station is also where one boards the Toyama Chiho Railroad for Toyama City. These trains are also renowned for the scenic views from their windows.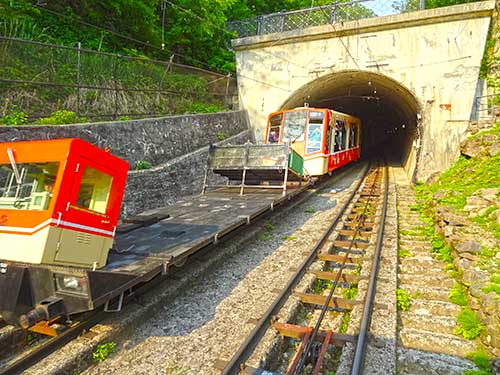 Tateyama Cable Car, Tateyama Kurobe Alpine Route
Getting to the Tateyama Kurobe Alpine Route
This article describes the route for people traveling from the Nagano side toward Toyama, but traveling in both directions is possible.
From Tokyo to Tateyama Station Side (Toyama Prefecture)
Take the JR Hokuriku Shinkansen to JR Toyama Station and then change to the adjacent Dentetsu Toyama Station. Board a Toyama Chiho Railroad train bound for Tateyama.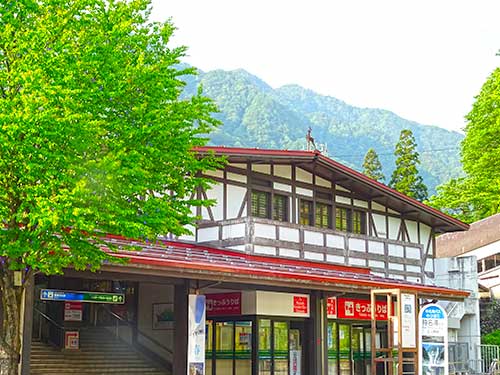 Tateyama Station, Tateyama Kurobe Alpine Route
From Tokyo to the Ogisawa Side (Nagano Prefecture)
Take the JR Hokuriku Shinkansen to Nagano Station. Board a train on the JR Oito Line to Shinano-Oomachi Station and change to a bus for Ogisawa.
From Osaka to the Tateyama Station Side (Toyama Prefecture)
Reach Kanazawa Station in Kanazawa by train on the Thunderbird Express. Board the JR Hokuriku Shinkansen toward Toyama Station. Then, board a Toyama Chiho Railroad train bound for Tateyama.
From Nagoya to Tateyama Station Side (Toyama Prefecture)
Take the limited express train "Wide View Hida" from Nagoya Station in Nagoya to Toyama Station. Then, board a Toyama Chiho Railroad train from Toyama Dentetsu Station bound for Tateyama.
From Nagoya to Ogisawa Side (Nagano Prefecture)
Reach Matsumoto Station by JR Chuo Line (Limited Express Shinano). Board a train on the JR Oito Line to Shinano-Oomachi Station and change to a bus for Ogisawa.
Buses
There are overnight highway buses to Busta Shinjuku in Tokyo and regular daytime Meitetsu buses to the Meitetsu Bus Station in Nagoya from Toyama Station. Other express and highway buses from Toyama also run to Kyoto, Osaka, Niigata, Sendai, Nagano, Takayama, Kanazawa, Tonami, Kamioka and Shinhotaka (Gifu Prefecture).
Buses also run to Toyama Airport to the south (400 yen, 20 minutes) from Toyama Station. Toyama Airport has domestic flights to Tokyo, Fukuoka, Sapporo and international connections to Seoul, Dalian (China) and Vladivostok in Russia.
Hokuriku Shinkansen Explore Japan I
Hokuriku Shinkansen Explore Japan II
Hokuriku Shinkansen Explore Japan III
The author of this article blogs about Japanese hot springs at hotspringaddict.blogspot.jp.
Book Hotel Accommodation in Toyama
Tateyama Kurobe Alpine Route: read a guide to touring the beautiful mountain scenery of the Tateyama Kurobe Alpine Route.
All the themes of the city