Kurobe Dam
Kurobe Dam 黒部ダム
Greg Goodmacher
Kurobe Dam, encircled by lush forests and pristine craggy mountains between 2,000 and 3,000 meters high, is a concrete example of Japanese endurance and engineering ingenuity in the race to industrialization after World War II.
Kurobe Dam set many records. It is the highest (elevation: 1,454 meters), the tallest (454 meters), and probably the most dangerous dam (171 construction-related deaths) built in Japan. Hydroelectric power churning out of the dam powered much of Japan's post war explosive industrial growth in the early 1960's. Today, Kurobe Dam is a popular tourist location sure to impress anyone interested in culture, construction, or natural beauty.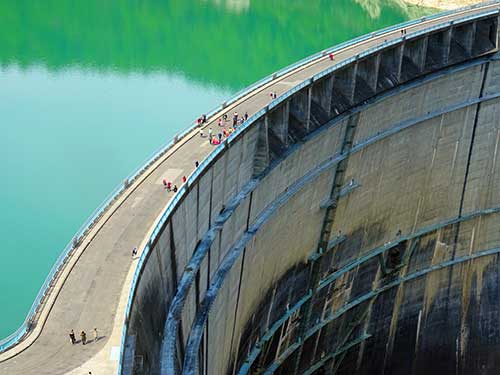 The Walkway on Kurobe Dam
As an environmentalist, I rarely admit that a construction project is impressive or attractive. Yet, strolling along the crest of the curved dam becomes both a scenic and thoughtful experience. The sides of the concrete dam arc out of the rocky, woody valley enclosing its deep green lake. The immense size, thickness of the dam and the grandeur of the natural surroundings provoke an awareness of how small one person is and how massive the impact of human engineering can be.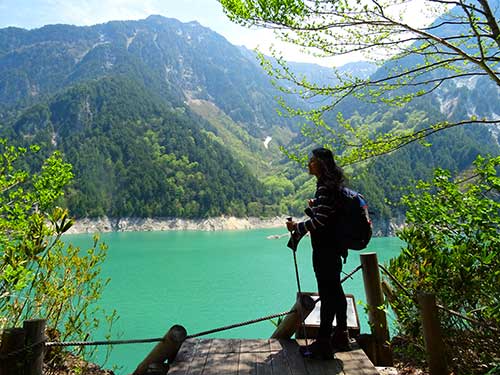 Enjoying the view from Kurobe Dam Hiking Path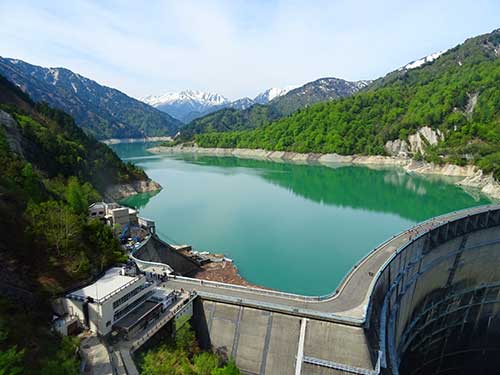 Kurobe Dam and Lake, Toyama Prefecture
Each year, over one million people from all over the world visit Kurobe Dam. It is one of the most popular stops along the Tateyama Kurobe Alpine Route. And getting there is a unique experience. Underground trolley buses take passengers from Ogizawa Station through a tunnel that was bored hundreds of meters below the surface of Mt. Akasawadake. At the underground Kurobe Station, after alighting from the buses and walking up hundreds of steps, visitors discover unparalleled scenic views.
Most visitors to Kurobe Dam stay for just an hour or two while traveling across the route, but nature lovers could spend many pleasant days there. You can cruise the lake on a sightseeing boat, hike for hours or days along winding wooded hiking paths here and nearby Kurobe Gorge, sleep in rustic mountain huts or set your tent up in fields of ferns and trees within a short walk of the lake, or just spend hours losing yourself in the panoramic scenery of powerful mountains and the imposing arched dam. Photographers soon discover that surrounded by such beauty, taking an uninteresting photograph is almost impossible.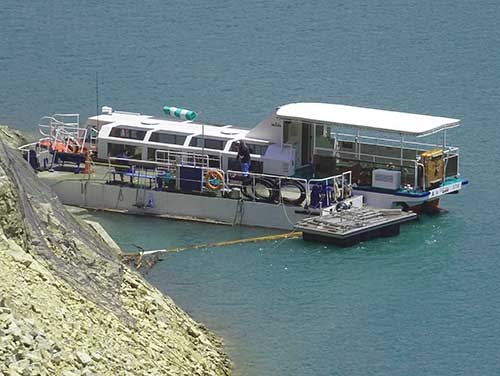 Kurobe Dam Pleasure Boat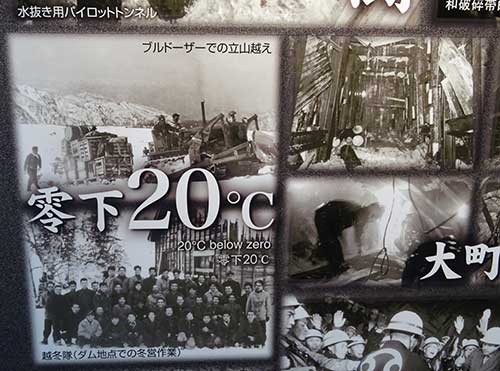 Kurobe Dam Museum Photograph Exhibition
History of Kurobe Dam
History and engineering buffs will enjoy visiting the free dam museum. Old construction relics, and black and white photographs from the days of its construction, convey the history of Kurobe Dam, including the sacrifices and the suffering of its workers - 171 laborers died during the seven years of construction. Construction workers toiled for months hundreds of meters underground in wet tunnels in subzero temperatures.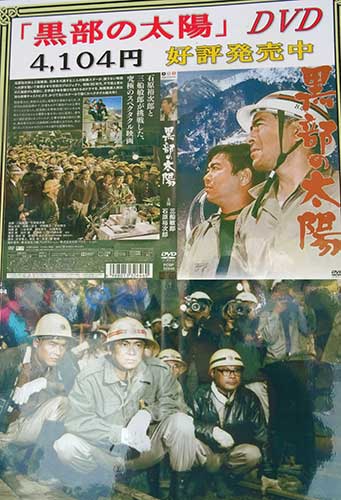 Kurobe Dam Movie - Kurobe no Taiyo
Kurobe Dam in Popular Culture
Construction of the dam became a symbol of progress that has become deeply embedded in Japanese culture. A Japanese movie titled Kurobe no Taiyo recounts the struggles involved in the dam's completion, which many people thought was impossible. The dam is also connected to Japan's music culture. Inside of Kurobe Dam, one of Japan's most respected singer-songwriters, Nakajima Miyuki, made a music video of herself and her band performing Chijo no Hoshi, the theme song that she wrote for the NHK documentary series Project X>, which recounts the stories of great Japanese achievements. Her song was a hit for over three years running.
For today's visitors, walking the dam is a feast for the senses. From June to October 16, the operators of the dam discharge water from floodgates just below the lip of the top of the dam. The amazing velocity of the spray creates misty clouds and stunning rainbows along the walkway that crosses the top of the dam. This release of water is not necessary, but is done just as a spectacle for tourists. The walkway forms the path between Kurobe Dam Station and Kurobeko Station. From Kurobeko Station, cable cars carry passengers up the neighboring steep mountains, where more amazing views and experiences await.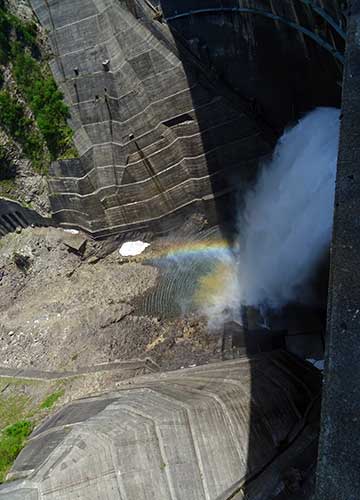 Rainbow and Release at Kurobe Dam
Kurobe Dam Seasons
When going to Kurobe Dam, you need to take alpine weather into account, as well as your own seasonal preferences. The amazing Tateyama Kurobe Alpine Route is usually open only between mid-April and November. The snowfall in mid- and late winter is too heavy and deep to safely allow tourism in the area. Deep snows still remain in April. Spring is a time of forest rebirth. Summer is cooler than in most areas of Japan. And the brilliant multicolored fall foliage is unforgettable.
Getting to the Tateyama Kurobe Alpine Route
From Tokyo to Tateyama Station Side (Toyama Prefecture)
Take the JR Hokuriku Shinkansen to JR Toyama Station and then change to the adjacent Dentetsu Toyama Station. Board a Toyama Chiho Railroad train bound for Tateyama.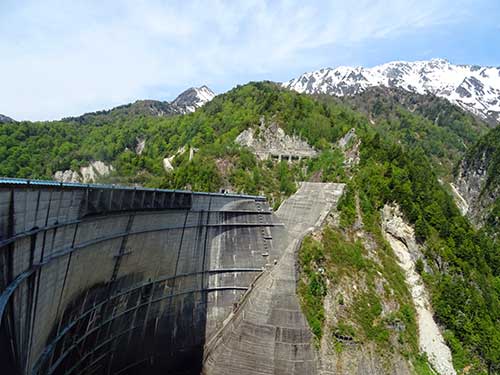 Walkway and Mountain Peaks at Kurobe Dam
From Tokyo to the Ogisawa Side (Nagano Prefecture)
Take the JR Hokuriku Shinkansen to Nagano Station. Board a train on the JR Oito Line to Shinano-Oomachi Station and change to a bus for Ogisawa.
From Osaka to the Tateyama Station Side (Toyama Prefecture)
Reach Kanazawa Station in Kanazawa by train on the Thunderbird Express. Board the JR Hokuriku Shinkansen going to Toyama Station. Then, board a Toyama Chiho Railroad train bound for Tateyama.
From Nagoya to Tateyama Station Side (Toyama Prefecture)
Take the limited express train "Wide View Hida" from Nagoya Station in Nagoya to Toyama Station. Then, board a Toyama Chiho Railroad train from Toyama Dentetsu Station bound for Tateyama.
From Nagoya to Ogisawa Side (Nagano Prefecture)
Go to Matsumoto Station by JR Chuo Line (Limited Express Shinano). Board a train on the JR Oito Line to Shinano-Oomachi Station and change to a bus for Ogisawa.
Buses
There are overnight highway buses to Busta Shinjuku in Tokyo and regular daytime Meitetsu buses to the Meitetsu Bus Station in Nagoya from Toyama Station. Other express and highway buses from Toyama also run to Kyoto, Osaka, Niigata, Sendai, Nagano, Takayama, Kanazawa, Tonami, Kamioka and Shinhotaka (Gifu Prefecture).
Buses also run to Toyama Airport to the south (400 yen, 20 minutes) from Toyama Station. Toyama Airport has domestic flights to Tokyo, Fukuoka, Sapporo and international connections to Seoul, Dalian (China) and Vladivostok in Russia.
Hokuriku Shinkansen Explore Japan I
Hokuriku Shinkansen Explore Japan II
Hokuriku Shinkansen Explore Japan III
The author of this article blogs about Japanese hot springs at hotspringaddict.blogspot.jp.
Book Hotel Accommodation in Toyama
Kurobe Dam in Toyama Prefecture is the highest (elevation: 1,454 meters) and tallest (454 meters) dam in Japan and a popular tourist attraction for its autumn leaves.
All the themes of the city