Hirayu
平湯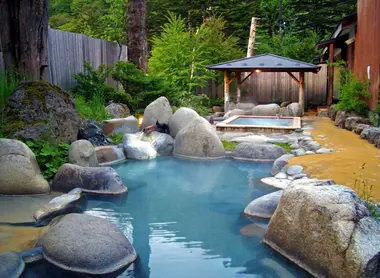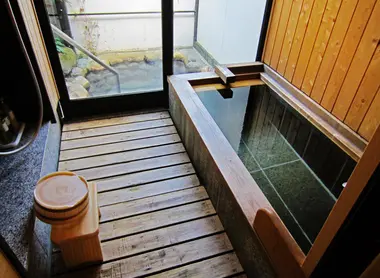 Fontaine de jouvence<br>
Au cœur des Alpes japonaises se loge un petit village dontles vapeurs viennent lécher les flancs des montagnes. La bourgade deHirayu regorge de sources thermales qui rendent le lieu célèbre.
Legend has it that during the internal wars that tore the country apart in the sixteenth century, wounded soldiers fled the fighting and took refuge in the mountainous maze of the region. Arriving in a valley, they saw an old white monkey licking his wounds in a hot spring gushing from the ground. They decided to imitate him, and in this way were able to heal their wounds. The reputation of Hirayu hot springs was made.
From Takayama, you will have to watch the landscapes go by from the window of a bus for an hour before arriving at the village. Once there, the bather is spoiled for choice: thirty establishments invite you to enjoy their thermal waters. The surrounding, intense volcanic activity has provided the waters with various properties: resistance to illnesses, skin rejuvenation... the benefits of these waters are neverending. Whether you visit for a quick dip or to spend the night in a luxurious ryokan (traditional inn), everyone can find something to suit them. The village has a beautiful shrine and pleasant walks, for between baths. Note that the Hirayu outdoor museum has old residences and its own hot spring. 
It's a nice excursion from Takayama to rest body and mind, while contemplating the mountains that feed these waters with mysterious powers...
---
Address, timetable & access
All the themes of the city