Purikura No. Mecca
プリクラのメッカ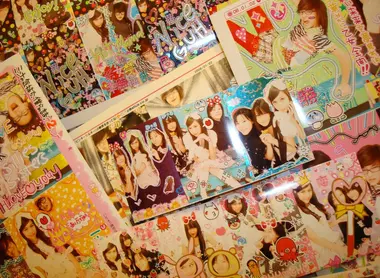 Photobooth of another type
The purikura, Japanese photobooths, prove to be a fun experience worth trying.
After a moment of apprehension at the sight of whole groups of Japanese in their Sunday best who spend their days here, anyone can easily get caught up in the spirit of the game. These photo booths are actually much more sophisticated than those of old Europe. They are not just ordinary photos as the background can be selected and the photo edited when you leave the booth, thanks to many additions and crazy retouches (headgear, "manga" style eyes, text...). The possibilities are endless in terms of creation and pushing the limits of "kawai," the outrageously cute.
In Purikura no Mecca ("Purikura Mecca"), located on the first floor of a building in Shibuya, the impressive number of booths will satisfy any desire to experiment. Note, however, that men on their own or men only groups are not accepted!
For a modest price of 300 to 400 yen, purikura entertains both children and their parents.
---
Address, timetable & access
All the themes of the city