Yushukan War Memorial Museum
Yushukan War Memorial Museum: read a guide to Tokyo's Yushukan War Memorial Museum in the grounds of Yasukuni Shrine.
Yushukan War Memorial Museum 遊就館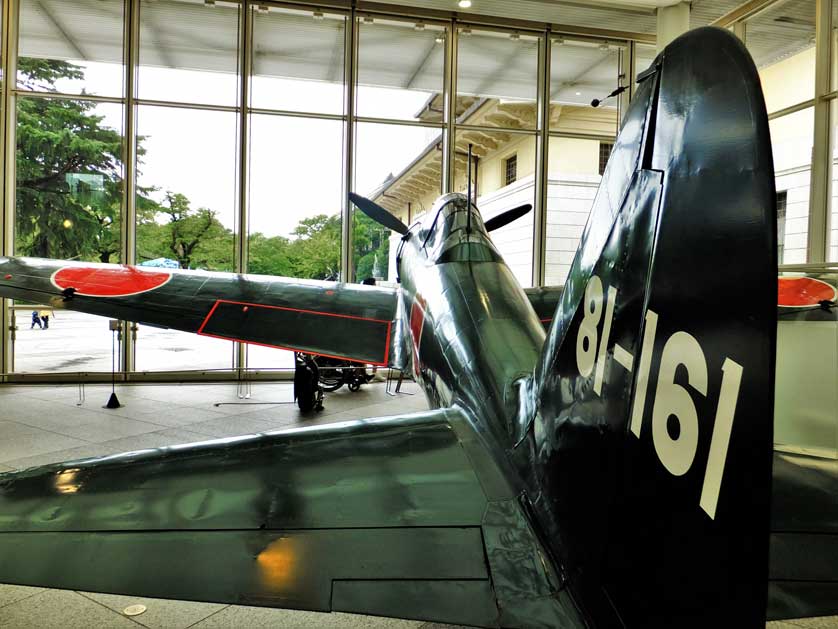 Zero Fighter
A shrine for the Japanese right-wing, the recently tastefully refurbished Yushukan War Memorial Museum is located in the grounds of the Yasukuni Shrine and is dedicated to Japanese war dead, among whom war-time leader Hideki Tojo is the most notorious.
Annual visits by some Japanese prime ministers to worship - and shore up their political right - assure swift denunciations from China and South Korea.
Exhibits
The Yushukan War Memorial Museum has interesting exhibitions of soldiers' personal effects from 1894 to the end of World War II, as well as aircraft (including a kamikaze flying bomb), artillery pieces, a tank and a suicide attack submarine (kaiten), along with well-presented panel displays and videos extolling Japan's military adventures.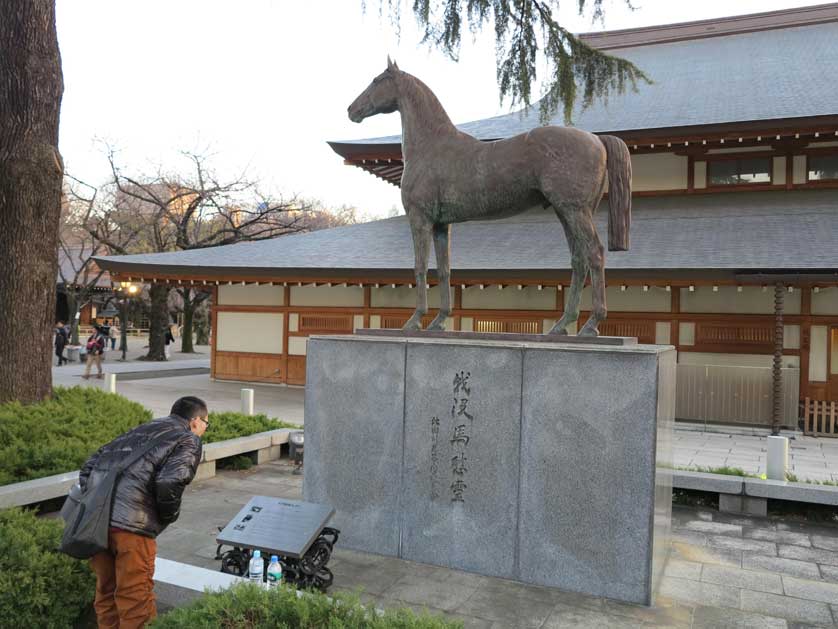 Statue honoring horses that served in the Japanese military at Yasukuni Shrine
The video of Japan's military history during World War II extols the angle that Japanese forces were liberating Asia from western colonialism and that Japan's troops were warmly welcomed into Manchuria. There is no reference to alleged Japanese atrocities or Unit 731 which carried out brutal experiments on prisoners of war.
To get to the Yushukan War Memorial Museum take the Hanzomon or Tozai subway lines, or the Toeishinjuku Line to Kudanshita Station. A revisionist take on the War.
Access
Yushukan War Memorial Museum (www.yasukuni.or.jp)
3-1-1 KudankitaChiyoda-ku
Tokyo102-8246 Tel: 03 3261 8326Fax: (03) 3261 0996
Hours: 9 am-5 pmAdmission: 800 yen for adults; university students 500 yen; high school/junior high school 300 yen; elementary school students 100 yen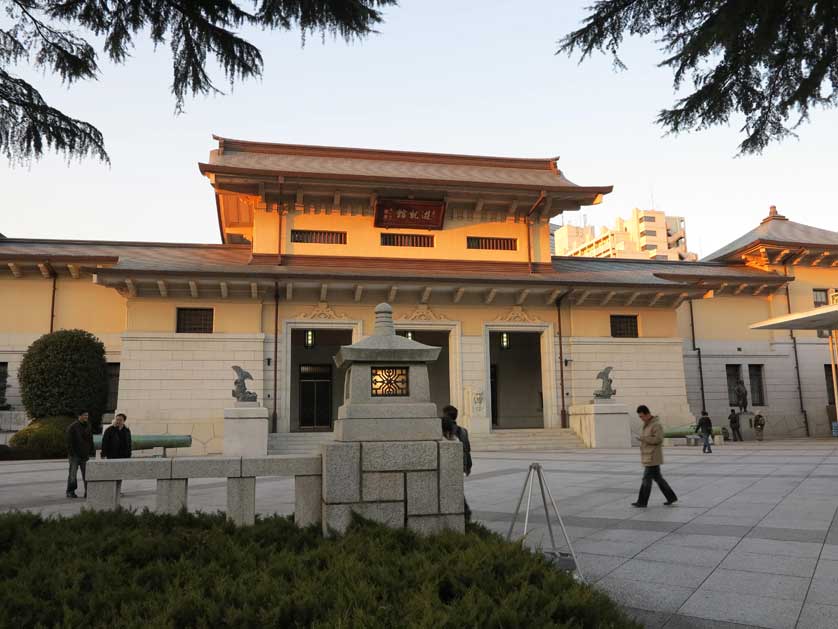 Yushukan War Memorial Museum in the grounds of Yasukuni Shrine, Tokyo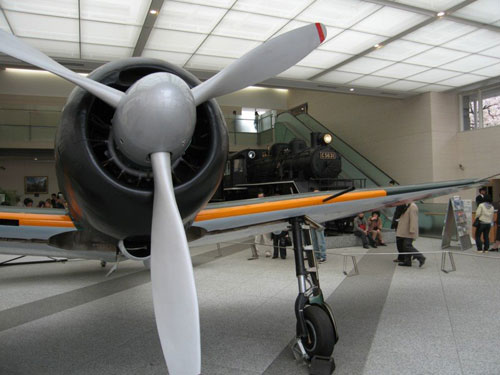 Zero Sen World War II fighter plane in Yushukan War Museum at Yasukuni Shrine
In the area outside the Yushukan War Memorial Museum are various statues paying tribute to every horse, every dog and other creatures that served in Japan's military in its various wars.
Other monuments pay tribute to Chief Justice Radha Binod Pal from India, who found all the defendants of the Tokyo War Trials not guilty on the grounds of victors' justice and the subsequent desire for vengeance, and to the wives and children of service personnel who served in the Imperial Japanese Army (IJA) overseas.
Another monument to Chief Justice Radha Binod Pal (1886-1967) stands at Kyoto Ryozen Gokoku Shrine, which honors the heroes of Japanese history, outside the Ryozen Museum of History in the city.
Nearby
A visit to Yasukuni Shrine and the Yushukan War Memorial Museum can be combined with other attractions in nearby Kitanomaru Park including the Budokan, the Science Museum and the Crafts Gallery. For a counterpoint to Yasukuni visit the Chidorigafuchi National Cemetery, which commemorates Japan's unknown soldiers. Also nearby is the Imperial Palace.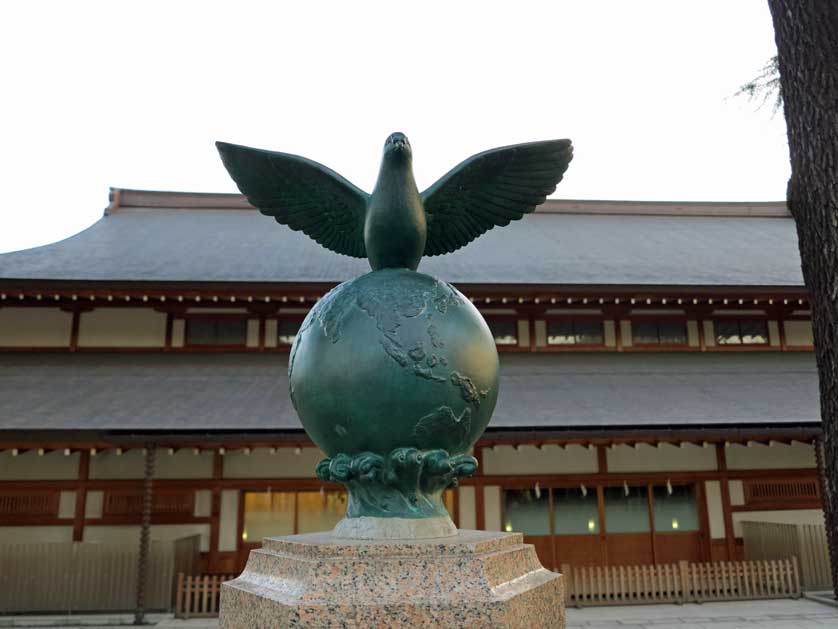 Statue of the dove of peace outside the Yushukan War Memorial Museum in the grounds of Yasukuni Shrine, Tokyo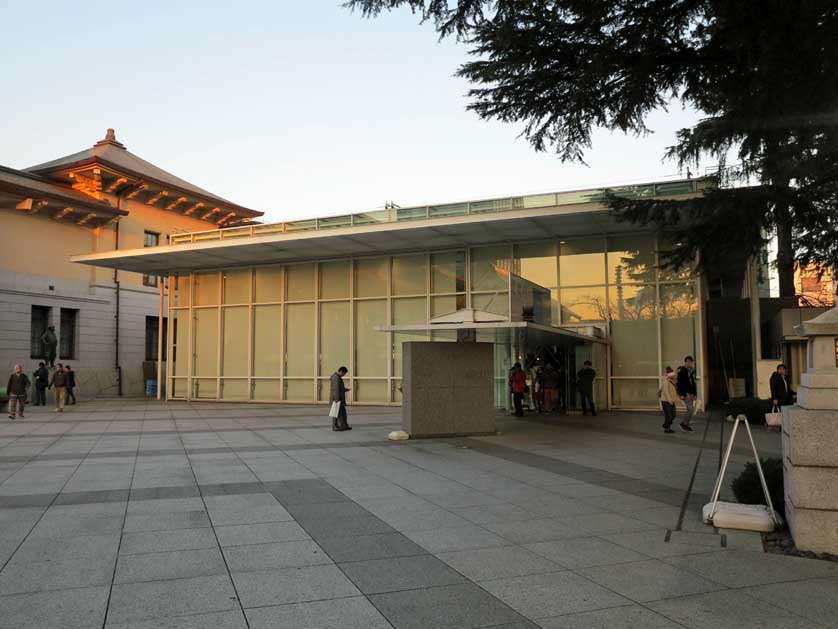 Entrance to the Yushukan War Memorial Museum in the grounds of Yasukuni Shrine, Tokyo

Book Hotel Accommodation in Japan Near Yasukuni Shrine, Tokyo
All the themes of the city