Tokyo's 5 Best twilight views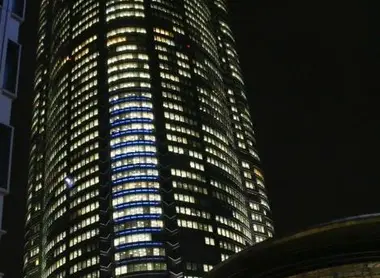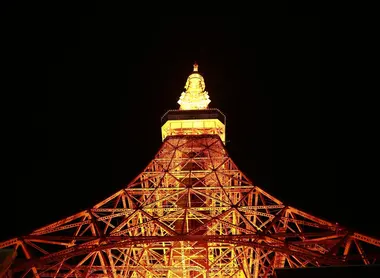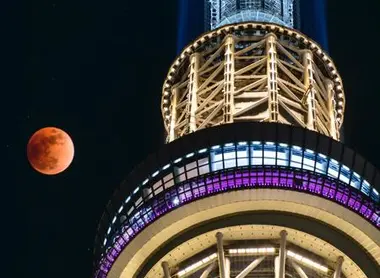 Higher the more beautiful!
Before exploring Tokyo at night, treat yourself to a view of the city after dark from a birds-eye-view... Here are the five most beautiful places to view Tokyo under the stars!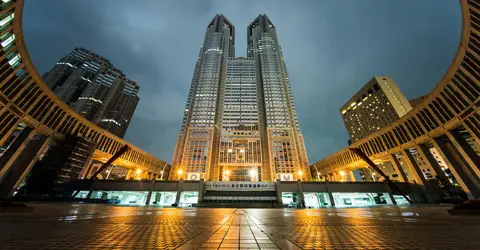 Located in the skyscraper district of Shinjuku, its two massive towers each have an observatory open to the public, and their respective elevators propel visitors to the 45th floor (202 meters high) in 55 seconds.
Access is free, and the views offer an extraordinary view of the surrounding buildings and even as far as Mount Fuji if the weather allows it.
Access: Tochomae Station (Toei) and Shinjuku Station (JR, Tokyo Metro, Odakyu, Toei, and Keio)
Address: 2 Chome-8-1 Nishishinjuku, Shinjuku, Tokyo 163-8001
Schedule: 9:30 am -11 pm.
Please note: the South Tower observatory is closed for renovations from September 1 , 2018 to spring 2019.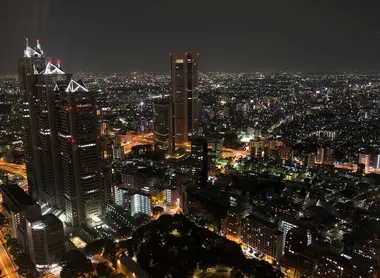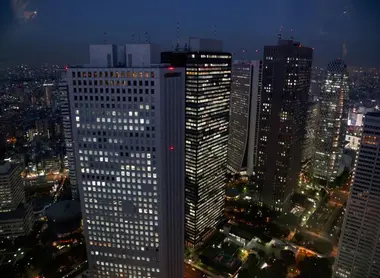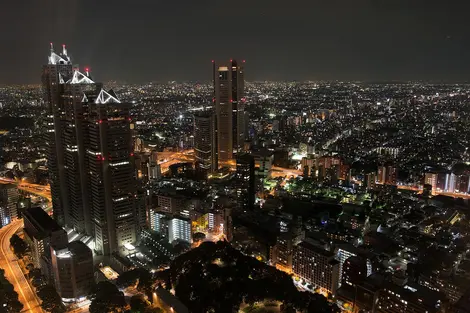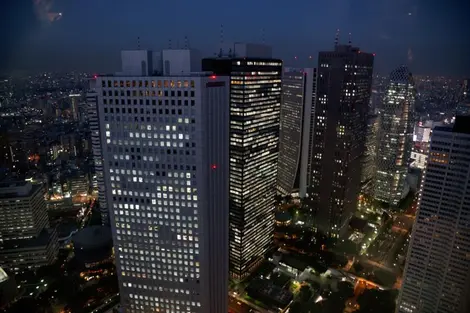 Roppongi is an area known for its nightlife. Before hitting the bars or venturing out to one of its many nightclubs, check out Mori Tower in Roppongi Hills.
We swoon in admiration from the huge bay windows on the 52nd floor of this 238-meter high skyscraper equipped with an observatory and restaurants and cafes with breathtaking views of the capital. But what makes this place unique is its Sky Deck (270 meters high) installed outdoors on the roof. The big thrill...
Access: Roppongi Station (Tokyo Metro and Toei)
Address: 6 Chome-10-1 Roppongi, Minato, Tokyo 106-0032
Schedule: 10 am-11 pm Sunday to Thursday; 10 am -1 am. Friday and Saturday; 11 am - 8 pm Sky Deck
Prices: Adult 1,800 yen ($15/13€); student 1,200 yen ($10.50/9€); child 600 yen ($5.25/4.50€); senior (+ 65 years old) 1,500 yen ($12.50/€11); Sky Deck 500 yen ($4.50/4€)
 
Official site: https://tcv.roppongihills.com/en/index.html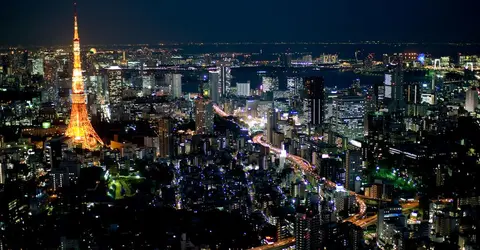 The long emblem of the capital, the famous Tokyo Tower ( 1958 ), has been robbed of the spotlight by the Tokyo SkyTree. What does it matter! The 360-degree views of the city are still breathtaking, especially at night. It has two observatories, respectively 150 and 250 meters high. The first platform is covered with a glass floor in some places. Do not hesitate to stick your forehead on the slightly curved windows for a unique sensation.
Access: Akanebashi Station (Toei), Kamiyacho Station (Tokyo Metro), Onarimon Station (Toei), and Hamamatsucho Station (JR)
Address: 4 Chome-2-8 Shibakoen, Minato, Tokyo 105-0011
Schedule: 9 am - 11 pm
Prices: Main observatory: adult 900 yen; student 500 yen; children 400 yen
 
Official site: https://www.tokyotower.co.jp/en.html
Please note: the second observatory is closed for work.
Having become essential, it has soared in the Tokyo sky since 2012. With its 634 meters, it is one of the tallest towers in the world. Its two observation platforms are located at 350 and 450 meters high, enough to make you dizzy while admiring the capital.
Be careful, though; the queues are also sometimes dizzying! If you have your passport, you can go to the ticket counter reserved for foreign tourists (Fast Skytree Ticket).
Access: Oshiage Station (Tokyo Metro, Tobu, Toei and Keisei)
Address: 1 Chome-1-2 Oshiage, Sumida, Tokyo 131-0045
Schedule: 8am-10pm
Prices: Tembo Deck (350m): 18 years and over 2,060 yen ($17.50/15€); 12-17 years old 1,540 yen ($13/10€); 6-11 years old 930 yen ($8/6€); 4-5 years 620 yen ($5.25/4€)
Tembo Galleria (450m): 18 years and over 1,030 yen ($9/7€); 12-17 years old 820 yen ($7.25/5.75€); 6-11 years old 510 yen (€4); 4-5 years 310 yen (€2.50)
Fast Skytree TicketTembo Deck (350m): 12 years and over 3,000 yen ($24.50/20€); 4-11 years old 1,500 yen ($13/10.50€)
Combo ticket (350m + 450m): 12 years and over 4,000 yen ($33/€30); 4-11 years old 2,000 yen ($17/14.50€)
 
Official site: http://www.tokyo-skytree.jp/en/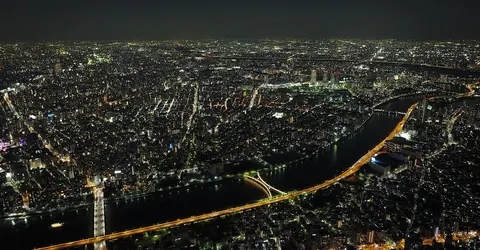 Do as Tokyo couples do, admire the capital and the Rainbow Bridge (which, as its name suggests, takes on the colors of the rainbow at nightfall) from the artificial island of Odaiba. A less plunging view but just as fascinating.
Access: Odaiba-Kaihinkoen Station, Yurikamome Line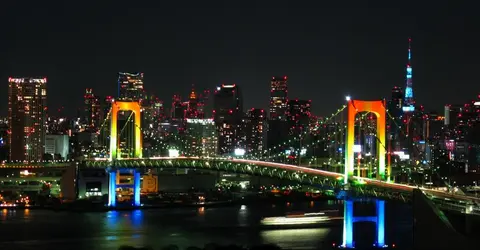 All the themes of the city