Kyu-Iwasaki Tei Gardens
Read a guide to Kyu-Iwasaki tei Gardens, once palatial home to the family that founded the Mitsubishi industrial group, in Tokyo's Taito ward.
Kyu-Iwasaki Tei Gardens Tokyo 旧岩崎邸庭園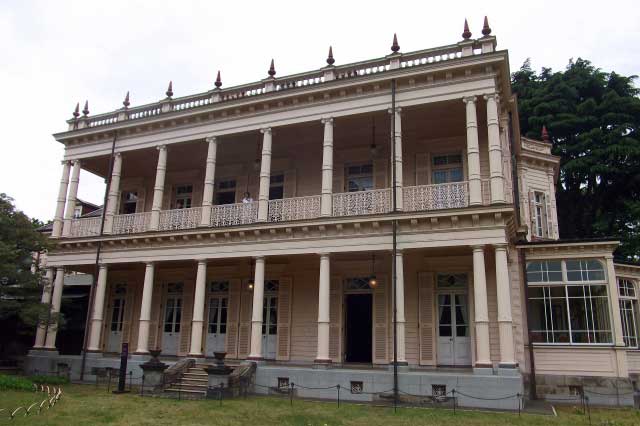 Kyu-Iwasaki Tei Gardens, in the Yushima district of Tokyo's Taito ward, is near Ueno Park, and features elaborate and elegant old wooden buildings that were the palatial home of Hisaya Iwasaki, the third president of Mitsubishi. They were built at the end of the nineteenth century, designed by the British architect, Dr. Josiah Condor.
History
Hisaya Iwasaki, son of the founder of the Mitsubishi group, Yataro Iwasaki, purchased this land in 1896, three years after becoming Mitsubishi's third president. He hired the British architect, Josiah Condor.
Condor was a lifelong resident of Japan, having come in 1877 under government sponsorship to teach architecture and modernize architectural design and building methods.
Iwasaki had just graduated from the University of Pennsylvania, therefore Condor worked into the design of the two-story guest house that is the main feature of the Gardens not only the Jacobean (i.e. English Renaissance revival) elements that formed one of his trademark styles, but Pennsylvanian estate house features, too.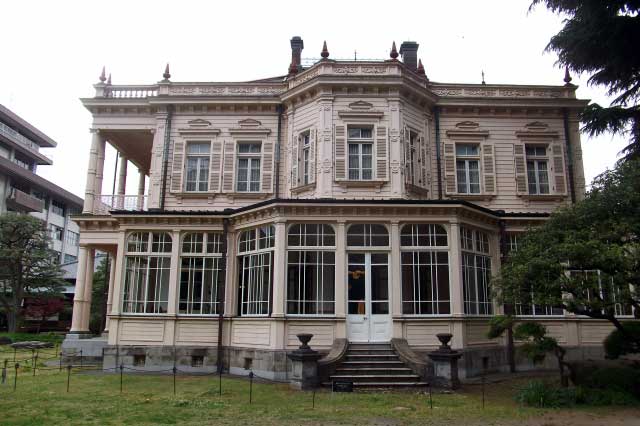 Kyu-Iwasaki-tei Garden & House, Tokyo
The whole project actually consisted of 20 or so buildings. The Iwasaki family and its almost fifty servants lived in a sprawling complex of Japanese-style quarters behind the huge imposing Western-style guest house. Of all that was built, only the guest mansion, the Swiss-style billiards house, and one Japanese-style structure remain - victim first to the US occupation, but more to the Japanese Department of Justice, which demolished nearly all the Japanese-style housing. The present grounds are now less than half their original size.
In 1961, the main mansion was saved by being recognized as an Important Cultural Asset status. This was extended to the whole property in 1999. Since 2001, it has been administered by the Tokyo metropolitan government.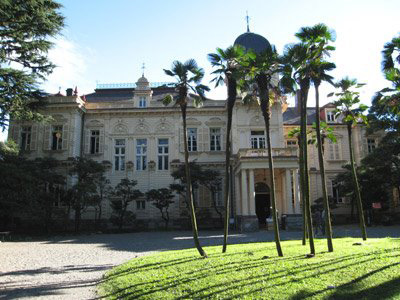 Kyu-Iwasaki-tei Garden & House, Tokyo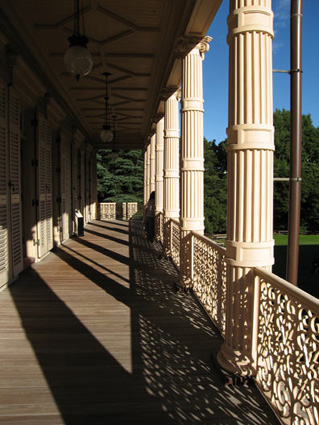 Wrought-iron balcony at Kyu-Iwasaki-tei, Tokyo
Layout
Kyu-Iwasaki Tei Gardens consists simply of grassy precincts with the three buildings described above.
The recently renovated guest house is the main attraction. Enjoy it for its stained glass windows, parquet floors, spiral staircase, and no less than fifteen different fireplaces, each a distinct work of art in itself.
Relax and enjoy the antique charm of it to the full with a cup of green matcha tea with confectioneries, served inside for 510 yen.
Hours
9 am - 5 pm, every day. Last admission 4.30 pm.
Closed 29 Dec - 1 Jan.
Admission
400 yen for adults; 200 yen for persons over 65.
Access to Kyu-Iwasaki Tei Gardens
From Yushima station (Chiyoda subway line), exit 1, 3 minutes.
From Ueno-hirokoji station (Ginza subway line), exit A3, 10 minutes.
From Ueno-okachimachi station (Oedo subway line), exit A3, 10 minutes.
From Okachimachi station (JR Yamanote line), exit A3, 10 minutes.
Kyu-Iwasaki Tei Administration Office1-3-45 IkenohataTaito-ku, Tokyo 110-0008Tel. 03 3823 8340
Nearby attractions
Across Kasuga-dori Street from the Kyu-Iwasaki Teien Gardens is the beautiful, ancient Yushima Tenjin Shrine.
Book Hotel Accommodation in Tokyo near Kyu-Iwasaki Tei Gardens
All the themes of the city