Yushima Tenjin
Yushima Tenjin Shrine: read a guide to Yushima Tenjin Shrine in Ueno, Tokyo, famous as a shrine for scholars.
Yushima Tenjin (Tenmangu) Shrine 湯島天神 天満宮
Yushima Tenjin (or Yushima Tenmangu) Shrine is Tokyo's most famous shrine of scholars. This picturesque shrine, its precincts full of trees, sits at the top of a slope in Tokyo's Ueno district, near Ueno Park.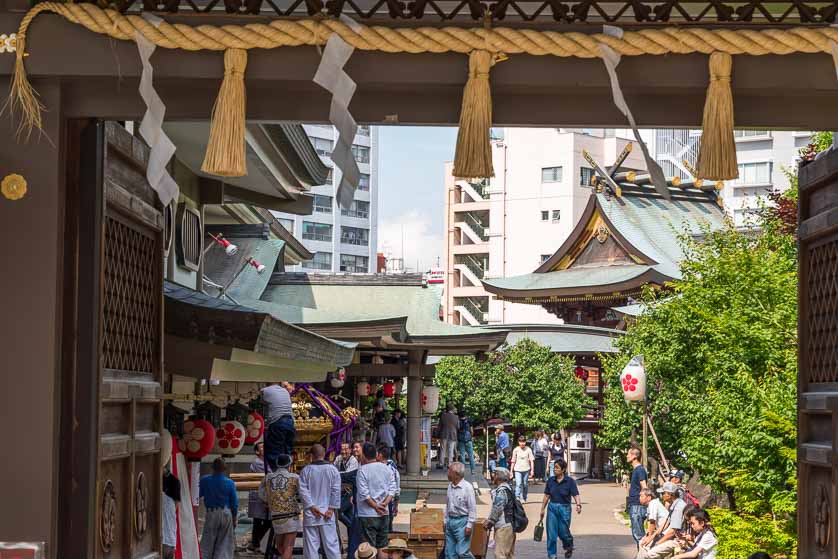 Yushima Tenjin Shrine

Yushima Tenjin History
This ancient shrine was founded in 458 CE for the worship of the god Ameno-tajikaraono-mikoto. Then in 1355, it became one of many "Tenjin" shrines throughout Japan - the most famous being Kitano Tenmangu in Kyoto.
Tenjin is the name of the deified spirit of the famous ninth century scholar Michizane Sugawara (845-903). Sugawara, a high government official, was originally deified in a placatory response to the natural disasters that hit the then capital, Kyoto, immediately after his death in what had been his politically motivated exile.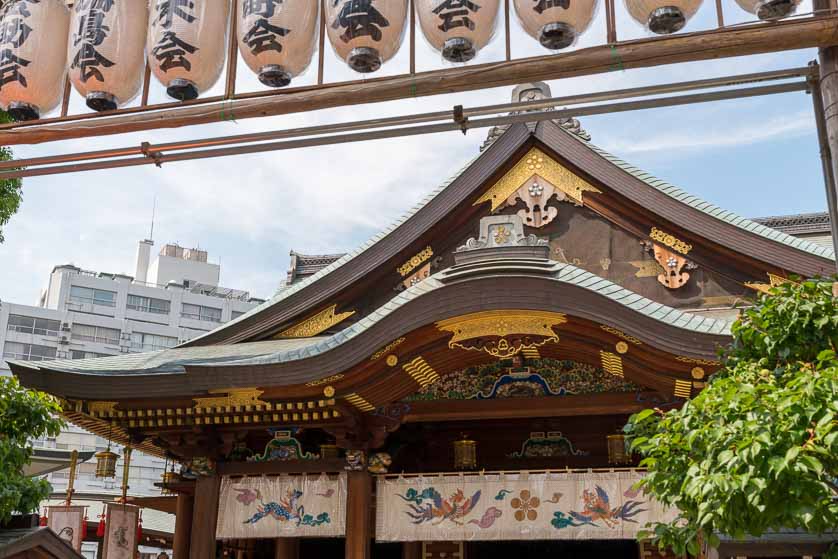 Yushima Tenjin Shrine, near Ueno Park, Tokyo
However, his reputation for learning eventually outshone his supposed power to bring natural disasters, and he became worshiped as the god of learning.
Yushima Tenjin, like all Tenjin shrines, is therefore visited by students to pray for passing grades in exams and inscribe ema - small wooden plaques - with petitions for exam success and entry to the university of their choice.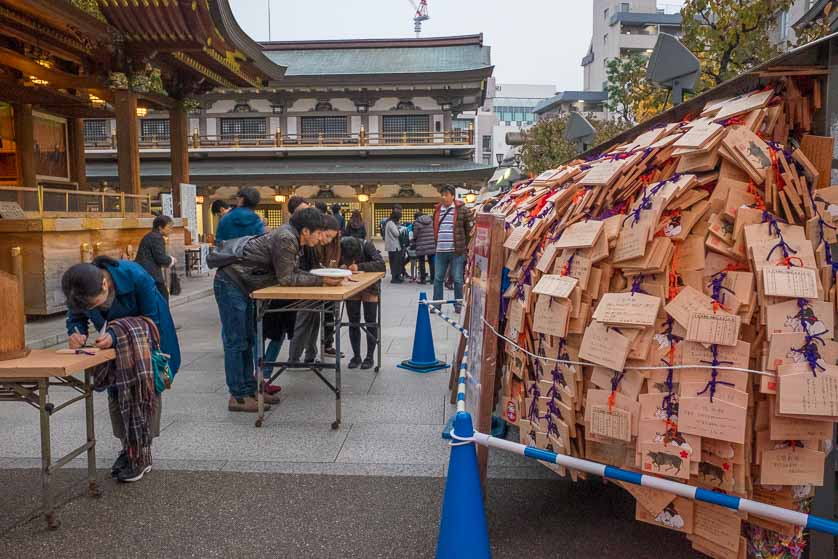 Ema votive plaques written by students at Yushima Tenjin Shrine
The shrine as it looks today dates back to 1478 when it was rebuilt by the warrior Ohta Dokan (1432-1486), who also constructed a castle on the site of the present Imperial Palace in Tokyo. The shrine buildings were last reconstructed in in 1995, in line with the Shinto tradition of periodically rebuilding shrines.
Yushima Tenjin Features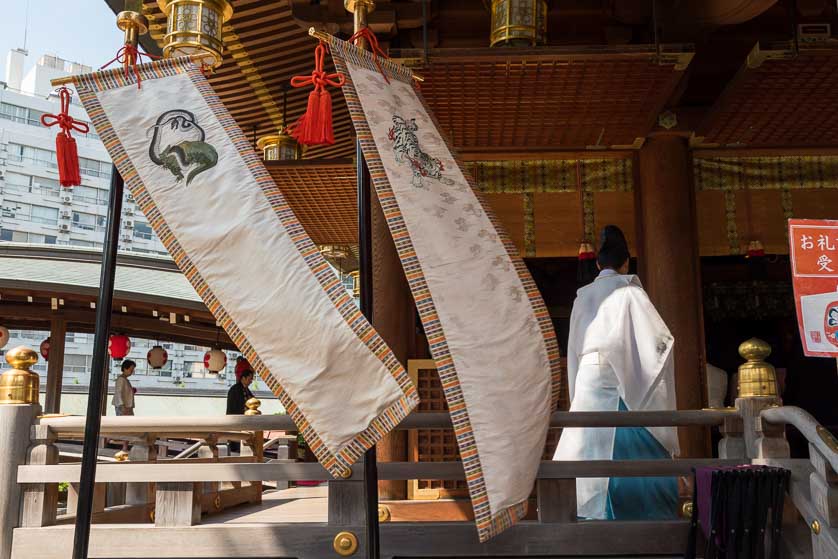 Ritual at Yushima Tenjin (Tenmangu) Shrine
Yushima Tenjin is built in the shaden style of architecture entirely from Japanese cedar. A notable feature of the shrine is the the brightly painted carvings of scenes from Japanese legend that adorn the buildings.
Yushima Tenshin is a scholar's shrine and is distinguished by the huge bundles of small wooden votive tablets, or ema, that hang on special racks in front of the shrine bearing petitions to Michizane Sugawara's spirit for success in examinations. Notable is the picture on the ema of Michizane riding a cow.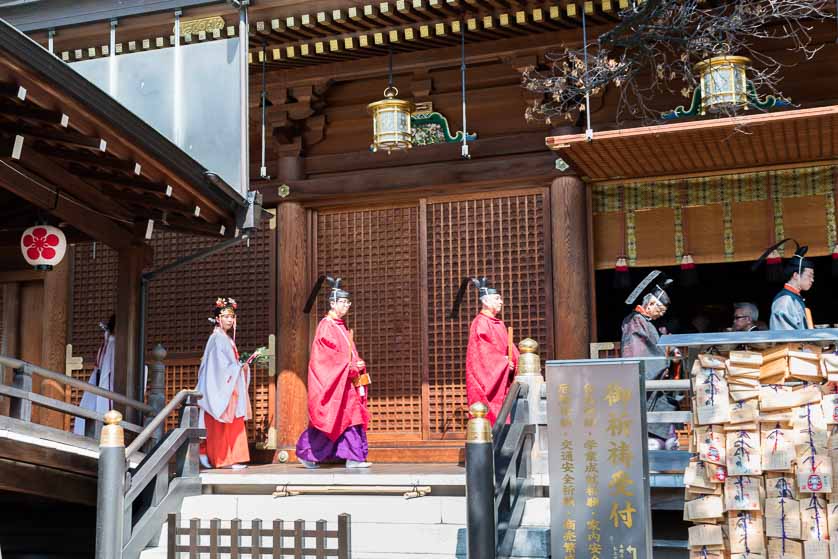 Religious procession at Yushima Tenjin (Tenmangu) Shrine
A little way past and to the right of the shrine entrance arch, or torii, is a covered area for washing the hands and rinsing the mouth, or temizuya. Beside it is a large bronze statue of a cow: a typical feature of a Tenjin shrine, as the cow is believed to be the servant of the god Tenjin. Known as a nade-ushi ("stroking cow"), it is also believed that touching the cow will cure physical ills.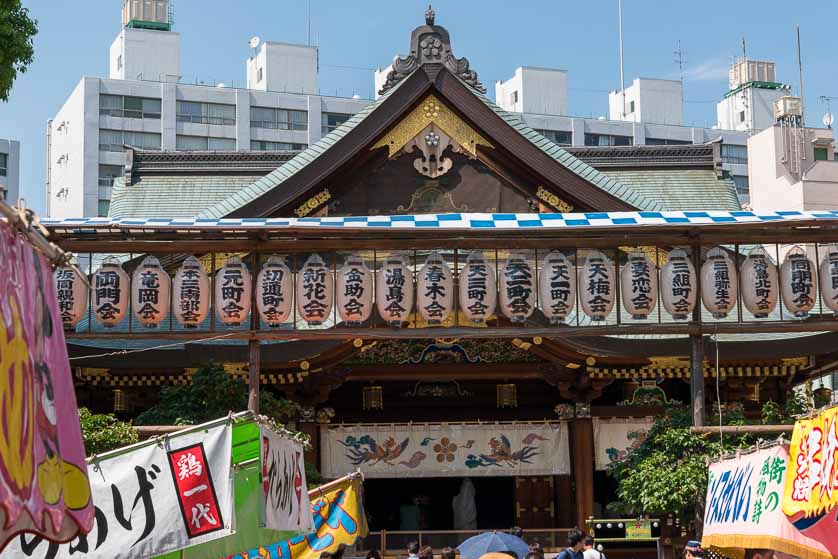 Yushima Tenjin Shrine on festival day
The Yushima Tenjin festival is held on 25 May. It is marked by drumming, dancing, and excited hoisting of Yushima Tenjin's portable shrine, or omikoshi.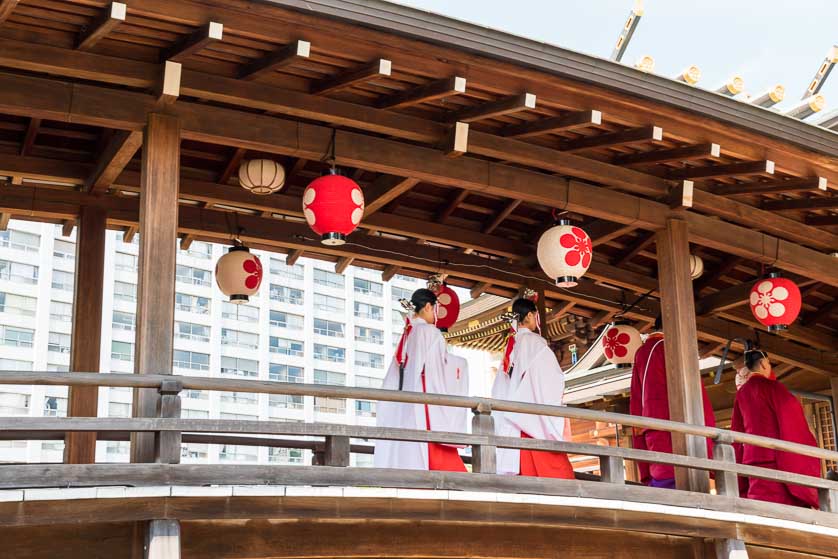 Priests crossing footbridge at Yushima Tenjin (Tenmangu) Shrine
The plum blossoms (ume) of Yushima Tenjin are a spectacle in spring. It has a blossom festival of its own in February, when the 300 trees of 20 different varieties are in full bloom. This may have something to do with the fact that Sugawara's first haiku, composed when he was only 5 years old goes:
"How beautiful the red plum blossom,
I wish to color my cheek with it."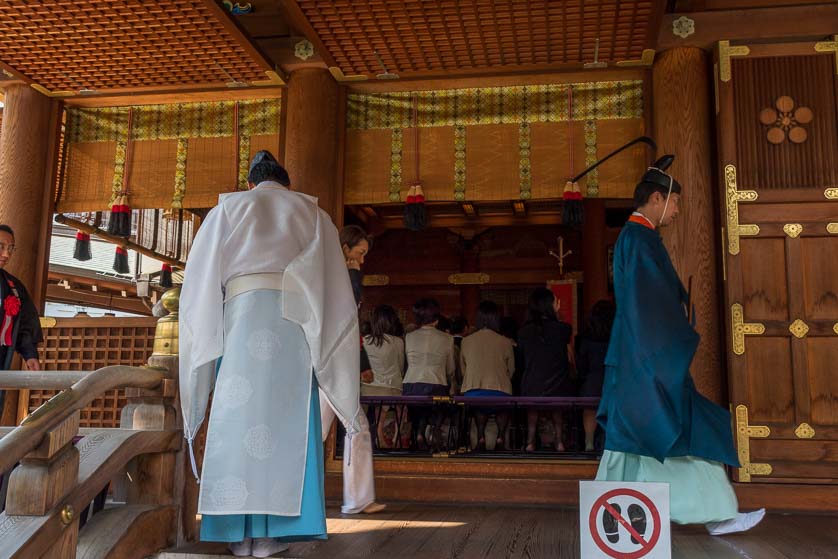 Shinto ritual at Yushima Tenjin (Tenmangu) Shrine
There is a small Japanese garden just behind the temizuya, but is for viewing only - not walking through.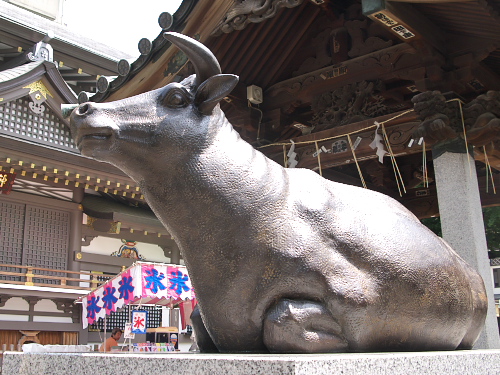 Nadeushi ("stroking cow") at Yushima Tenjin Shrine - believed to cure ills if stroked
Yushima Tenjin Access
Yushima Subway Station, Exit 3, Oedo and Chiyoda subway lines. 2 minutes walk.
Yushima Shrine3-30-1 YushimaBunkyo-ku, Tokyo113-0034Tel: 03 3836 0753
Google Map to Yushima Tenjin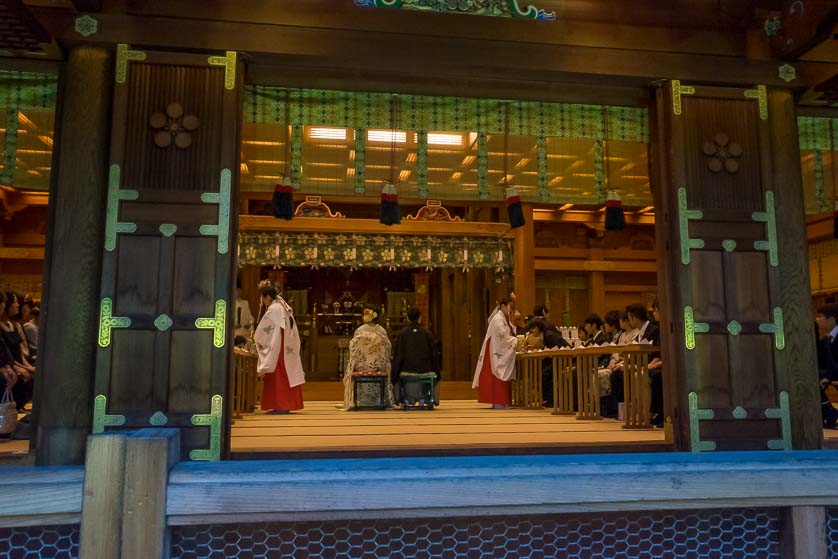 Inside main hall of Yushima Tenjin (Tenmangu) Shrine office
Hours
Open 6am - 8pm every day. (Treasure Building 9am - 5pm)
Attractions nearby Yushima Tenjin
Yushima Tenjin is close to a number of other attractions in the Ochanomizu area of Tokyo including Yushima Seido, Kanda Myojin and Reiunji Temple. Just across Kasuga-dori Road, behind the shrine, are the Kyu-Iwasaki Teien Gardens, the 19th century home of the founder of the Mitsubishi Group.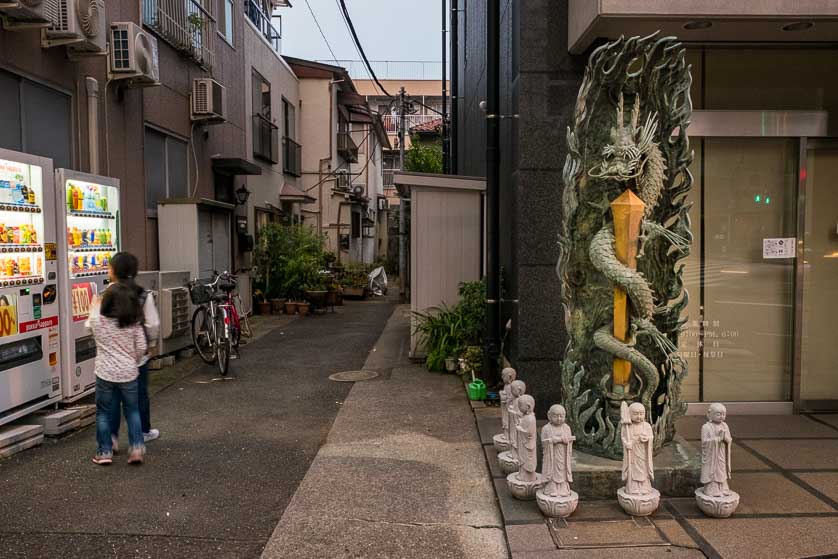 Dragon at Yushima Tenjin (Tenmangu) Shrine office
Map to Yushima Tenjin
See a Google Map to Yushima Tenjin. Search for "Yushima Tenjin" in the Larger Map.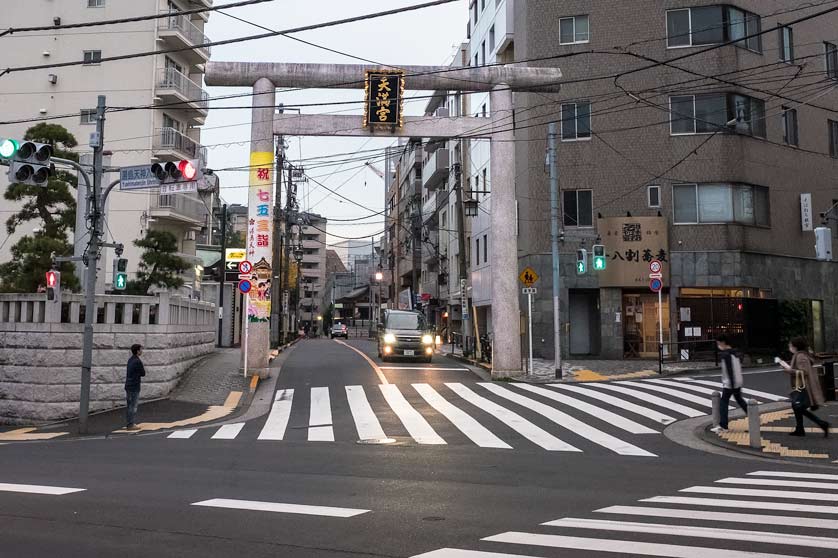 Stone torii entrance arch to Yushima Tenjin Shrine
Book Hotel Accommodation in Japan near Yushima Tenjin
All the themes of the city