Tokyo Green Spaces
Tokyo green spaces: see a listing of Tokyo's many gardens, public parks and green spaces including Ueno Park and Yoyogi Park.
Parks and Gardens in Tokyo
Tokyo is a city full of large parks and many delightful gardens. Ueno Park, Yoyogi Park, Shinjuku Gyoen and Hibiya Park are some of Tokyo's most icon open spaces, where Tokyoites flock on weekends and public holidays to relax, picnic or practice their myriad hobbies.
Tokyo is also a city with a number of formal Japanese gardens dating from the Edo Period (1603-1867) when feudal lords (daimyo) were required to spend one year out of two in Edo (present day Tokyo) as a form of control by the Tokugawa regime.
This system of sankin kotai meant that the daimyo built residences and adjoining gardens for themselves and their families - wives and children stayed behind in Edo when the feudal lords returned to their fiefs.
After the collapse of Tokugawa rule in 1868 many of these gardens reverted to government ownership and after World War II all of them were gradually taken over by Tokyo city authorities and fully opened to the public. One such garden even became the Hongo campus of Tokyo University, previously the Edo residence of the Maeda clan from Kaga Province (Ishikawa Prefecture).
Add to the mix the gardens of Tokyo's many hundreds of shrines and temples and Japan's capital really does have an enormous variety of pleasant open spaces to cherish and enjoy.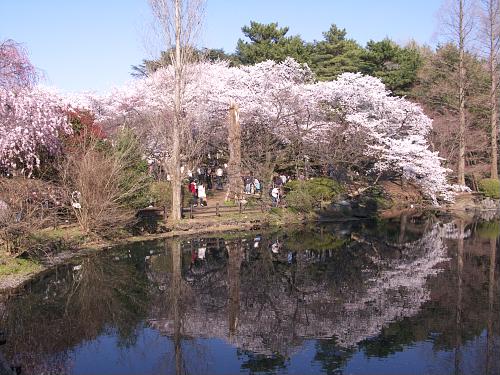 Cherry blossom on Nakanoike Pond, Shinjuku Gyoen, Tokyo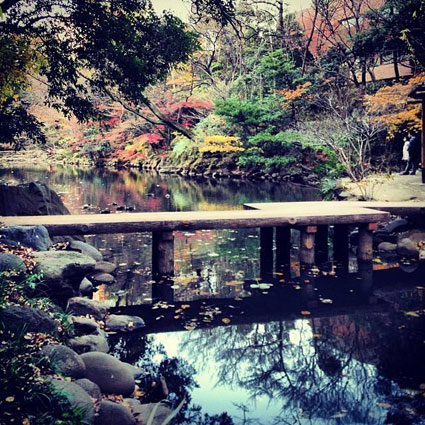 Sanshiro Pond, Hongo Campus, Tokyo University
Gardens, Green Spaces & Parks in Tokyo Listing
Arisugawa-no-miya Memorial Park
The "garden" of Arisugawa-no-miya Memorial Park is one of Tokyo's most enchanted woodlands.
Walking distance from Roppongi, in the chic district of Hiro-o (think embassies and cafes), Arisugawa-no-miya Memorial Park is in some ways a tranquil retreat, in other ways a virtual jungle, with a surprising amount of natural variety in a piece of land the size of just one city block.
Hama-Rikyu Gardens

Hama-Rikyu Gardens, moated and with historic tidal duck ponds, is located in the Shiodome area facing the Sumida River. A large tract of floral and sylvan beauty, and a naturist's delight in any season. Hama-Rikyu Gardens is also only a short walk from the smaller, nearby Kyu-Shiba Rikyu Gardens and both garden attractions can easily be seen in half a day of sightseeing.
Hibiya Park

Hibiya Park: a sprawling, elegant, woody park in the very heart of Tokyo, right next to the Imperial Palace and not far from Tokyo's ritzy Ginza shopping district. Amazingly rich in flora and fauna, Hibiya Park is Japan's first Western-style park. However, Hibiya Park's debonair calm belies a tumultuous history.
Kiba Park (Kiba Koen)

Kiba Park (Kiba Koen) is a large, multi-purpose park near the Kiyosumi-Fukagawa district of Tokyo's Koto ward.
Mostly wide open space, Kiba Koen is occupied by families strolling and boys throwing baseballs.
Kiyosumi Teien Garden

Kiyosumi Teien Garden, the landscape gem of Tokyo's Koto ward in the Kiyosumi-Fukagawa district, is an example of an ancient daimyo's (feudal lord's) pleasure ground.
Kiyosumi Teien Garden is a superbly laid out and an impeccably kept jewel of Japanese landscaping.
Koishikawa Botanical Gardens

Koishikawa Botanical Gardens, in Tokyo's Bunkyo ward, is full of beautiful natural and landscaped gardens, including remnants of Tokyo's old forests, and a centuries old medicinal herb garden. Centrally located in Tokyo's Bunkyo ward.
(NB Koishikawa Botanical Gardens is not to be confused with the Koishikawa Korakuen Gardens nearby.)
Koishikawa Korakuen Gardens

Koishikawa Korakuen Gardens was begun in 1629 by Yorifusa Mito, the first feudal lord of the Mito Tokugawa family and eleventh son of patriarch Ieyasu Tokugawa. Korakuen was completed by Mitsukuni Mito, Yorifusa's son. The garden is heavily influenced by Chinese garden design.The name - Korakuen - comes from a Chinese text and can translate as "garden for enjoying power later".
Kyu Furukawa Gardens

Kyu-Furukawa Gardens is a mix of an English country house with rose gardens and large, adjacent lawn designed by British architect Josiah Conder, with a lovely Japanese-style garden, the work of Kyoto-based landscape designer Ogawa Jihei, aka Niwashi Ueji (1860-1933). The historic brick and slate, Meiji-era house is now the Otani Art Museum in Tokyo.
Kyu-Iwasaki Tei Gardens
Kyu-Iwasaki Tei Gardens, in the Yushima district of Tokyo's Taito ward, is near Ueno Park and features elaborate and elegant old wooden buildings that were part of the palatial residence of Hisaya Iwasaki, the third president of Mitsubishi. The houses at Kyu-Iwasaki Tei were built at the end of the nineteenth century, designed by the British architect, Dr. Josiah Condor.
Kyu-Shiba Rikyu Gardens

This gem of a garden, translated as the "Shiba Detached Palace Garden," is, along with Koishikawa Korakuen Garden, one of Tokyo's few surviving clan gardens from the Edo Period. Kyu-Shiba Rikyu Gardens is an oasis of serenity and elegance in the hardfaced, small-business milieu of the Hamamatsu-cho area. Kyu-Shiba Rikyu is also only a short walk from nearby Hama Rikyu Gardens and both attractions can easily be seen in half a day.
Mukojima Hyakkaen Garden

Mukojima Hyakkaen Garden in Sumida ward, north-eastern Tokyo, is one of Tokyo's few remaining historical gardens from the Edo era.
This quite small garden is skillfully laid out in a natural style, giving it the feel of a much bigger natural expanse. Its variety of trees and flowers ensures that Mukojima Hyakkaen Garden is looking good whatever time of year.
Rikugien Garden

Rikugien Garden was created in the early 18th century by Yanagisawa Yoshiyasu (1658-1714), an associate of the shogun of the day, Tokugawa Tsunayoshi, the fifth Tokugawa shogun, who donated the land. Rikugien is an Edo-period, landscaped, strolling garden covering ten hectares with a large pond and island, with a hill covered with a dense grove of ancient trees. Rikugien is considered one of Tokyo's most beautiful gardens.
Shakujii Park

Shakujii Park in Tokyo's Nerima ward is a sprawling area of unspolit nature surrounding two large ponds: Shakujii Pond at the eastern end of the park and Sampoji Pond at the western end. Full of natural beauty, Shakujii Koen Park is great for bird watching, and houses the ruins of an ancient castle.
Shiba Koen (Shiba Park)

Shiba Park, is close to Tokyo Tower and Zojoji Temple and is, in fact, Japan's oldest public park, designated as such way back in 1873 at the beginning of the Meiji Period.
Once the Tokyo garden of the Okubo clan in the Edo Period, this city center park is home to the ancient Maruyama burial mound (kofun), one of the biggest in Tokyo at 110 meters (361 feet) long and the Toshogu Shrine.
Shinagawa Kumin Park

Shinagawa Kumin Park, in Tokyo's Shinagawa ward, is one of Tokyo's best kept park secrets. This 13-hectare blend of different types of scenery, hundreds of trees, and large saltwater lake, Shinagawa Kunin Park is a must-visit for any park-lover, especially those with children in Tokyo.
Shinjuku Gyoen Park

Shinjuku Gyoen Park: an ancient feudal estate that has maintained its integrity, Shinjuku Gyoen Park was redesigned by a Frenchman to reflect the best of Eastern and Western outdoor aesthetics, and is now a meandering idyll of peace and quiet, and stunning seasonal beauty, in the midst of one of Tokyo's most commercially manic districts.
Todoroki Ravine Park 等々力渓谷公園

Todoroki Valley Park (Todoroki Ravine Park): is touted as Tokyo's only valley, where just walking down the 50 or so steps into the valley from the Golf Bashi Bridge will result in about a three degree (three Celsius, 5.5 Fahrenheit) drop in your surrounding temperature. You can leisurely stroll along the quiet stream (called the Yazawa River), cross under a couple of bridges, listen to the songbirds, cross back over the stream a time or two and feel you have escaped the worst of the Tokyo heat. In November, the area is pleasant to visit for its autumn colors.
Ueno Park

Ueno Park is the mother of Tokyo parks and gardens and is almost synonymous with the Ueno area. Just east of elegant Bunkyo ward, Ueno Park is located in Tokyo's 'shitamachi' (working & merchant class). Ueno is a large area full of natural and cultural beauty. As well as a zoo, it has the most museums in any one area in Japan, and the surrounding area has the highest concentration of temples in Tokyo. Art, history, science, religion, culture, and a Rodin Garden.
Yoyogi Park

Yoyogi Park in Tokyo's Shibuya ward is one of Tokyo's biggest parks, and by far its freest and easiest, open all hours for (almost) whatever takes your fancy. Great for strolling, picnicking, partying, sunbathing, exercising, and people watching. Yoyogi Park includes cycle hire and tracks, special space for dogs, and more.
Yume no Shima ('Dream Island') Park

In Tokyo's industrial Koto ward bordering Tokyo Harbor, Yume no Shima Park is a splash of freshness in a landscape of gargantuan blank-faced warehouses. Yume no Shima began life as a landfill and dumping ground, but was rescued from this poor fate in 1972 when it was decided to make it into a park. It is now a verdant space covered mainly with eucalyptus trees and enjoyed by strollers, sketchers, picnickers, sunbathers, and anyone else seeking refuge from the bustle.
Book Hotel Accommodation in Tokyo
All the themes of the city