Michiba Washoku Tateno
Read a review of Michiba Washoku Tateno, a Japanese kaiseki restaurant in Ginza, Tokyo.
Michiba Washoku Tateno: Japanese kaiseki restaurant in Ginza, Tokyo
Reviewed by Lukas Kratochvil
Enthusiastic about the famous kaiseki set menu experience, but put off by the price tag? There is a solution: lunch at Michiba Washoku Tateno in Ginza.
The Ginza district boasts the best high-end kaiseki restaurants in Tokyo, usually with prices to match. Tateno however offers a premier kaiseki experience priced embarrassingly low at 3,150 yen.
Greeted by the jovial chef at the entrance of this 46 seat establishment, we were led to our table in a private area partitioned off from the rest of the restaurant. I was accompanied by first time visitors to Tokyo who were anxious to test the compatibility of their palates and classical Japanese cuisine.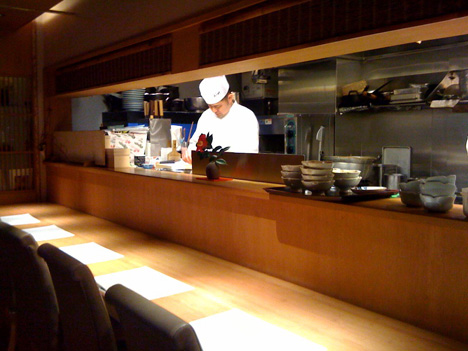 The appetiser was an immediate success. My friends had expressed some reservations about 'bland' tofu before we entered the restaurant. Tateno's offering was anything but: made with green peas, this was tofu on steroids that combined well with its accompaniments of ground boiled shrimp, fresh young ginger and mild kelp and bonito broth. The flavours were subtle, but not bland, and the pink of the shrimp and Hulk-like green of the tofu were visually pleasing.
Next up was suppon sui, mushirimi shinjou to yakinegi (clear soup with soft shell turtle, fish dumpling and grilled spring onion). I tactfully refrained from explaining to my friends that they were eating turtle. They enjoyed the unusual combination of dark and light meat of snapping turtle, which had the texture of frogs' legs and harmonised well with a similarly textured, subtly flavoured fish ball. The sweet smokiness and crunchy texture of the grilled spring onion provided a welcome contrast.
A trio of small dishes followed. Sashimi of lean tuna and snapper was very fresh but ultimately unremarkable. Shingobo to sansai no goma-ae (new burdock and wild vegetables dressed in sesame sauce) was very tasty, though slightly dominated by the sesame sauce. The burdock shone through, but the wild vegetables did not quite stand up to the sauce.
The nimono awase, a cooked dish consisting of takenoko (bamboo shoots), iidako (baby octopus), fuki (giant butterbur) and young leaves of sansho (Japanese pepper), reminded me why I love Japanese food so much. The vegetables were seasonal and sourced from the best regions in Japan. Anyone who has ever eaten a fruit tomato in Japan will appreciate just how remarkable vegetables often taste in this country. The sansho leaf tasted characteristically perfumed and citrusy an extraordinary flavour that doesn't quite compare to anything else. The iidako provided a textural contrast, but its subtle flavour lost out to the vegetables.
Following the traditional order of kaiseki courses, we were next served a vinegared dish, mozuku jyure shitate, kyuri to pakurika (seaweed cooked in jelly with vinegar, soy sauce, cucumber and paprika). The vinegar and cool cucumber made this an exceptionally refreshing dish with an interesting textural contrast between the cucumber and the dare I say it rather slimy seaweed.
Finally, the starches arrived: sakura-ebi to negi zaasai no pirikara wafuu tantan udon (udon noodle in spicy sesame soup with prawn, spring onion and Szechuanese pickles). This was a twist on Chinese classic, spicy tantan men (noodles) from Szechuan province. Japanese udon noodles were used in combination with prawns instead of ground meat, and a healthy dose of sesame paste had been added to the customary chilli oil and Szechuan pepper powder. Unusually spicy for a kaiseki course, this was an unexpected and very welcome surprise. This spicy dish was balanced out by the mild ochazuke, a Japanese classic (plain white rice in green tea it does not get any more Japanese).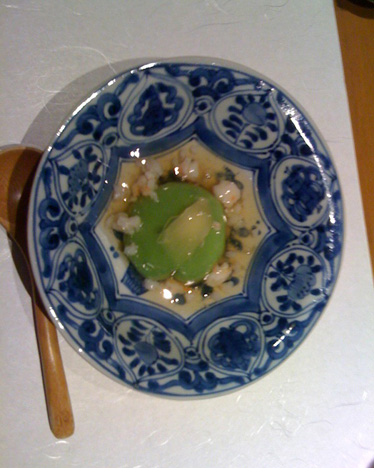 Our meal was rounded off with a small and characteristically forgettable dessert of green tea ice cream. Kaiseki desserts rarely dazzle with originality, and this one was no exception.
We left tremendously satisfied at a balanced and flavoursome meal at a fraction of the price normally associated with kaiseki cuisine.
More elaborate lunch options are available at 5,250 yen and 6,300 yen. However, I will next try some of Tateno's dining options; on offer are set menus at 10,000, 12,000 and 15,000 yen as well as a special snapping turtle set menu at 15,000 yen and, from November to March, a Fugu (blowfish) set menu priced at 15,000 yen. The wine list is good but very limited; the sake list on the other hand is exquisite and matches classical kaiseki dishes beautifully.
Name: Michiba Washoku Tateno
Address: 東京都中央区銀座7-6-10アソルティ銀座花椿通りビル6階6F, 7-6-10 Ginza, Chuo-ku, Tokyo
Subway: Ginza (Marunouchi Subway Line 6 mins)
Yurakucho (Yurakucho Subway Line, JR Line 6 mins)
Shimbashi (JR Line 6 mins)
Phone: +81-3-6252-5000
Website: http://tateno.info
Opening times: Mon - Sat 11:30 a.m. 3 p.m.; 5 p.m. 11 p.m. (closed Sun)
Credit cards? Yes
Foreigner friendly? Friendly service, but no English spoken and no English menu
Non-smoking section? Lunch time: all non-smoking; dinner: all smoking
More Tokyo restaurant reviews by Lukas Kratochvil.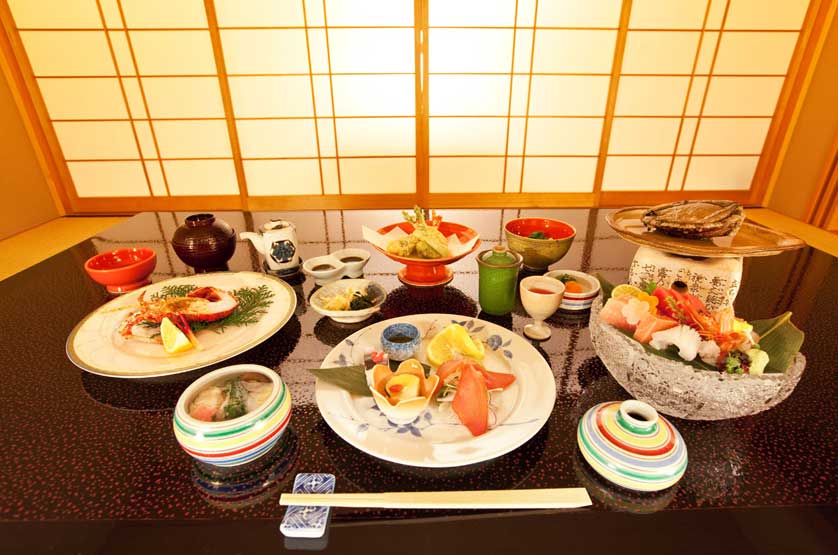 All the themes of the city