Onoterusaki Shrine
Onoterusaki Shrine in Taito ward, east Tokyo, is a shrine with its own "Mt. Fuji" and is visited by entertainers and scholars to pray for success.
Onoterusaki Shrine 小野照崎神社
Onoterusaki Shrine is a shrine in Taito ward, Tokyo, that is famous as a shrine for actors and scholars seeking advancement, and for its miniature "Mt. Fuji."
The shrine is dedicated primarily to the scholar-courtesan and poet, Ono-no-Takamura (802–852 AD) from the Heian era of Japanese history when courtly culture flourished.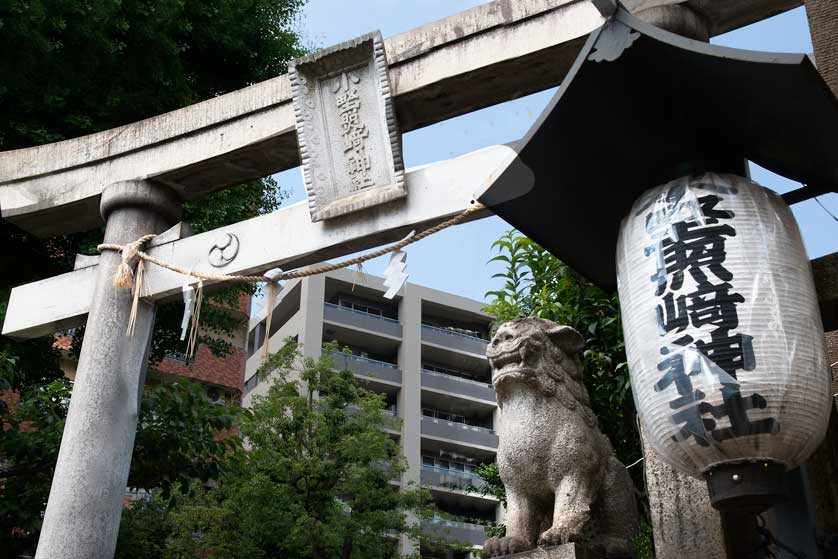 Entrance gate to Onoterusaki Shrine, Taito ward, Tokyo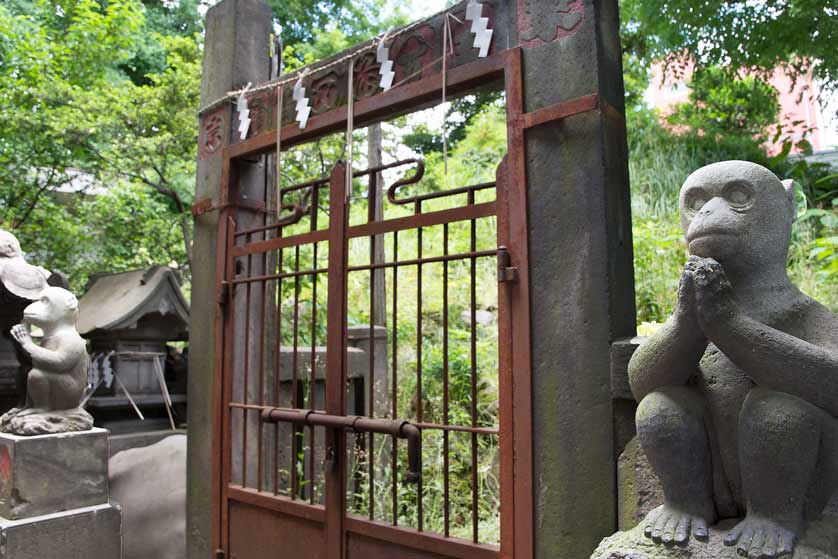 Gate of "Mt. Fuji" at Onoterusaki Shrine, Tokyo
Ono-no-Takamura combined rashness and wit, the latter at least once saving him from the Emperor's wrath when the former got the better of him. His literary brilliance, quick mind, and a certain rebellious streak he is said to have had, have earned him a reputation as the guardian of actors and others in the world of entertainment, who come here to pay their respects and pray for success. Those trying to quit smoking also come to Onoterusaki Shrine to pray for release.
14 other kami (gods, or the spirits of the dead) are enshrined here, too, in no less than seven sub-shrines on the premises. Among them is another Heian luminary, Sugawara no Michizane (845–903), now known as Tenjin, or the god of learning.
Ono no Terusaki Shrine History
Onoterusaki Shrine is said to have been founded in 852, upon the death of Ono-no-Takamura, whom it is dedicated to. It was located in Ueno at the time, and moved about eight centuries later to make way for the building of Kan'eiji Temple. It eventually found its way to its present site in 1866, and survived both the earthquake that ravaged Tokyo in 1923 and Second World War bombing.
Miniature Mt. Fuji
In 1828, stones from Mt. Fuji were brought here to build an approximately 6-meter high representation of Mt. Fuji on the grounds. Gated and guarded by stone monkeys, the shrine's Mt. Fuji is open only once a year.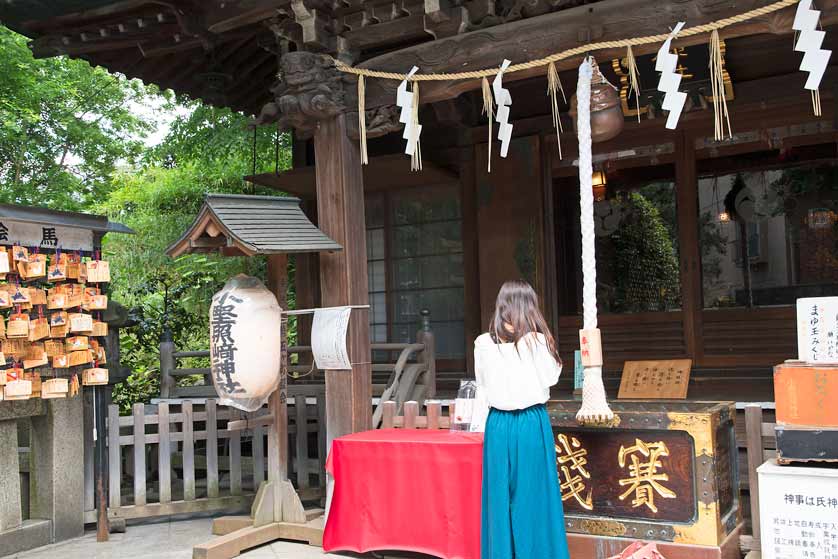 Praying for success at Onoterusaki Shrine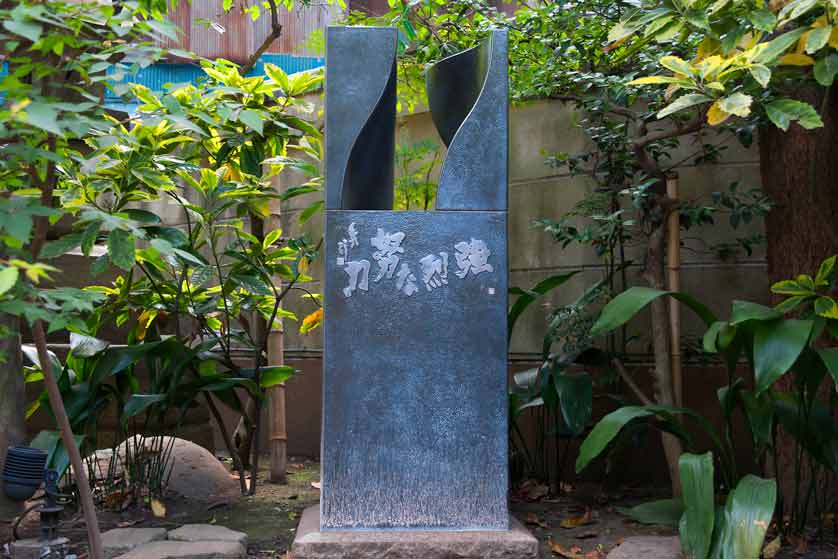 "Intense Effort" go game monument
Also on the grounds is a monument in the form of a big go piece dedicated to the legendary go player, Hideyuki "The Monster" Fujisawa, with the inscription, "Intense Effort" - revealing the scope of the shrine's fan base.
Festivals
Onoterusaki Shrine's main festival is on the third weekend of May. On June 30 and July 1, the shrine's "Mt. Fuji" is opened for people to climb.
Access
Iriya Station on the Hibiya Subway Line, Exit 4, 3 minute's walk
Uguisudani Station on the JR Yamanote Line, South Exit, 7 minutes' walk
2-13-14 Shitaya, Taito-ku, Tokyo 110-0004
Nearby Onoterusaki Shrine
Ueno Park is about 10 minutes' walk from Onoterusaki Shrine, and is home to numerous museums, temples, a lotus pond and a zoo.
The beautiful old Yanaka district is one train stop away (from Uguisudani Station to Nipport Station's South Exit on the JR Yamanote Line).
Map of Onoterusaki Shrine
The following is a map of Onoterusaki Shrine and nearby features.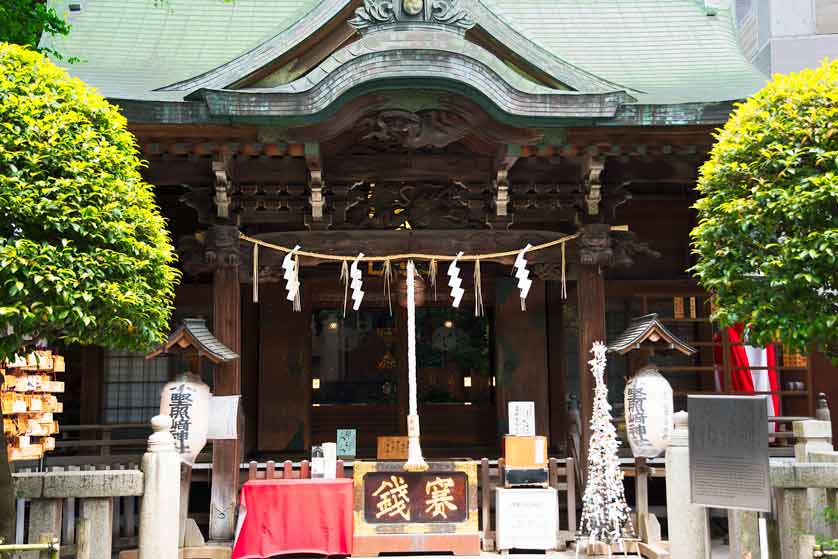 Main building of Onoterusaki Shrine, with ema votive plaques at left
Book Hotel Accommodation in Japan near Hirakawa Tenmangu
All the themes of the city