The Kita-ke house
喜多家住宅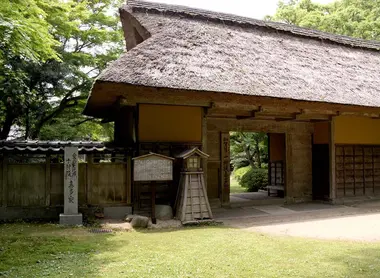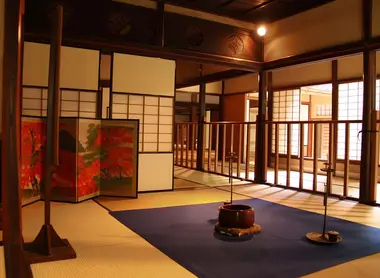 Villa of the past
The Kita-ke residence belonged to the Kita family, which was very powerful at the beginning of the 19th century. With its thatched roof, it is typical of buildings in this region of Japan, located south of Kanazawa and the Noto Peninsula.
With its architecture and its astonishing history, the Kita-ke residence deserves a closer look. It has also, for these two reasons, been classified as an important national cultural property a few years ago by the Japanese government.
See also: Important Cultural Properties of Japan
The Kita-ke house therefore belonged to the Kita family, who oversaw the Kaga region around the 1800s . As administrator of the area (the family administered more than 200 surrounding villages), the house, particularly vast, combines both personal spaces, to which only the family had the right to access, and others, public. , where could be invited samurais or even farmers or inhabitants of the surroundings. The Kita-ke residence can now be visited in its entirety , and is doubled by a museum where visitors can admire works of art, crafts, ceramics or even period weapons.
A SINGULAR HOUSE
The Kita-ke residence is built on low ground, in order to avoid being noticed and provoking the reigning family of the time by building on the heights of the city. Inaugurated around 1803, it has a thatched and gabled roof, typical of the Noto region . Another peculiarity, there are, on the same face of the building, four different entrances which were used: by the head of the family, the samurai, the members of the family and the servants. Each therefore had its own door and it was strictly forbidden to use another.
But that's not all. The most attentive will notice that the rooms that were occupied by the head of the family are a little higher (about twenty centimeters) than the others. A way to show his power . Finally, the walls of the hall of the house, the first room that we take when we come back, are almost 3 meters wide, which makes it possible to prevent gunfire from crossing the wall and reaching the heart of the house.
A FABULOUS GARDEN
Completely restored , the house is furnished in pure traditional Japanese style , with tatami floors and sliding partitions. It consists of 16 bedrooms , a kitchen, but also large rooms for grievances where the master of the place received the farmers.
The icing on the cake, this house has a fantastic garden , particularly filled with moss, which earned it its nickname of "Noto moss temple", in homage to the well-known Kyoto moss temple .
---
Address, timetable & access
Address

Timetable

This residence is approximately 1 kilometer from Komedashi Exit on the Noto Toll Road.By train, take the JR Nanao Line to Menden Station, then walk 20 minutes.

Price

Adult: 400 yen (3.10 €) - Child: 200 yen (1.55 €)

Access

8:30 a.m. - 5 p.m. from April to October 8:30 a.m. - 4 p.m. from November to March
All the themes of the city