Tokyo: Zauo Restaurant
釣船茶屋ざうお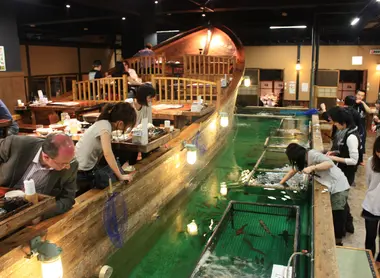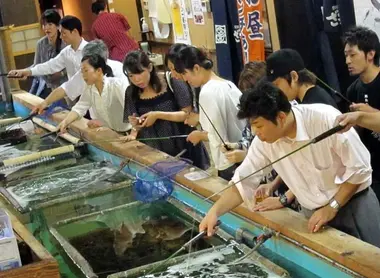 Fishing for your dinner
Among the many themed restaurants that Tokyo has to offer, Zauo is without doubt the one that offers the most curious: rediscover the joy of tasting the fruit of your efforts by catching your own fish!
Zauo is originally a restaurant chain from Fukuoka, but now has three restaurants in Tokyo: Meguro, Kamuro, and the largest and best located one in Shinjuku.
As soon as one enters, the stage is set. A large boat is placed in the middle of the room surrounded by a basin where your future meals frolic. This is where the best tables are, which will need to be booked, while others will have to content themselves with tables surrounding the pool.
It is advisable not to arrive at Zauo hungry as you will need to fish your own meal, which can take longer than expected. Upon your arrival, the servers will provide you with a fishing rod and some bait (shrimp are available for 100 yen). Then you must go in search of your prey. Once you have hooked your dinner, you will have a net to capture the slippery fish. During this, all restaurant staff will begin a song celebrating your achievement.
However, a sign warns you of the restaurant's policy: you can not release what has already been caught. That is to say, you'll have to eat what you catch, even if you only wanted the bream, but accidentally caught the most expensive fish in restaurant. The invoice of the meal may well amount unexpectedly to 6,000-16,000 yen.
Once the fish delivered to the servers, you can tell them how you would like your fish: grilled, simmered, in sashimi or sushi (for a small fee). The purpose of this restaurant is to make you appreciate the taste of fresh fish.
What if you do not catch anything? No need to fret, a classic menu where you just order what you want is still available. This is the ideal solution for those who are extremely hungry, but is more expensive than catching your own fish. Many usually order an appetizer while they wait for the fish to bite.
The Japanese are fond of angling as a hobby. Zuao meets this existing demand and offers the opportunity for a completely unexpected entertainment in a big city. The final bill may also be unexpected, but this is also part of the entertainment.
---
Address, timetable & access
All the themes of the city