Buses in Japan
Japan buses: read a guide to using city and local buses in Japan, including information on buses in Tokyo, Kyoto and other large towns.
Local Buses in Japan 日本においてのバス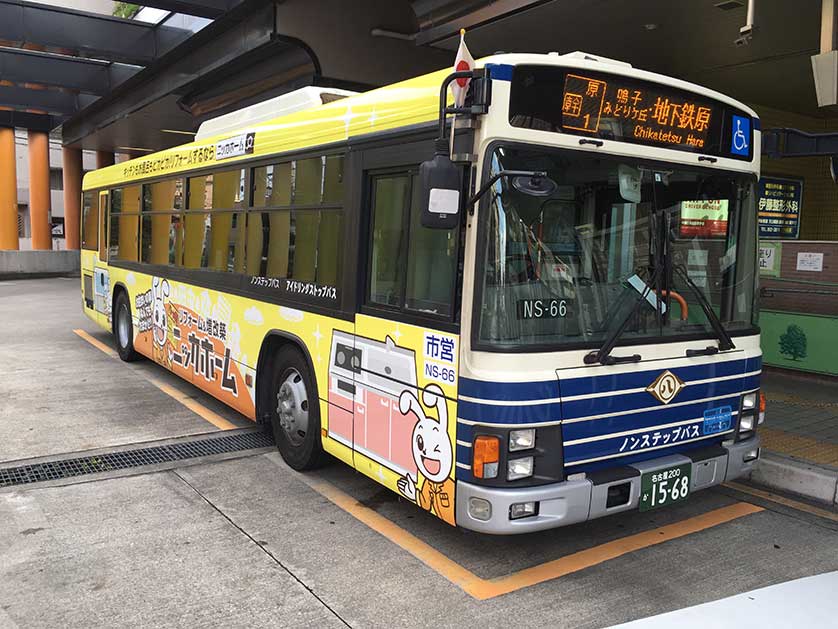 Nagoya City Bus at Hara Station on the Tsurumai Line, Nagoya
Japan has an efficient system of city, local and highway buses.
Japanese city buses usually radiate out from the central railway station, as in Kyoto, for example, where Kyoto Station is a major terminus for local buses in the city.
Fares for Japanese city buses vary but usually increase with the distance traveled. Some cities operate fixed fare buses running a circular route around the city center.
In cities with extensive subway systems such as Tokyo, Osaka, Sapporo, Fukuoka, Kobe and Nagoya, buses supplement the exiting metro and run to and from subway and mainline railway stations. In Kyoto, which has only two subway lines, buses form the main city transport network as they do in cities such as Nara and Niigata. Both Nagasaki and Hiroshima have retained their trams which are supplemented by city and local buses.
The outer suburbs of Japan's big cities are often served by fixed price micro-buses, known as くるりん buses that follow a circular route stopping at hospitals, shopping malls, supermarkets and local government offices and are meant to serve elderly passengers with no access to cars.
One day passes (ichi-nichi-josha-ken) for both subway and city buses can be purchased, as in Nagoya and Kyoto, and cities may run free schemes for senior citizens, as in Kyoto.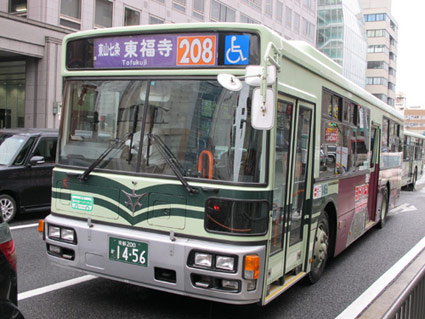 The #208 bus service in Kyoto runs out of Kyoto Station along a circular route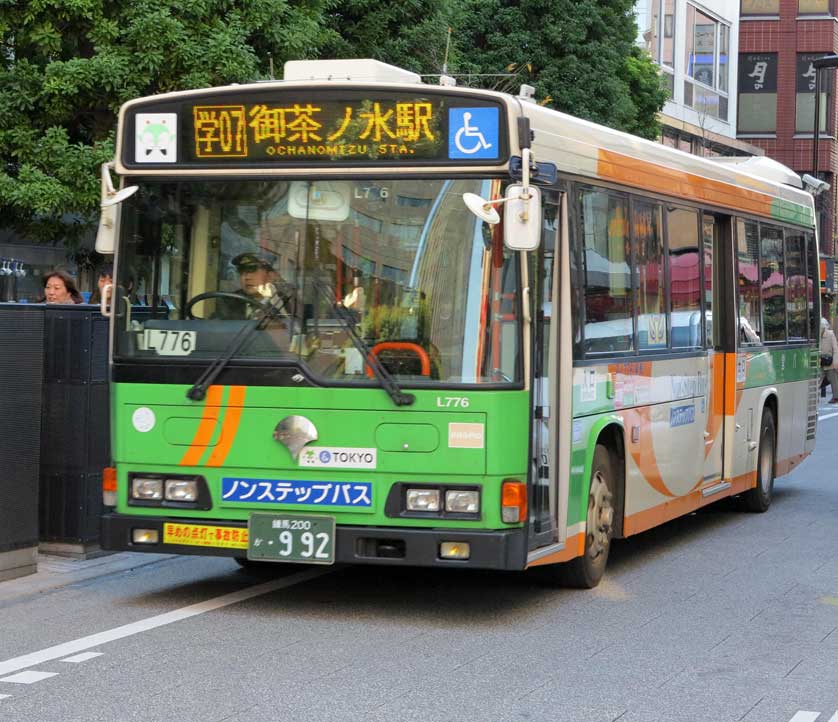 Tokyo city bus at Asakusabashi Station
Japanese Bus Stops
Bus stops are easily identifiable and provide information on routes and a timetable for services on weekdays and weekends and public holidays. Some bus stops may have hi-tech electronic notice boards and announcements showing the exact time to the next bus.
Bus destinations are written on the front of the bus with the bus number - this may be in kanji (Chinese characters) or sometimes in English.
Using A Japanese Bus
In general (except in Tokyo) passengers enter a Japanese bus through the rear door and exit via the front door. There is sometimes a paper ticket dispensing machine as you enter with a zone number corresponding to the stop you got on the bus.
As you exit the bus match the number on the paper ticket with a fare in yen displayed on an electronic board at the front of the bus. Drop the exact fare and the paper ticket in to the fare box next to the driver.
If you have no change there is a change machine for 1000 yen notes and 100 and 500 yen coins next to the fare box. The upcoming stop is usually announced on an electronic board in romaji and sometimes with a voice announcement in both Japanese and English.
In Tokyo, the procedure is different and passengers enter the bus through the front door and pay the flat fare at the beginning of the journey.
City buses and long distance buses tend to be different colors. In Kyoto, city buses are green and local suburban buses are white. Most large cities have very limited night bus services, if at all. When the bus and subway systems close for the night, generally around midnight, your only option will be a taxi.
Loop Buses
Many well-visited Japanese cities have special loop buses (often called "Loople" るーぷる) that run on a circular route past the main attractions. The Raku Bus in Kyoto is a good example of this kind of special tourist bus. Himeji, Kawagoe, Kobe, Kusatsu Onsen, Sapporo, Toyama, Fukuoka (the "Green" bus), Sendai and Tsukuba also offer such services and the tourist bus in Sendai is even in a special retro design.
Small loop buses also serve inner city areas such as Nagoya and Fukuoka and often cost just 100 yen for a ride or may even be free. The outer suburbs may also have loop buses that connect to the nearest train or subway station and schools and hospitals. These suburban buses are often small and compact in design and serve mostly school children and the elderly.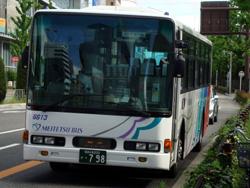 Local city bus in Japan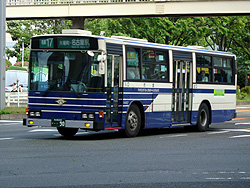 Local city bus in Japan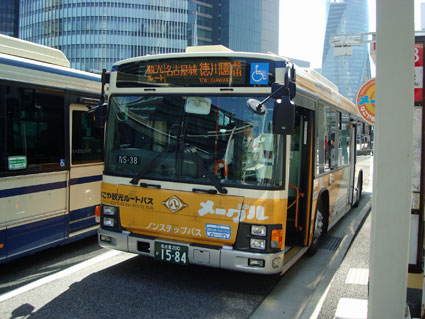 Nagoya Loop Bus (Meguru) at Nagoya Station
Tokyo Buses
Tokyo Toei buses (run by the Tokyo Metropolitan Bureau of Transportation) cover the main areas of Tokyo within the Yamanote Loop inner city area including Akihabara, Asakusa, Ginza, Ochanomizu, Kanda, Marunouchi, Nippori, Odaiba, Roppongi, Shinjuku, Shibuya, Shinagawa, Sugamo, Tokyo Station and Tokyo Sky Tree. Toei runs over 1400 buses, many of them Non-Step for elderly passengers, and connect with Tokyo Toei and Tokyo metro subway stations.
Highway bus departures and arrivals are concentrated on the Busta Shinjuku terminal over the south exit of Shinjuku Station.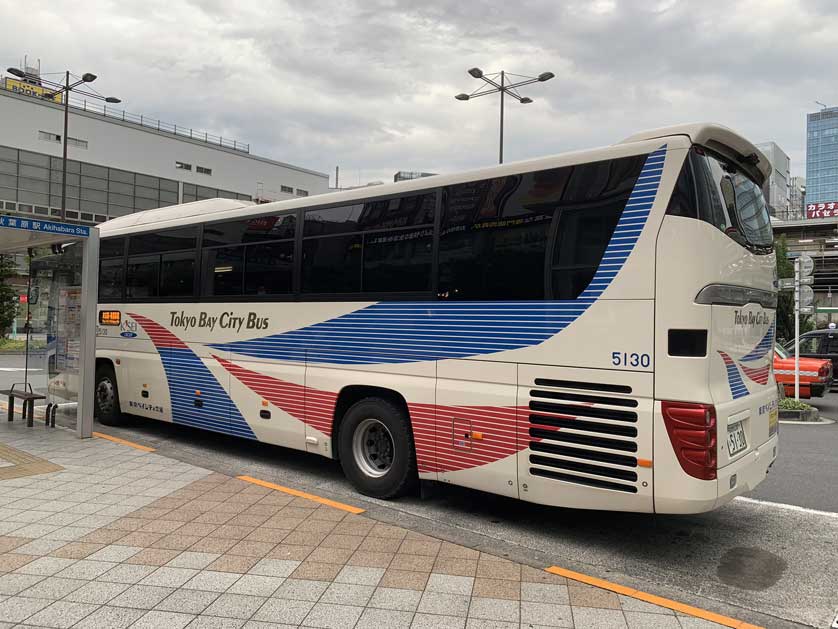 Bus to Tokyo Disneyland, Akihabara Station
Tokyo Bus Passes
The Toei Bus One Day Economy Pass costs 500 yen; the Toei Bus One-Day IC Card Pass is also 500 yen and can be added to a PASMO card. The cost is deducted from the balance of your PASMO Card.
The Tokyo One-Day Free Ticket allows unlimited use of Toei buses, Toei subways, the Toei Streetcar Arakawa Line (Toden), and the Nippori-Toneri Liner, as well as Tokyo Metro and JR East trains including the Yamanote Line within Tokyo's 23 wards for one day. The Tokyo One-Day Free Ticket (Tokyo Combination Ticket) costs 1,590 yen.
Tokyo Toei buses have a green, yellow and white color livery. There are presently 138 routes and over 1600 stops in Tokyo. In addition, Toei also operates a number of specific sightseeing buses in the capital such as the Tokyo Shitamachi Bus visiting Akihabara, Ueno and Asakusa from Tokyo Station.
Nagoya city bus near Sakae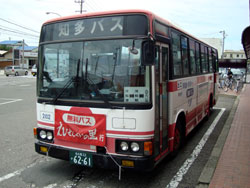 Local bus in Chita, Aichi Prefecture
Kyoto Buses
As well as the three Raku loop buses aimed directly at tourists in Kyoto, using buses in Kyoto to get around is essential with only two subway lines in the city. There are two main types of buses operating in Kyoto: Kyoto City buses (green) and Kyoto Bus Company buses (white). Kyoto City buses serve the inner city whereas Kyoto Bus Company buses go to more outlying areas such as Ohara and Arashiyama. Enter through the rear of the bus and take a numbered ticket if you are traveling outside the central zone. Pay the driver on exit from the bus through the front door. The flat fare within the inner zone is 230 yen. Destinations are announced in Japanese and English and on the electronic board at the front of the bus.
The central Karasuma exit of Kyoto Station is the city's main bus terminal. The bus stands are coded A for eastern Kyoto, B for western areas, C for areas south of Kyoto Station and D for Raku Bus 100, #28 to Matsuo Shrine and Arashiyama and the #208 bus (see below).
Other major bus terminals are at Sanjo Keihan Station and Kita-Oji (Kita-Oji subway station) in the north near Daitokuji Temple. Bus stands at Kita-Oji are color-coded: red for east bound and blue for the west.
A central 100 yen loop bus operates on weekends and national holidays aimed at shoppers. The Kyoto 100 yen bus runs from Kyoto City Hall to Karasuma Oike, Shijo Karasuma and Shijo Kawaramachi. Look out for the big "100 Yen" sign on the side of the bus.
In addition to Kyoto City buses and Kyoto Bus Company buses Keihan Kyoto Kotsu runs buses from the Central Exit of Kyoto Station to Kameoka and from the Hachijoguchi (South) Exit to Kyoto University's Katsura campus and a Limousine Bus from Hachijoguchi to Kansai International Airport (KIX) which takes about 90 minutes.
Find information on Kyoto bus and subway passes.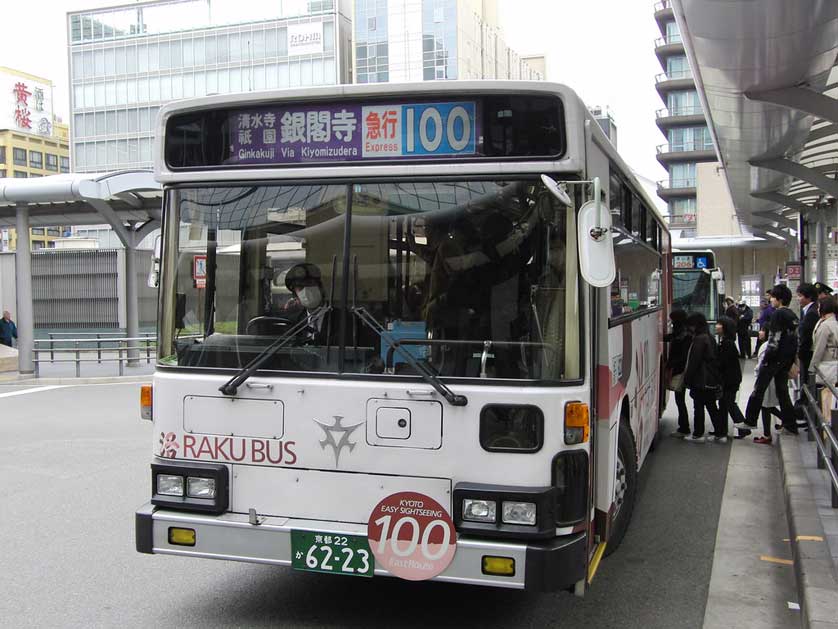 The Raku 100 travels in a loop from Kyoto Station to Ginkakuji Temple
Kyoto buses run from early in the morning around 5am to about 11pm at night.
If you are going to make best use of the buses in Kyoto consider buying either an all-day bus pass for 500 yen, which covers the central area of the city or a Kyoto Sightseeing One-Day Pass (1,200 yen) or Two-Day Pass (2,000 yen), which are valid on Kyoto City buses (green), Kyoto Bus Company buses (white) and the subway.
Japan Bus Video
Related Articles
Highway buses from Shinjuku Station
Busta Shinjuku
All the themes of the city