Mie Prefecture
Japan's Regions: Mie 三重県
Mie Prefecture is located in the Kansai region of western Japan forming the eastern half of the Kii Peninsula. Mie Prefecture borders Aichi Prefecture, Wakayama Prefecture, Gifu Prefecture, Nara Prefecture, and Shiga Prefecture.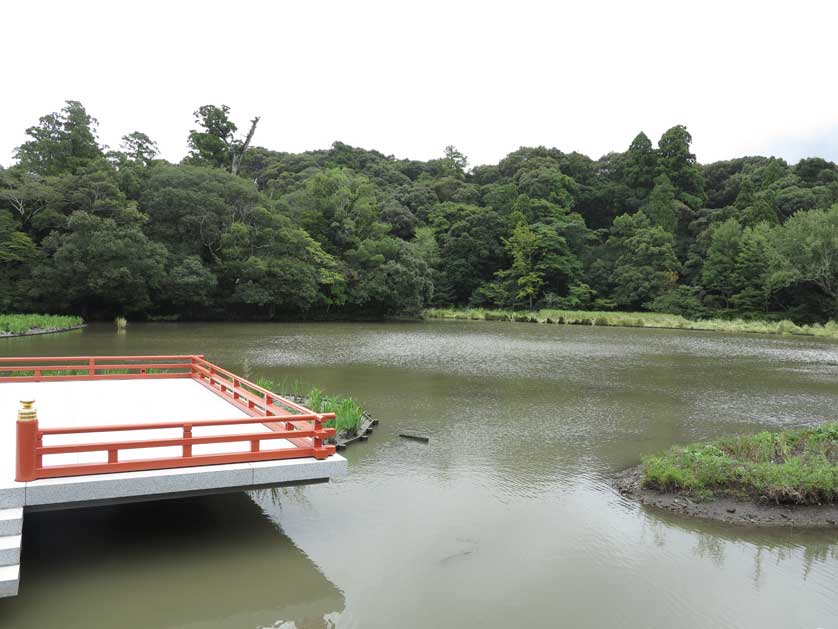 Geku Shrine Grounds, Ise Jingu, Mie Prefecture
Mie is a mainly rural prefecture with its prefectural capital Tsu, which is close to Nagoya city to the east.
35% of the total land area of Mie Prefecture has been designated as Natural Parks. These include National Parks of Ise-Shima and Yoshino-Kumano. other protected land includes: Muro-Akame-Aoyama Quasi-National Park, Suzuka Quasi-National Park, Akame Ichishikyo Prefectural Natural Park, Ise-no-Umi Prefectural Natural Park, Kahadakyo Prefectural Natural Park, Okuise Miyagawakyo Prefectural Natural Park and Suigo Prefectural Natural Park.
Mie Prefecture's main cities and towns include the capital Tsu, with a population of around 279,000 inhabitants, Iga, Inabe Ise, Kameyama, Kumano, Kuwana, Matsusaka, Nabari, Owase, Shima, Suzuka and Yokkaichi.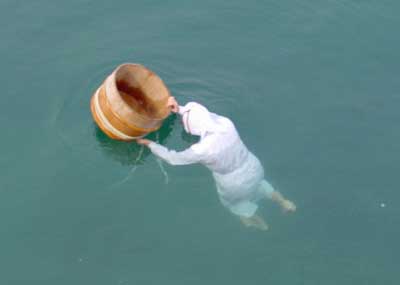 Ama pearl diver, Toba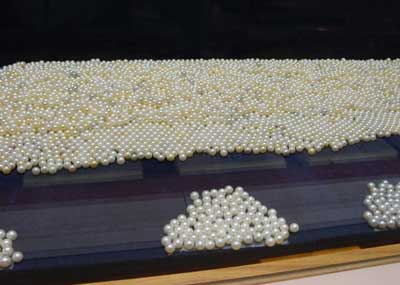 Mikimoto Pearl Museum, Toba
Mie has the typical weather patterns of central Honshu with hot, humid summers with temperatures in the prefecture usually topping 30 degrees Centigrade or more in July and August. The southern, coastal part of the prefecture has particularly high rainfall in the rainy season in June/July.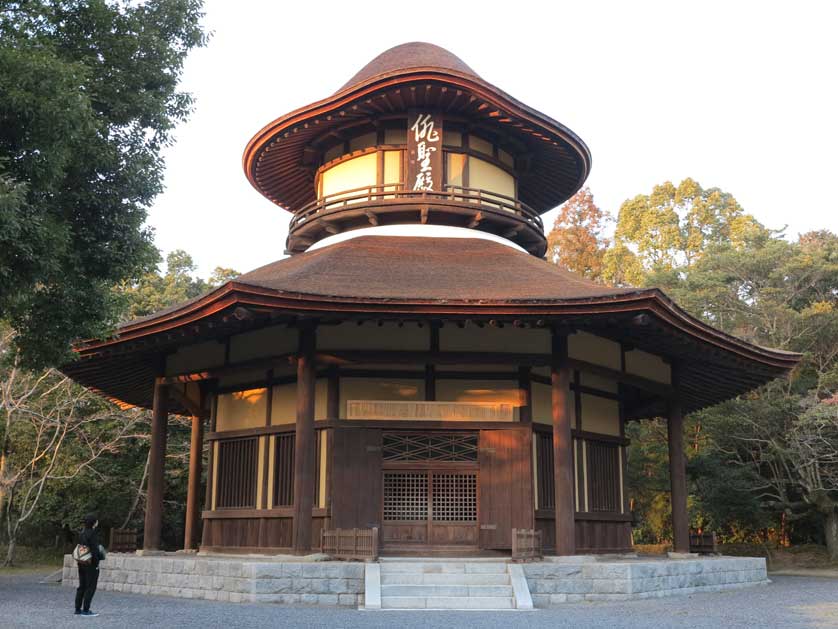 Haiseiden, Ueno Castle Park, Iga Ueno, Mie, Japan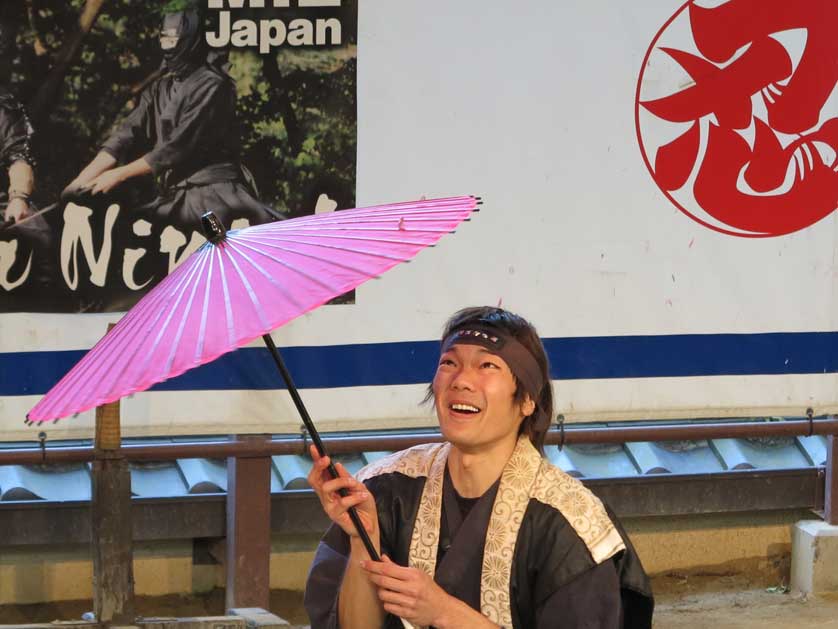 Ninja Show, Ueno Castle Park, Iga Ueno
Mie Attractions
Mie Prefecture has a number of attractions as visitors are increasingly drawn to its beautiful mountains and coasts.
Tsu is the prefectural capital but is far from being a busy metropolis. Its modest attractions include Tsu Castle, Mie Prefectural Art Museum and MieMu, the new Mie Prefectural Museum.
Matsusaka, another tranquil town, is famous for its beef, the ruined Matsusaka Castle, a number of intact samurai residences and the interesting Ozu Yasujiro Seishunkan Museum.
Kuwana, an easy day-trip from nearby Nagoya, should be visited to admire Kuwana's attractions - Rokkaen - a Meiji-era residence built by the British architect, Josiah Conder (1852-1920).
Iga, deep in the hills in the west of Mie Prefecture, is associated with the ninja and the haiku poet Basho, who was born here. Iga Castle, Iga-ryu Ninja Museum and the Haiseiden Poet's Memorial Hall make the effort to reach this remote town worthwhile.
Ise Jingu, Japan's most sacred shrine, is the standout attraction in Mie and attracts millions of visitors throughout the year.
Nearby Toba is a seaside and hot spring (onsen) resort known for its female ama divers and Mikimoto pearls.
Akame Shijuhataki is one of what are traditionally considered the "Top 48" waterfall areas in Japan (shijuha meaning "48").
Japan's most famous racetrack is located at Suzuka and is the venue for Formula One races.
Nagashima Spa Land is a popular amusement park near Kuwana with a giant 90m-tall Ferris wheel, several roller coasters, plus a fun water park in summer.
Mount Gozaisho is a favorite of hikers and hot spring enthusiasts alike who can climb the steep mountain and then relax at Yunoyama Onsen.
Yokkaichi is the largest city in Mie Prefecture in terms of population with over 300,000 inhabitants and is mainly industrial.
Yunokuchi Onsen is a "hidden hot spring." Hidden hot springs are springs that are in remote areas and whose visitors are mostly locals.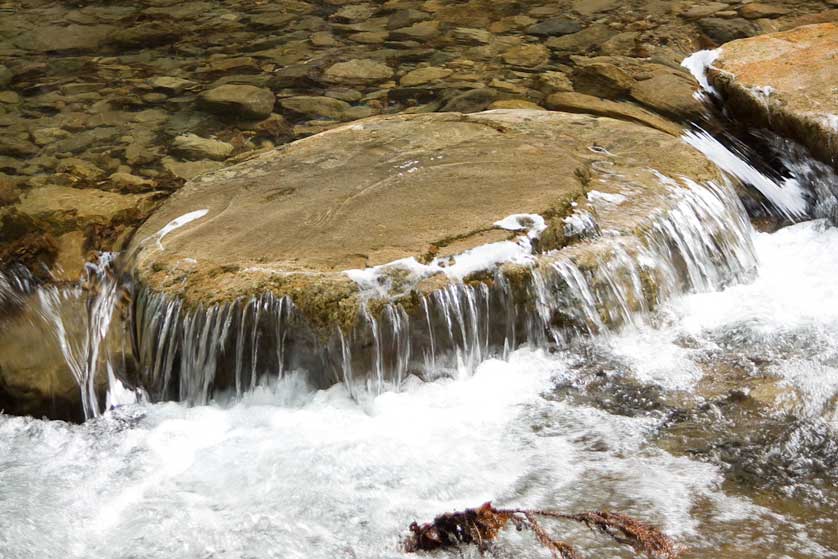 Akame Shijuhataki, Mie Prefecture, western Japan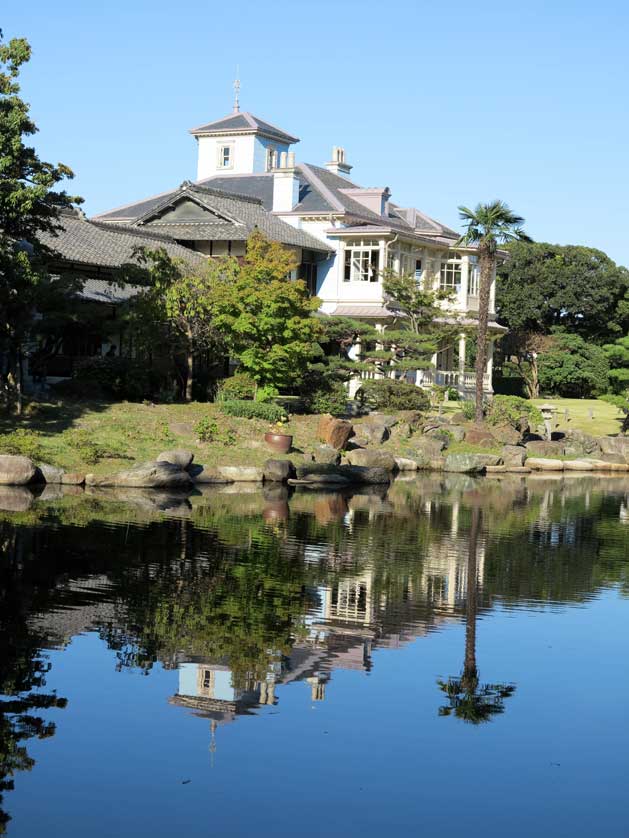 Rokkaen is a Meijo Period mansion and garden designed by English architect Josiah Conder.
Mie History
During the Edo Period, the area that now makes up Mie Prefecture was made of the provinces of Iga, Ise, Shima and part of Kii.
Ise Shrine is believed to date much further back in Japanese history to even the Yayoi Period, though the Asuka Period in the 7th century is more likely.
At the beginning of the Meiji Period the former Tokugawa provinces were shuffled and eventually became Mie Prefecture in 1876.
The Mie area suffered considerable damage and loss of life in the 1959 Ise-wan Typhoon. The 42nd G7 summit was held in Shima in 2016 with leaders being taken to visit Ise Shrine , which has strong associations with pre-World War II Japanese nationalism and the Emperor cult.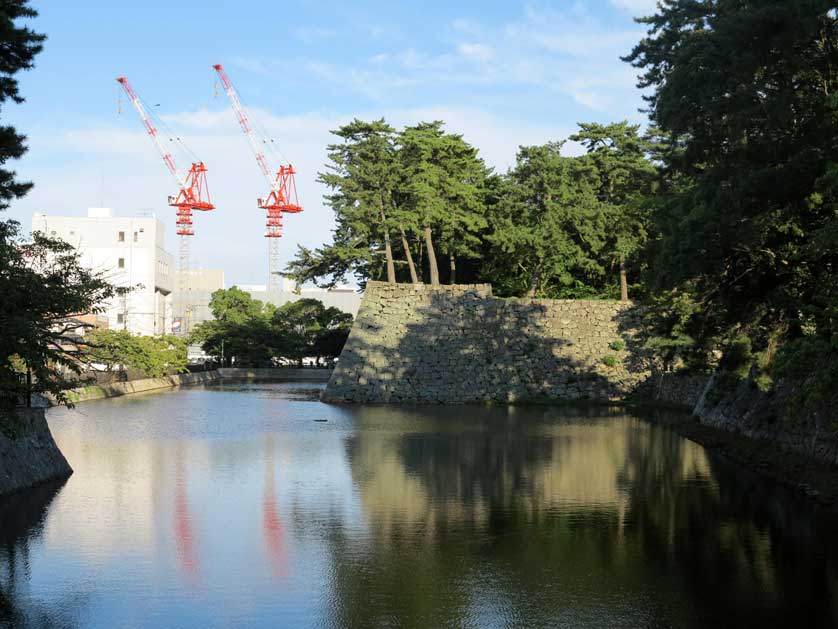 Tsu Castle, Tsu, Mie Prefecture.
Access
Air
The nearest international airport to Mie is Chubu International Airport (Centrair) south of Nagoya.
Train
The shinkansen bullet train does not stop in Mie Prefecture so visitors should change at JR Nagoya Station in Nagoya if arriving from Tokyo Station. JR and Kintetsu trains then connect Nagoya to Ise, Iga, Kuwana, Tsu, Toba, Matsusaka, Yokkaichi and the other main towns and cities in Mie.
From Kyoto Station there are Kintetsu Line trains to Ise via Yamatoyagi Station (approximately 2 hours, 20 minutes).
Bus
There are regular express highway buses from Yokkaichi Station to Shin-Osaka Station. Buses also connect Kuwana and Centrair.
There are overnight buses from Shinjuku Bus Station, Kawasaki Station, Ikebukuro, Tokyo Disney Resort, Yokohama and Omiya Station in the greater Tokyo area to Yokkaichi and Shiroko.
Matsusaka has overnight buses to Tokyo Station and from Ise there are connections to Omiya, Ikebukuro and Shinjuku.
Car
The main highways running through Mie include National Highway 1 - the old Tokaido, the Higashi-Meihan Expressway, Ise Expressway, Ise Bayside Expressway and National Highway 23.
Ferry
There are hydrofoil ferries from Tsu Port and Matsuzaka Port to Nagoya International Airport.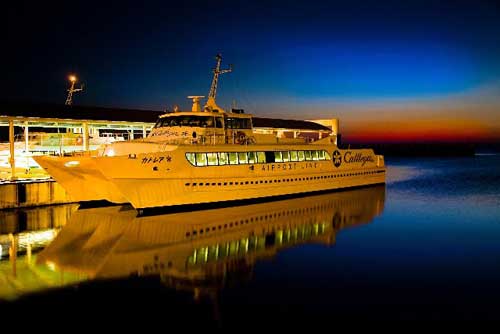 High speed boat at Nagashi Machi, Tsu.
Mie is a mainly rural prefecture with its prefectural capital Tsu located close to Nagoya - attractions in Mie include Ise Jingu and the ninja museum at Iga-Ueno.
All the themes of the city