Tsuwano Guide
Tsuwano Shimane Prefecture 津和野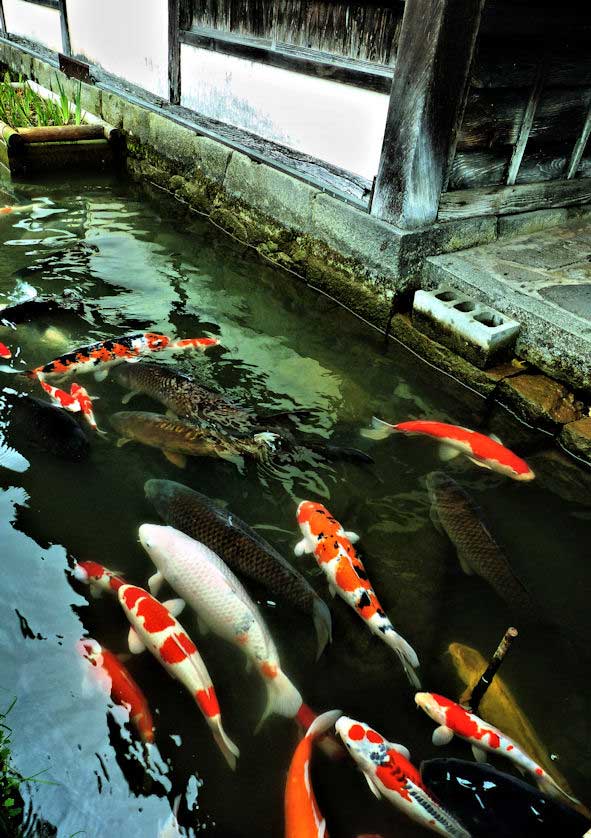 Carp in the canals of Tsuwano
Things to see and do in Tsuwano
Tsuwano is a castle town nestled in a steep, unspoilt valley in the mountains of Shimane Prefecture, near the border with Yamaguchi Prefecture. Tsuwano is one of many towns throughout Japan that is known as "Little Kyoto", but with a population of less than 6,000, it actually has little in common with the former capital.
Tsuwano is a very popular tourist destination, so weekdays are less crowded, with very early morning being the best time to explore.
Tsuwano is more a large village than a town, easily explored on foot or by rental bicycle. Cycling also gives you the option to head down the river along a quiet road, or head up into the upper parts of the village with scenic views down the valley and rustic farmhouses.
There is also a hot spring (onsen) resort in the area, Nagomi no Sato. 500 yen 10 am - 10 pm. This part of Tsuwano is rarely visited by tourists.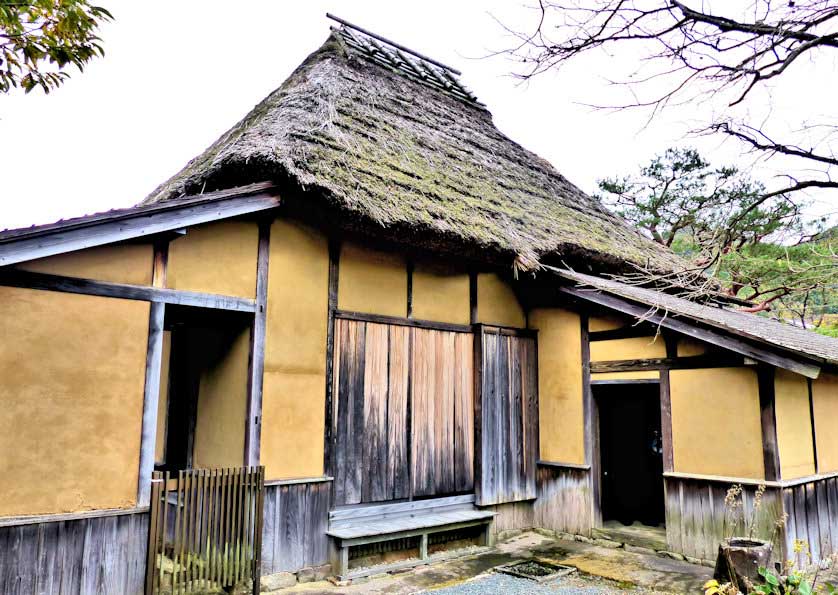 Tsuwano country house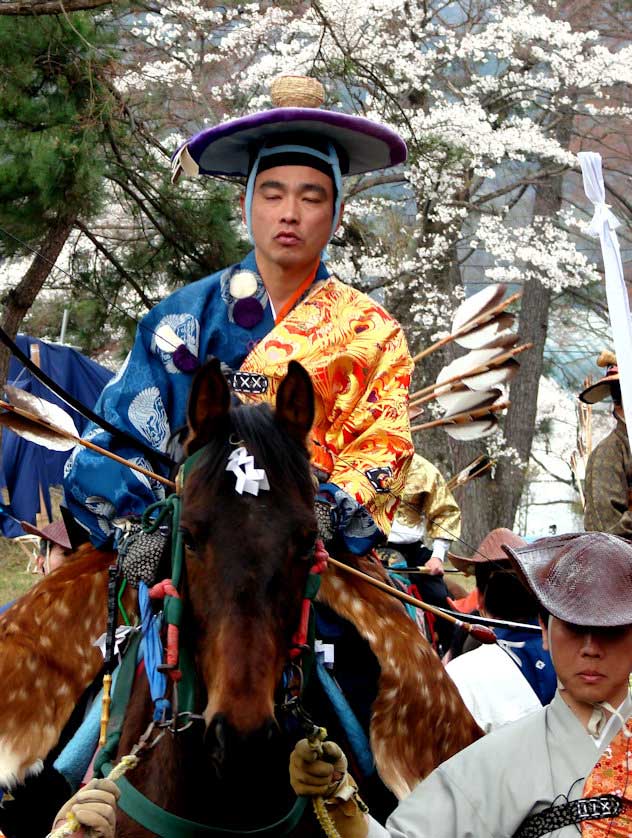 Tsuwano yabusame participant on horseback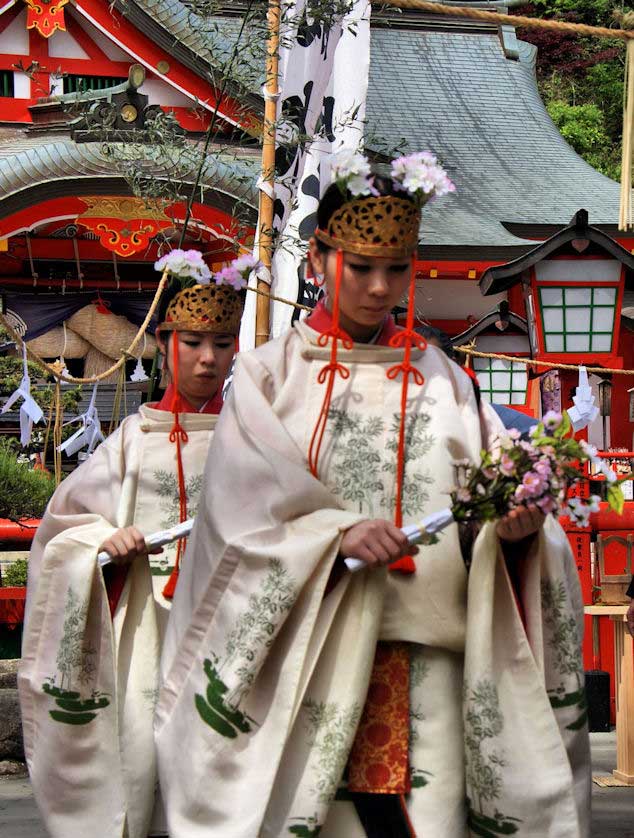 Shrine maidens (miko) at Taikodani Inari Shrine, Tsuwano
Tsuwano Attractions
Tonomachi, in the center of town, is the main tourist area and the main street has many old samurai houses, sake breweries, museums, and shops.
The small canals running along the streets were used for irrigation, firefighting and, stocked with carp, as an emergency food supply in case of siege. The brightly-colored, much photographed carp now outnumber the town's residents. The side and back streets of Tonomachi are also well worth exploring for their preserved scenes of times that many other Japanese towns have forgotten.
Tsuwano Minzoku Museum (歴史民俗資料館, Tel: 080 74 0933) is housed in what was once a school built in 1786. This tiny folklore museum is open on weekends and public holidays only (closed weekdays) from April to November, and closed from December until March. Admission 200 yen.
Tsuwano Kyodokan (津和野町郷土館, Tel: 0856 72 0300) is a large history museum with exhibits on regional history and famous personages such as novelist Ogai Mori, and philosopher Amane Nishi. Closed on Tuesdays, the museum is open daily from 8.30am to 5pm. 400 yen admission.
Shisei Kuwabara Photographics Museum (sic) (Tel: 0856 72 3171) displays the work of contemporary documentary photographer Shisei Kuwabara (b.1936), who first made a name for himself with his photographic coverage of victims of Minamata disease in 1960. 200 yen admission. 9am - 4.45 pm. Closed Tuesday.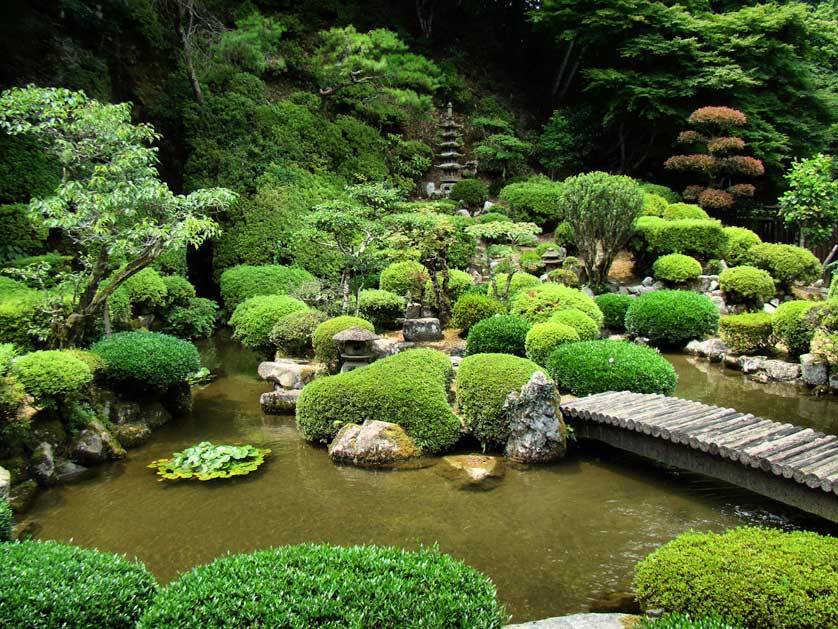 Yomeiji Temple Garden, July, in Tsuwano, Japan
The Anno Art Museum (安野光雅美術館, Tel: 0856 72 4155) is a large museum dedicated to Tsuwano-born Misumaso Anno (b.1926), best known as an illustrator of children's books, and recipient of the Hans Christian Andersen Medal in 1984. 800 yen admission. 9am - 5pm (last entry 4:45pm). Closed over New Year and the second Thursday in March, June, September and December.
Ogai Mori Memorial Museum and Ogai Mori Birthplace (森鴎外記念館 森鴎外旧宅 Tel: 0856 72 3210). Ogai Mori (1862-1922) was one of Japan's "Renaissance men" who left his mark on history as a novelist. The museum to his memory and the simple house where he was born are right next to each other. The novelist lived here until he was 11 years old. Ogai Mori's major works include Vita Sexualis and Wild Geese. 100 yen to enter just the birthplace, or 600 yen for both the museum and the birthplace. Hours: 9am-5pm (last entry 4:45pm), closed Monday (but open if Monday falls on a public holiday, in which case, closed Tuesday) and closed December 29-31.
The Sekishukan (石州館(和紙会館, Tel. 0856 72 1563)is a washi Japanese paper museum right next door to the Ogai Mori Museum and Birthplace. Paper making was a major industry in Tsuwano for hundreds of years. There is no entrance fee, but with advance notice and a 600 yen charge visitors can take a class in paper-making. Dolls and other products made from the local paper are widely available at the many souvenir and gift shops around town. 8:30 am-5 pm (until 4:30 pm in winter).
The Hori Teian, just outside Tsuwano, are the beautiful gardens and country residence of the Hori family.
(NOW CLOSED) The Katsushika Hokusai Museum was small, but had a diverse collection of the artist's work that showcased the many different styles and media he worked in beyond the most well-known woodblock prints, but no shunga. The only connection that existed between Tsuwano and Hokusai is that the first print of the "Hokusai Manga" was discovered in Tsuwano. (The Katsushika Hokusai Museum permanently closed in 2015.)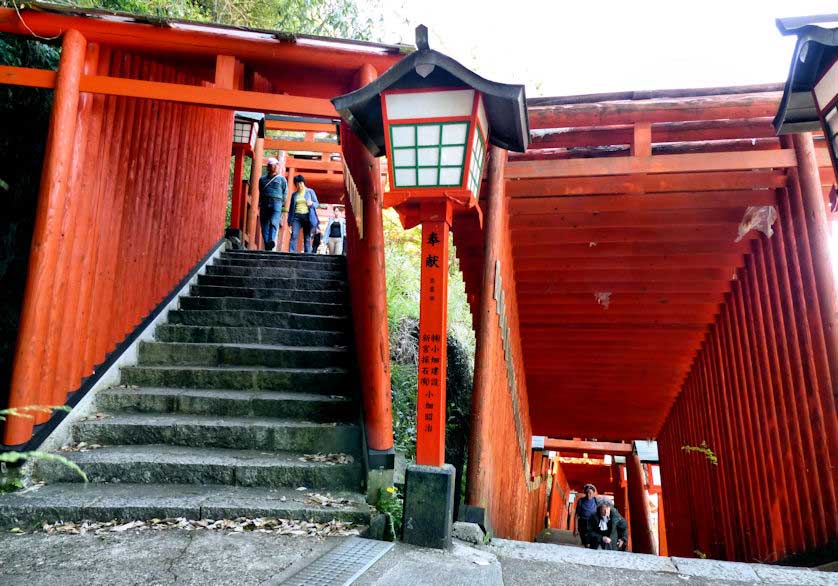 Shinto shrine torii gates, Tsuwano, Shimane Prefecture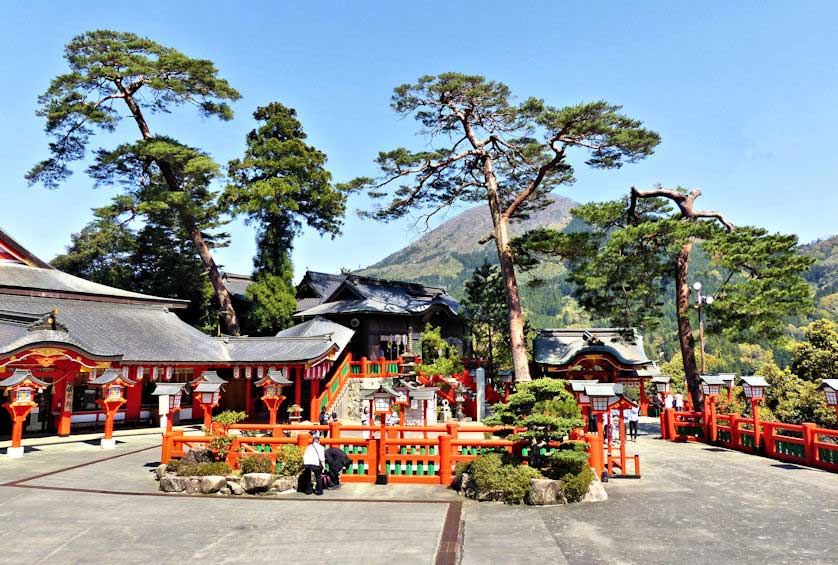 Picturesque Tsuwano, Shimane Prefecture
Tsuwano Castle
Tsuwano castle and town were founded in 1325 and the castle remained until the Meiji era of Japanese history. All that is left now is the stone base of the castle, but the mountaintop is open and treeless, so great views can be had over the surrounding countryside and down on the town 127 meters below. Footpaths head up to the castle ruins from near Taikodani Shrine. There is a ski-lift most of the way up for those who prefer to avoid the climb. This is one of the lesser-visited sites in Tsuwano, so not very crowded.
At the base of the castle mountain, about 2 km north of the main part of Tsuwano, lies Washibara Hachimangu Shrine. Built by the local lord to enshrine the samurai's tutelary god, Hachiman the God of War, the shrine is also less visited but well worth the trip. In front of the shrine is the only original yabusame (horse-back archery) grounds left in Japan, and is particularly beautiful in April when the cherry blossoms are in full splendor. The entrance to the main shrine has a thatched roof that is worth seeing, but probably the most interesting sight is a small shrine within the grounds. This shrine is for women, and inside are shelves lined with dolls left as offerings.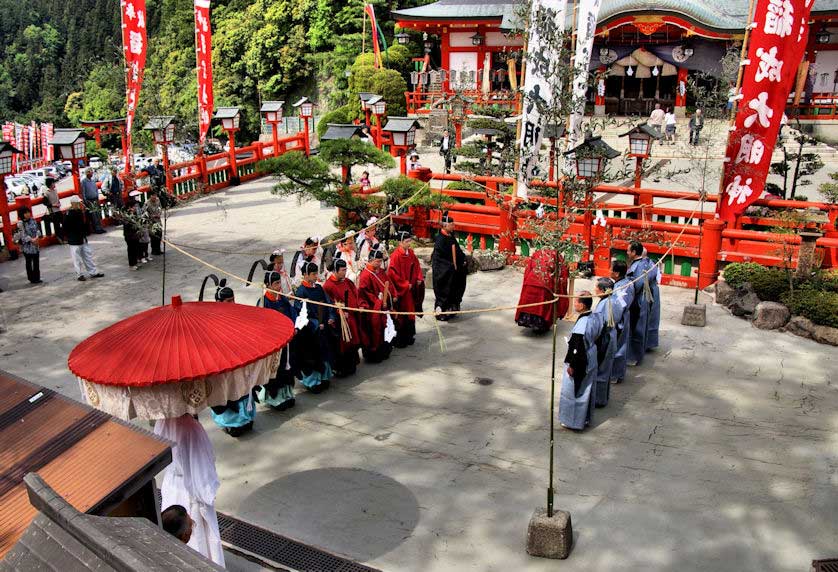 Shinto ceremony at Taikodani Inari Shrine, Shimane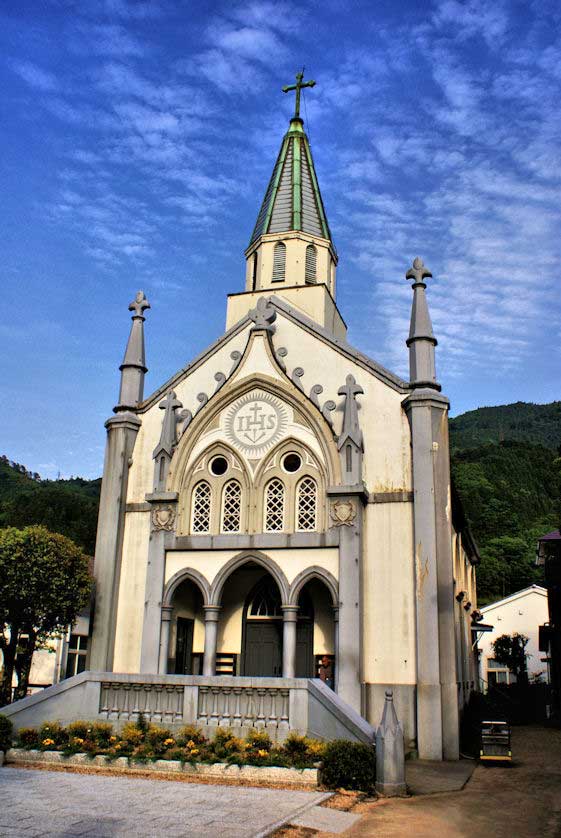 Tsuwano Catholic Church modelled on Oura Cathedral in Nagasaki
Tsuwano Temples & Churches
Just a 10 minute walk from the station is Yomeiji Temple. Built in 1420 it is a quiet Zen temple that contains Ogai Mori's tomb. It is known as one of the two great Soto sect temples in Japan, and has a thatched roof, garden, and a treasure room. Entrance is 300 yen.
Maria Cathedral is a church built at Otome Pass in 1951 to commemorate the Christian martyrs who were tortured there in the late 19th century. When Japan "opened-up" in early Meiji, a group of "hidden Christians" emerged from 200 years of hiding their faith. Unfortunately, Christianity was still illegal in Japan, and the government rounded them up and sent them into exile around Japan . A group of 86 Christians from Nagasaki were imprisoned and tortured in Tsuwano.
Taikodani Inari (Tel: 0856 72 0219) is the large, brightly colored shrine on the hillside overlooking the town. Taikodani Inari was built by the local lord to emulate the famous Fushimi Inari in Kyoto. It is possible to drive up, but the best way is to climb the hill through the tunnel of more than 1,100 vermillion torii that switchback up the hillside. The shrine itself is shiny and new, and built mainly of concrete, but has great views down on to the town.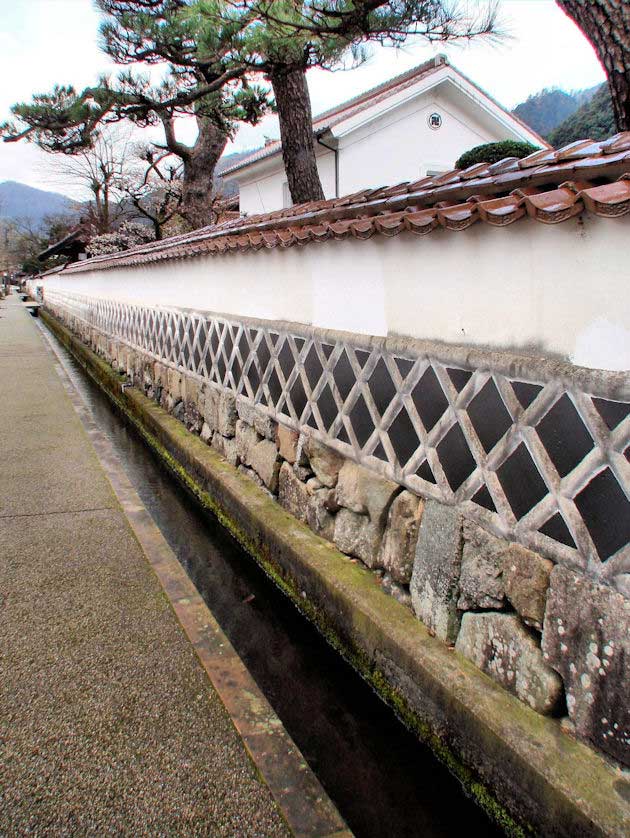 Small canals filled with koi and white walls line the samurai quarter on Tonomachi Street in Tsuwano
Tsuwano Festivals
Tsuwano Yabusame Horseback Archery Festival
Tsuwano Yabusame Festival is held on the second Sunday in April at Washibara Hachimangu Shrine. This very colorful spectacle is enhanced by the cherry blossoms in full bloom around the grounds. Held at the only traditional yabusame grounds left in Japan, is well attended, especially by photographers, but is never too crowded. Before the horseback archery tournament is held, the morning is taken up with ceremonies and processions. Entrance is free. View a short video, and a detailed, illustrated article on yabusame horseback archery at Tsuwano Yabusame Festival.
Sagi Mai Heron Dance Festival
Sagi Mai, the White Heron dance is performed at Yasaka Shrine, near Takodani Inari, on July 20th and 27th . Originally from Kyoto, the dance came to Tsuwano via Yamaguchi City, the "Kyoto of the West", more than 400 years ago, and is the only version of the dance still performed in Japan in the traditional style.
Two dancers dressed as a male and female heron perform a dance that emulates the courtship of the birds. The elaborate winged costumes are made from cypress and paulownia wood. The dance attracts thousands of visitors, but is performed at 11 locations around the town, making it possible to get a decent view.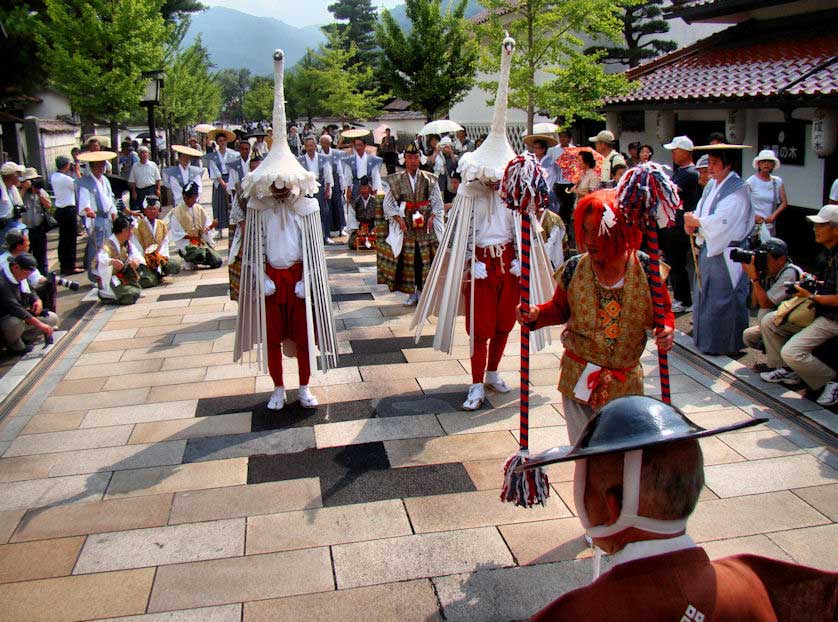 Sagimai, the Heron Dance, is performed at several points along Tonomachi Street, the old main street of Tsuwano
Otome-toge Christian Martyrs Festival
The Otome-toge Festival takes place on May 3rd to commemorate the Christian martyrs tortured and killed here. A procession starts from the Catholic Church in the Tonomachi district and ends at Maria Cathedral with a Mass. Christians from all over Japan attend.
Bon-odori Dance Festival
Tsuwano's Bon Odori dance festival is on August 15th, and is worth a look. Dating from the Muromachi Period (1336-1573), the dancers wear an unusual black and white outfit.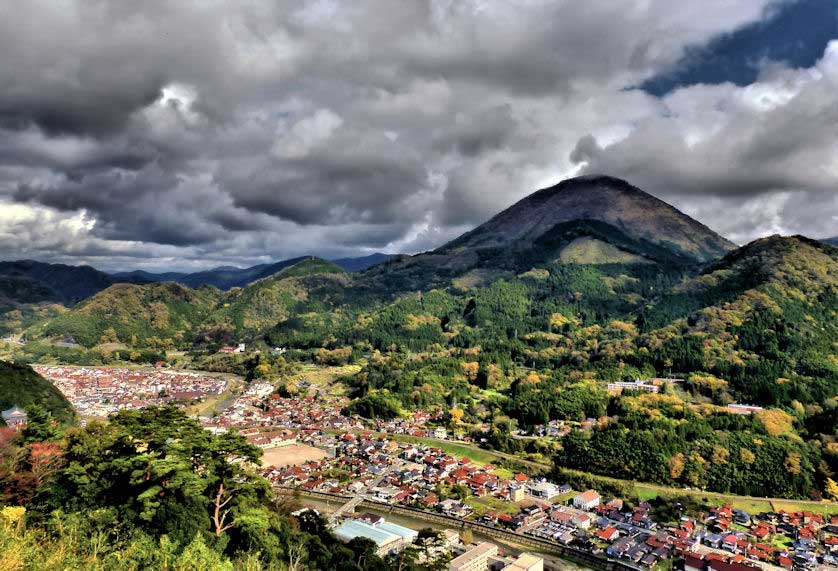 Tsuwano, Shimane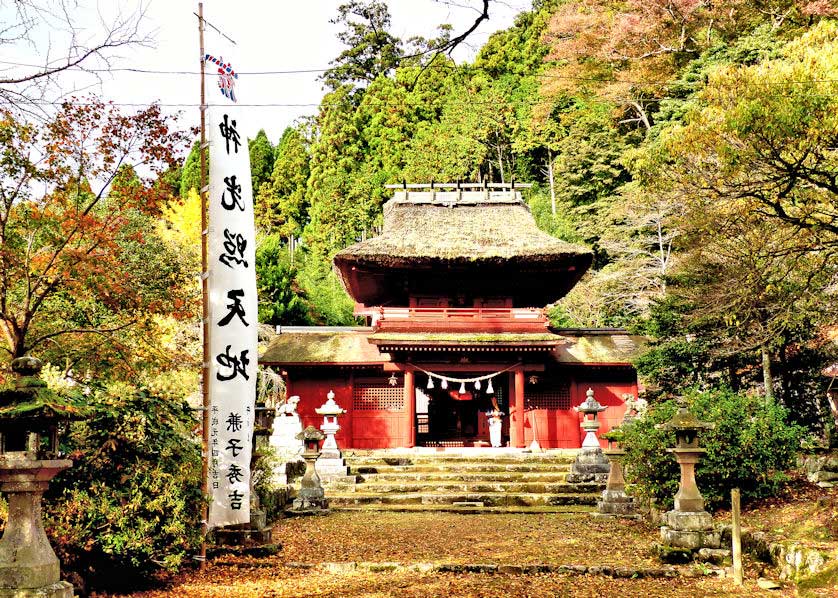 Tsuwano, Shimane Prefecture
Accommodation in Tsuwano
The following are three recommended places to stay in Tsuwano, ranked according to budget.
Shokudo Minshuku Satoyama is a good budget option some way out of town that gives you a warm, traditional experience of Tsuwano. No-frills, but in an authentic farmhouse-style building, and with a friendly owner who cooks for guests. Japanese-style (tatami/futon) rooms with shared bathroom/toilet. An earthy at-home accommodation.
Hoshi Ryokan near Tsuwano Station, is mid-range Japanese-style accommodation with big spacious tatami guest rooms with futon, shared, modern bathroom/toilet, flat-screen TV in each room, air-conditioning, strong free Wi-Fi, and free parking. The food served here is excellent, and English is spoken. Friendly, helpful owners.
Noren Yado Meigetsu is an elegant old ryokan inn in Tsuwano where you can enjoy the best of countryside hospitality in traditional comfort, and superb food - in your room. Tatami floors with futons make this an authentic Tsuwano sojourn. Set in beautiful gardened grounds, and with a hot bathtub. Room includes a kettle, free toiletries, hairdryer, etc. Gracious, serene comfort an easy walk from the railway station.
Tourist Information
The Tsuwano tourist office (Tel: 0856 72 1771) is right next to the station. Some English materials are available, and a little English is spoken.
Bicycles can be rented by the hour or by the day just across from the station.
Tsuwano Access - how to get to Tsuwano
Air
Iwami-Hagi Airport is the nearest airport, and has flights to Tokyo Haneda Airport (85 minutes) and Osaka Itami Airport (65 minutes).
Train
Tsuwano JR station is on the Yamaguchi Line, 40 minutes from Masuda, and 70 minutes from JR Ogori Station (2 hours 30 minutes from Shin Osaka or 5 hours 35 minutes from Tokyo). The Yamaguchi Line connects Tsuwano with the Shinkansen at Shin-Yamaguchi.
The most interesting way to arrive in Tsuwano is by the Yamaguchi Go steam locomotive. The train makes one round trip a day from Shin-Yamaguchi Station on Saturdays, Sundays, and holidays from late March through to November. The train features carriages refurbished in a variety of different era styles. The journey takes about 2 hours each way, and stops in Tsuwano for 3 hours. Tickets are much sought after and inquiries should be made to Shin Yamaguchi or Yamaguchi JR stations.
Bus/Car
By car, Tsuwano which is on Route 9, is about 30 minutes from Masuda, around one hour from Hagi. Express buses take 1 hour, 15 minutes to Hagi while by local bus the journey time is approximately 2 hours.
Nearby
Masuda is not far from Tsuwano, and Hagi is 42 km away.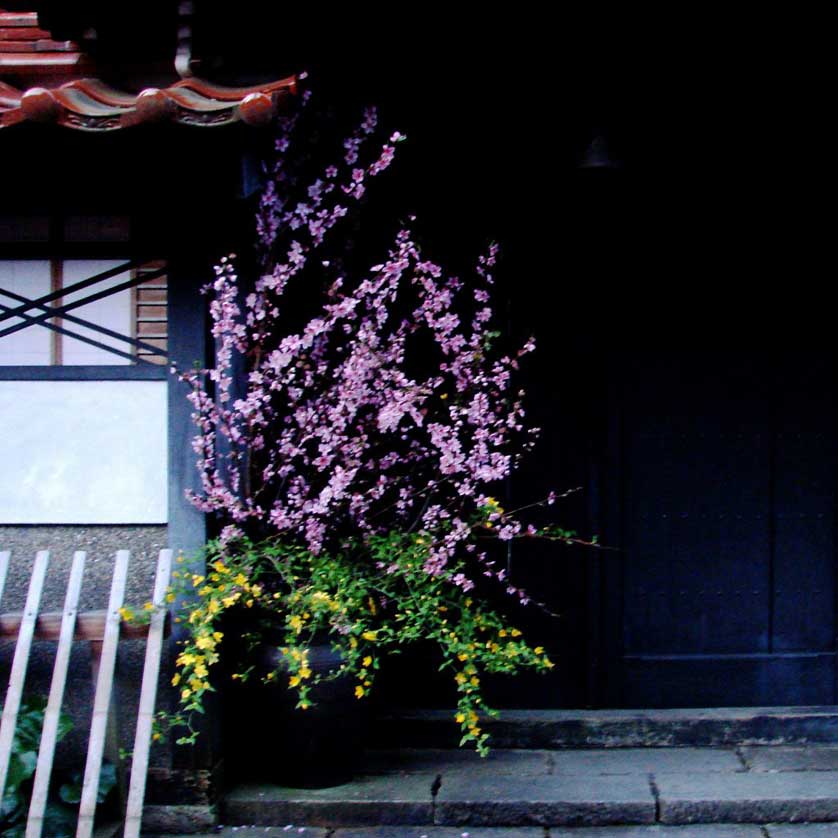 Tsuwano, Shimane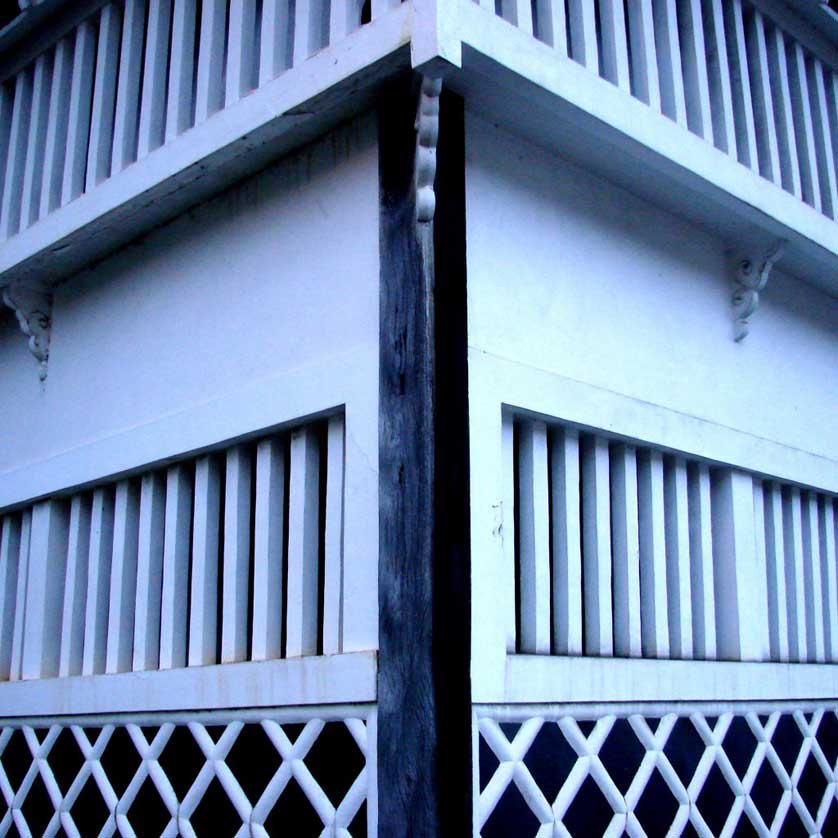 Tsuwano, Shimane Prefecture
Book Hotel Accommodation in Tsuwano Japan
Tsuwano guide: read a guide to Tsuwano in Shimane prefecture, including Tsuwano sights, festivals and accommodation details.
All the themes of the city