Sankeien Garden Hiroshima
Sankeien Garden, Hiroshima 三景園
Jake Davies
The full name of Sankeien Garden in Hiroshima, not to be confused with the older and more famous garden of the same name in Yokohama, is Chisenkai Yushiki Teien, but Sankeien is the most common name used to refer to it.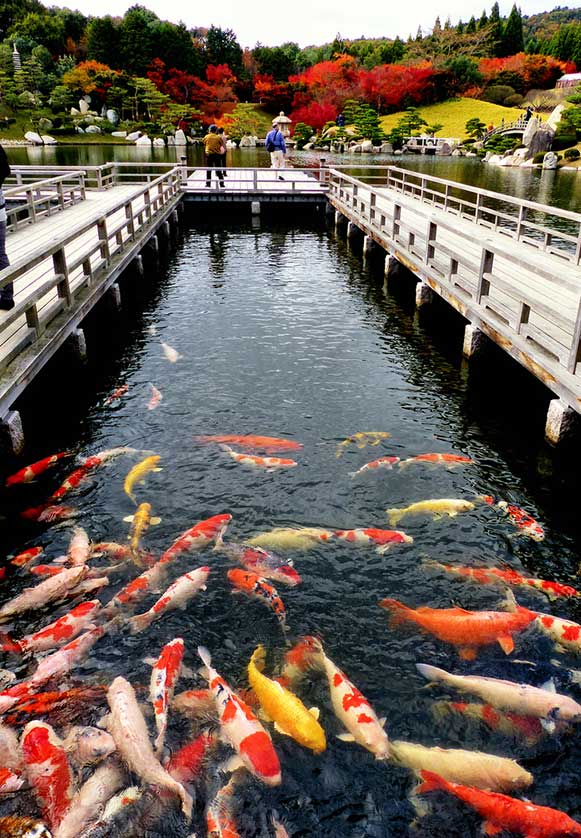 Sankeien Garden in Hiroshima showing the carp-filled pond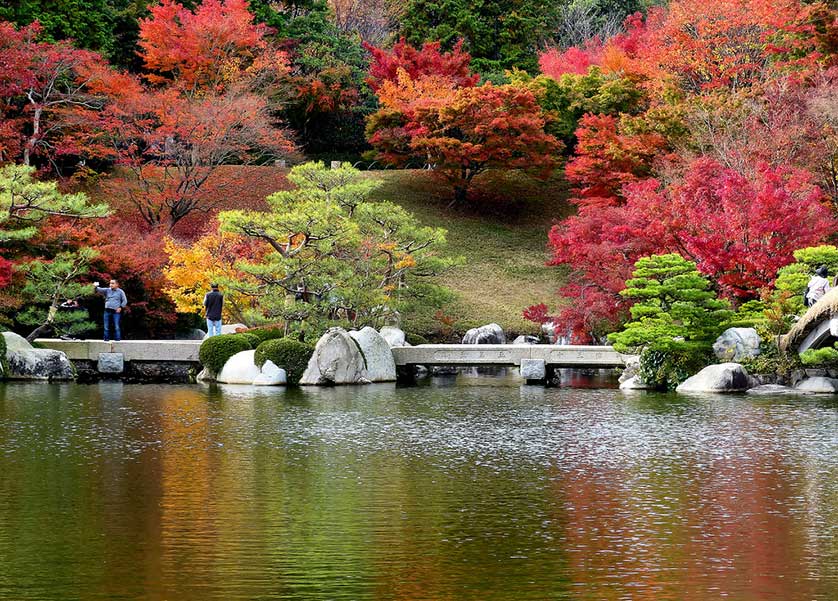 Fall colors at Sankeien Garden, Hiroshima
It is a traditional stroll garden but was only constructed in 1993, part of the development surrounding the construction of Hiroshima Airport in the mountains east of Hiroshima City that also includes a forest park, Chuo Shinrin Park.
Sankeien's reputation is growing, but due to its out of the way location its never crowded except perhaps during festivals. Sankeien is quite a large garden, covering 60,000 square meters, and is divided into three sections, the sankei (three views) of the garden's name.
After entering you are on a platform extending out into the large body of water filled with brightly colored carp. The water represents the Seto Inland Sea, and the platform is based on the structure of Itsukushima Shrine on Miyajima. The path goes around the pond and crosses onto several small islands via different kinds of bridges.
The second and third zones are mountain and country village and they include maples, plums, and bamboo as well as a small waterfall. The garden boasts almost a hundred varieties of iris as well as many other flowers blooming throughout the year.
In the autumn a Maple Festival is held and in June an Iris Festival. Sankeien includes a tea house and gift shop. An English language leaflet and map is available on entry. Sankeien is well worth a visit if you like Japanese gardens, and certainly worth arriving at the airport an hour early for a flight. Access is via the airport parking lot.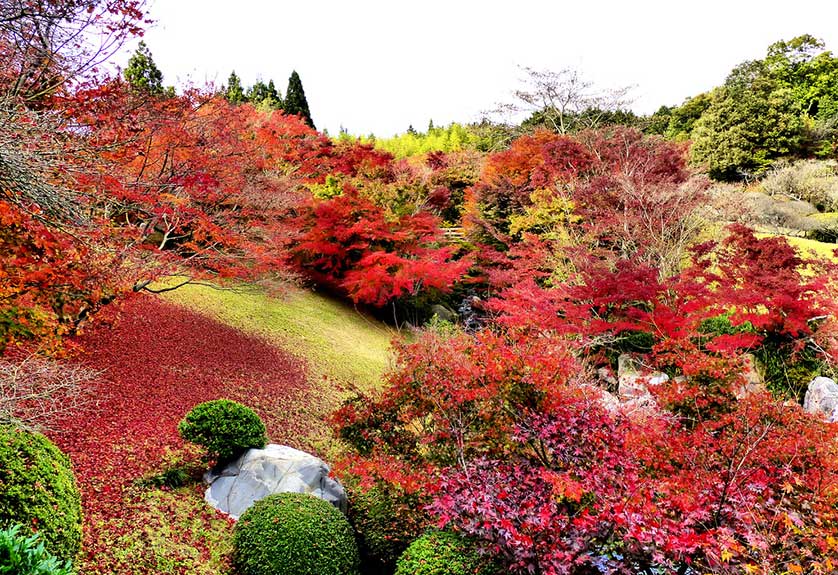 Sankeien Garden in Hiroshima showing maple trees in autumn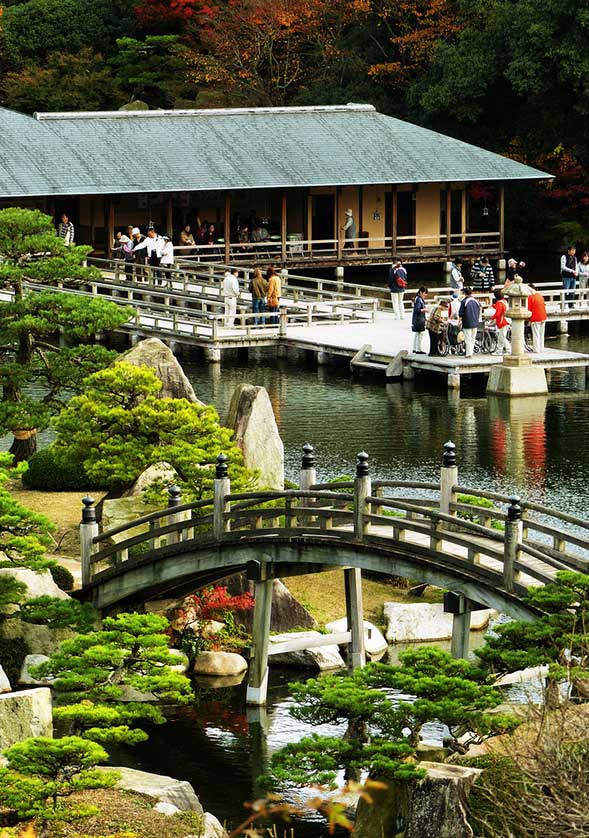 Pine trees and ornamental bridge at Sankeien Garden, Hiroshima
Sankeien Garden (chuo-shinrin-koen.or.jp)
64-24 Zennyuzi, Hongo-cho
Mihara-shi, Hiroshima 729 0416
Tel: 0848 86 9200
April-September 9 am to 6 pm
October-March 9 am to 5 pm.
In March and from May to September the garden stays open until 7 pm on weekends and National Holidays.
Entry 260 yen for adults, 310 yen during festivals.
Some recommended hotels in Hiroshima are:
Near the station area: Oriental Hotel Hiroshima; Hotel Flex Hiroshima; Ark Hotel Hiroshima. The Hiroshima Airport Hotel is right at the airport and adjacent to Sankeien Garden.
Sankeien Access
Sankeien Garden is 53 minutes by airport limousine bus from Hiroshima Bus Center and 47 minutes from Hiroshima Station. The garden is 15 minutes by JR bus from Shiraichi Station on the Sanyo Line.
Yuka-en and Shukkei-en are Hiroshima's other outstanding gardens.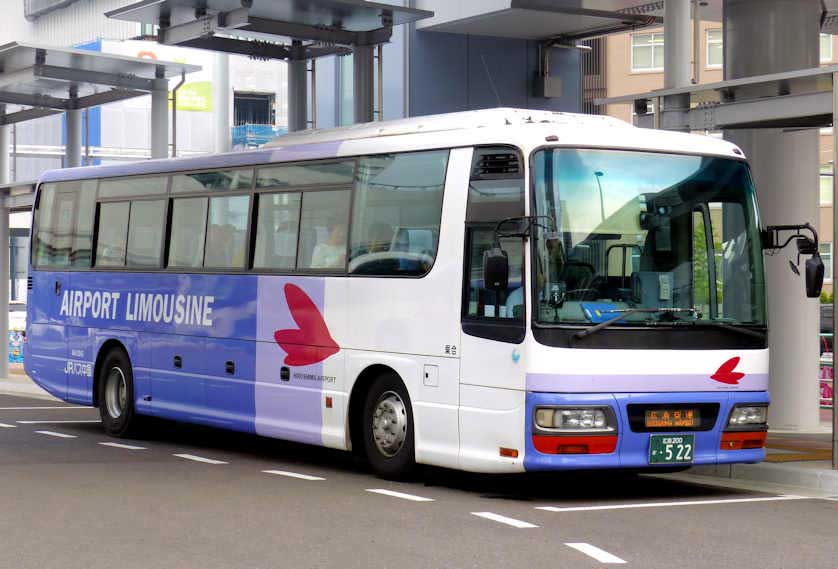 Airport Limousine Bus, Hiroshima Station
Sankeien Garden near Hiroshima Airport is a modern strolling garden of 60,000 square meters which opened in 1993. It is famous for iris.
All the themes of the city