Ise Shima Guide
Ise Shima - Ise Shrine 伊勢志摩
Ise-Shima is a resort and marine produce area in Mie Prefecture, located on the Kii Peninsula, forming the eastern edge of Ise Bay. Ise-Shima is best known for its Ise Grand Shrine in Ise City, whose chief priest or priestess must be a member of Japan's Imperial family. The most famous of the area's marine produce is pearls, notably Mikimoto in Toba City.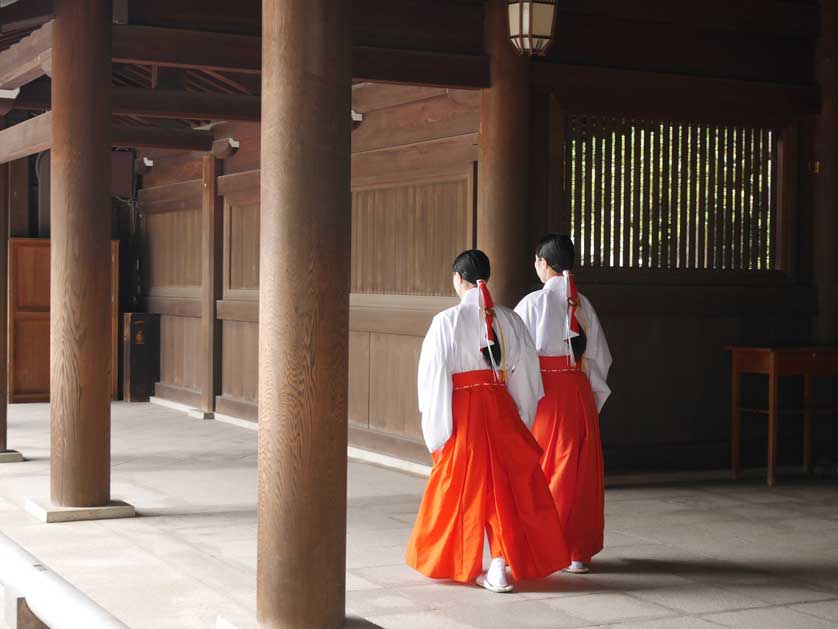 Shrine Maidens, Ise Jingu, Mie Prefecture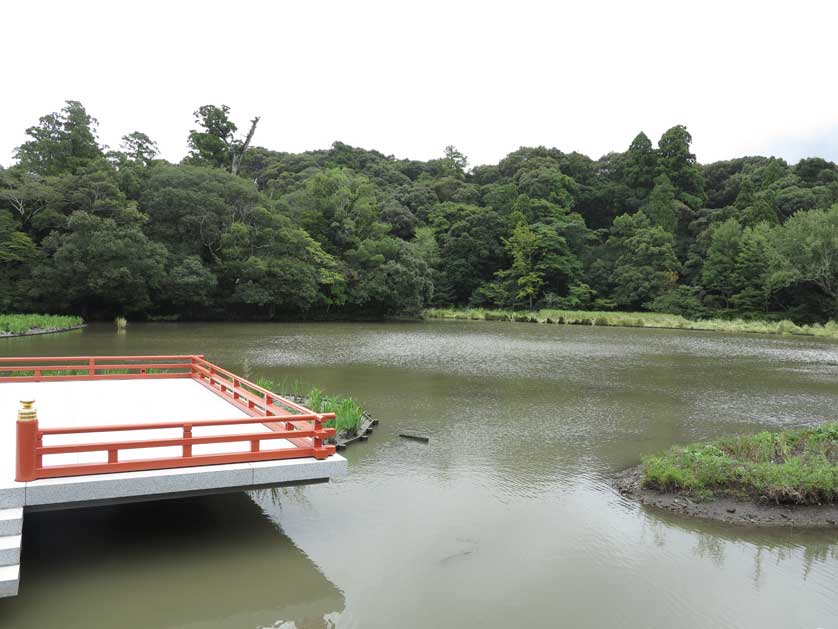 Geku Shrine Grounds, Ise Jingu, Mie Prefecture
Most of the peninsula is part of Ise-Shima National Park, one of the first of Japan's national parks, with an intricate ria coast of tiny islands and sea cliffs.
Ise-Shima's popularly is reinforced by its mild climate and its location, only about two hours by train from both Nagoya and Osaka.
(Note that the shima in Ise-Shima does not mean "island.")
Ise Jingu Shrine
Ise Jingu in Ise City is Japan's most sacred Shinto shrine dating back to the 3rd century. Ise Shrine actually consists of two shrines: the Naiku Inner Shrine and the Geku Outer Shrine. Naiku, which dates from the 3rd century, enshrines Amaterasu-Omikami, the sun goddess, the guardian of the nation and the protector of the Imperial family. Geku, which dates from the 5th century, enshrines the Shinto goddess of clothing, food and housing - Toyouke Omikami.
Both shrine precincts are set in ancient forests of giant cryptomeria trees (sugi), with lakes, ponds and large stones much in evidence.
The wooden buildings of the shrines are rebuilt every 20 years and re-consecrated in solemn nocturnal ceremonies. The next rebuilding project is set for 2033. The wood is presently brought from the Kiso Valley in Nagano Prefecture, though a replanting project is underway in the forests around the shrines, so that one day the timber can once again be supplied locally.
Naiku houses the sacred mirror of the Emperor, one of the three pieces of regalia of the Japanese Imperial family, the others being sacred jewels in the Imperial Palace in Tokyo and a sacred sword in Atsuta Shrine in Nagoya.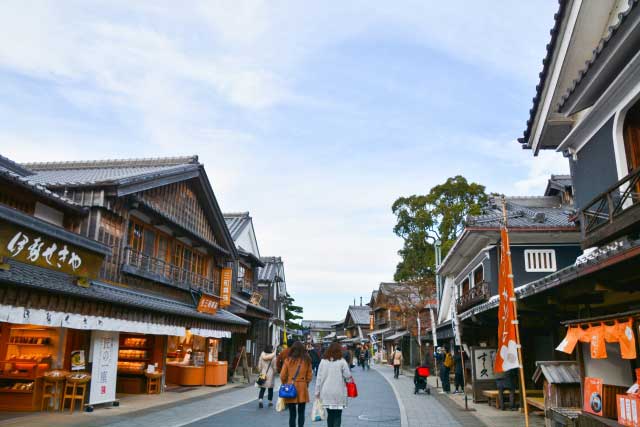 Oharaimachi at Ise Jingu, Mie Prefecture, Japan
Both the Naiku and Geku shrines and their grounds are free to enter between sunrise and sunset. There is a free English language guide to both sites available at both shrines. Performances of dance and music are often performed at the shrine office building in the Naiku.
The main access to the Naiku takes the visitor along the Oharaimachi, a modern reconstruction of an Edo merchants' quarter with some good places to eat and drink. On weekends this area is thronged with visitors, who sample the many local foods and drinks on offer including soba noodles, unadama - eel balls - Ise craft beers and red bean paste buns. Oharaimachi and Okage Yokocho also have a number of souvenir shops, many of them specializing in wood products such as statues.
Ise Town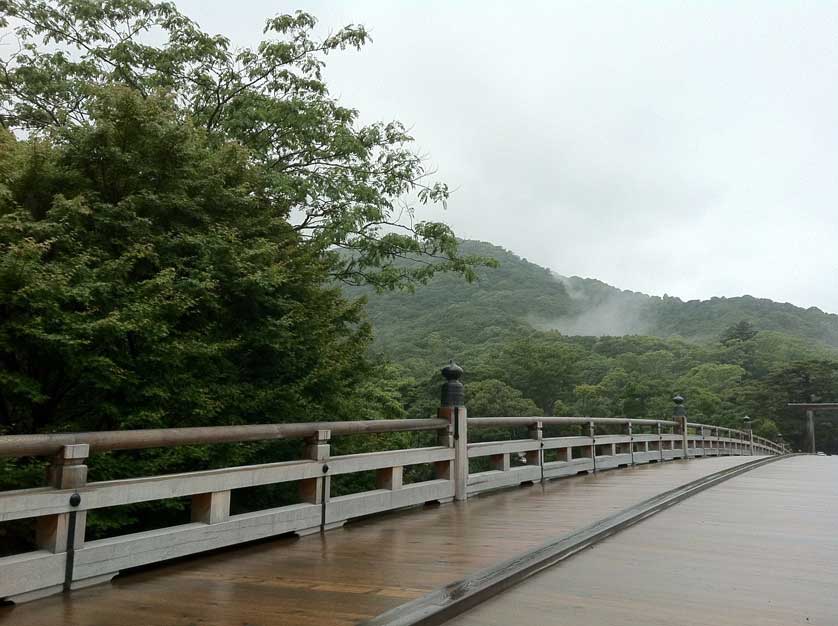 Uji Bridge, Ise Jingu, Mie Prefecture
Besides Ise Jingu, Ise town offers an area of traditional Japanese merchant houses in Kawasaki Kaiwai, a 15-20 minute walk from Ise Station.
Many of the buildings have been taken over by NPOs to showcase local industries and crafts and there are some atmospheric places to eat in the area or stroll on the canal bank.
A taxi to the area from the station will cost around 600 or 700 yen. There is a local weekend produce market on the street leading from Ise Station to Geku Shrine. Local delicacies in Ise include lobster (Ise-ebi), noodles, (Ise-udon) and the sweet dessert akafuku, a rice cake with red bean jam.
Other Ise Attractions
On the number #51 bus route back to Uji-Yamada and Ise-shi Stations are three museums that can all be visited on a 700 yen ticket. Jingu Chokokan Museum is housed in a Meiji-era building and has a large-scale model of the Naiku Shrine along with a collection of kagura masks, festival costumes and other shrine treasures.
Close by is the Jingu Art Museum with displays of works of art offered to Ise Shrine by famous artists. The Jingu Art Museum opened in 1993.
The Jingu Agricultural Museum (Jingu Nogyokan) claims to be the "oldest industrial museum in Japan" and is arranged around the theme of "How are natural products useful?" - with special emphasis on the rice harvest, forestry and fishing.
The Jingu Art Museum and Jingu Agricultural Museum were both designed by architect Katayama Tokuma (1854-1917), who was responsible for both the Kyoto National Museum and the Nara National Museum.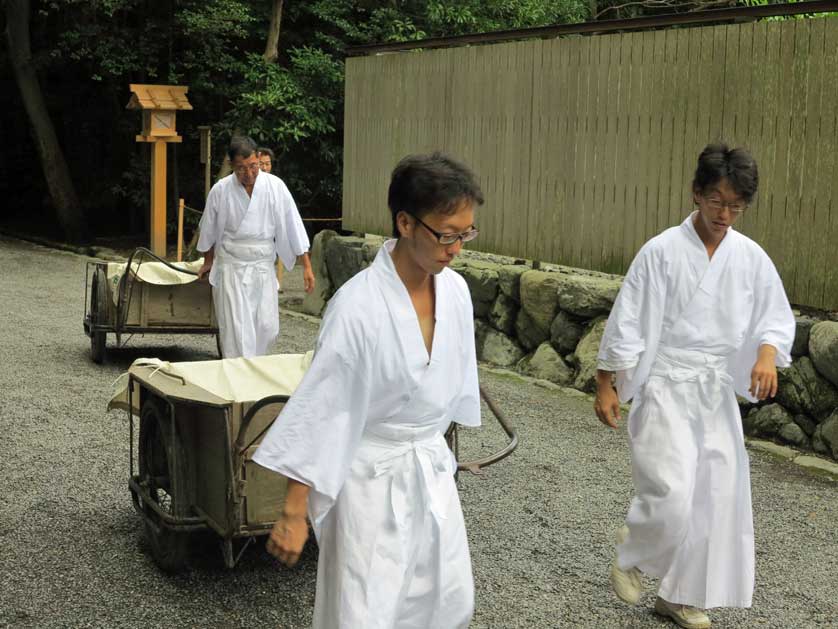 Priests at Geku Shrine, Ise Jingu, Mie Prefecture
Close to the entrance to Naiku are the Shoha Art Museum and the Sarutahiko Shrine. The Sarutahiko Shrine is dedicated to Sarutahiko Mikoto, the guide to the Shinto gods when they descended to Earth. The Shoha Art Museum displays watercolors by Ito Shoha (1877-1968), a daughter of a former priest of the temple.
West of Ise Town across the Miyagawa River is the Ozaki Gakudo Memorial House, a western-style house built as a memorial to Ozaki Gakudo aka Ozaki Yukio (1858-1954), a Diet Member for Ise and ex-mayor of Tokyo, who is best remembered for donating 3,000 cherry blossom seedlings to Washington DC and for his enduring opposition to militarism in the 1930s.
Accommodation in Ise City
The following three accommodations are recommended options for staying in Ise City.
Isuzu Guest House provides very hospitable, comfortable location in a serene neighborhood of Ise City right next to the Naiku Inner Shrine of Ise Shrine. Close to the bus stop and local stores, clean, cosy and with all the right, personal touches to guarantee an enjoyable, memorable stay. Very helpful English-speaking owner.
Hoshidekan is an atmospheric old Japanese inn in a building that dates from the 1920s, walking distance from the main Ise train station and the Geku Shrine. Great for those on a budget, Hoshidekan offers solid Japanese hospitality that won't break the bank, in charming old Japanese-style decor - so long as you don't mind a shared bathroom and toilet. Free Wi-Fi throughout, computers in the lobby, and a garden outside. English-speaking owners.
Isegekusando Iseshinsen is - in spite of its tongue-twister of a name - one of Ise-Shima's most highly rated traditional Japanese inns, partly for its location right near Iseshi Station and only 5 minutes' walk from the Geku Outer Shrine of Ise Jingu.There are natural hot spring baths here for guests' enjoyment, free, fast and stable Wi-Fi throughout, and wired internet in each room. This spotless clean, elegant hotel serves excellent food, featuring marine produce caught in the bay, has an on-site restaurant, and offers a massage service. Spacious rooms.
Ise City Access
Ise is easily reached by Kintetsu Railway from Osaka (2 hours from Namba), Nagoya (1 hour, 20 mins by tokkyu) and Kyoto (2 hours, 10 mins). The Kintetsu stations in Ise are Uji-Yamada and Ise-shi. It is possible to take a JR train from both Osaka and Kyoto to Ise but the journey involves multiple changes. The JR station in Ise is Ise-shi, which is shared with Kintetsu.
A way to arrive in luxury is to take a Kintetsu Line Shimakaze Express train from either Namba Station or Nagoya Station to Ise. The Shimakaze leaves Nagoya Station at 10.25am for Kashikojima and Namba at 10.20am on weekdays and 10.40am on weekends for the same destination.
Geku is a short walk straight ahead from Ise Station. Take buses #51 or #55 from either Ise Station or from outside the entrance of Geku to Naiku (about 30 mins).
Oya Taxis Tel: 0596 36 0012
Nishimura Hire Tel: 0596 25 1211
Toba 鳥羽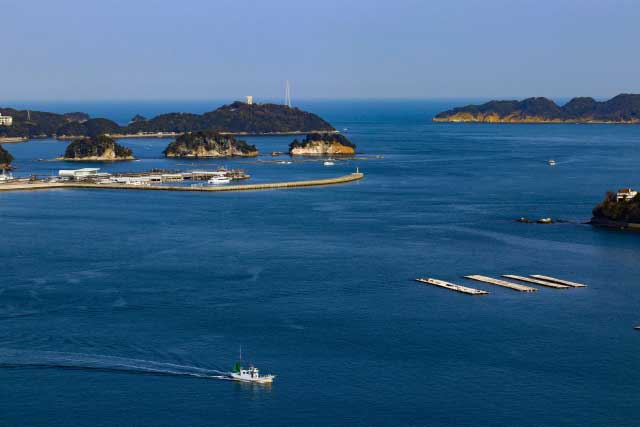 Toba, though a very commercialized resort on the Mie coast, unfairly gets a bit of a bad rap in certain Japan guide books but is a pleasant and interesting place to unwind in winter or summer.
Toba's main claim to fame is as the birthplace of the cultured pearl industry. In 1893 Mikimoto Kokichi (1858-1954) produced the world's first cultured pearl. Later he opened a shop in Ginza, Tokyo and the Mikimoto brand spread worldwide.
Mikimoto's life and work is celebrated on Mikimoto Pearl Island (Tel: 0599 25 2028; Admission 1,500 yen), where you can see a statue of the great man, a pearl museum, the Kokichi Mikimoto Memorial Hall, women pearl divers (ama) in action and an exquisite collection of pearl jewelry including elaborate crowns and necklaces.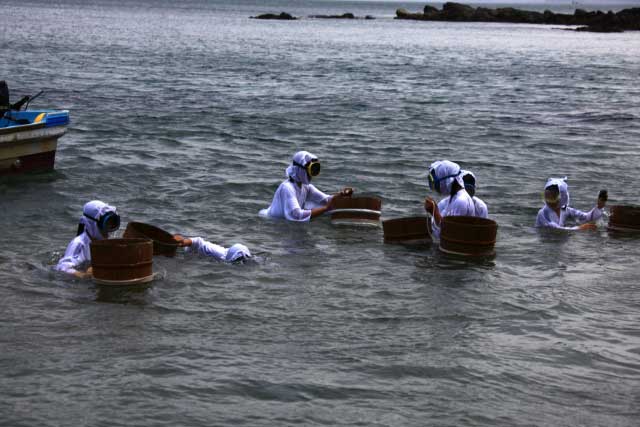 Ama pearl divers, Toba
Toba's other attractions include the The Toba Sea Folk Museum (0599 32 6006), which chronicles the history of the women pearl divers and the museum's 50,000 exhibits include an historic tuna fishing boat. Toba Aquarium (0599 25 2555) has a coral reef gallery, and sea mammal shows with dolphins, a dugong and a sea turtle presently on show.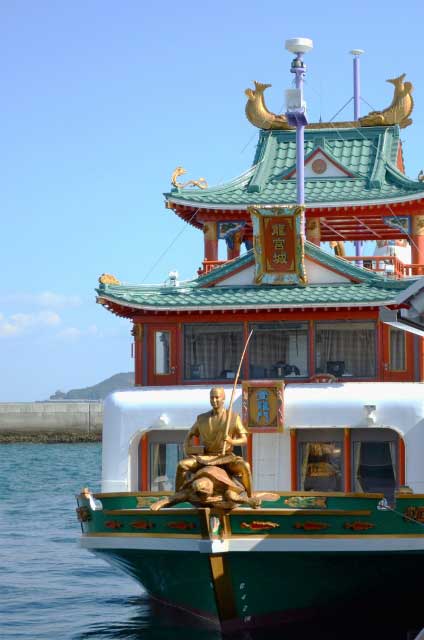 Toba Bay Cruise Ship
There are a number of sea cruises available in the bay off Ise. There's a steamship sailing to Dolphin Island (0599 25 3177) with more dolphin shows and an observatory. There are also longer cruises around the numerous picturesque islands dotted around Ise Bay including Sakatejima, Sugashima, Toushijima and Kamishima. Sugashima has Japan's oldest brick lighthouse and Kamishima is the scene of Yukio Mishima's novel the The Sound of Waves, which details the love of a young man, Shinji for a pearl diver, Hatsue. All the islands have excellent sea views of the bay.
Toba is a seafood paradise with a number of excellent restaurants. Just near the station on the inland side are a number of small places that grill various shellfish over a charcoal stove - excellent with a refreshing beer.
South down the coast from Toba is Ago Bay (Ago-wan), which is now the main growing area for cultured pearls and a beautiful stretch of coastline with numerous inlets and tiny islets, known in geographical terms as a ria coast. The Kintetsu Line terminus is here at Kashikojima, which is around 55 minutes from Ise. There are a ferries from Kashikojima to the small fishing village and beach at Goza as well as Wagu to the east or choose from a number of vessels to cruise the bay.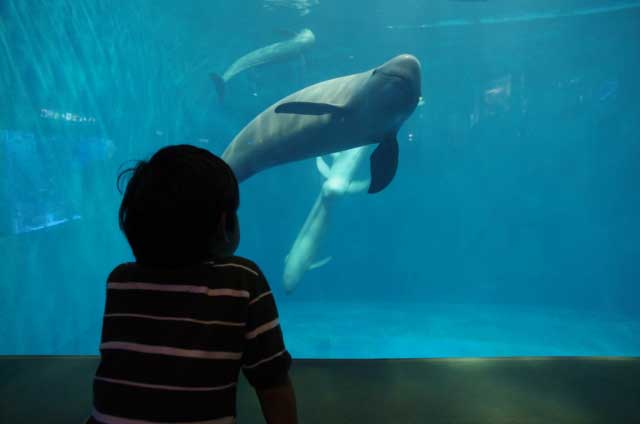 Toba Aquarium, Mie Prefecture
Access - Getting to Ise-Shima
Toba, like Ise, is easily reached by Kintetsu Railway from Osaka and Nagoya. A JR or Kintetsu train takes about 20 minutes between Ise and Toba.
There is a ferry across Ise Bay to Tokoname on the Chita Peninsula for Chubu International Airport (100 mins) with train connections to Nagoya and also a crossing to Irako on the Atsumi Peninsula in Aichi Prefecture (55 mins). See the Isewan Ferry Company for more details (Tel: 0599 26 3335). Buses cross the scenic Ise-Shima Skyline road between Ise and Toba.
Toba JR Station Tel: 0599 25 2066
Toba Kintetsu Station Tel: 0599 25 2126
Toba Tourist Office Tel: 0599 25 2844
Kintetsu Taxi Tel: 0599 25 2538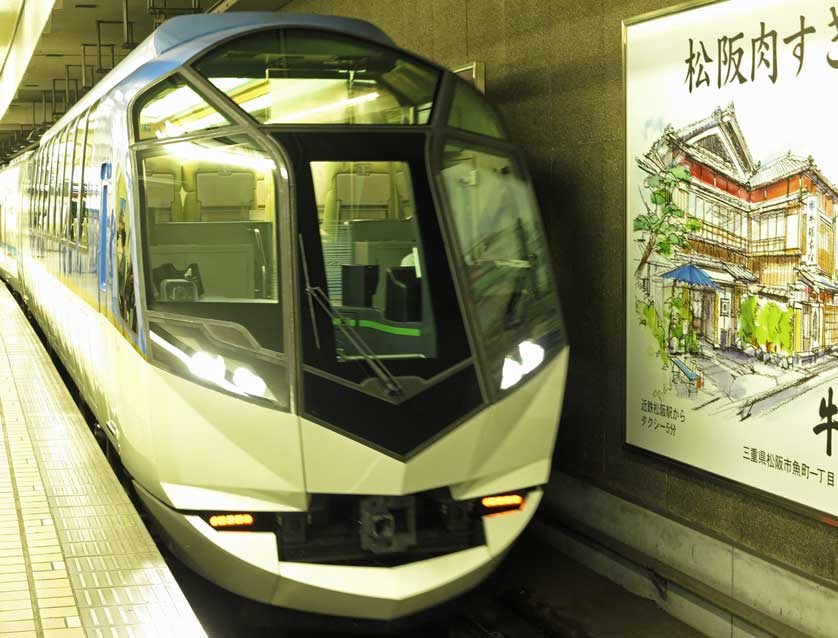 Shimakaze Luxury Express at Nagoya Station
Recommended Hotels in Toba
Related Ise Articles
Read more on Ise Jingu and the Meoto-iwa sacred rocks
Book Hotel Accommodation in Nagoya Japan
Ise Shima: view a Japan guide to the area of Ise Shima in Mie Prefecture, including the Grand Shrine of Ise and the resort and pearl center of Toba.
All the themes of the city