Ishikawa Prefecture Noh Theater
石川県立能楽堂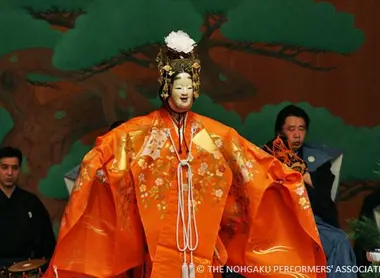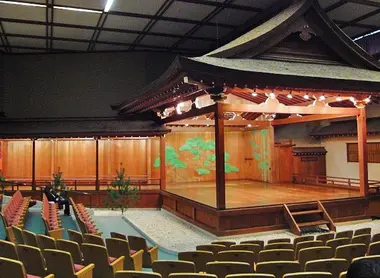 Noh Limit
A scene covered with a roof, which advances towards the public. In the front, pine and cypress trees spread their branches. The silence. A song rises. The play begins.
Rumor has it that in Kanazawa, the gardeners sing songs of Noh while they prune the trees of the wooded hills. Ishikawa Prefectural Noh Theater continues this tradition through monthly performances that stretch for a whole day. It was built in 1932 to host the Hosho school, which has created its own Noh style from the early period of the Maeda clan in the sixteenth century. Fortunately, no need to stay a whole day trying to understand these archaic chants...even most Japanese have trouble understanding. It is possible to buy tickets to a short presentation only: morning, afternoon or evening. Those who do not feel the soul of a viewer can simply visit the place: the stage is beautiful and deserves a glance. Be careful though, for if there are show preparations, the room is not open to the public.
In addition to Noh plays, other performances take place throughout the year, including the humorous Kyogen theater whose plays are more accessible to the layman.  
---
Address, timetable & access
All the themes of the city