Oden Miyuki Honten
おでん三幸本店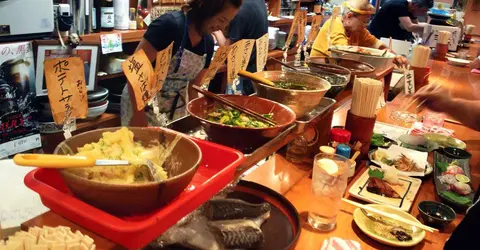 Fish Pot
Although fish is savored with passion in Kanazawa, it is rarely prepared in a stew. Except perhaps at Oden Miyuki Honten. It is sure to warm your heart and your plate.
Would you like to warm up with a stew on a cold winter's evening? Then look for Oden Miyuki Honten. This restaurant, which specializes in hearty and fresh dishes boasts of being baseball star Hideki Matsui's regular place to eat out. If a sportsman's stomach finds satisfaction here, that says a lot about the richness of the dishes.
Oden Miyuki Honten has a reputation for having a wide variety of fish preparations. Because, yes, after having eaten it raw, grilled or steamed, it's nice to try it in a stew. The oden, or Japanese stew, also attracts the hungriest customers at Miyuki Honten.
For atmosphere, you have to be at the counter where there is the most entertainment, on the customer side as well as in the kitchen: you are up close to the chefs as they work, for the greatest pleasure of your nostrils.
---
Address, timetable & access
All the themes of the city