Kanko Bussankan
観光物産館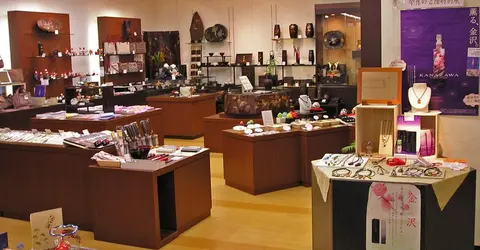 Agitez du local !
Chose indéniable, la préfecture d'Ishikawa est fière. Un puissant régionalisme exalte l'artisanat local, qui se cristallise à Kanazawa au centre des produits régionaux : le Kankô Bussankan.
Three floors flatter the ego of this dear Kaga (former name of the region Kanazawa). Yes, that's right. The ground floor of the center is dedicated to a wide variety of souvenir shops. Sweet, savory, in plastic or steel, painted or gilded, the choice is endless. Impossible not to fall for pretty local delicacies such as "paper balloons", the rice dough cakes blown into bubbles that are filled with flavored jellies.
If the abundance of products makes your head spin, go to the first floor where you can quietly lunch at a sushi restaurant. And if that is not enough, then still go up to the second floor, to design your own souvenir gifts. For about 1 500 yen, it is possible to make a cup, a small etched glass plate or traditional Japanese pastries. These small workshops take place every day and last from thirty to forty minutes. They are the opportunity to try your hand at the delicacy of Japanese crafts.
---
Address, timetable & access
All the themes of the city