Tatemachi Street
竪町 ストリート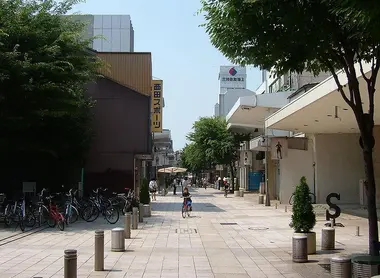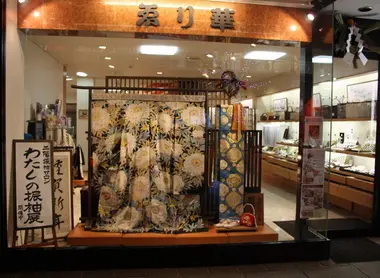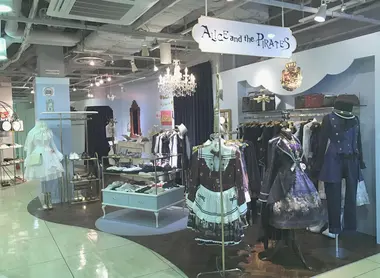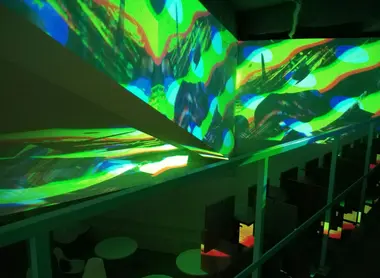 Window shopping
More used to Kanazawa's youth in search of the latest fashionable item than to hordes of tourists, Tatemachi shopping street is the ideal place for shopping or strolling a bit after visiting the many tourist sites around.
The origins of Kanazawa's trade
Before describing to you in detail which shops await you in rue Tatemachi, let us allow ourselves a very small digression of… 400 years! A little history never hurts!
Know that Tatemachi Street is Kanazawa's oldest shopping street . this zone of stalls providing essential products and all other things essential to the samurai of his clan . Thus, in 1632, a store selling alcohol and fuel for oil lamps opened its doors there.
At the entrance to Tatemachi Street, a sign tracing the origins of the city's first shopping street even states that the current width of the street is identical to that of yesteryear.
Relaxation assured
Of the feudal street, however, only the dimension remains. Everything else has changed a lot! Today, the shops line up along a paved road, lined with trees and benches; a set that makes strolling around very pleasant. In addition, the daily pedestrianization of the area between noon and 7 p.m. allows families to circulate in complete safety.
Tatemachi Street has the tremendous advantage of being located in the immediate vicinity of major tourist sites such as Kenrokuen , the 21st century contemporary art museum, the Nagamachi samurai district and the historic houses of the Higashi Chaya district .
Nearly 200 brands , some of which are grouped together in three shopping centers, welcome window-shopping enthusiasts: clothing and cosmetics stores, hairdressing salons, bookstores, grocery stores, jewellers, etc. The many cafes and restaurants offer a wide variety of cuisine (fast- food, Japanese and Western gastronomy) at reasonable prices.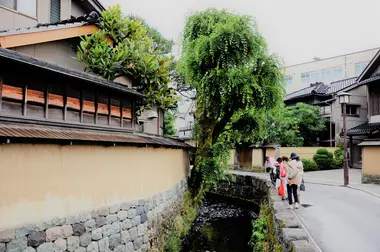 Traditional culture and pop culture
The shops on Tatemachi Street are able to satisfy the expectations of traditional culture lovers as well as those of Japanese pop culture enthusiasts.
Two kimono brands, Erihana and Takeya, give pride of place to kimonos and accessories made using the kaga yuzen technique ; a traditional fabric dyeing technique specific to the region. The Nodaya tea shop and salon , founded in 1859, offers Kaga tea for sale or tasting . The latter is a tea produced from the leaves of tea plants grown barely fifty kilometers from Kanazawa, in the territory of Kaga . Its sweet and delicate taste seduces all tea lovers. You can also buy tea from other regions of the archipelago, as well as utensils and crockery.
If after class, Kanazawa high school students find themselves in large numbers in the shopping street, it is generally to take advantage of cafes and shops dedicated to pop culture such as Animate or Village Vanguard . But Tatemachi Street has its reputation among fashionistas of all kinds. All styles are present: casual, trendy, chic, vintage… Kawaii and gothic lolita fashions are not to be outdone with the Angelic Pretty and Alice and the Pirates boutiques.
Finally, for a little break with friends, the new place to try is the DK art cafe . The latter, opened in 2016, was developed by students from the Kanazawa Institute of Technology. You will appreciate the digital works of Akira Hasegawa projected on the walls . A real kaleidoscope!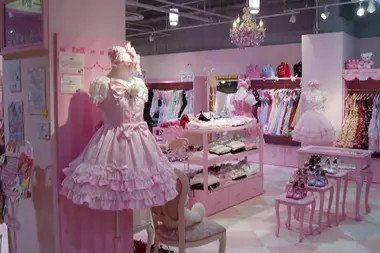 ---
Address, timetable & access
Address

Timetable

Take bus No. 3 or No. 8 from the East Exit Bus Terminal of Kanazawa Station (10 minutes ride), then 5 minutes on foot.

Access

Hours vary by store.

Website

http://www.tatemachi.com
All the themes of the city