Kumamoto Shrines
Kumamoto shrines: read a guide to the most important Shinto shrines in Kumamoto, Kyushu including Fujisaki Hachimangu, Kitaoka Shrine and Kato Shrine.
Kumamoto Shinto Shrines 熊本の神社
Fujisaki Hachimangu
Fujisaki Hachimangu, founded in 935 by the order of Emperor Suzaku, is the most important shrine in Kumamoto City.
Fujisaki Hachimangu is a branch of the Iwashimizu Hachimagu near Kyoto and was originally located on the high ground that is now enclosed by Kumamoto Castle.
Fujisaki Hachimangu was destroyed during the Seinan Rebellion of 1877 and rebuilt at its current location. Being a Hachiman Shrine, the main kami enshrined is Emperor Ojin, but as with most major shrines there are a multitude of secondary shrines within the grounds including Tenmangu, Susano, Onamuchi, and unusually Kakinomoto Hitomaro the famed 7th century poet.
Things to notice on a visit are the rather fine pair of zuijin, the guardian statues in the shrine's main gate, and the pair of ornate komainu flanking the honden, inner sanctuary. The Great Autumn Festival held over five days in mid September is the biggest of Kumamoto's festivals.
There are events and ceremonies everyday including archery and lion dances culminating in the parade on the last day which features more than 60 decorated horses, which gives the festival one of its names, Horse Festival.
There is some controversy over an older name for the festival, Boshita Festival, as one meaning is "Korea is destroyed", but an even older meaning may refer to the sexual decorations that were used on the horses.
Fujisaki HachimanguIgawabuchi-machi, Chuo-ku, Kumamoto 960-0841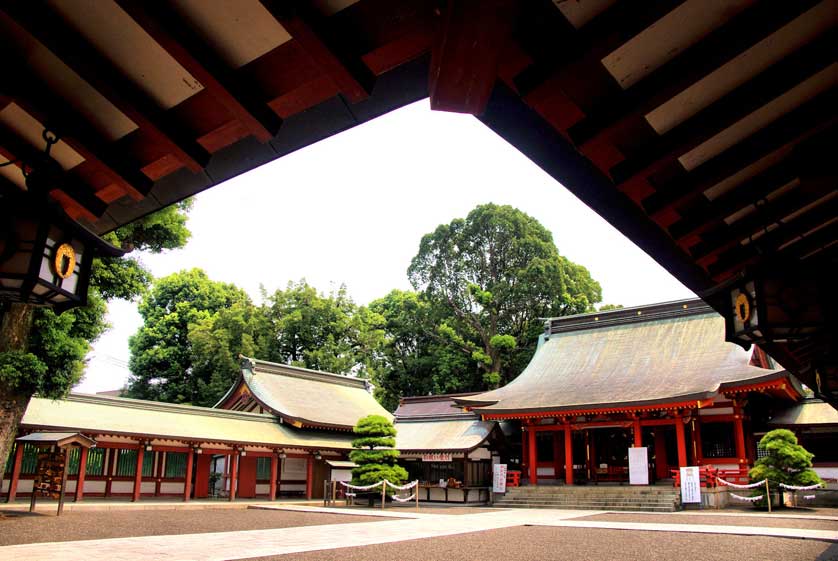 Fujisaki Hachimangu Shrine, Kumamoto, Kyushu, Japan
Kitaoka Shrine
On top of a small hill a few hundred meters directly north of the JR Kumamoto Station is another ancient shrine, Kitaoka Shrine.
Kitaoka Shrine is set among a grove of giant camphor trees, the greatest of which flank the entrance and steps leading up to the shrine. Reputed to be over a thousand years old the trees have a height of more than 20 meters and a girth of more than 12 meters.
Founded in 934, one year earlier than Fujisaki Hachimangu, Kitaoka Shrine was also established under orders of Emperor Suzaku. It is a branch of what is now known as Yasaka Shrine in Kyoto which was formerly called Gion-sha, and so the main deity enshrined there is Susano no Mikoto.
There are numerous other sub shrines within the grounds. Like most shrines Kitaoka Shrine has burned down and been rebuilt many times, but unlike the other main shrines in Kumamoto it was not destroyed during the Seinan War of 1877 as the attacking Satsuma forces used the shrine as its headquarters.
The biggest festival is held on August 4th and starts with an unusual ritual involving saltwater being brought to the shrine from the nearby riverbank. Known as Shioyutori, the water is brought from the point on the riverbank where it is believed the kami-spirit arrived from Kyoto. The water is later used in purification rituals during the festival.
Kitaoka Shrine1-chome, Kasuga, Nishi-ku, KumamotoTel: 096 352 2867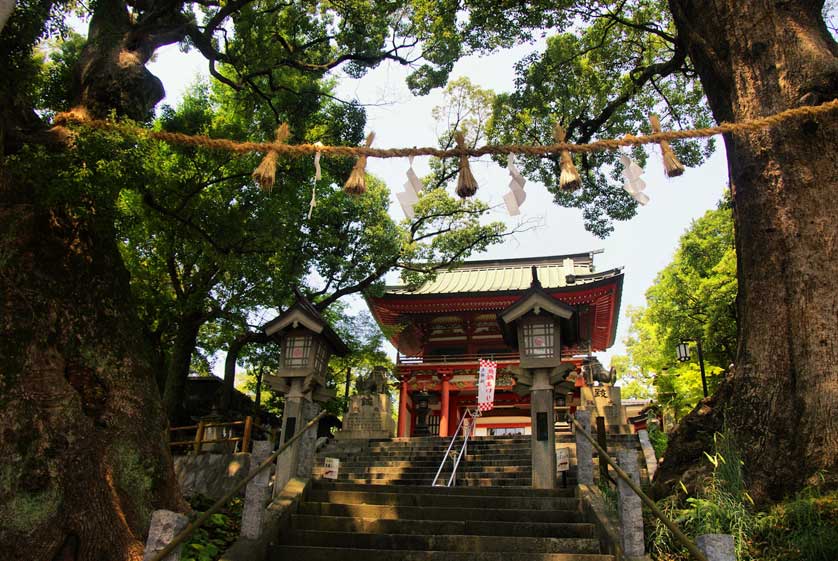 Shimenawa sacred rope and stairs to Kitaoka Shrine in Kumamoto, Kumamoto Prefecture
Kato Shrine
Compared to Fujisaki Hachimangu and Kitaoka shrines, Kato Shrine is far newer, being founded  in 1871 as Nishikiyama Shrine at its present location in Kumamoto Castle grounds.
In 1873 it was moved outside the castle when Kumamoto Castle became the property of the army. The shrine was destroyed during the Seinan war of 1877 and rebuilt in 1886. In 1909 it was renamed Kato Shrine, and in 1962 it was moved and rebuilt at its current, original position.
Kato Shrine is worth a visit if only for the fine views that can be had of the main towers of the castle. Enshrined here is Kato Kiyomasa, who was awarded the castle and domain in 1586 and it was he who designed and expanded the castle to be the formidable fortress it is now known as.
He was fanatically anti-Christian and in his suppression of Christianity within his domain ordered that the bellies of pregnant Christian women be cut open so the heads of their unborn children could be cut off. He was one of the three commanders of Toyotomi Hideyoshi's Korean invasion where he hunted tigers with only a spear in his free time.
Within his domain he outlawed poetry and dancing for samurai. His nickname was Kishokan, "Devil General". There are still about 90 Kato Shrines, though many, like the one that was in Seoul, have been destroyed. Also enshrined at the shrine are two of his vassals who committed ritual suicide after Kato's death.
Kato Shrine2-1, Honmaru, Chuo-ku, Kumamoto, 860 0002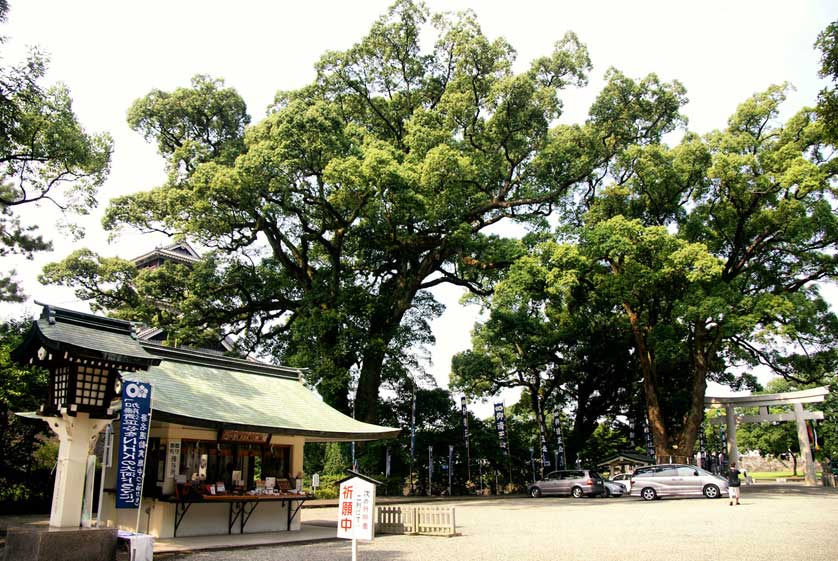 Kato Shrine, Kumamoto, Kyushu, Japan
Kumamoto Castle Inari Shrine
Located at the base of the castle, not far from the Traditional Crafts Center and the Chinajo Annex of the Art Museum, Kumamoto Castle Inari Shrine is known locally as Shirahige Shrine which was its name when it was founded by Kato Kiyomasa in 1588.
If Kato Shrine represents a darker side of contemporary Shinto: austere, political, and militaristic, then the Inari Shrine  represents a "folk" aspect: colorful, commercial, and concerned with providing worldly benefits and luck.
The main kami is Inari, often erroneously called the Fox God as its messengers are foxes. Officially Inari is a god of rice and harvest, but unofficially in folk-belief there are thousands of different Inaris each offering diffferent kinds of benefits which is why at an Inari shrine you will often find many smaller shrines in the grounds each dedicated to a different Inari.
Its worth wandering around the compact grounds of the castle Inari Shrine to see these different shrines, each with its associated statues. Also worth seeing here is the ceiling of the main shrine building which is decorated with dozens of paintings of plants and flowers.
There are other kami enshrined here too, including the aforementioned Shirahige. Meaning "white beard", Shirahige was a Korean "king" who settled in Japan in ancient times. The head Shirahige shrine is located on the shore of Lake Biwa in Shiga. I have been unable to discover why this shrine was changed from Shirahige to Inari.
Kumamoto Castle Inari Shrine3-13, Honmaru, Chuo-ku, Kumamoto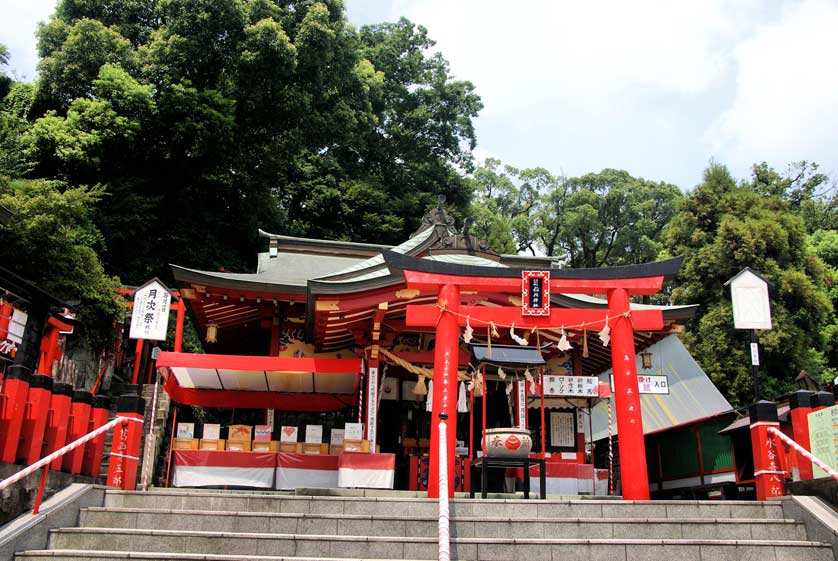 Torii gate and main building, Kumamoto Castle Inari Shrine, Kumamoto Prefecture

Tedori Tenmangu Shrine
On the north side of the main street close to the Sudocho tram stop stands a large, vermillion torii, which leads down the side street to the Tenmangu Shrine.
Founded in 1650, like all Tenmangu shrines it enshrines the spirit of Sugawara Michizane, known as Tenjin, the kami of scholarship and poetry. Students come here to pray for success in exams. There is nothing particularly noteworthy about the shrine, though is does offer a quiet, green, oasis from the hubbub of the streets.
Tedori Tenmangu Shrine5-34, Kamitorimachi, Chuo-ku, Kumamoto 860 0845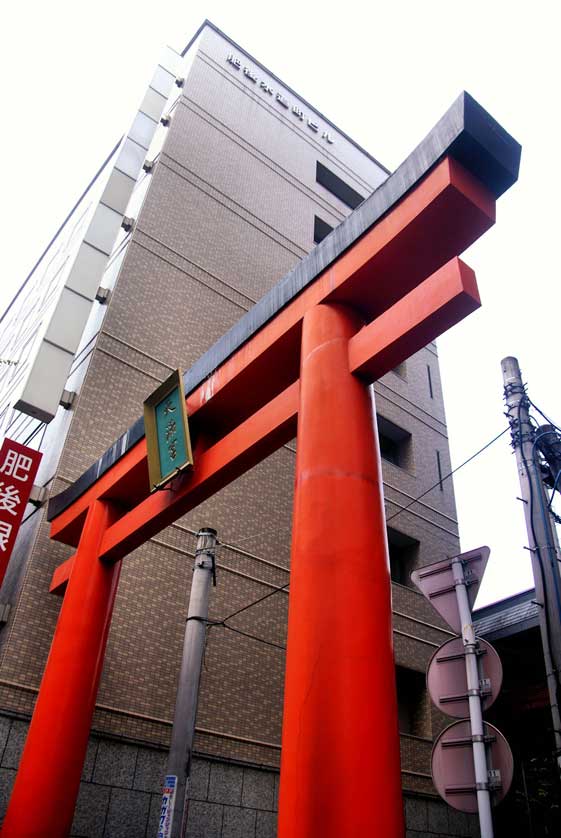 Vermillion torii, Tedori Tenmangu Shrine, Kumamoto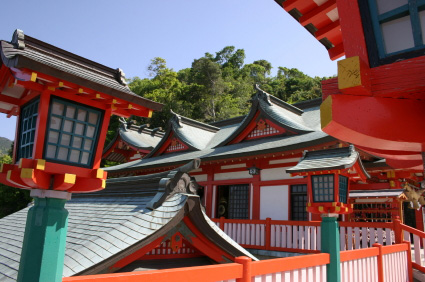 The main shrine at Takahashi Inari Jinja, west of downtown Kumamoto, Kyushu

Takahashi Inari Shrine
Takahashi Inari Shrine (高橋稲荷神社) is an Inari shrine west of Kumamoto city. The shrine dates back to 1496. An Inari spirit from Fushimi Inari Shrine in Kyoto was transferred here to establish the shrine. The shrine draws large crowds for its Hatsuuma Festival in February. This is first "Day of the Horse" according to the old lunar calendar.
9-6-20 Kamidai, Nishi-ku, Kumamoto, 860-0068
Text & images by Jake Davies
Book Budget Hotel Accommodation in Japan
All the themes of the city