Hikone Castle
Hikone Castle 彦根城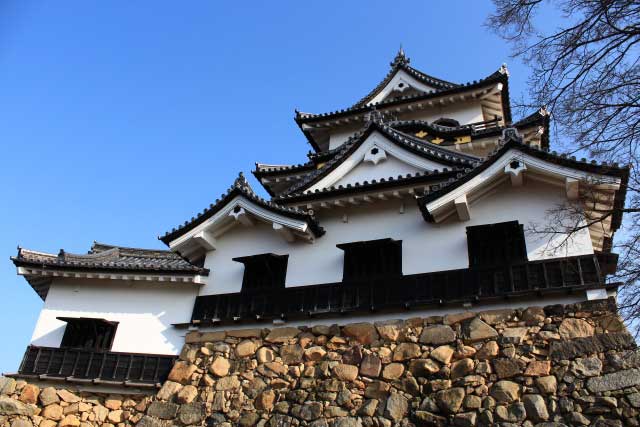 Hikone Castle, Shiga Prefecture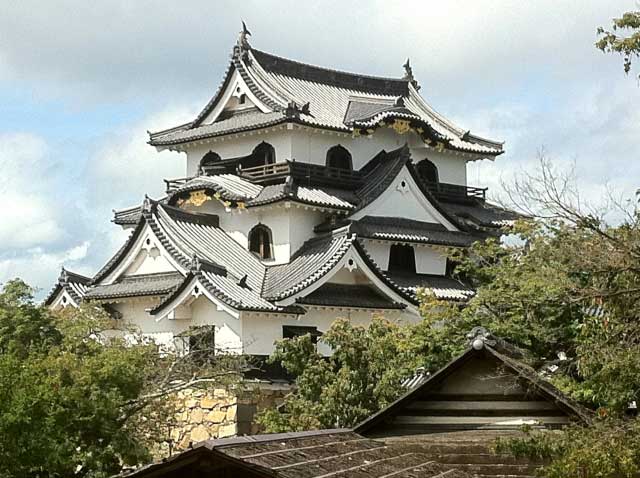 Hikone Castle, Shiga Prefecture
Hikone Castle in Shiga Prefecture in western Japan is one of Japan's most beautiful and historic castles. It is one of the twelve original Japanese castles still standing
Hikone Castle is set on the shores of Japan's largest lake, Biwako, and is an easy day trip from Osaka, Kyoto or Nagoya.
Hikone Castle guarded the approach to Kyoto and was also strategically placed to control traffic on Lake Biwa.
History of Hikone Castle
Hikone Castle was completed in 1622 after 20 years in construction using some materials from the nearby Nagahama Castle which was torn down. Hikone Castle was finally finished by Ii Naokatsu, the son of Ii Naomasa.
A previous castle that stood on a hill overlooking Hikone, Sawayama Castle, was destroyed by Ii Naomasa, a ferocious general in Tokugawa Ieyasu's victorious army at the Battle of Sekigahara in 1600. Sawayama Castle was the base of Ishida Mitsunari, the defeated leader of the western army at Sekigahara. It is possible to hike up Mount Sawa to see a memorial to the defeated general and enjoy the excellent views.
The Ii family remained staunch allies of the ruling Tokugawa throughout the Edo Period. The later Naosuke Ii (1815-1860), a chief minister of the Tokugawa or Tairo, who negotiated with the Americans Commodore Perry and Townsend Harris, hailed from Hikone.
Hikone Castle is an ornate, black and white fortress and was the base of the local Ii family daimyo (feudal lords) of the area, ardent supporters of the Tokugawa. The top of the keep has wonderful views on a clear day over the surrounding countryside and visitors can admire the impressive wooden beams of the castle's architecture and the teppo-zama (openings or embrasures for firing guns) and ya-zama (openings for firing arrows).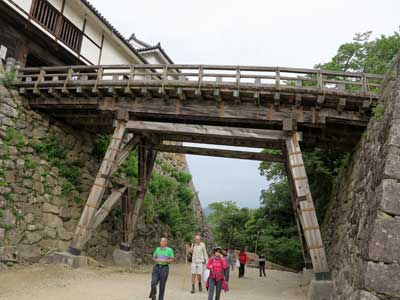 Roka-bashi Bridge, Hikone Castle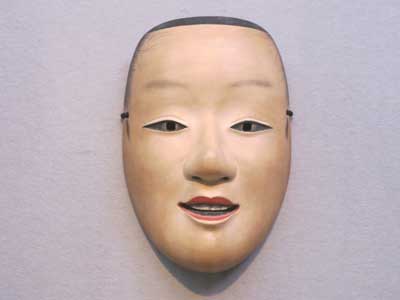 A Noh mask at Hikone Castle Museum
Hikone Castle's impressive, stone walls and double moats are designated as important cultural properties and the wooden stables (umaya), just outside the castle's main gate, are the only surviving example of a castle's stables in Japan. The Tembin Turret, the Taikomon gate (named after the taiko drum that was placed here to sound out emergencies), Sanju Turret and Sawguchi Tamon Turret are all now recognised as important cultural properties.
The Roka-bashi is a beautiful corridor bridge at the end of the slope from Omote-mon.
Horses were kept ready here for riders to take messages to neighbouring provinces and along the Tokaido highway via change of horse to Edo (present-day Tokyo). Hikone Castle is known for its cherry trees and lovely pink blossoms in spring.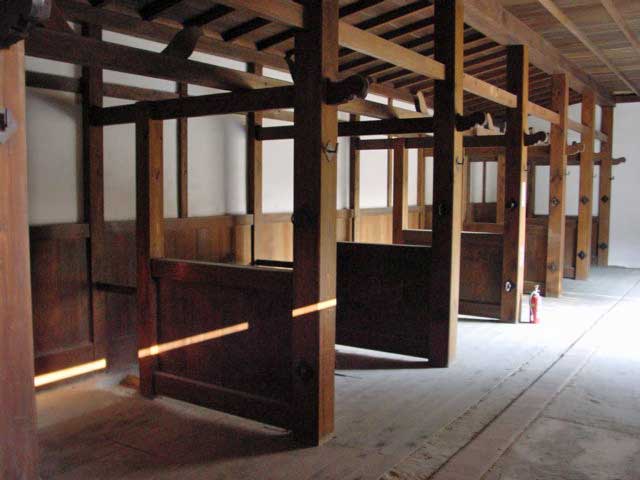 The wooden stables (umaya) at Hikone Castle are unique in Japan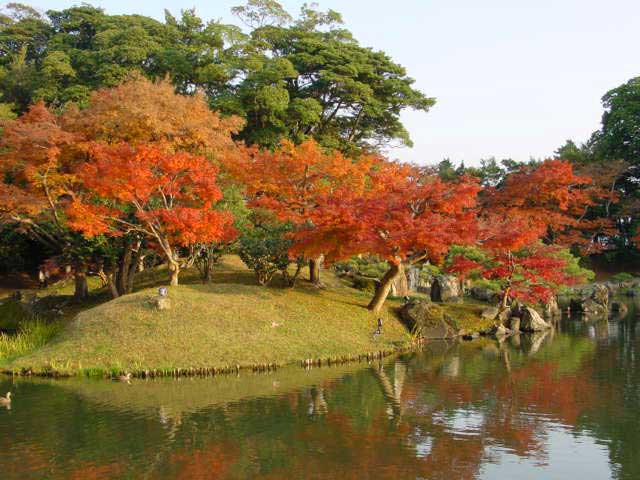 Genkyu-en strolling garden at Hikone Castle in Shiga Prefecture
Also worth visiting within the castle grounds is the Genkyu-en strolling garden, built around a large, ornamental pond in the Chinese style in the late 17th century. There are islets in the pond and nine bridges. The tea house in the garden is often used for photo shoots featuring Japanese traditional kimono.
There are good views of Hikone Castle on the hill above and a chance to sample traditional Japanese macha (green tea) in the preserved Hosho-dai teahouse near the lake. The daimyo would hold boating parties on the lake of Genkyu-en in a traditional gozabune.
The Rakuraku-en was the villa of the Ii family and is also near Hikone Castle. In Konki Park is a bronze statue of Naosuke Ii, who was murdered outside Edo Castle by samurai hot-heads from Mito Province, who disagreed with his signing of the Harris Treaty, opening up some treaty ports for trade with the West.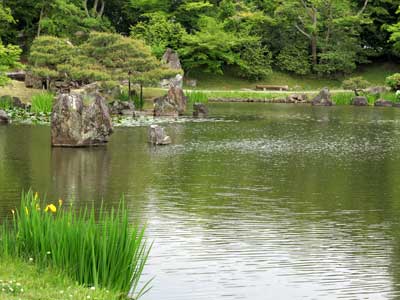 Genkyu-en strolling garden, Hikone Castle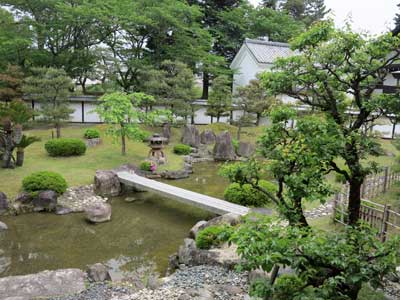 Japanese stone garden at Hikone Castle Museum
Hikone Castle grounds are a fine spot to enjoy cherry blossoms in spring with over 1000 cherry trees and also for colorful autumn leaves.
Hikone Castle Museum
Hikone Castle Museum houses the priceless treasures of the Ii family: Noh masks, tea ceremony utensils, samurai swords, musical instruments and the red and gold banner of the Ii clan that was flown at the seige of Osaka Castle in 1614. The Hikone Castle Museum was built in 1987 and includes a Noh stage where annual Noh plays are performed. Hours 8:30 a.m. - 5 p.m. (last entry 4:30 p.m.), 500 yen for adults, or 600 yen for a combined Hikone Castle Museum/Hikone Castle ticket, or 1,000 yen for a combined Hikone Castle/Genkyu-en Garden/Hikone Castle Museum ticket.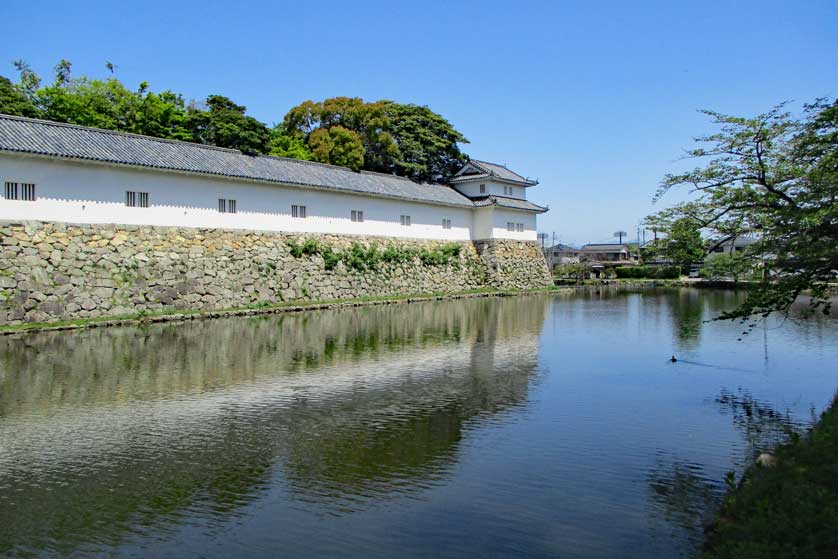 Sawaguchi Tamon Yagura (turret) and moat at Hikone Castle in Shiga Prefecture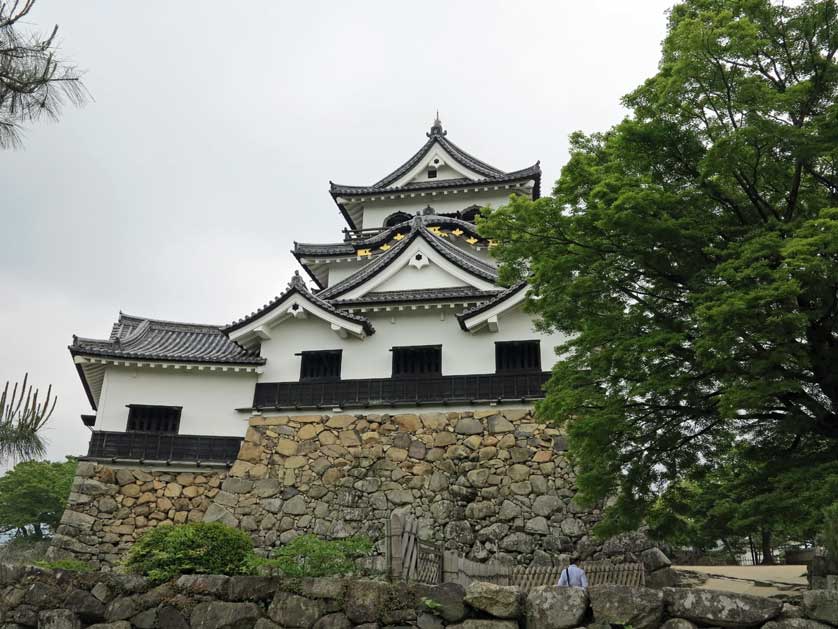 Hikone Castle keep, Shiga Prefecture
Hikone Castle
1-1 Konki-cho
Hikone-shi
Shiga
Tel: 0749 22 2742
Admission: Castle and Genkyu-en Garden: 600 yen for adults; Museum only: 500 yen for adults; Genkyu-en Garden only: 200 yen for adults; combined Hikone Castle/Genkyu-en Garden/Museum ticket: 1,000 yen for adults.
Hours: Hikone Castle and Genkyu-en Garden: 8:30 a.m. - 5 p.m. Hikone Castle Museum: 8:30 a.m. - 5 p.m. (last entry at 4:30 p.m.)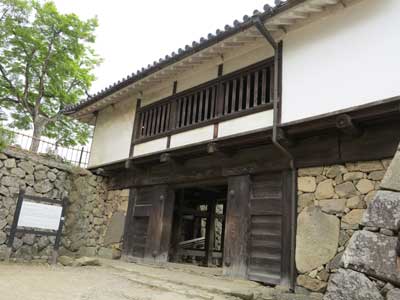 Gate at Hikone Castle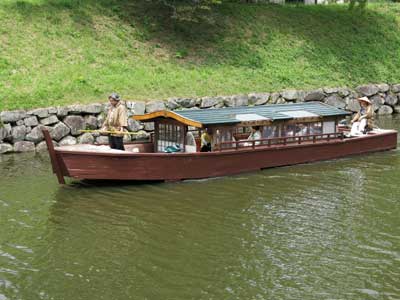 Pleasure boat in the castle moat
Access To Hikone - Getting to Hikone
From Nagoya Station take the Tokaido Shinkansen to Maibara Station and then transfer to the JR Tokaido Line one stop to Hikone or alternatively take the JR Tokaido Line to Maibara via Gifu and Ogaki. Journey time by normal trains is about 90 minutes from Nagoya. From Kyoto the journey to Hikone is less than an hour by express train.
Hotels in Hikone
The rest of Hikone town is pleasant to stroll with a number of fun places to eat and drink. If you are staying overnight in Hikone, try the excellent Hikone Castle Hotel or the Comfort Hotel Hikone, the Station Hotel Hikone, the Hotel Estacion Hikone or the Hotel Lakeland Hikone. Accommodation in a Japanese-style ryokan is available at Tobaya Ryokan and Guesthouse Muga.
Hikone Castle keep, Shiga Prefecture
Hikone Map
View Hikone Map in a larger map
Book Hotel Accommodation in Japan Near Hikone
Hikone Castle: read a guide to Hikone Castle in Shiga. Hikone Castle is one of Japan's most beautiful castles.
All the themes of the city