Kurama Onsen
鞍馬温泉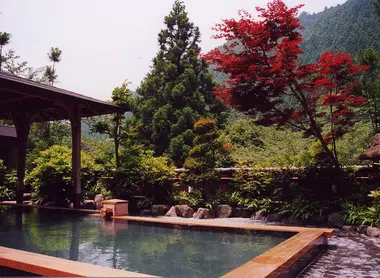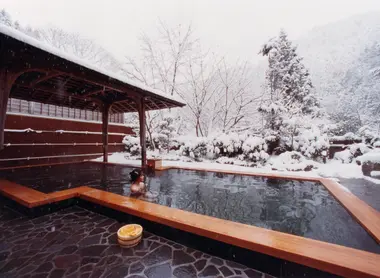 Nature in your natural state
If you're looking for relaxation and privacy, this property offers all the sulphurous water facilities to enjoy the beautiful surroundings and the benefits of sources in the region.
Sore feet after days of trudging between shrines and pavilions? Stop time for a day and go relax in the heart of the mountain village of Kurama, where you'll love the fabulous spa supplied by natural sources in the region. The decor is modest, but with the peaceful surroundings overlooking the river Kurama, the onsen (hot spring) immerses you in a sulfurus bath deemed curative for rheumatism and back pain. At the small ryokan, you can take a gourmet break for lunch.
The surrounding mountains make your cheeks blush gently while you relax in these outdoor baths. Take a deep breath of fresh air, smell the particular scent of Japanese cedar that envelops you. There, the view leaves you speechless.
Mount Kurama majestically dominates the area. All seasons are great for this kind of experience, but discovering the site under snow in January or February, gives the place an almost mystical dimension. Interior baths, as nice as the outdoor ones, are charming as well. Go when they open at ten o'clock to be alone and naked in the hot water, breathe and rejuvenate before, perhaps, starting your visit to the small village of Kurama.
Warning: tattoos are prohibited.
---
Address, timetable & access
All the themes of the city