The Byodo-in Temple
平等院

What is the building on the 10 Yen coin? The slendid "Phoenix Hall' at Byodo-in, near Kyoto.
A UNESCO World Heritage Site, recently renovate in 2014, the Byodo-in is located in the center of the small town of Uji, not far from Kyoto. Very famous in Japan, this temple is considered the height of expression of the aristocratic art of the Heian period (794-1185). Do not miss a visit to this exceptional temple during your visit.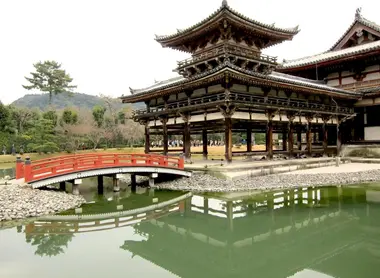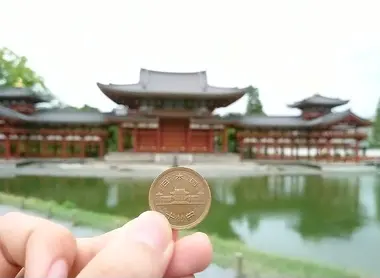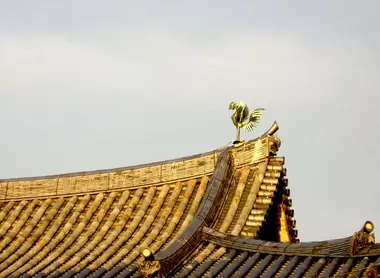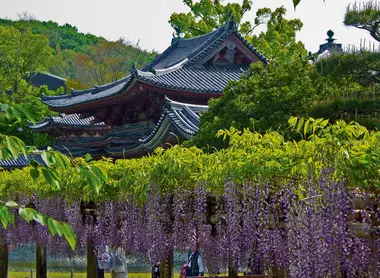 Byodo-in, a temple of Chinese inspiration
On the southern road from Kyoto, only fifteen kilometers away, and not far from Nara, is the town of Uji, famous for its tea production. Uji is also home to the famous Byodo-in Temple, part of the Jodo sect of Buddhism, dedicated to the worship of Amida, the cosmic Buddha of "Infinite Light." It is easy to get to the UNESCO protected site, located a short distance from Kyoto. The temple is also very well known in Japan because its image adorns the back of the 10 yen coin.
Built in 1053 on a small island in the middle of a pond, the main building is called Phoenix Hall, or hoodo, because its architectural form with two wings evokes the flight of the legendary animal. Two of these birds, sculpted in bronze, perch upon the rooftop: they are fenghuang, Chinese phoenixes, called hoo in Japanese - this is why the building is called hoodo, Phoenix Hall.
Its most remarkable feature, however, is a colossal 3 meter high statue made of wood and covered in Gold leaf. Attributed to the monk and master artist Jocho (who died in 1057), it represents the Amida Buddha in the company of Bodhisattva (being promised enlightenment). Located inside the main building, visits are done in small groups.
Large tarps covered Byodo-in between September 2012 and April 2014, as Phoenix Hall was renovated in bright vermilion, and the two phoenix statues were reborn from their ashes with new metallic sheen before the site was reopened to the public.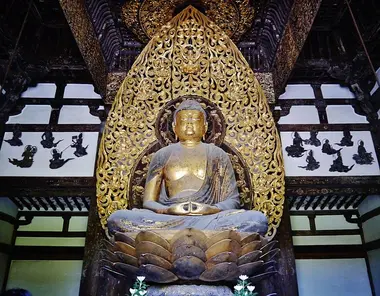 Byodo-in gardens, paradise on earth
Originally, this temple was a second home built for politician Minamoto no Shigenobu in 998. This villa was later bought by a very important chieftain, Regent Fujiwara no Michinaga (966-1027), who also used as a retreat.
Fujiwara no Michinaga's son, Yorimichi, transformed the residence into a temple originally held by the esoteric Tendai sect of Buddhism. A garden and a pond, originally larger than they are today, were built for boat rides. Since the Amidist sect invested in Byodo-in, they aimed to recreate the Buddhist Pure Land Paradise. Byodo-in is a testimony to both the faith and lifestyle of the nobility of an era during which the deity was humanized as compassionate and merciful. Only the houdou building remains from this period.
The gardens of Byodo-in, although modest in size, are still very pleasant to walk around, especially during the cherry blossom season (hanami). One hour is enough to go around and photograph the Phoenix Hall from all angles.
At the other end of the park is the museum, built in 2000 and designed by architect Akira Kuryu (b. 1947). It showcases the treasures of the site including the bodhisattva musicians who look like the cherubs from Christian imagery. A pure delight.
How to get to Byodo-in in Uji?
The easiest way to get to Uji town to visit Byodo-in is from Kyoto station. Then you just need to take an express train on the JR Nara line (included in the Japan Rail Pass, or 240 yen). The journey takes only 17 minutes. Coming from Osaka, you will have to go to Kyoto station first. 
Get off at Uji station, take the south exit and walk 10 minutes to reach the temple, which is well signposted. On the way, you will have the opportunity to do some souvenir shopping through the small streets, or taste some delicious matcha ice cream (the specialty of the area). 
If you prefer to drive to Uji, to admire the famous landscapes of terraced tea fields, the journey takes only 30 minutes. 
Comment aller au Byôdo-in à Uji ?
Le plus simple pour se rendre dans la ville d'Uji pour visiter le Byôdô-in, est de partir de la gare de Kyoto. Il suffira ensuite d'emprunter un train express sur la ligne JR Nara (compris dans le Japan Rail Pass, ou bien 240 yens - environ 2 €). Le trajet dure seulement 17 minutes. En venant d'Osaka, il vous faudra forcément passer d'abord par la gare de Kyoto.
Descendez à la station Uji, prenez la sortie Sud puis marchez 10 minutes pour atteindre le temple, qui est bien indiqué. Sur le chemin, vous aurez l'occasion de réaliser quelques emplettes dans les boutiques de souvenirs qui se succèdent dans les petites rues, où de déguster une bonne glace au matcha (la spécialité de la ville).
Si vous préférez vous rendre à Uji en voiture, pour admirer les très réputés paysages de champs de thé en terrasse, le trajet dure seulement 30 minutes.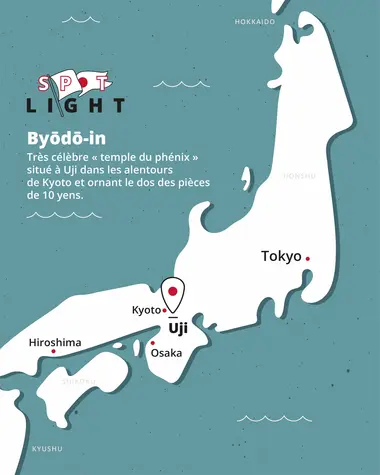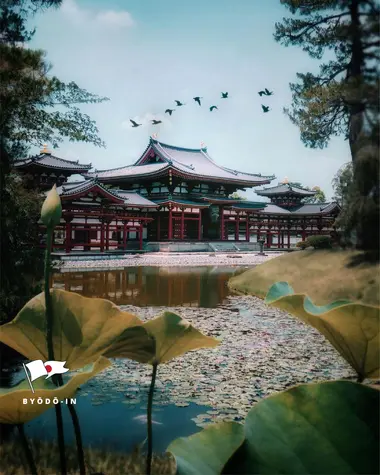 ---
These articles might also interest you: 
---
Address, timetable & access
Address

Timetable

40 minutes by train from Keihan-Sanjo to Uji Station on the Keihan-Uji Line (change at Chushojima, 310-390 yen)

Or 30 minutes by train from Kyoto Station to Uji Station on JR Nara Line (240 yen), then 10 minutes on foot. Take the south exit.

Price

Full entry ticket 600 yen / Just the Phoenix Room 300 yen

Access

Open daily 9:00 - 16:00 December to February, 8:30 to 17:30 March to November.

Website

http://www.byodoin.or.jp
All the themes of the city