Kodaiji
高台寺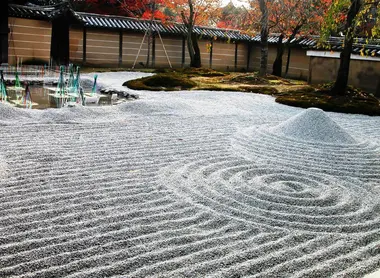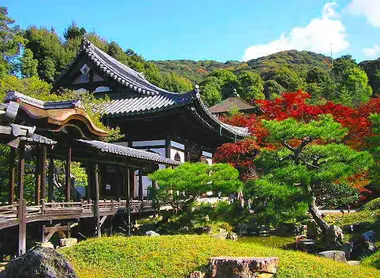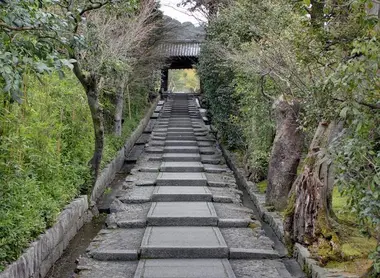 A temple to show love
In ancient Japan, widowers built grandiose mausoleums in honor of their deceased other-half and deified them within dedicated temples.
This is the ideal place for zen fans. Part of the Rinzai Zen sect, Kodaiji is immersed in the practices specific to this particular Buddhist movement and features beautiful gardens. Today of modest appearance, it was originally covered with gold leaf before a fire destroyed it in 1912 and it is rebuilt.
The Kodaiji stems from the initiative of the wife of Toyotomi Hideyoshi (1536-1598), one of the unifiers of Japan, who wanted a temple to match the level of the acoomplishments of her husband. The large complex consists of several buildings, including the Hojo, the central hall and the Kaizando, the memorial where Nene, the shogun's wife, prayed for him to rest in peace. The sepulcher of the two spouses is located on a small beautifully decorated mound behind the temple.
In Japan it is not uncommon for a spouse, grieving the loss of their soul mate, to dedicate a religious monument them, as was the case in Europe or even India with the famous example of the Taj Mahal. From the richly decorated interior, there now remain a few works of art classified as "significant cultural property", including the famous portrait of Toyotomi Hideyoshi in print. The exterior, however, is better to see and it is pleasant to stroll in the rock gardens or on the carefully plotted paths and around the pond of the Japanese garden.
To make the magic last a little longer, the tea houses, including one designed by the famous tea master Sen no Rikyu (1522-1591), offer a delicious break to the senses and allow you to admire the perfect layout of the decor.
---
Address, timetable & access
All the themes of the city